The Yordles were very good in set 9 / Team Fight Tactic s / (ENG/ESP)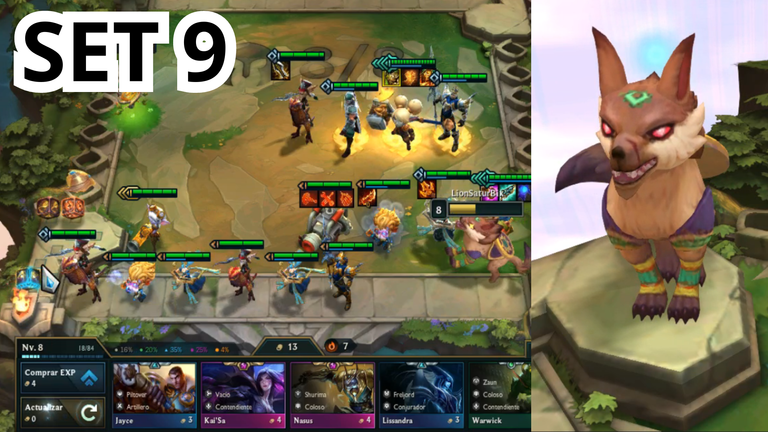 Bienvenidos mis queridos hermanos y hermanas Gamers.
El día de hoy les presentó una composición que me había llamado mucho la atención cuando jugué en el último torneo con los hermanos de la comunidad.
La composición que me pareció interesante era la de los Yordles, pero es muy complicado tenerlos porque se sacrifica mucha vitalidad para que te puedan salir las fichas, cabe destacar que esta composición lo había probado antes del set 9.5 pero...
Tocando un poco el tema del nuevo set, he de mencionar que es una locura de lo asombroso que es.
Welcome my dear brothers and sisters Gamers.
Today I present a composition that had caught my attention when I played in the last tournament with the brothers of the community.


The composition that I found interesting was the Yordles, but it is very complicated to have them because you sacrifice a lot of vitality so that you can get the chips, it should be noted that this composition I had tried before the set 9.5 but...


Touching a little on the subject of the new set, I have to mention that it is crazy how amazing it is.

| | |
| --- | --- |
Esta vez la partida inicia en el mundo de la ciudad de Bandle, donde nos darán espátulas para alimentar a nuestros campeones para que incrementen su vitalidad máxima.
En la ronda 2-1 comencé a elegir mi primer aumento, como siempre elijo la que me da tienda gratis por cada ronda, es muy útil y ahorramos mucha economía a la hora de elegir a los campeones de nuestra composición.
This time the game starts in the world of the city of Bandle, where we will be given spatulas to feed our champions to increase their maximum vitality.


In round 2-1 I started to choose my first increase, as always I choose the one that gives me free store for each round, it is very useful and we save a lot of economy when choosing the champions of our composition.

| | |
| --- | --- |
Al comienzo la suerte estuvo de mi lado, ya que me aparecieron a 3 miembros de la composición Yordle de manera rápida, pero cabe destacar que esta composición no es muy buena al comienzo, debido a que son un poco débiles y que sus habilidades no se desarrollan hasta que se tenga a los 5 miembros de los Yordles y con 3 estrellas de mejora.
Después quise experimentar un poco con los multimagos, estos al tener a 2 miembros con la misma habilidad, les permite lanzar una segunda habilidad especial cuando lancen la primera, solo que un poco más débil, pero aun así es muy útil, porque en el futuro me ayudo mucho a obtener algunas victorias.
At the beginning luck was on my side, since I got 3 members of the Yordle composition quickly, but it should be noted that this composition is not very good at the beginning, because they are a little weak and their skills are not developed until you have the 5 members of the Yordles and with 3 stars of improvement.


Then I wanted to experiment a little with the multi-mages, these by having 2 members with the same ability, allows them to launch a second special ability when they launch the first, only a little weaker, but still very useful, because in the future it helped me a lot to get some victories.

| | |
| --- | --- |
El segundo de los aumentos que vi mejor para elegir, ya que aquí para los Yordles es bueno tener mucha tienda gratis, es la que me permite que por cada nivel que suba a un campeón, me da dos cambios de tienda gratis hasta 2 veces por turno.
Es muy útil una vez que tienes tantos aumentos que te ayuden a no gastar oro para actualizar la tienda, enfocándote solamente en subir un poco de nivel.
Después, como para ahorrar un poco entre objetos, vi mejor tener también la composición de Demacia, estratega y bastión, pudiera resistir una buena cantidad de daño y causar mucho daño al mismo tiempo, pero la habilidad de aturdir a los enemigos que tiene Jarvan IV es fenomenal, me permite causar mucho daño mientras los enemigos están aturdidos.
Sigo diciendo que Swain es un buenísimo tanque de todo tipo, y tuve muchos dolores de cabeza contra aquellos que lo usaron en repetidas ocasiones, más aún cuando les das los objetos para que estos se conviertan en seres inmortales.
The second of the augmentations that I saw better to choose, since here for the Yordles it's good to have a lot of free store, is the one that allows me that for each level I level up a champion, it gives me two free store changes up to 2 times per turn.
It's very useful once you have so many boosts to help you not to spend gold to upgrade the store, focusing only on leveling up a bit.


Then, as to save a bit between items, I saw better to have also the composition of Demacia, strategist and bastion, I could resist a good amount of damage and cause a lot of damage at the same time, but the ability to stun enemies that Jarvan IV has is phenomenal, it allows me to cause a lot of damage while the enemies are stunned.
I still say that Swain is a very good all-around tank, and I had a lot of headaches against those who used him repeatedly, even more so when you give them the items to turn them into immortal beings.

| | |
| --- | --- |
El último de los aumentos, por supuesto, fue el de obtener 16 de oro en este turno y luego de 4 turnos me daban otros 16, sinceramente sabia un poco que lograr esta composición al máximo no era nada fácil, porque una vez que se tenga todas la fichas de los Yordles, hay que aumentarlos a 3 estrellas para poder recibir el poder final de esta composición, y es ascender a 2 de ellos a 4 estrellas, el daño, la vitalidad, la defensa eran sorprendentes.
Pero tuve que comenzar a gastar mucho oro porque lo tenía difícil, necesitaba si o sí que esta composición estuviera al máximo, de lo contrario me costaría la victoria en este enfrentamiento,
Sinceramente, habían dejado la vitalidad de mi estratega en 36, ya tener esta cantidad de vitalidad estas a 2 derrotas de perder el combate, así que tuve qué actualizar la tienda mucho para que me saliera lo que quería.
The last of the increases, of course, was to get 16 gold in this turn and after 4 turns gave me another 16, honestly I knew a little that achieving this composition to the maximum was not easy, because once you have all the chips of the Yordles, you have to increase them to 3 stars to receive the final power of this composition, and is to promote 2 of them to 4 stars, the damage, vitality, defense were amazing.


But I had to start spending a lot of gold because I had a hard time, I needed this composition to be at the maximum, otherwise it would cost me the victory in this confrontation,


Honestly, they had left the vitality of my strategist at 36, and having this amount of vitality you were 2 defeats away from losing the fight, so I had to update the store a lot to get what I wanted.

| | |
| --- | --- |
De verdad que había sido una batalla bastante interesante, sobre todo ver como les di una paliza a todos luego de tener mi composición al máximo con los héroes a 4 estrellas.
Muchas gracias por llegar hasta aquí en mi publicación, espero que les haya gustado, hasta la próxima.
It really was quite an interesting battle, especially to see how I beat everyone up after I had my composition to the max with the heroes at 4 stars.
Thank you very much for getting this far in my publication, I hope you liked it, see you next time.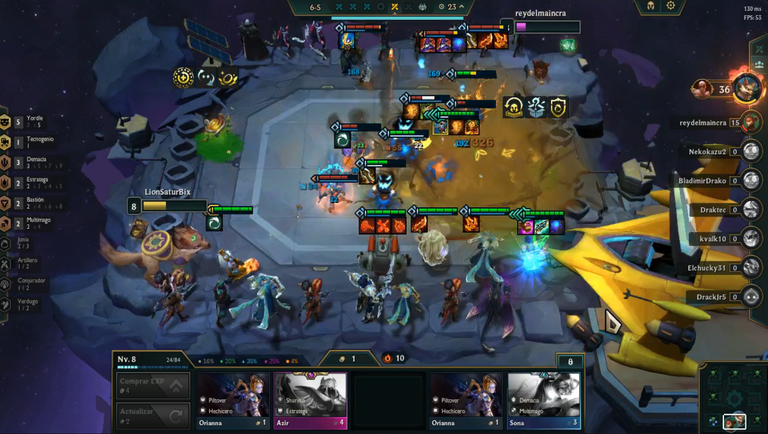 ---
Discord LionSaturBix#7545

Source / Fuente Castle of Castlevania
Source / Fuente Terra Blade of Terraria
Los separadores son de mi autoría, las imágenes tienen su fuente, las ediciones del GIF son creados por mí.
The separators are my authorship, the images have their source, the GIF edits are created by me.
Programas que utilicé para crear mi diseño es este:
This is the program I used to create my design:
Gif y portada cortesía de Canva
Gif and cover courtesy of Canva
Traducido por Deepl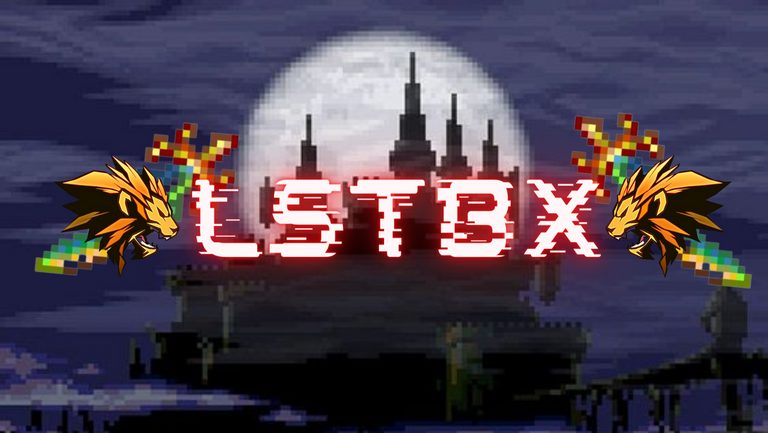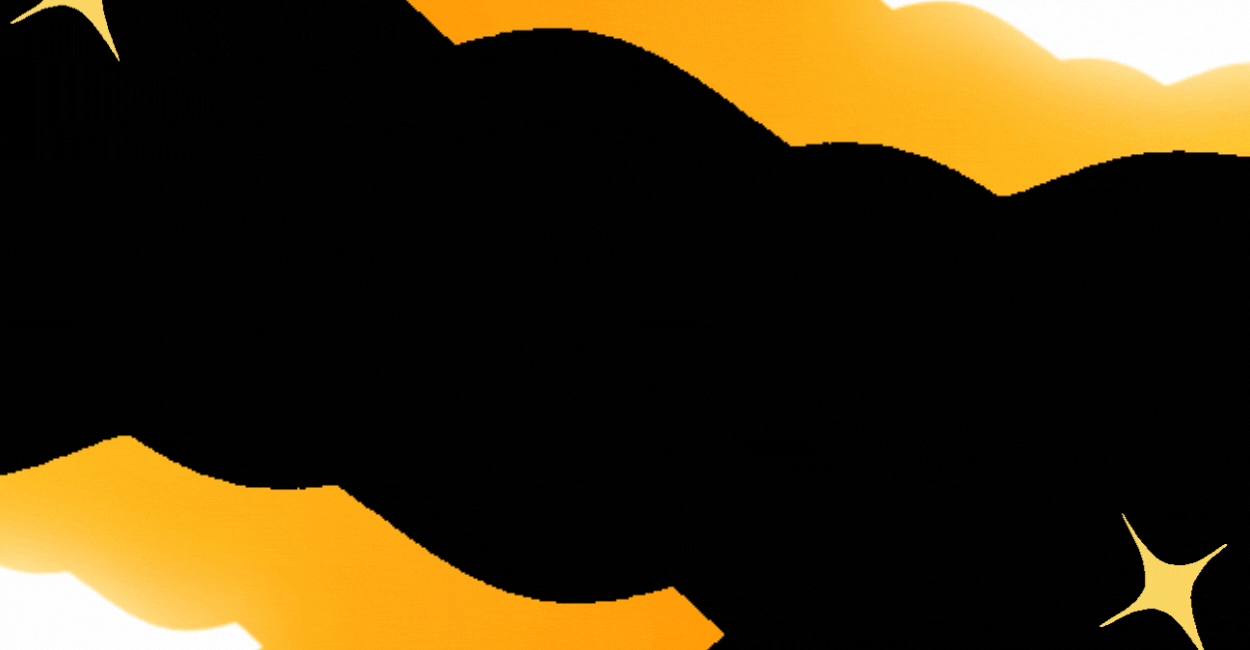 ---
---