[ESP-ENG] DISFRUTANDO UNA RICA SOPA DE HUESOS DE RES EN FAMILIA // ENJOYING A RICH BEEF BONE SOUP AS A FAMILY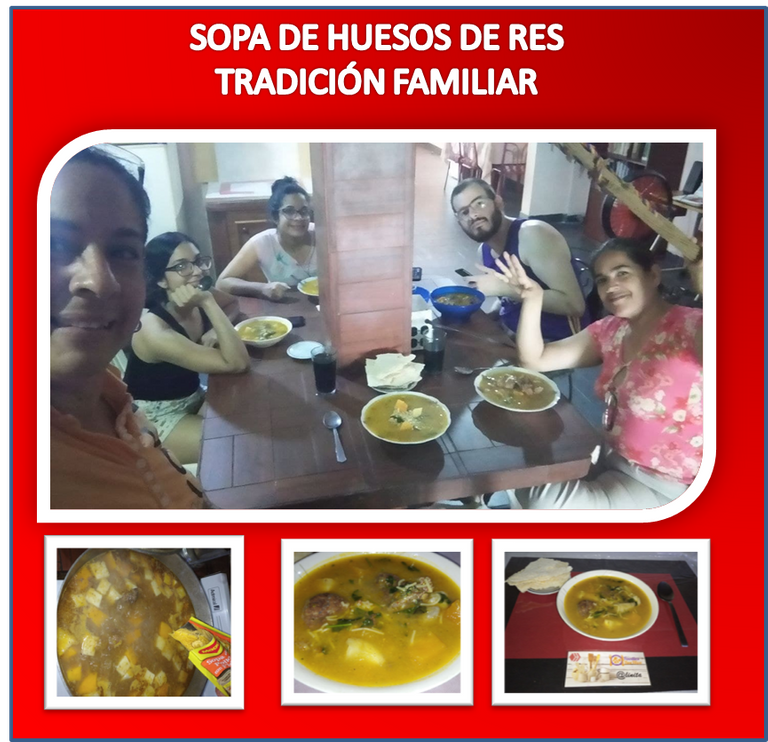 ¡Holaaaaaaaaaaaa, mis queridísimos amigos de Foodies Bee Hive!
La realización sopas en los hogares venezolanos siempre ha sido propicio para reunir a la familia y compartir momentos agradables. En mi familia tratamos de conservar la tradición, aunque por todos los sucesos que hemos acontecidos en los últimos años, la crisis económica, la pandemia, entre otros, ha causado que estas reuniones familiares se minimicen en solo a tu grupo del hogar. Sin embargo, he tratado de que permanezca aunque sea los domingo, que es por lo general cuando hago sopa en mi casa.
Anteriormente nos reuníamos en casa de mi madre, en un pueblito llamado Areo, a una hora de Maturín, Venezuela, que es donde resido. Allí nos concentrábamos todos, cada quien hacía su aporte y se elaboraba una olla industrial de sopa tanto para nosotros como para todo aquel que llegaba, porque eso si tiene de ventaja la sopa, que con un poco más de caldo es muy rendidora.
Lo mejor de estos encuentros es el compartir familiar, es aquí donde nos ponemos al día de todos los acontecimientos familiares y de algún chismecito para entretenernos mientras picamos las verduras y montamos la olla en la candela. Mientras que los hombres y los niños se distraen jugando al dominó, al truco y diversos juegos infantiles. La batuta en la cocina siempre ha estado a mi cargo pero con la colaboración de todos. Anteriormente la responsable era mi madre y la elaboración de la sopa era bajo sus instrucciones. Una vez que se me transfiere el mando en la cocina sigo la forma tradicional pero con algunos cambios que han , ya que cada uno tiene su toque personal a la hora de cocinar.
Extraño demasiado estos encuentros, ya se hace difícil reunirnos debido a la situación, a la ausencia de algunos de los miembros de la familia,unos porque ya no están físicamente y otros porque han emigrado. Pero aún conservo la esperanza de poder reunirnos muy pronto. Mientras tanto trato de conservar la tradición junto con mis hijas, hermana y sobrinos.
Ahora entremos en materia culinaria. Comencemos el proceso de preparación de esta rica sopa de huesos de res. Con esta entraa hago mi participacion En el concurso de #Foodies Bee Hive realizado por @sirenahippie.
Hago extensiva la invitación a mis hiver amigas @creacioneslelys, @kattycrochet, @marytp20 y @vicmito74 para que nos enseñen cómo es su forma tradicional de elaborar sopas.
Helloooooo, my dear Foodies Bee Hive friends!
Making soups in Venezuelan homes has always been conducive to reuniting the family and sharing pleasant moments. In my family we try to preserve the tradition, although due to all the events that have occurred in recent years, the economic crisis, the pandemic, among others, have caused these family gatherings to be minimized in only your household group. However, I have tried to keep it even if it's on Sunday, which is usually when I make soup at home.
Previously we met at my mother's house, in a small town called Areo, an hour from Maturín, Venezuela, which is where I live. There we all concentrated, each one made his contribution and an industrial pot of soup was made both for us and for everyone who came, because that if the soup has the advantage, which with a little more broth is very profitable.
The best thing about these encounters is family sharing, this is where we catch up on all family events and some gossip to entertain ourselves while we chop the vegetables and mount the pot on the candle. While men and boys are distracted by playing dominoes, tricks and various children's games. The baton in the kitchen has always been in my charge but with the collaboration of all. Previously, the person in charge was my mother and the preparation of the soup was under her instructions. Once the command in the kitchen is transferred to me, I follow the traditional way but with some changes that have been made, since each one has its own personal touch when it comes to cooking.
I miss these encounters too much, it is already difficult to meet due to the situation, the absence of some of the family members, some because they are no longer physically there and others because they have emigrated. But I still have hope that we can meet very soon. Meanwhile I try to preserve the tradition together with my daughters, sister and nephews.
Now let's get into culinary matters. Let's start the process of preparing this rich beef bone soup. With this entry I make my participation In the concurso of #Foodies Bee Hive made by @sirenahippie.
I extend the invitation to my hiver friends @creacioneslelys, @kattycrochet, @ marytp20 and @ vicmito74 to show us what their traditional way of making soups is like.
---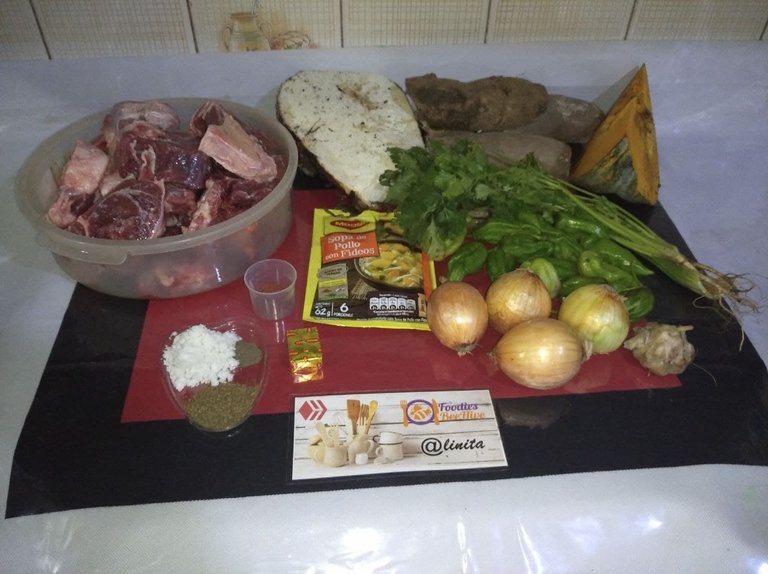 INGREDIENTES:
Esta sopa rinde para 8 personas,con raciones generosas.
2 Kg de Huesos de Res (Costilla, Lagarto y Cogote)
2 Kg de verdura (yuca, auyama, chino, ocumo)
250 gr de cebolla
125 gr de ajíes dulce
1 cabeza de ajo
125 gr de hierbas (cilantro y apio españa)
1 Sopa de fideos de pollo
1 cubito de pollo
Sal,pimienta, orégano y color al gusto.
INGREDIENTS:
This soup serves 8 people, with generous servings.
2 Kg of Beef Bones (Rib, Lizard and Neck)
2 Kg of vegetables (yucca, squash, Chinese, I take it)
250 gr of onion
125 gr of sweet peppers
1 head of garlic
125 gr of herbs (coriander and celery Spain)
1 Chicken noodle soup
1 chicken cube
Salt, pepper, oregano and color to taste.
---
PREPARACIÓN
Para la elaboración de la sopa de res lo primero que hay que hacer es ablandar la carne. Para ello colocamos todas las piezas en una olla de presión por 20 minutos. En caso de no poseer esta olla debes colocarla unas horas antes para que se ablande.
Coloco sal, pimienta y orégano para que la carne de los huesos absorba los condimentos y quede bien gustosa.
PROCESS
To make the beef soup, the first thing to do is tenderize the meat. To do this, we place all the pieces in a pressure cooker for 20 minutes. If you do not have this pot, you should place it a few hours before so that it softens.
I add salt, pepper and oregano so that the meat of the bones absorbs the seasonings and is very tasty.
---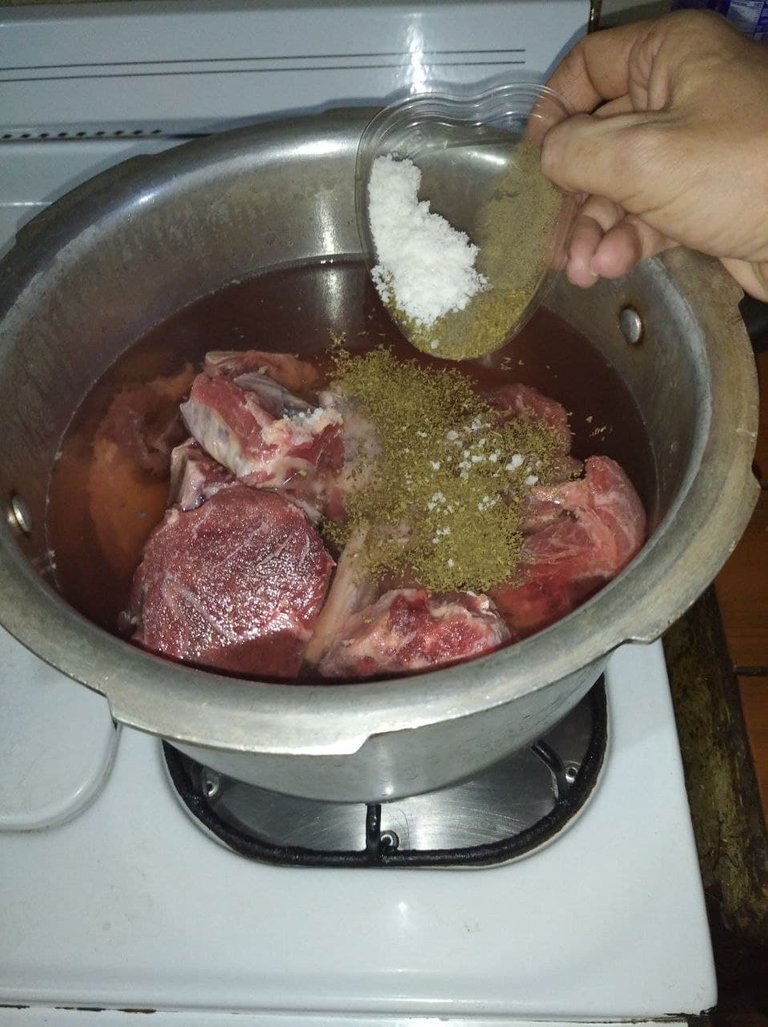 Mientras se ablanda la carne comenzamos a limpiar y picar las verduras y los vegetales. Como es para pocas personas esta labor la realizamos mi hermana y yo, mientras conversamos y compartimos entre risas y anécdotas.
While the meat is tenderizing we begin to clean and chop the vegetables and greens. As it is for few people, this work is carried out by my sister and I, while we talk and share between laughs and anecdotes.
---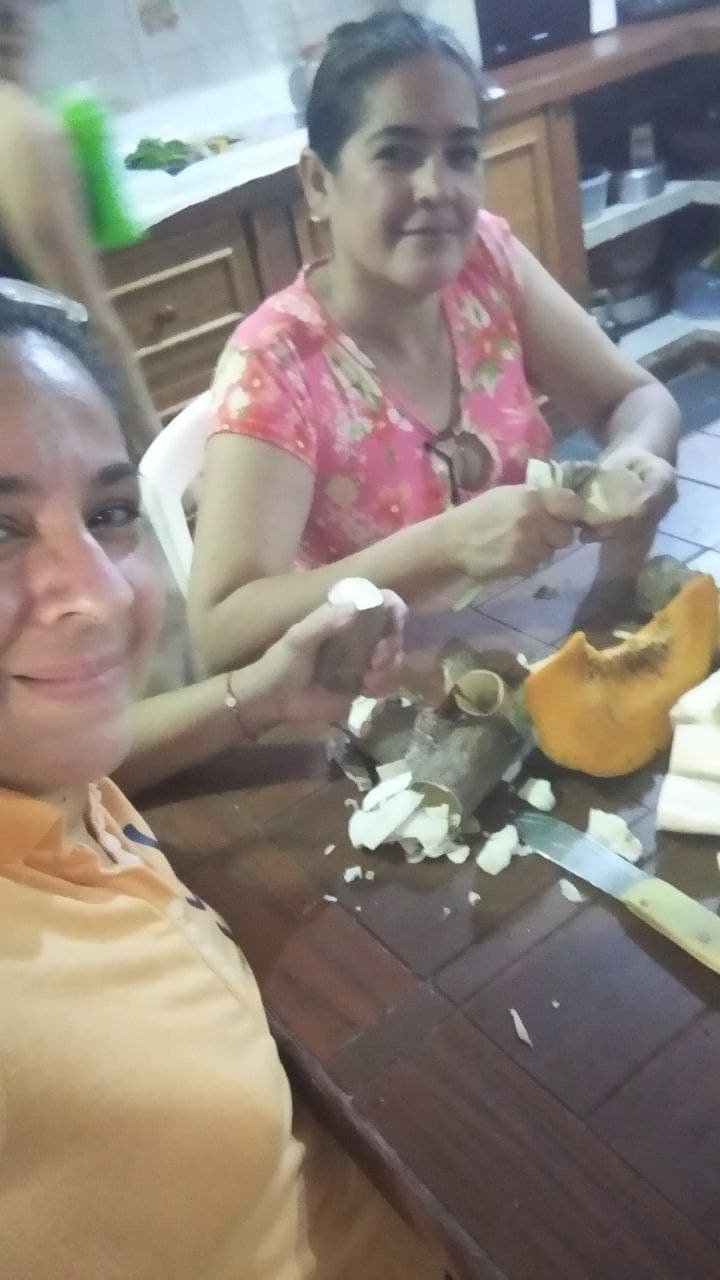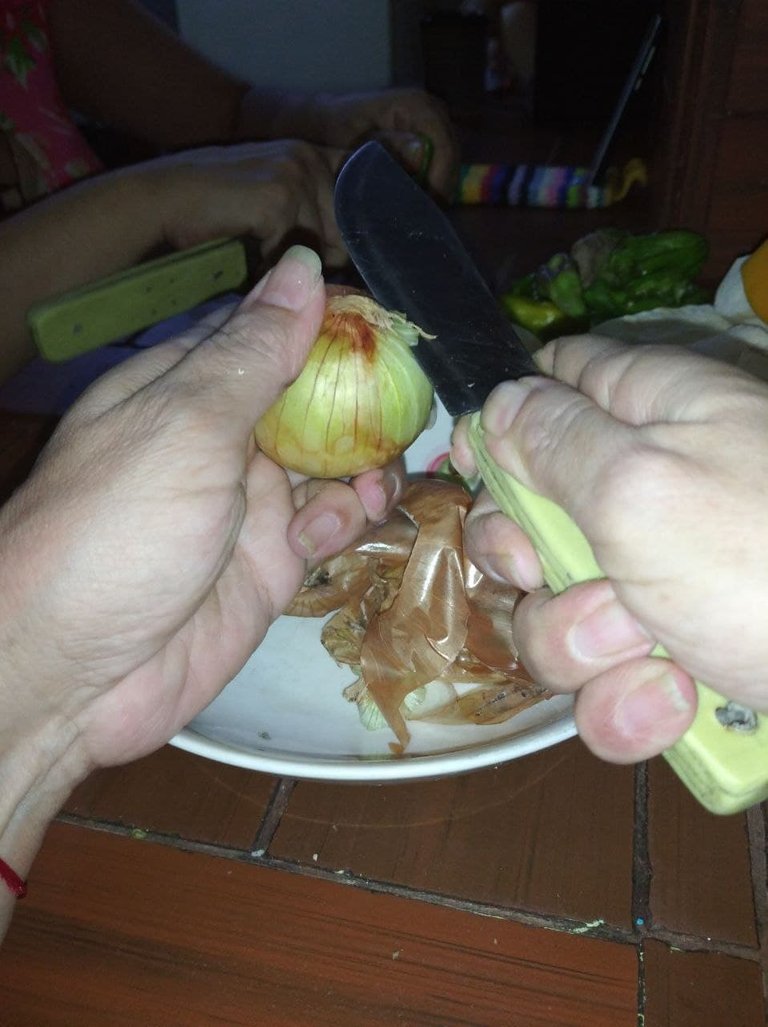 Una vez que los vegetales están lavados y picados los proceso en la licuadora para luego sofreirlos con muy poco aceite y le agrego el cubito de pollo y el color.
Este proceso es uno de los cambios que he realizado a la sopa que no lo hacía mi mamá. Ella picaba los vegetales y los agregaba junto con la carne cuando los llevaba a ablandar para que se desintegraran poco a poco. Mientras que yo hice el cambio para poder introducir las sopas en la dieta de mis hijas ya que no les gustaba para nada sentir los grumos de los vegetales. También puedo acotar que el proceso de sofrito aporta un sabor adicional a las sopas.
Once the vegetables are washed and chopped, I process them in the blender and then fry them with very little oil and add the chicken cube and the color.
This process is one of the changes I've made to the soup that my mom didn't. She chopped the vegetables and added them along with the meat when she took them to soften them so that they disintegrated little by little. While I made the change to be able to introduce the soups in the diet of my daughters since they did not like to feel the lumps of the vegetables at all. I can also limit that the stir-frying process brings an additional flavor to soups.
---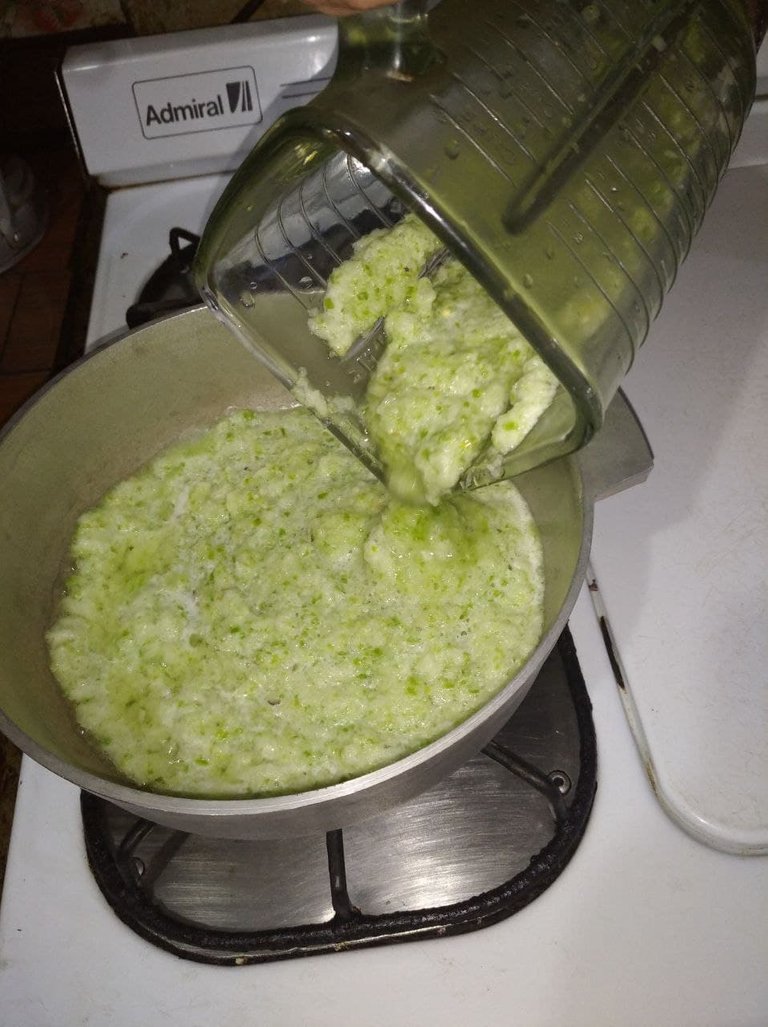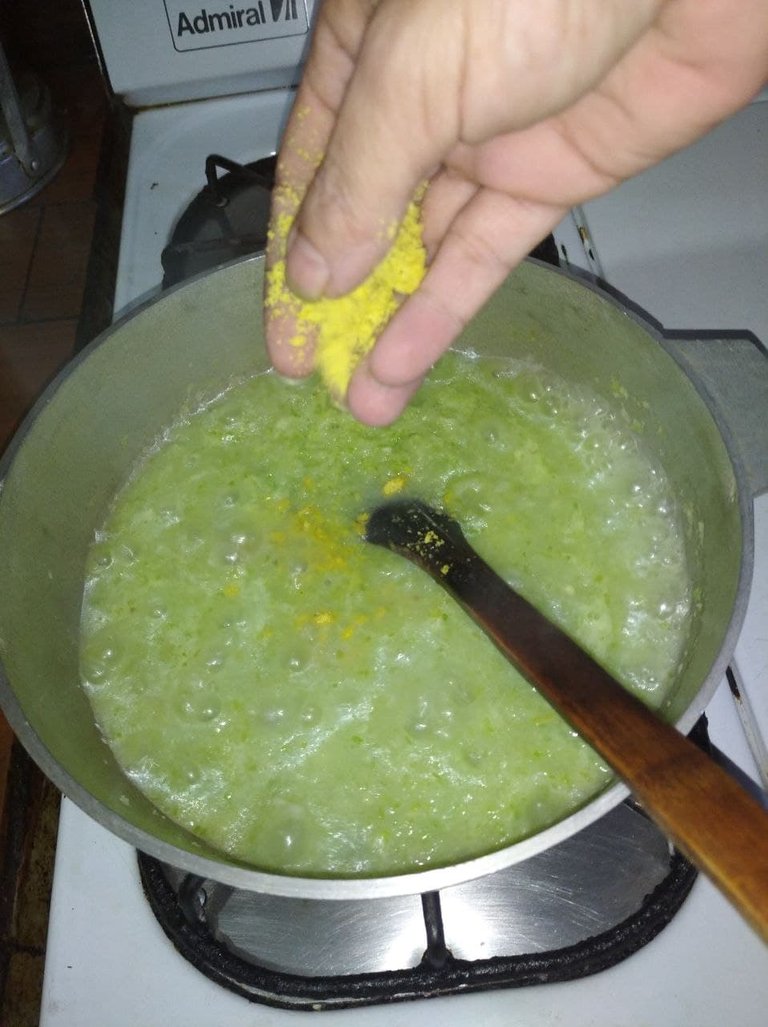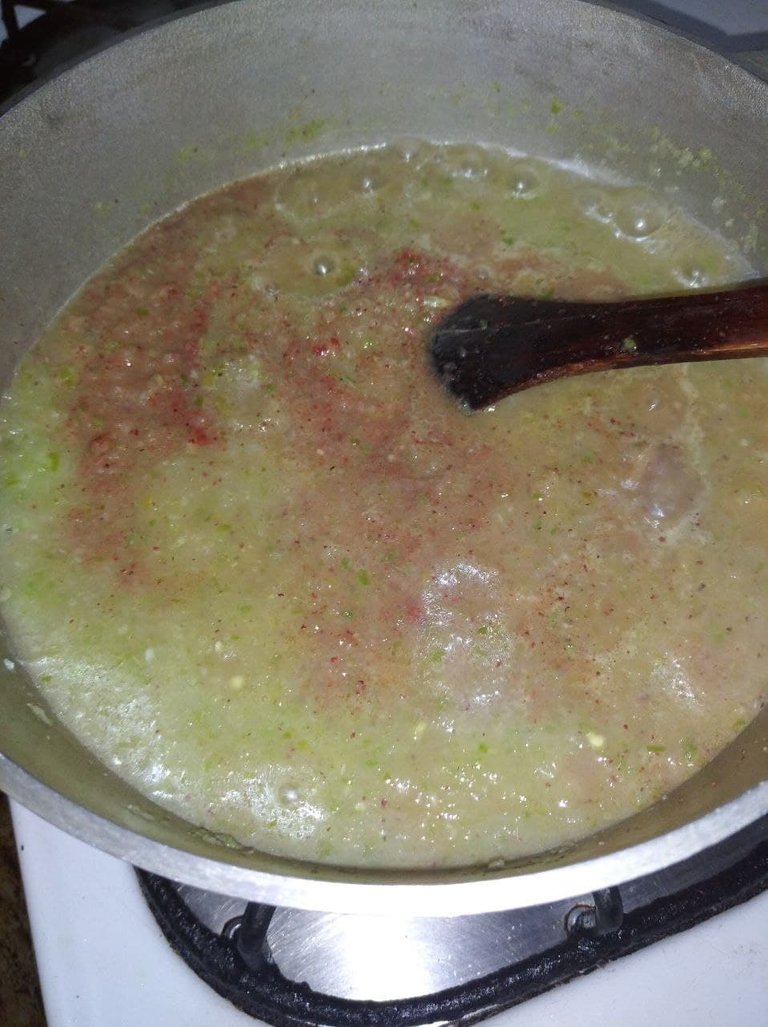 Cuando ya la carne de los huesos esta blanda y el sofrito de vegetales listo, lo que hacemos es colocar todo en una olla más grande, los huesos y el sofrito y cocinamos por 10 minutos para que se concentren los sabores.
When the meat of the bones is soft and the vegetable sauce is ready, what we do is place everything in a larger pot, the bones and the sauce and cook for 10 minutes so that the flavors are concentrated.
---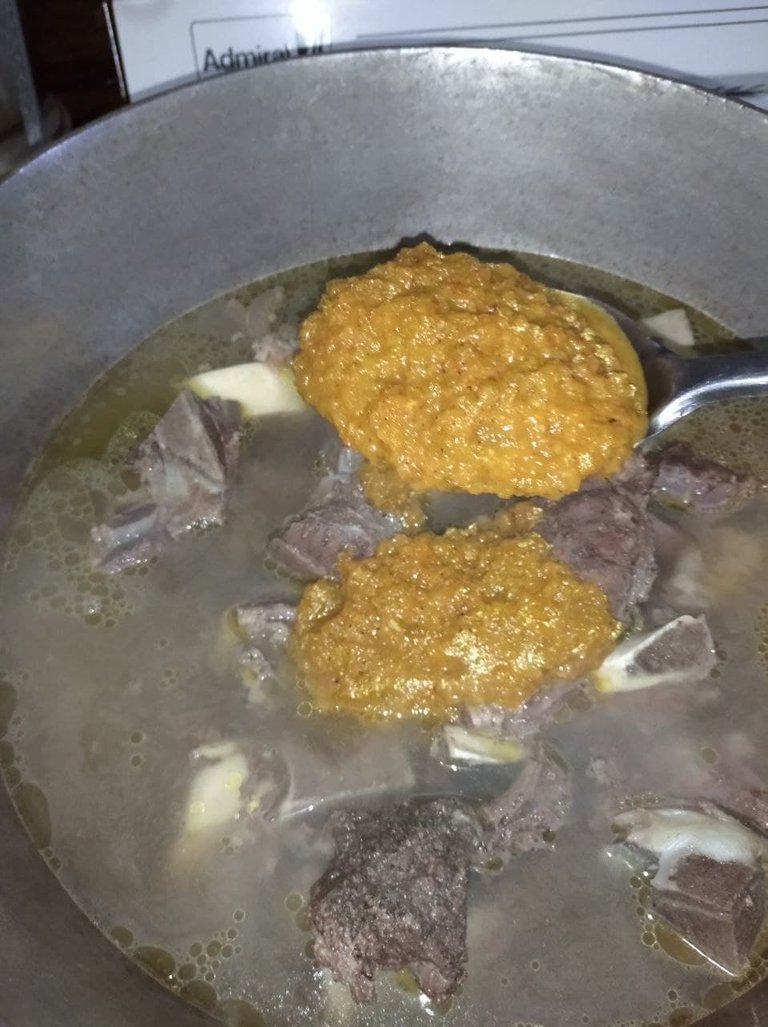 Luego agregamos agua suficiente hasta que hierva y colocamos la verdura previamente lavada y picada en trozos.
Then we add enough water until it boils and we put the vegetables previously washed and chopped into pieces.
---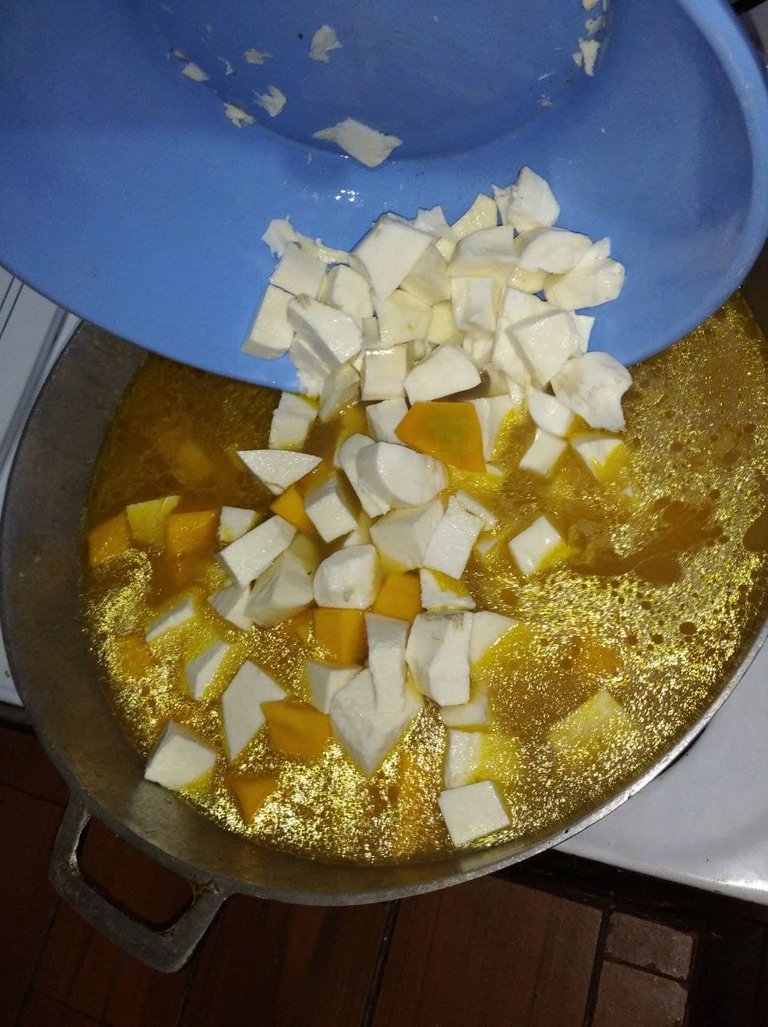 Cuando comience a hervir nuevamente, 5 minutos después agregamos la sopa de fideos y cocinamos hasta ablandar la verdura. Una vez lista la verdura agregamos el cilatro y el apio españa.
When it starts to boil again, 5 minutes later we add the noodle soup and cook until the vegetables are soft. Once the vegetables are ready, add the coriander and the celery.
---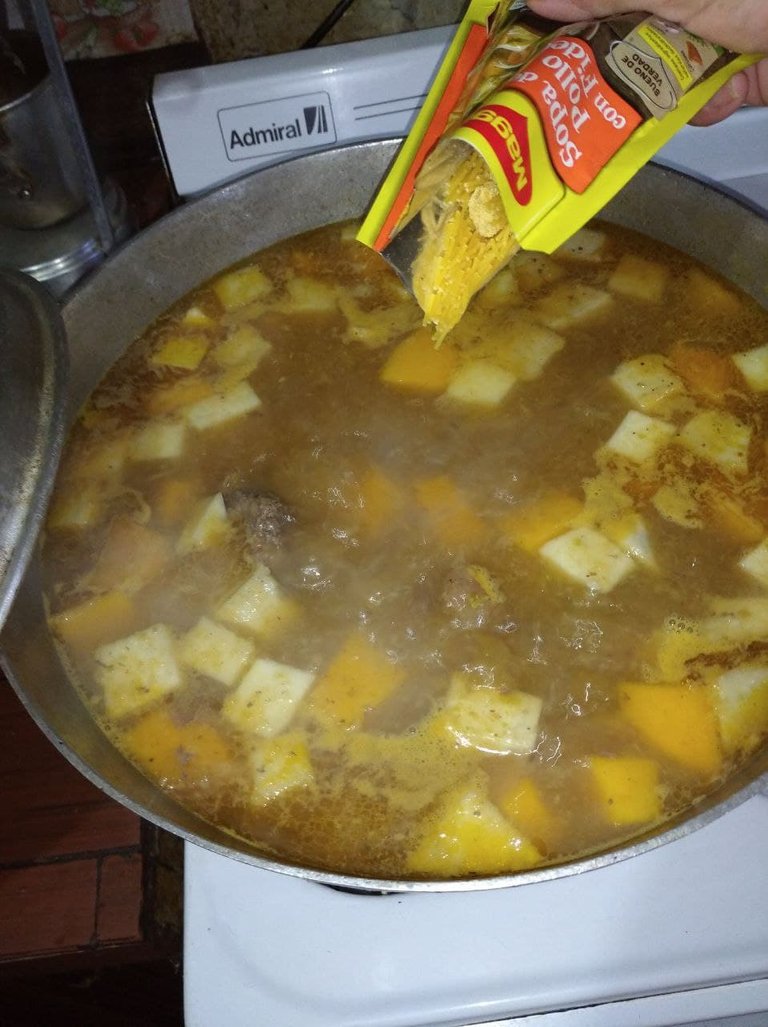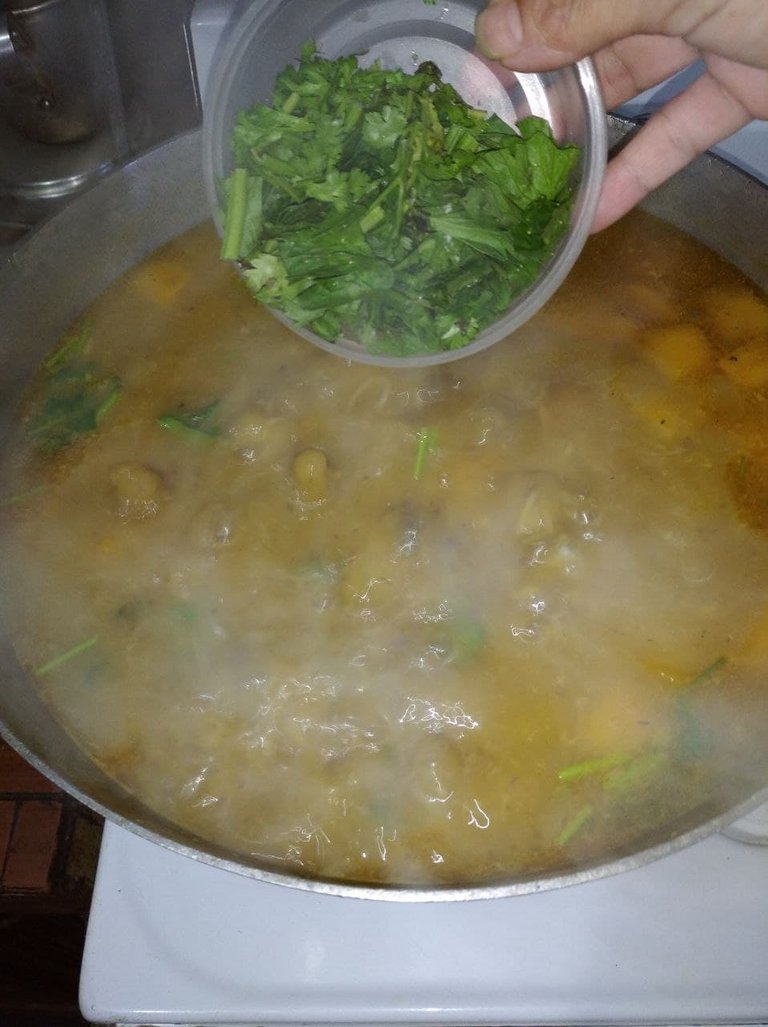 Ya lista la sopa, dejamos reposar unos minutos y procedemos a servir. Y a disfrutar esta nutritiva sopa de huesos que sabe a gloria cuando la compartes con tus seres queridos.
The soup is ready, let it rest for a few minutes and proceed to serve. And to enjoy this nutritious bone soup that tastes of glory when you share it with your loved ones.
---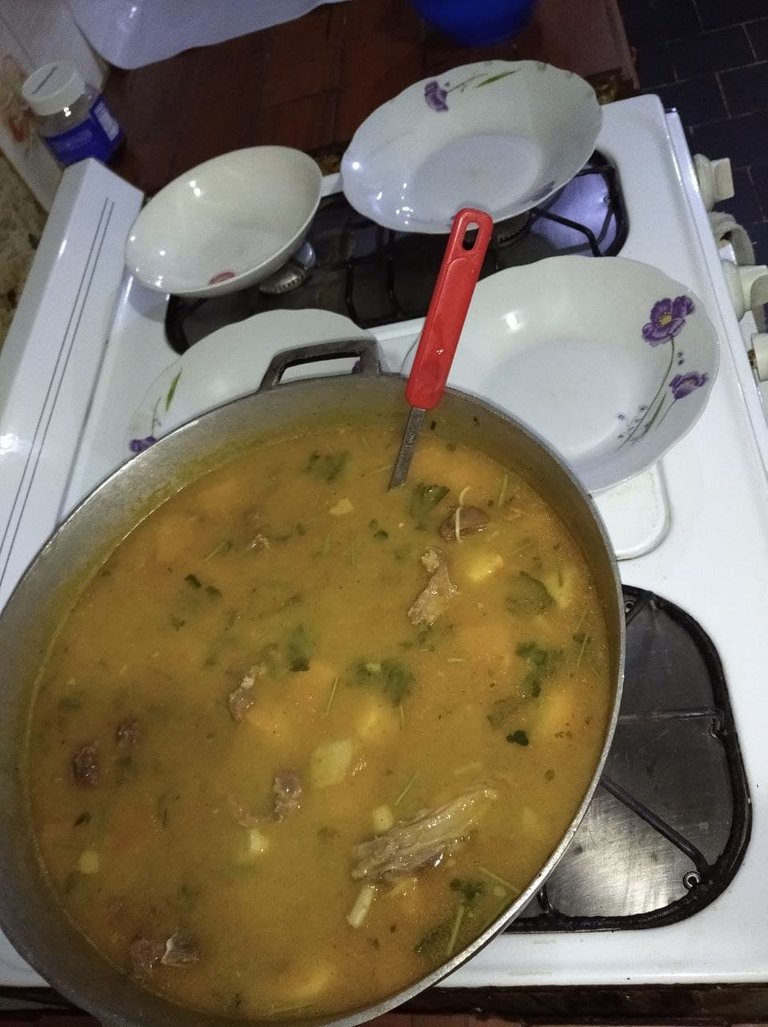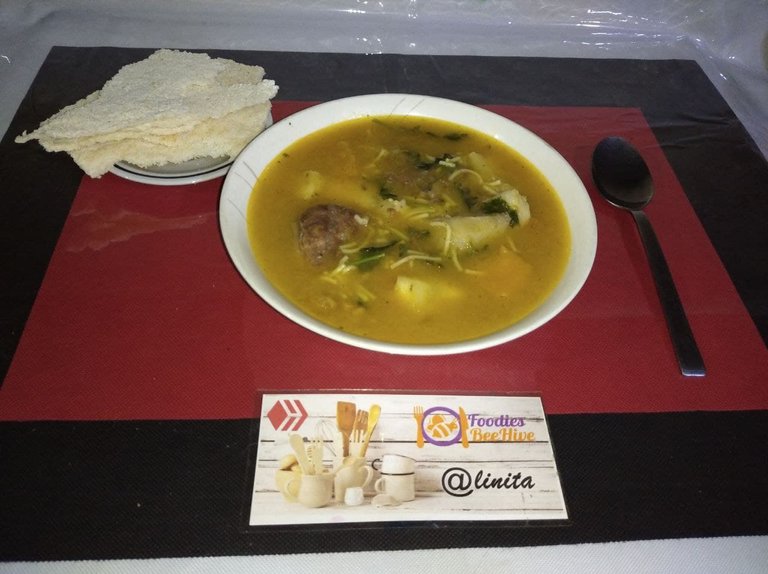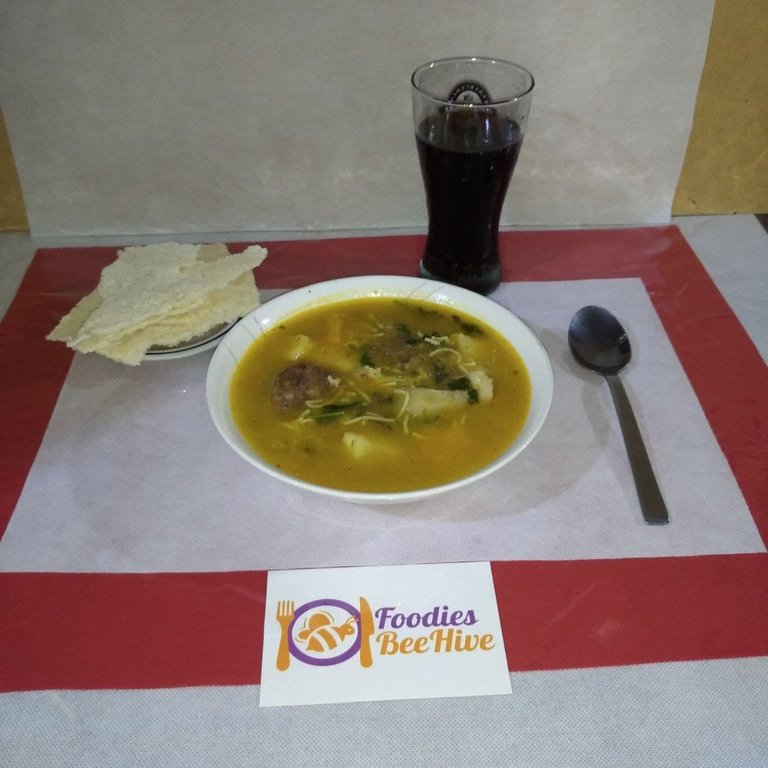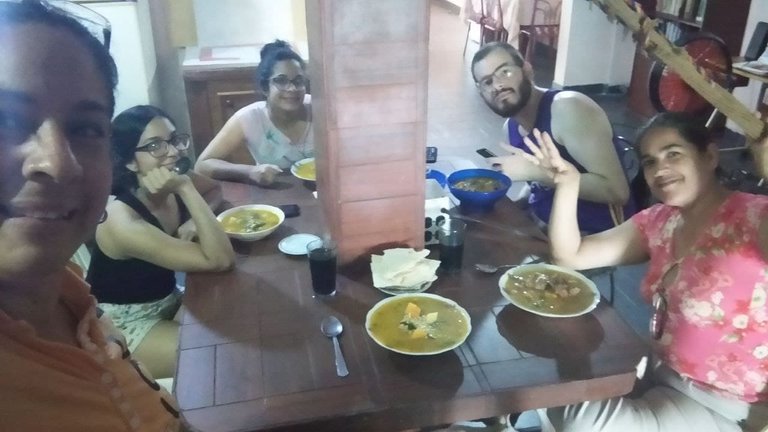 Todas las fotos son de mi autoría, tomadas con mi teléfono Xiaomi 8A

Utilicé https://translate.google.com para la tradución

---
---
---