The overwhelming creative freedom of Scribblenauts Unlimited (3DS)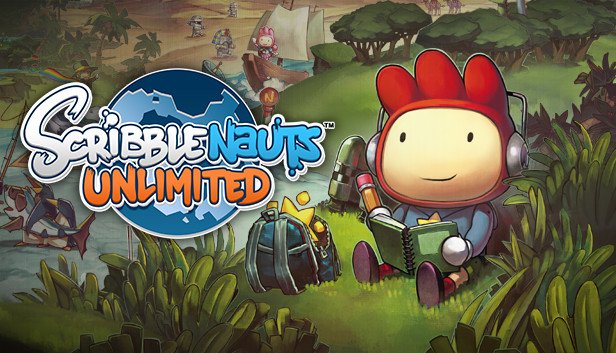 Source
Español
¡Hola! Yo otra vez un poco más emocionada de lo habitual porque en los últimos días he conseguido en un baúl cerca de mi cuarto un puñado de juegos para mi vieja 3DS que tengo ya casi una década sin jugar, no voy a hacerle un análisis a todos pero si a mis juegos favoritos de ahora y cuando era niña, una vez más muchísimas gracias a todos los que apoyan mis post y disculpa si soy un poco inconsistente, a veces me pierdo en la diversión de estos juegos y no me acuerdo de traerlos al blog pero eso ira cambiando con el tiempo y las noches disponibles que tenga para escribir, hoy les traigo una saga que no sé por qué no se habla más a menudo en el mundo de los videojuegos, siendo Scribblenauts uno de los títulos más sobresalientes que he jugado, tanto en su versión de DS como la Unlimited que salió para la 3DS tienen ideas simples pero que son llevadas a una libertad casi ilimitada a través de sus formas de jugar y hacen volar la creatividad del jugador, veámoslo mas de cerca:
English
Hello! Me again a little more excited than usual because in the last few days I got in a trunk near my room a handful of games for my old 3DS that I have almost a decade without playing, I'm not going to review them all but my favorite games from now and when I was a kid, once again thank you very much to all who support my posts and sorry if I'm a little inconsistent, sometimes I get lost in the fun of these games and I do not remember to bring them to the blog but that will change with time and the available nights I have to write, today I bring you a saga that I don't know why it is not talked more often in the world of video games, being Scribblenauts one of the most outstanding titles I've played, both in its DS version and the Unlimited that came out for the 3DS have simple ideas but that are taken to an almost unlimited freedom through their ways of playing and make the player's creativity fly, let's take a closer look: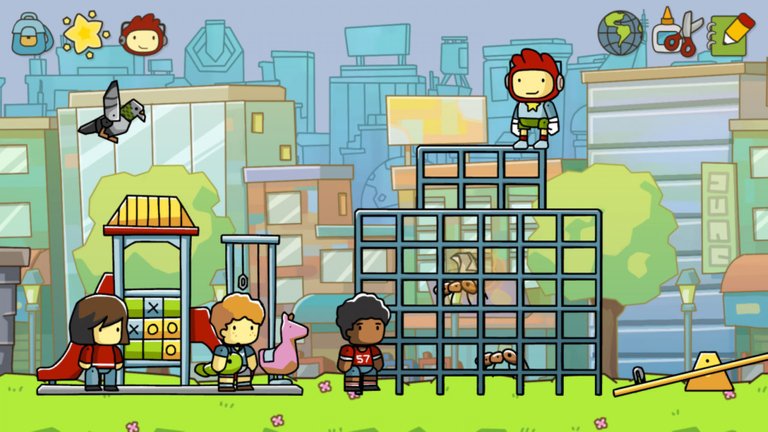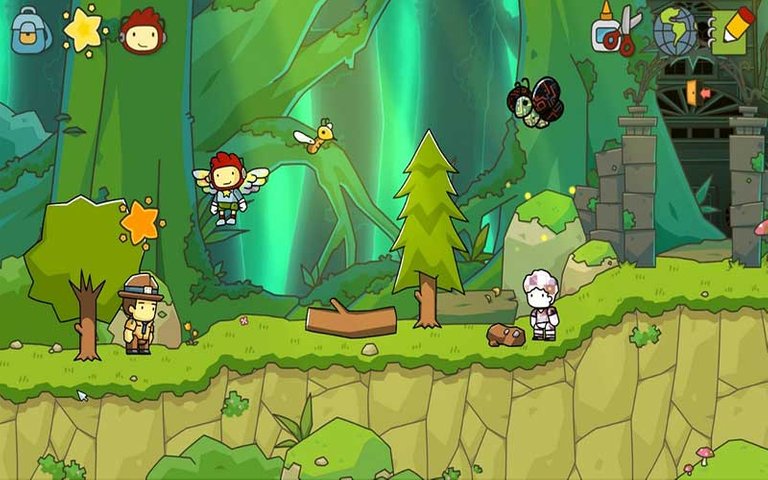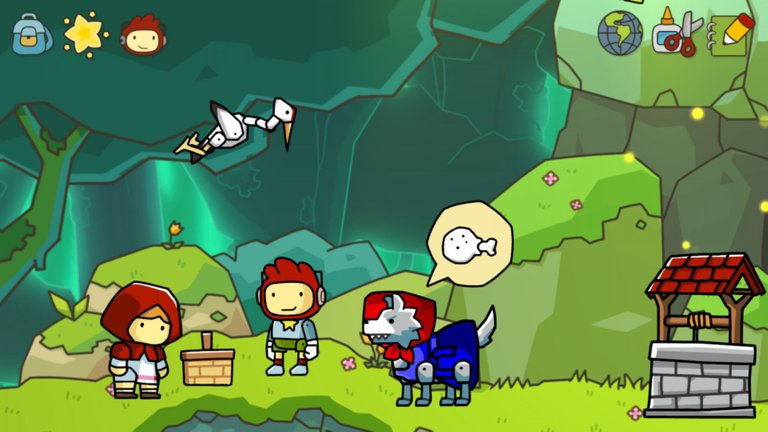 Source 1
Source 2
Source 3
---
La premisa de toda la saga de Scribblenauts es bastante simple, tenemos un problema u objetivo en frente de nosotros y una libreta con la que podremos escribir y traer a la vida una infinidad de objetos para poder cumplir con nuestra misión y obtener nuestra estrella, la vuelta del juego es que los objetivos que tendremos que resolver no tienen solo una forma de resolverlos sino que podremos pensar fuera de caja e ingeniarnos para resolver cada uno de los acertijos a nuestra manera, en algunos niveles nos pedirán que le demos un objeto a otro personaje para que nos entregue la estrella o en otros niveles más complejos tendremos que pasar por una serie de obstáculos para poder llegar a ella, como ya dije la verdadera diversión esta en pensar fuera de la caja e invocar los objetos que queramos para poder cumplir cada uno de los objetivos y no hay nada más divertido que invocar un helicóptero para poder rescatar al gato de alguien de un árbol.
The premise of the entire saga of Scribblenauts is quite simple, we have a problem or goal in front of us and a notebook with which we can write and bring to life an infinite number of objects to fulfill our mission and get our star, the twist of the game is that the objectives that we have to solve not only have a way to solve them but we can think outside the box and ingenuity to solve each of the puzzles in our own way, In some levels we will be asked to give an object to another character to give us the star or in other more complex levels we will have to go through a series of obstacles to reach it, as I said the real fun is to think outside the box and invoke the objects we want to meet each of the objectives and there is nothing more fun than invoking a helicopter to rescue someone's cat from a tree.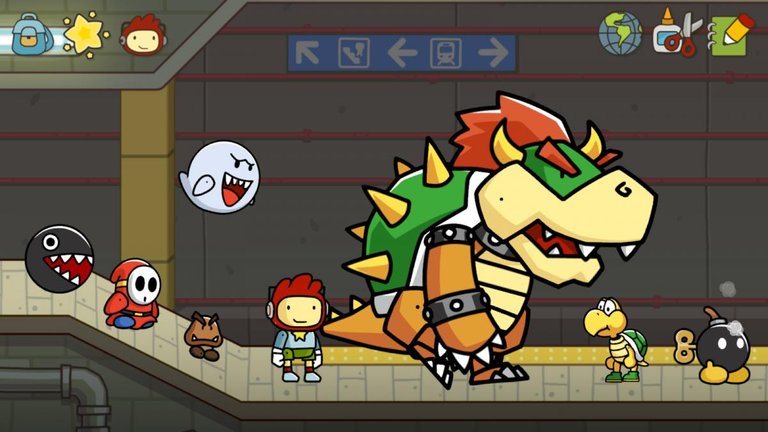 Source
Nuestra misión en el juego aparte de resolver cada uno de los desafíos que nos proponen es la de reunir la Starites que son estas estrellas al final de cada nivel, y aquí se manifiesta algo no había visto en los demás títulos de la saga y es una historia, simple y concreta pero que nos detalla los inicios de Maxwell y de su libreta mágica así de por qué estamos resolviendo los problemas del mundo y recogiendo las estrellas, no es nada del otro mundo pero hace más llevadero cada nivel que pisamos y me parece una historia entretenida para los más pequeños, aunque un poco oscura en ocasiones. Aunque la historia sea corta la jugabilidad para nada lo es, tendremos algunos acertijos que brillaran por su complicado set de objetivos, así como otros en donde la paciencia será virtud, pero cada nivel nos dará un desafío a la altura de los que les gusten los videojuegos de rompecabezas, a mí en particular me ha encantado, aunque no soy mucho de jugar este estilo de juegos.
La libreta es de lo más destacado que tiene cada nivel ya que en cada uno podremos desplegar un vocabulario enorme de objetos que podremos utilizar, me ha sorprendido también las recomendaciones que nos da la libreta cuando no escribimos o no sabemos exactamente lo que estamos buscando, aunque después de un rato encontremos limitaciones pueden confiar en que no se cansaran de buscar objetos extraños para resolver cada uno de los niveles, podremos invocar desde seres vivos hasta objetos o vehículos, cada uno con sus características y formas de abarcar el espacio, además de algunas otras palabras más de fantasía (como por ejemplo los dragones o dioses) que podremos traer a la batalla en algunos niveles.
Our mission in the game apart from solving each of the challenges that we propose is to collect the Starites that are these stars at the end of each level, and here manifests something I had not seen in the other titles of the saga and is a story, simple and concrete but that details the beginnings of Maxwell and his magic notebook and why we are solving the problems of the world and collecting the stars, it is nothing to write about but it makes each level more bearable and I find it an entertaining story for the little ones, although a little dark at times. Although the story is short the gameplay is not at all, we will have some puzzles that will shine for its complicated set of objectives, as well as others where patience will be virtue, but each level will give us a challenge to the height of those who like puzzle video games, I particularly loved it, although I'm not much of playing this style of games.
The notebook is the highlight of each level because in each one we can deploy a huge vocabulary of objects that we can use, I was also surprised by the recommendations that gives us the notebook when we do not write or do not know exactly what we are looking for, although after a while we find limitations you can trust that you will not get tired of looking for strange objects to solve each of the levels, we can invoke from living beings to objects or vehicles, each with its characteristics and ways to cover the space, plus some other more fantasy words (such as dragons or gods) that we can bring to battle in some levels.
---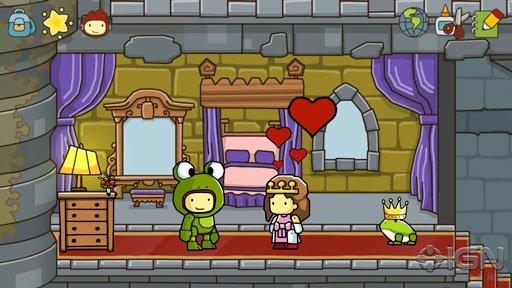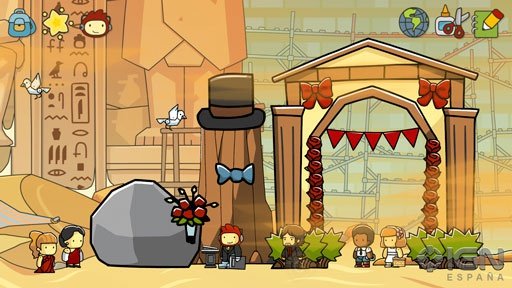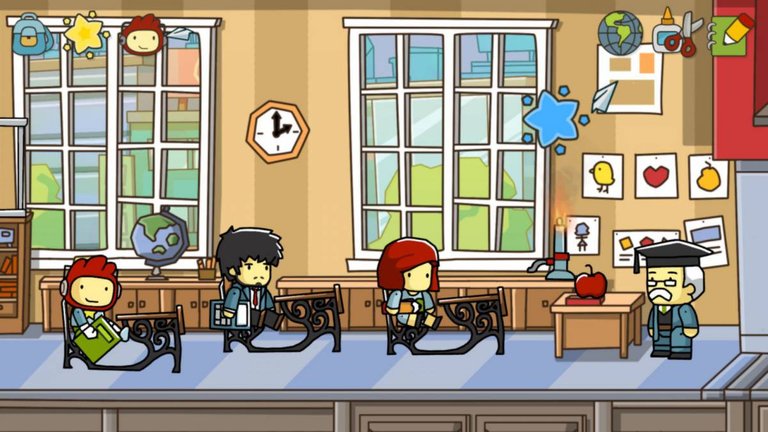 Source 1
Source 2
Source 3
Además de toda esa sensación de libertad en la que seguramente nos perderemos por horas también posee un modo cooperativo con el que podremos conectarnos y jugar con otra persona a nuevos niveles que requerirán la coordinación de ambos jugadores, también podremos crear nuestros propios niveles llenos de fantasía gracias a un editor que funciona de maravillas para las tareas simples, pero no demasiado bien para objetivos más complejos, igualmente complementa bien lo que veremos en los niveles en lo que es una de las experiencias más desafiantes de la consola, aun sin llegar a ser demencialmente difícil es un excelente juego de rompecabezas para resolver un nivel cada tarde, yo desde luego aun lo disfruto incluso más que los Marios que me he encontrado por ahí.
In addition to all that sense of freedom in which we will surely get lost for hours also has a cooperative mode with which we can connect and play with another person to new levels that will require the coordination of both players, we can also create our own levels full of fantasy thanks to an editor that works great for simple tasks, but not too well for more complex objectives, equally well complements what we will see in the levels in what is one of the most challenging experiences of the console, even without being insanely difficult is an excellent puzzle game to solve a level every afternoon, I certainly still enjoy it even more than the Marios I've found out there.

Source
---
---