[ESP-ENG] Halloween inspired makeup - Easy to do ll Maquillaje inspirado en Hallowen - facil de hacer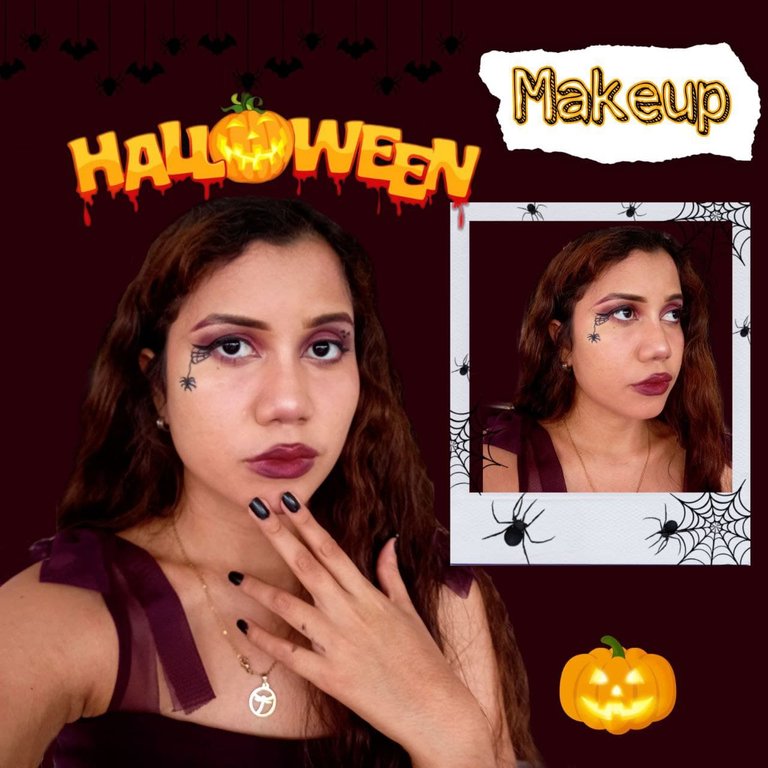 ---
Muy buenas mis queridos lectores, espero que se encuentren excelente, el día de hoy me encuentro emocionada por compartirles este maquillaje inspirado en Halloween, ya mañana se celebra esta festividad, espero que todos aprovechen al máximo esta oportunidad para sacar toda su creatividad y ponerse al día ya sea para maquillarse o buscar disfraces.
Este maquillaje es simple, son para aquellos que no quieren ir disfrazados pero a la vez quieren llevar algo relacionado a Halloween, aquí les tengo la solución, un maquillaje sencillo pero a la vez atractivo, espero que les guste mucho .
Sin más nada que decir, comencemos.
Very good my dear readers, I hope you are feeling great, today I am excited to share with you this Halloween inspired makeup, tomorrow is the celebration of this holiday, I hope you all make the most of this opportunity to get all your creativity and get up to date either to make up or look for costumes.
This makeup is simple, it is for those who do not want to go in costume but at the same time want to wear something related to Halloween, here I have the solution, a simple makeup but at the same time attractive, I hope you like it a lot.
With nothing more to say, let's start.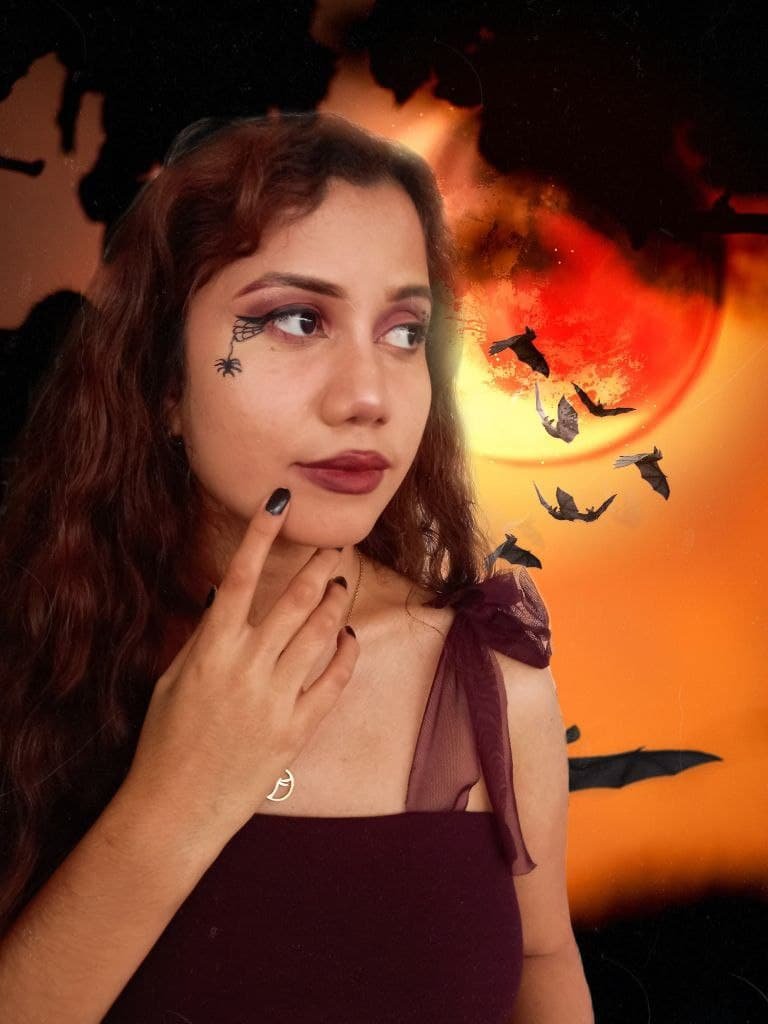 ---
Debo admitir que nunca he celebrado Halloween, de niña si, recuerdo que junto con mis vecinas hacíamos reuniones y nos disfrazábamos, sin embargo al crecer lo fuimos dejando, hasta el sol de hoy nunca he ido a una fiesta de Halloween, por ende nunca he tenido la oportunidad de ir disfrazada. Incluso esta vez sí me invitaron a una fiesta, pero lamentablemente a última hora mis tutores de tesis se comunicaron conmigo y estaré súper ocupada mañana con correciones, asi que esto me lleva a otro años sin celebrar esta festividad.
Sin embargo al terminar con en eso, de seguro me tomare el tiempo para ver una película de terror y de alguna manera celebrarlo desde mi cuarto, tal vez compre dulces para disfrutar el momento.
I must admit that I have never celebrated Halloween, as a child yes, I remember that together with my neighbors we used to have get-togethers and dress up, however as we grew up we stopped doing it, until today I have never gone to a Halloween party, therefore I have never had the opportunity to go dressed up. Even this time I was invited to a party, but unfortunately at the last minute my thesis tutors contacted me and I will be super busy tomorrow with corrections, so this takes me to another year without celebrating this holiday.
However, when I'm done with it, I will surely take the time to watch a horror movie and somehow celebrate it from my room, maybe buy some candy to enjoy the moment.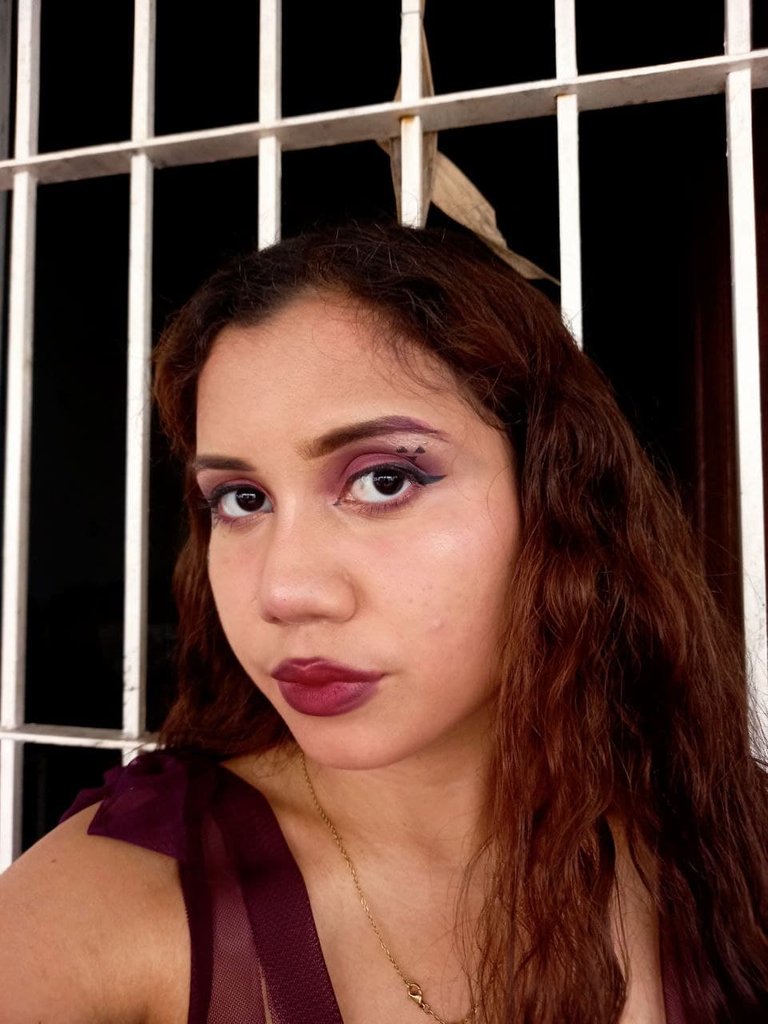 ---
Realmente no agregue mucho en el maquillaje, lo que quería era tomar colores oscuros y verme bastante gótica, hacerme un delineado bastante potente donde en el ojo derecho reflejara que estuviese una mini araña guindando de mi delineado, mientras que en el otro está la cara de la calabaza de Halloween, estos dos diseños se relacionan con la temática.

Al principio iba a tomar los colores característicos de esta festividad, el anaranjado y amarillo, pero luego se me ocurrió que mejor tomaría colores oscuros, para verme más E-girl y atractiva.

Ustedes se pueden vestir como quieran, yo me puse fue una blusa del mismo color con una falda, algo que va acorde al look, la cosa es ingeniárselas y verse como una Diosa.

I didn't really add much in the makeup, what I wanted was to take dark colors and look quite gothic, make a very powerful eyeliner where the right eye reflects a mini spider hanging from my eyeliner, while in the other is the face of the Halloween pumpkin, these two designs are related to the theme.

At first I was going to take the characteristic colors of this holiday, orange and yellow, but then it occurred to me that I'd better take dark colors, to look more E-girl and attractive.

You can dress as you like, I wore a blouse of the same color with a skirt, something that goes with the look, the thing is to make it up and look like a Goddess.

___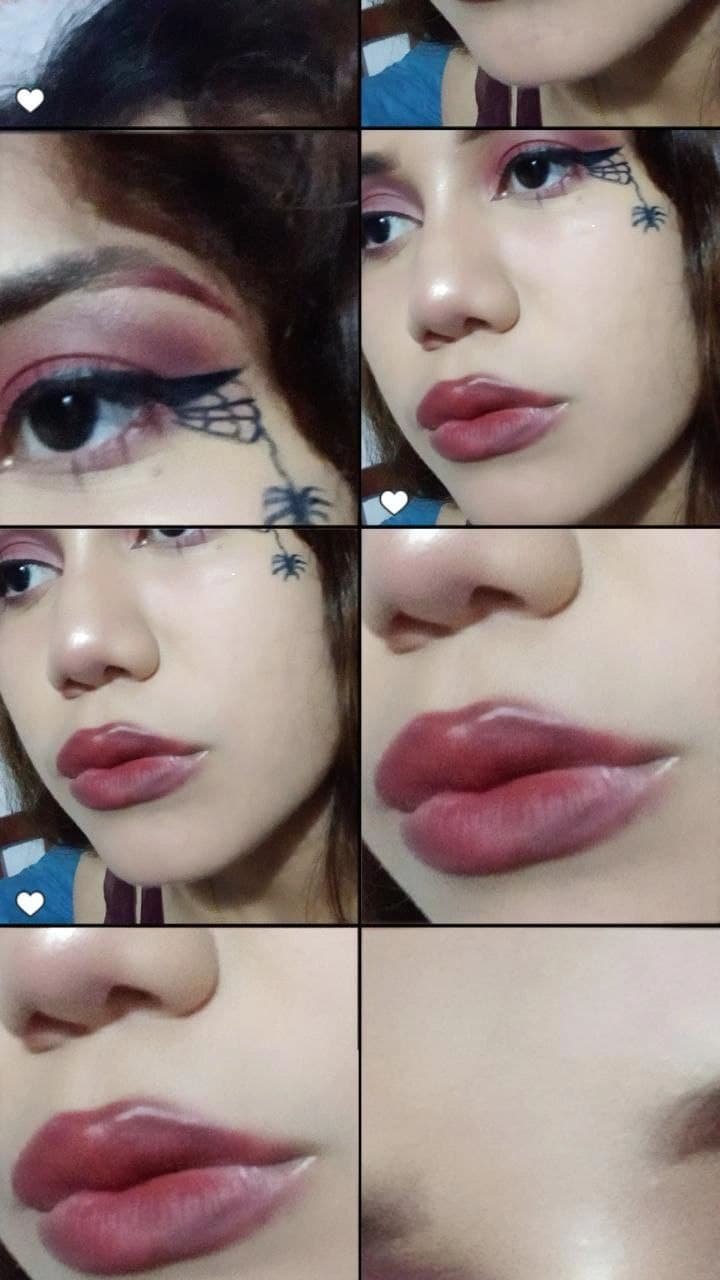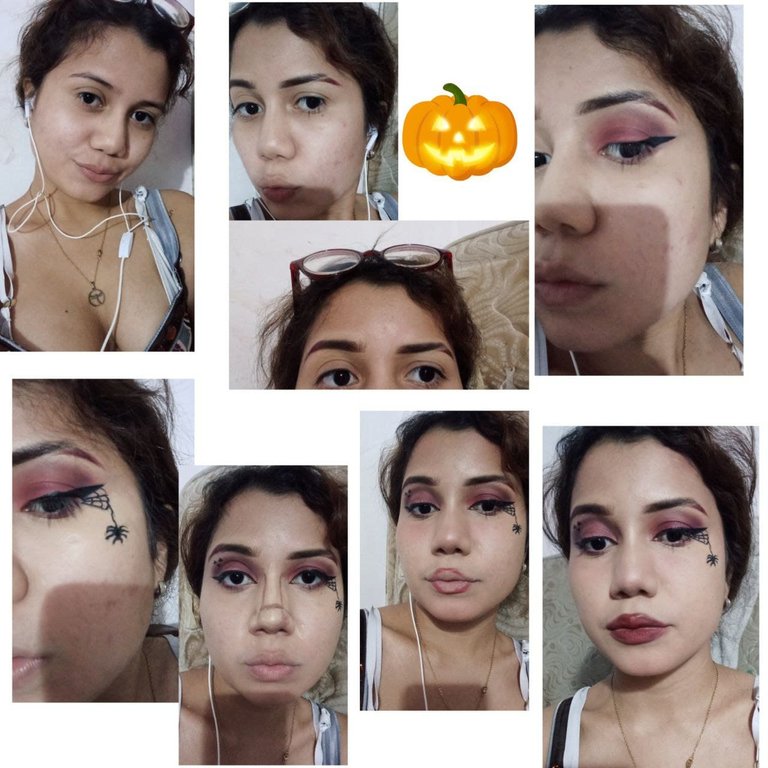 ---
Veamos el procedimiento.
En las imágenes podemos notar los paso a paso del maquillaje que realice.
Debes tener tu rostro limpio, y luego proceder con todas tus cremas para iniciar con el maquillaje.
Lo primero que hice fueron las cejas, me las pinte bien finitas y marcadas, como se darán cuenta en la mitad la delinee de color rojo vino, para que se vieran más dramáticas y combinara con el look de los ojos.
En los ojos utilice estos colores: Vino tinto y negro, al final quedo como un morado, es gracioso, pero es la verdad, el vino tinto lo difumine en el parpado y el negro en la cuenca creando un degradado en los dos colores.
Con un delineador ya gastado, casi que no pinta, realice un boceto en cada ojo del diseño que quería, luego lo remarque con uno bueno, con corrector perfeccione las partes para quedara bien.
Luego tome iluminador y coloque en algunas partes para resaltar, me hice contorno, y lo demás fue rizarme las pestañas, rubor, polvo.
Para los labios utilice la técnica de mi hermana @lqch, que les dejare aqui en su post, para que aprendan y puedan hacerlo.
Y eso fue todo amigos, espero que les haya encantado tanto como a mí, y si lo llegan a intentar no duden en dejármelo saber, se les quiere mucho, nos vemos en la próxima.
Let's see the procedure.
In the images we can see the step by step of the makeup I did.
You must have your face clean, and then proceed with all your creams to start with the makeup.
The first thing I did were the eyebrows, I painted them very thin and marked, as you will notice in the middle I outlined them in wine red, so they look more dramatic and combined with the look of the eyes.
On the eyes I used these colors: red wine and black, in the end it was like a purple, it's funny, but it's the truth, I blurred the red wine on the eyelid and the black in the socket creating a gradient in the two colors.
With a worn out eyeliner, almost no longer paints, I made a sketch in each eye of the design I wanted, then I outlined it with a good one, with concealer I perfected the parts to make it look good.
Then I took illuminator and put it in some parts to highlight, I did contouring, and the rest was to curl my eyelashes, blush, powder.
For the lips I used the technique of my sister @lqch, which I will leave here in her post, so you can learn and do it.
And that was all friends, I hope you loved it as much as I did, and if you try it don't hesitate to let me know, you are very much loved, see you in the next one.
---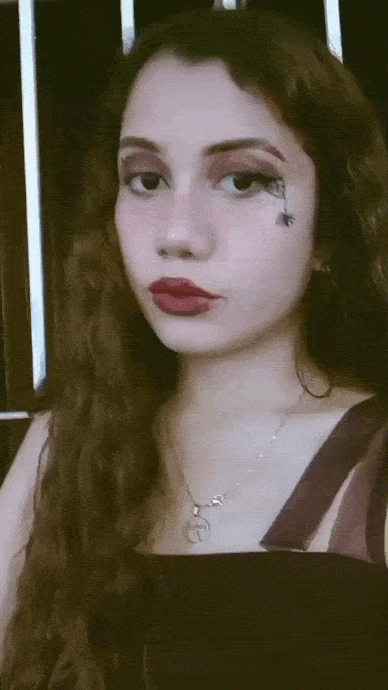 Traducido en: DeepL
Fotos editadas en PhotoScape y Canva
Gif hecho en Convertidor de Gif
Translated into: DeepL
Photos edited in PicSart
Gif made in Gif Converter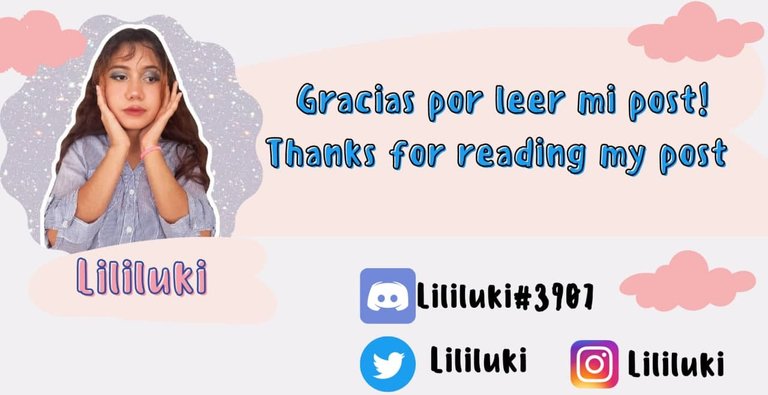 ---
---