[ESP-ENG] My motherhood journey #MYMOTHERHOODJOURNEY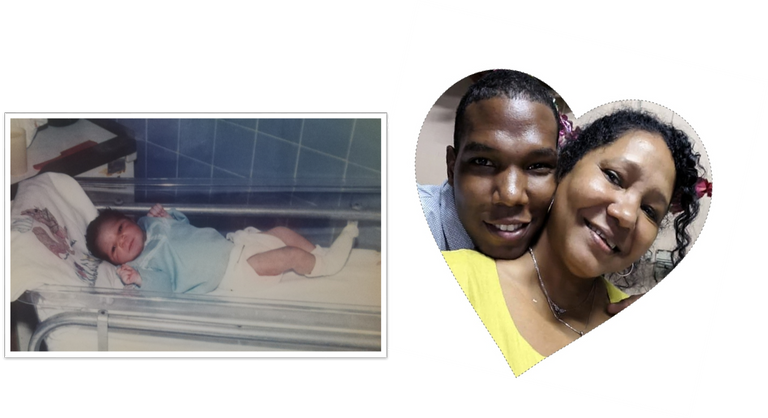 Very good friends of Maternity, I must thank my friend @chacald.dcymt who, thanks to her support, decided to participate in this special challenge for Mother's Day, because in reality I began that path many years ago, if we take into account that my son is 25 years old, in reality the photos I have are very old and some without color, but like all mothers we never forget that wonderful and spectacular trip and I am filled with courage and here I am.
Well, it had been a year since her father and I had been married and I had finished my studies at the University two years ago, I have a degree in Accounting and Finance, I was always a woman aware that women could be passionate, mothers, but always use to have a preparation to face life and be able to provide well for our children therefore everything was at the right time. So I did it.
Muy buenas amigas de la Maternidad, debo agradecer a mi amiga @chacald.dcymt que gracias a su apoyo decidí participar en este reto especial del Día de la Madre, porque en realidad ese camino lo inicié hace muchos años, si tenemos en cuenta que mi hijo tiene 25 años, en realidad las fotos que tengo son muy viejas y algunas sin color, pero como toda madre nunca olvidamos ese maravilloso y espectacular viaje y me llene de coraje y aquí estoy.
Pues bien ya hacía un año que su papá y yo nos habíamos casado y yo había terminado hacía dos años mis estudios en la Universidad, soy Licenciada en Contabilidad y Finanzas, siempre fui una mujer consciente de que las mujeres podíamos ser apasionadas, madres, pero siempre teníamos que tener una preparación para enfrentar la vida y poder proveer bien a nuestros hijos por tanto todo era en su justo momento. Y así lo hice.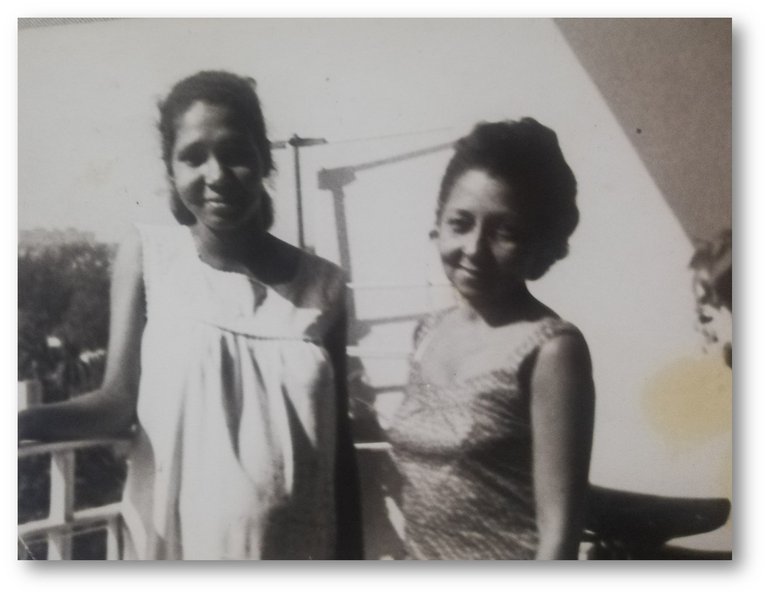 Friends, sorry for the quality of the photos, but that's what was there before, the most current ones are better😉
Amigas disculpen la calidad de las fotos pero era lo que había antes, las mas actuales están mejor😉


I don't like to leave anything to chance, although in life not everything is under control, but after a year of being married, I decided to take off the contraceptive, because I had already finished the Social Service that all recent graduates have to go through here, in Cuba. I tell you that the following month I was already pregnant and it was an instant warning that everything told me that I was pregnant, the usual delay, the disgust for coffee and dizziness, all that was present for the first 3 months.
To be honest, I always told myself since I was almost a girl that I would only have a child and that I wanted it to be a girl, but since I found out that I was pregnant I was only interested in knowing the status of my child in each consultation, I never worried about sex, that ceased to be unimportant to me, I was so happy that I didn't notice it. Just after 4 months when I had an ultrasound (because in my time they only did 2 in the whole pregnancy) the doctor asked me... "Mom, do you want to know the sex of your baby? and I said: no doctor, that I know what God wants, that what is welcome is, he answered me instantly: Well, get ready, what a tremendous male he brings there"… I could not help but laugh and wish with all the strength of my heart that that "tremendous male" as The doctor told me I was born healthy and had a happy life.
The truth is that I had a very calm pregnancy on both sides. I never felt any discomfort, the weight was according to the months and the baby was the same. From the age of 6 months he was in a cephalic position and in our opinion everything would be fine until the end.
Ahh my basket completes the embroidery and knitting we did between my mom and I, what a pity not being able to show you anything because I donated everything to my cousins ​​who lived in the interior of the country. Although I already knew I had a boy, I made the whole basket in shades of green, yellow, white, I tried to do it in colors that would work for both sexes, I had already had friends who had made a mistake and I didn't want to get scared and run at the last minute.
Well, as I told you, the whole pregnancy went normally for both of us until I reached 42 weeks, my son showed no signs of wanting to come out, I must warn that at 34 weeks a gynecologist had already told me that he had a pelvic-cephalic disproportion , which was just my pelvis looking too narrow for my baby's head. But all the gynecologists who saw me at 42 weeks said that this was only known in open labor.
Well, they induced labor and I was in labor for 16 hours, until they made a plate to see what was happening.... Well, what the gynecologist who attended me at 7 months said, my baby was embedded in the birth canal, because my pelvis was flat, I couldn't pass, at that moment all the doctors rushed and prepared me urgently for a caesarean section and the next hour I was already recovering with my beautiful son, who behaved very well after so much fighting.
No me gusta dejar nada al azar, aunque en la vida no todo está bajo control, pero después de un año de estar casada, decidí quitarme el anticonceptivo, porque ya había terminado el Servicio Social que todos los recién graduados tienen que pasar aquí, en cuba. Les cuento que al mes siguiente ya estaba embarazada y fue un aviso instantáneo que todo me avisaba que estaba embarazada, el retraso de siempre, el asco por el café y los mareos, todo eso se hizo presente para la primeros 3 meses.
Para ser honesta, siempre me dije desde que era casi una niña que solo tendría un hijo y que quería que fuese hembra, pero desde que me enteré que estaba embarazada solo me interesó saber el estado de mi hijo en cada consulta, nunca me preocupé por el sexo, eso dejó de ser sin importancia para mí, estaba tan feliz que no lo noté. Recién a los 4 meses cuando me hicieron un ultrasonido (porque en mi época solo hacían 2 en todo el embarazo) la doctora me preguntó... "Mamá, ¿quieres saber el sexo de tu bebé? y le dije: no doctor, que se lo que Dios quiera, que lo que sea bienvenido será, me respondió al instante: Pues prepárate, que tremendo macho que trae ahí"… No pude evitar reírme y desear con todas las fuerzas de mi corazón que ese "tremendo macho" como me dijo el doctor naciera sano y tuviera una vida feliz.
La verdad es que tuve un embarazo muy tranquilo por los dos lados. Nunca sentí ninguna molestia, el peso fue acorde a los meses y el bebé igual. Desde los 6 meses estuvo en una posición cefálica y en nuestra opinión todo iría bien hasta el final.
Ahh mi canasta completa el bordado y tejido lo hicimos entre mi mamá y yo, que pena no poder mostrarles nada porque todo lo doné a mis primas que vivían en el interior del país. Aunque ya sabía que tenía un niño, hice toda la canasta en tonos de verde, amarillo, blanco, traté de hacerlo en colores que sirvieran para ambos sexos, ya había tenido amigas que se habían equivocado y no quise asustarme y correr a última hora.
Bueno como les comenté todo el embarazo transcurrió con normalidad para los dos hasta que llegué a las 42 semanas, mi hijo no daba señales de querer salir, debo advertir que a las 34 semanas ya me había dicho un ginecólogo que tenía una desproporción pélvico-cefálica, que no era más que mi pelvis se veía muy estrecha para la cabeza de mi bebé. Pero todos los ginecólogos que me recibieron a las 42 semanas decían que eso solo se sabía en franco trabajo de parto.
Pues me indujeron el parto y estuve 16 horas de parto, hasta que me hicieron una placa para ver que pasaba.... Pues lo que dijo la ginecóloga que me atendió a los 7 meses, mi bebe estaba incrustado en el canal de parto, porque mi pelvis estaba plana, no podía pasar, en ese momento todos los médicos corrieron y me prepararon de urgencia para una cesárea y a la hora siguiente ya me estaba recuperando con mi hermoso hijo, que muy bien que se comportó después de tanto pelear.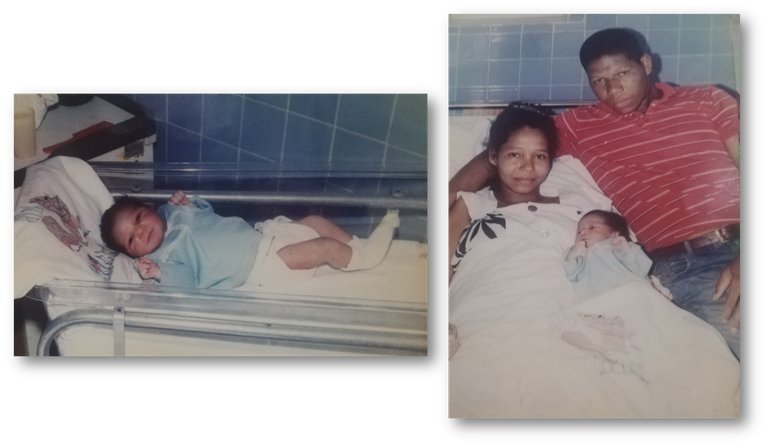 My boy was a very sweet and calm baby, he really behaved quite well, only he got up very early jjjjjj, but he slept all night and that was already an important achievement. He had a very quiet childhood.
Mi niño era un bebé muy dulce y tranquilo, realmente se portaba bastante bien, solo que se levantaba muy temprano jajaja, pero dormía toda la noche y eso ya era un logro importante. Tuvo una infancia muy tranquila.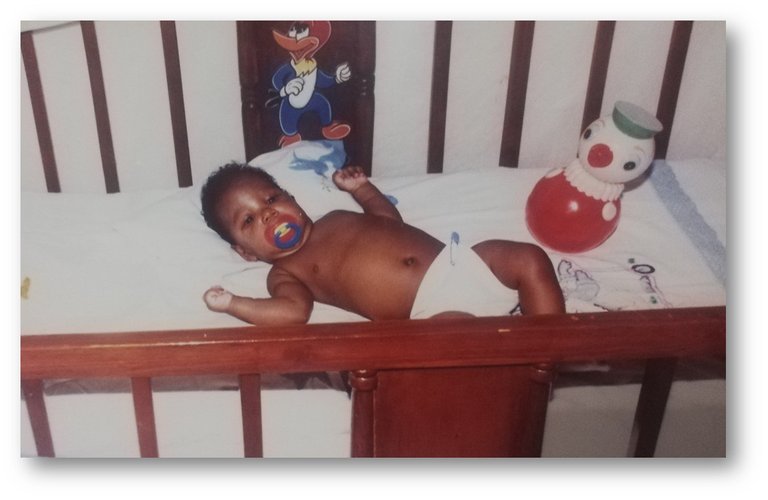 Throughout all these years we have cultivated a relationship of love, friendship, solidarity, we have shared everything like any mother, I taught her to take her first steps, to say her first words, to grow, laugh, be happy.
At school he was always chosen among the best, he was very applied and intelligent, and also very smart. The teachers always said that he looked like a prince, because every time I took him to school he would not come out until he went up to his classroom and always before entering the classroom he would shout "Goodbye my Princess" to me from above, and all the days students and teachers were waiting for our farewell jjj
A lo largo de todos estos años hemos cosechado una relación de amor, amistad, solidaridad, hemos compartido todo como toda madre, le enseñé a dar sus primeros pasos, a decir sus primeras palabras, a crecer, reír, ser feliz.
En la escuela siempre lo elegían entre los mejores, era muy aplicado e inteligente, y también muy listo. Los profesores siempre decían que parecía un príncipe, porque cada vez que lo llevaba a la escuela no salía hasta que subía a su salón de clases y siempre antes de entrar al salón de clases me gritaba "Adiós mi Princesa" desde arriba, y todos los días alumnos y profesores esperaban nuestra despedida jjj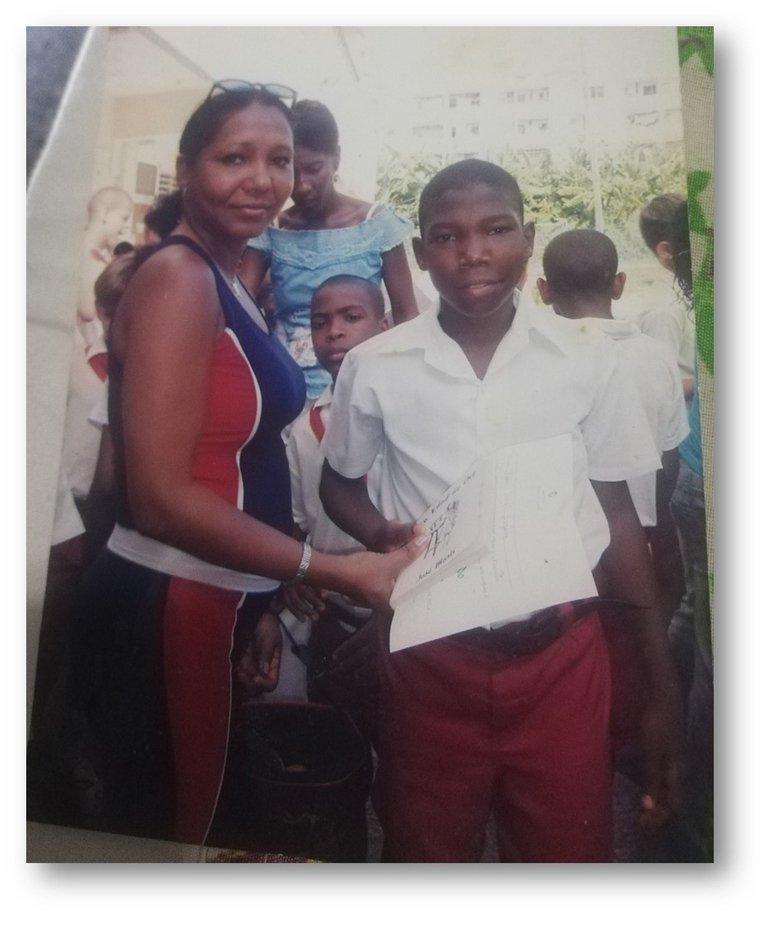 When he grew up I continued teaching him things and of course since he began to beat inside me he also taught me a lot, it has been a mutual learning, the truth is that he was always present in all the stages of his life and I have enjoyed them a lot, he learned to cooking and driving hand in hand, and it has taught me how to function in this world of technology jjjjj. I have tried to instill values ​​in him and he is a good boy, he has many friends who have also been like my children.
Cuando creció le seguí enseñando cosas y claro desde que empezó a latir dentro de mí también me enseñó mucho, ha sido un aprendizaje mutuo, la verdad es que siempre estuvo presente en todas las etapas de su vida y yo los he disfrutado mucho, aprendió a cocinar y a conducir de mi mano, y me ha enseñado a desenvolverme en este mundo de la tecnología jjjjj. He tratado de inculcarle valores y es un buen chico, tiene muchos amigos que también han sido como mis hijos.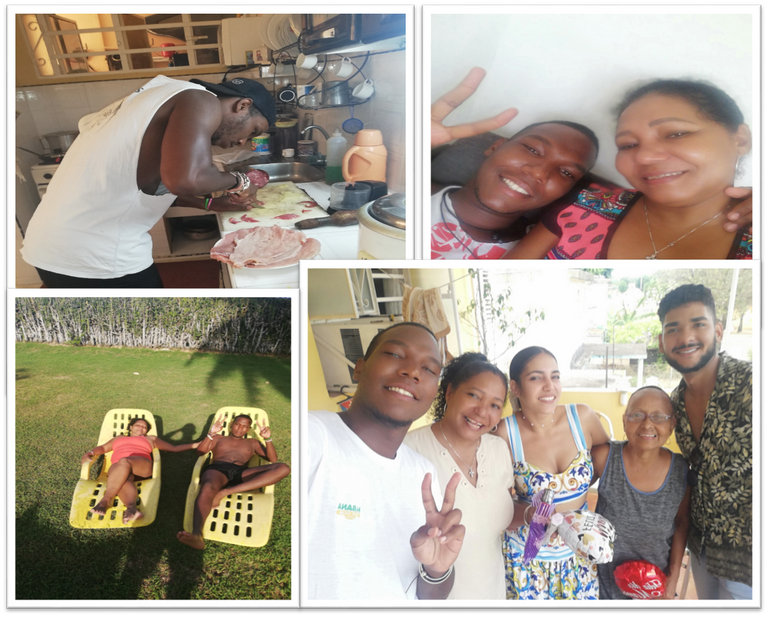 Friends, I have never had nor will I have a purer love than that, my son has been throughout these years that we have had love, my watch when he drinks, because at 5 in the morning he woke up every day, then he better put and I began to sleep until 7 am, my refuge, every time I got angry at work and saw that little face, all my tribulations went away, my joy only his hug and his smile made me very happy, my concern, enough that something changed in his behavior and although not, jjj I am always worried about his well-being, he is my greatest pride, he is already a man, he has already graduated as an Engineer and on the day of his graduation my pride and joy is only surpassed by the day he came into this world, July 2. My son is and will always be my everything.
Amigos, nunca he tenido ni tendré un amor más puro que ese, mi hijo ha sido a lo largo de estos años que hemos tenido de amor, mi reloj cuando bebé, porque a las 5 de la mañana se despertaba todos los días, luego fue mejorando y comencé a dormir hasta las 7 am, mi refugio, cada vez que me enfadaba en el trabajo y veía esa carita, todas mis tribulaciones se me iban, mi alegría solo su abrazo y su sonrisa me hacían muy feliz, mi preocupación, bastaba que algo cambiara en su comportamiento y aunque no, jjj siempre estoy preocupada por su bienestar, es mi mayor orgullo, ya es un hombre, ya se graduó de Ingeniero y el día de su graduación mi el orgullo y la alegría solo es superado por el día que vino a este mundo, el 2 de julio. Mi hijo es y será siempre mi todo.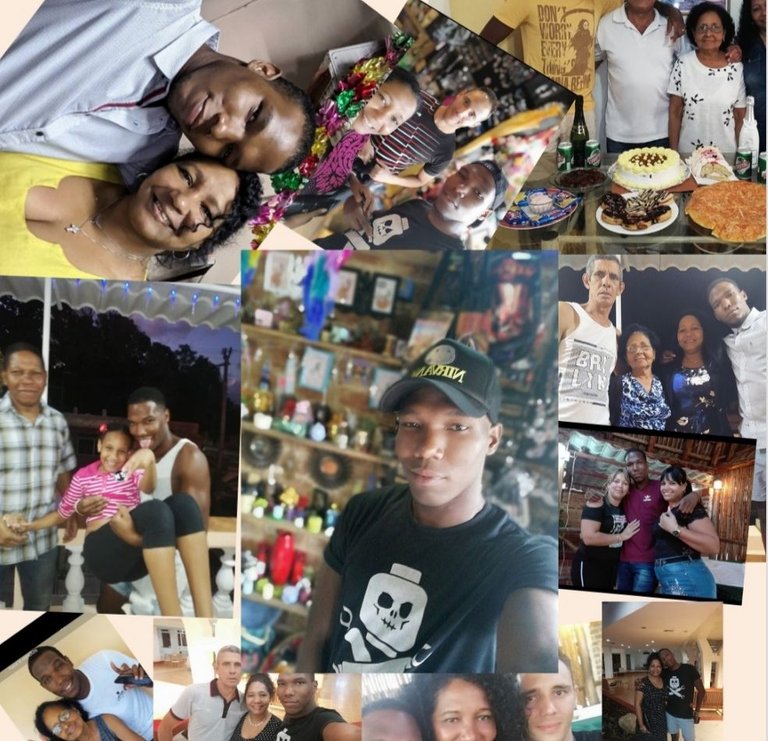 Here I leave you in broad strokes my passage through motherhood, because that path will never end until the end of my days. I love you son forever.I invite @taniagonzalez to join this challenge. I hope you liked knowing my story, have a good day friends.
Aquí les dejo a grandes rasgos mi paso por la maternidad, porque ese camino nunca terminará hasta el final de mis días. Te amo hijo por siempre. Espero que les haya gustado conocer mi historia, invito a que se una a este reto a @taniagonzalez . Que tengan un buen día amigos.

Author's original content.
The photos were taken with my Huawei P20 lite phone, some were from a long time ago and I had to shoot them with my phone, joined with PicCollage and Power point
I used Google Translate
Discord: lileisabel#5869
Contenido original del autor.
Las fotos fueron tomadas con mi teléfono Huawei P20 lite, algunas era de mucho tiempo y tuve que retratarlas con mi teléfono, unidas con PicCollage y Power poin
utilicé el Traductor de google
Discord: lileisabel#5869
---
---