[ENG_ESP] Alameda Paula. An 18th century walk /Alameda de Paula. Un paseo del siglo XVIII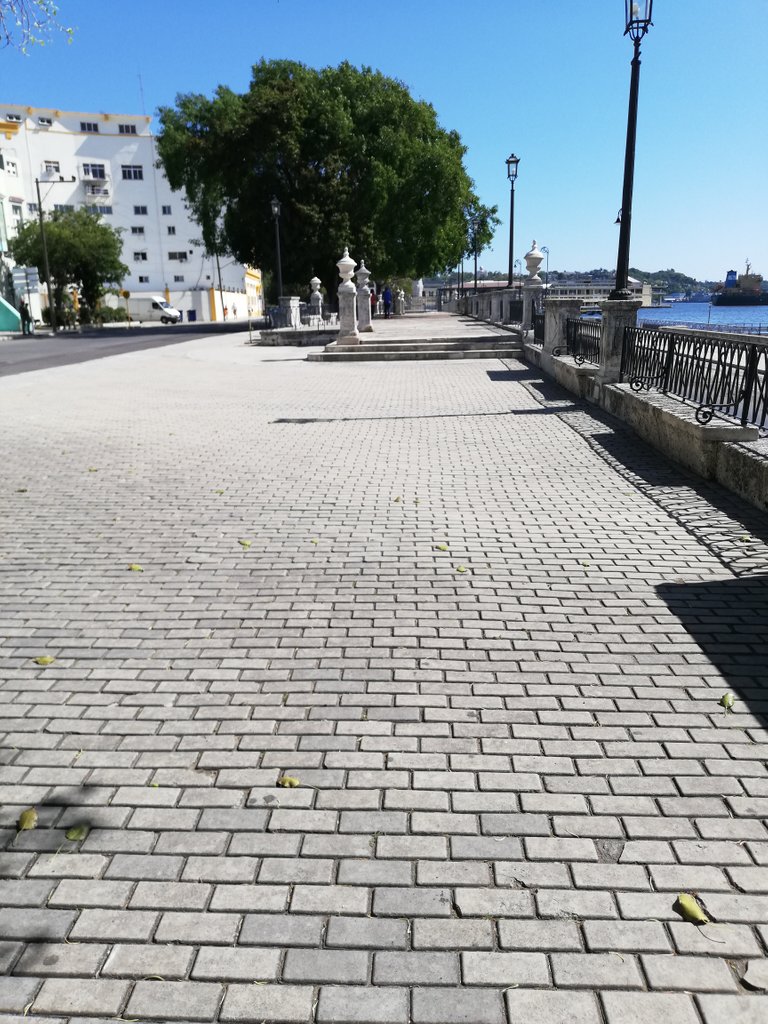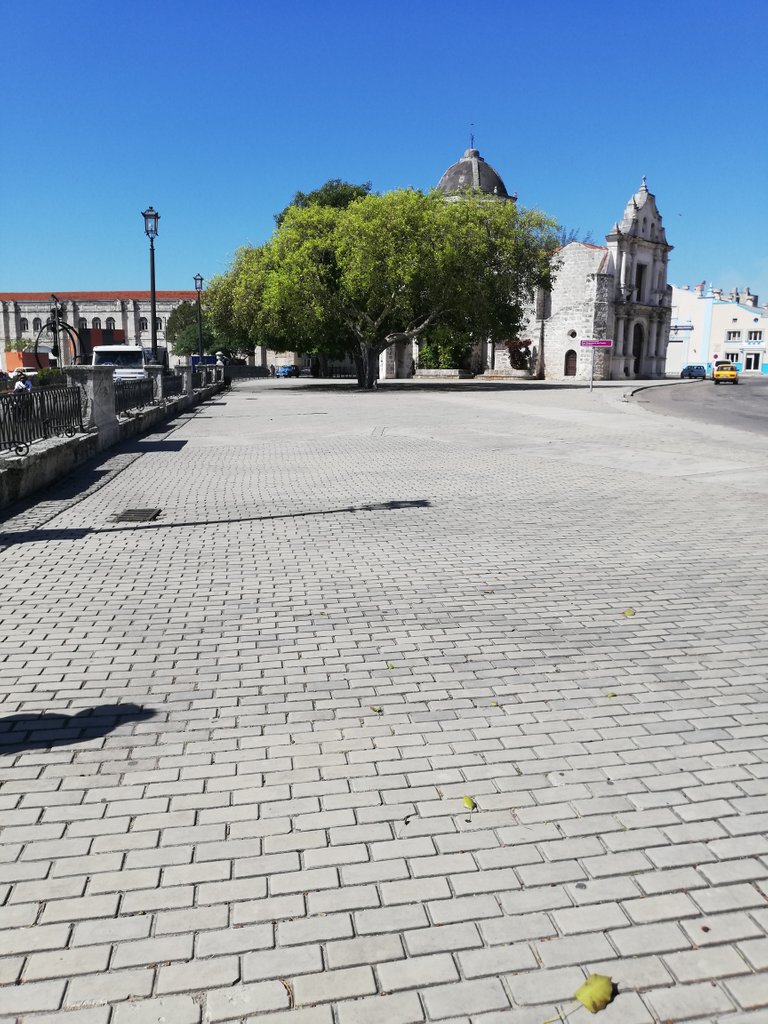 Hello to all my friends from Hive, this is my first publication in this community, I am a lover of the architecture that exists in my country Cuba, there are many varied styles, constructions from the Spanish colonial stage to the present, I admire all that architectural diversity but what I like the most is the colonial. I want to show you the Alameda Paula where the San Francisco de Paula Church is also located at the end of the Alameda, yesterday when I left work I passed near there and I couldn't let it pass and I stopped and today I bring you these images for you.
Buenas para todos mis amigos de Hive, es mi primera publicación en esta comunidad, soy amante de la arquitectura que hay en mi país Cuba, existen muchos estilos variados, construcciones desde la etapa colonial española hasta la actualidad, admiro toda esa diversidad arquitectónica pero la que más me gusta es la colonial. Les quiero mostrar la Alameda de Paula y la Iglesia San Francisco de Paula que se encuentra al final de la Alameda ayer cuando salí del trabajo pasé cerca de allí y no pude dejarlo pasar y me detuve y hoy traigo estas imágenes para ustedes.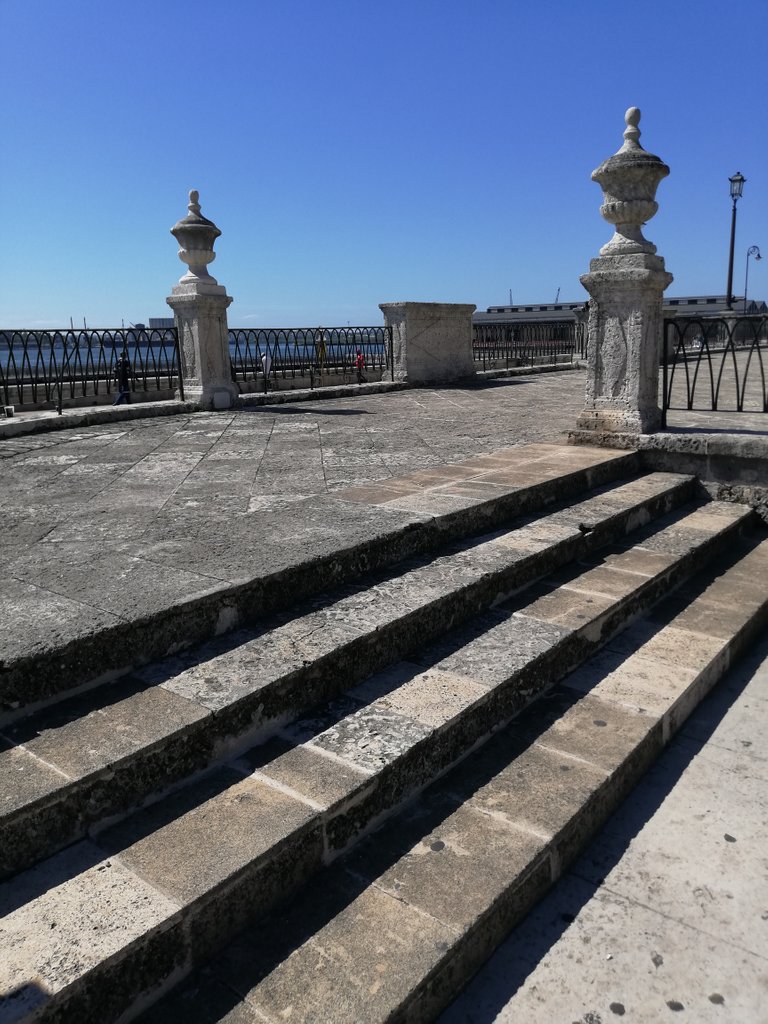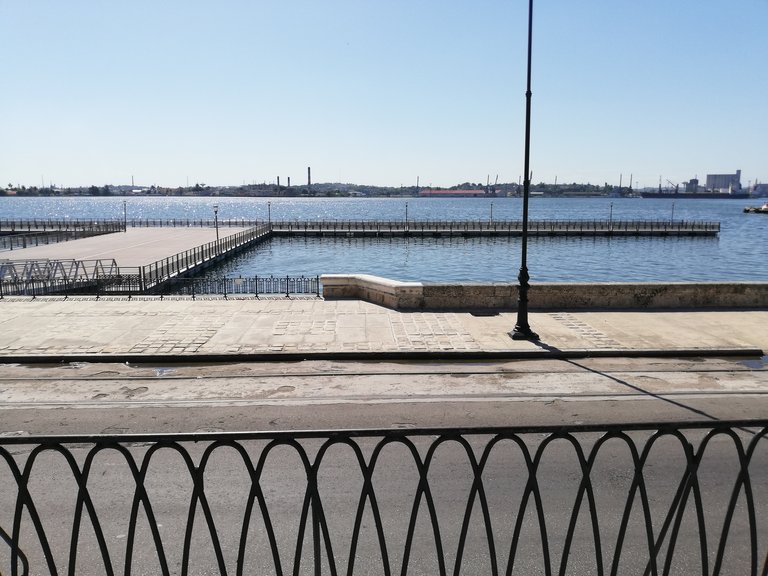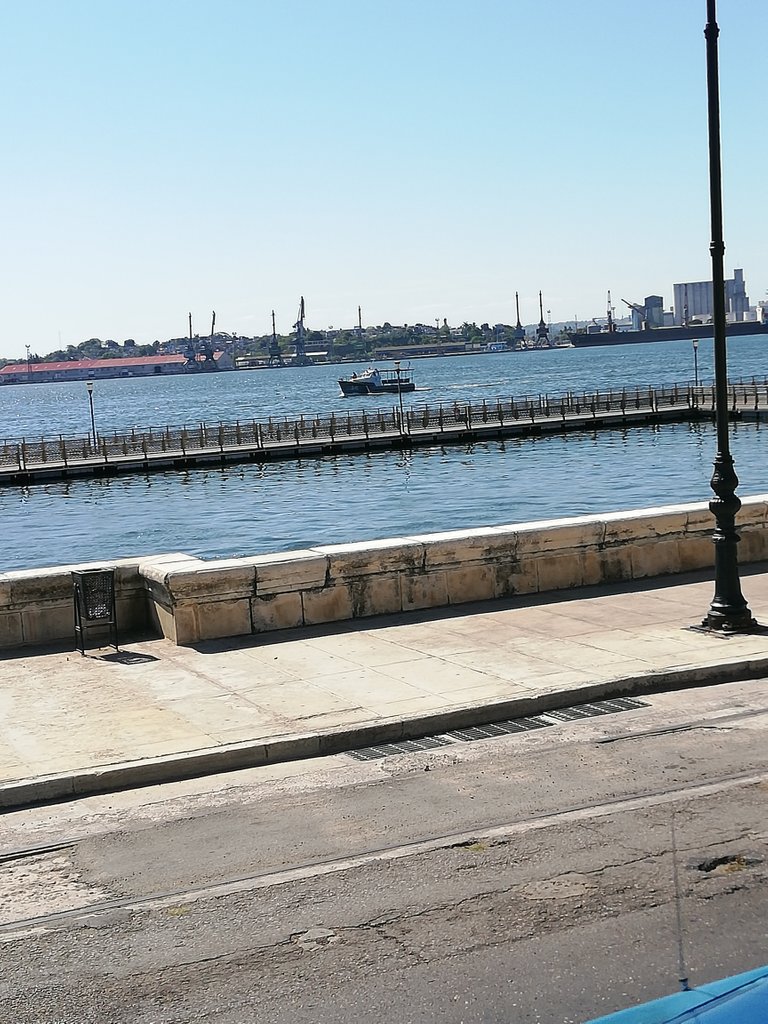 La Alameda, is a very pleasant walk with a fresh atmosphere since it is located in front of the Malecón Habanero in part of the Bay. The Paseo de la Alameda rises 4 steps above the avenue that passes in front of the sea, remaining as a platform, from where you can see almost the entire Bay, including the floating bridge. It has an approximate length of 200 meters. It has a fence around it, colonial-style lampposts, trees that give it shade, there are seats in the form of stone benches for its visitors to rest, for many years it has been a meeting place for lovers and in colonial times it was a walk of the high aristocracy
La Alameda, es un paseo muy agradable y con un ambiente fresco ya que se encuentra frente al Malecón Habanero en parte de la Bahía. El Paseo de la Alameda se eleva 4 escalones sobre la avenida que pasa frente al mar, quedando como una plataforma, desde donde se puede ver casi toda la Bahía, incluido el puente flotante. Tiene una longitud aproximada de 200 metros. Tiene un cerco a su alrededor, farolas de estilo colonial, árboles que le dan sombra, hay asientos en forma de bancas de piedra para el descanso de sus visitantes, durante muchos años ha sido un lugar de encuentro de enamorados y en la época colonial fue un paseo de la alta aristocracia.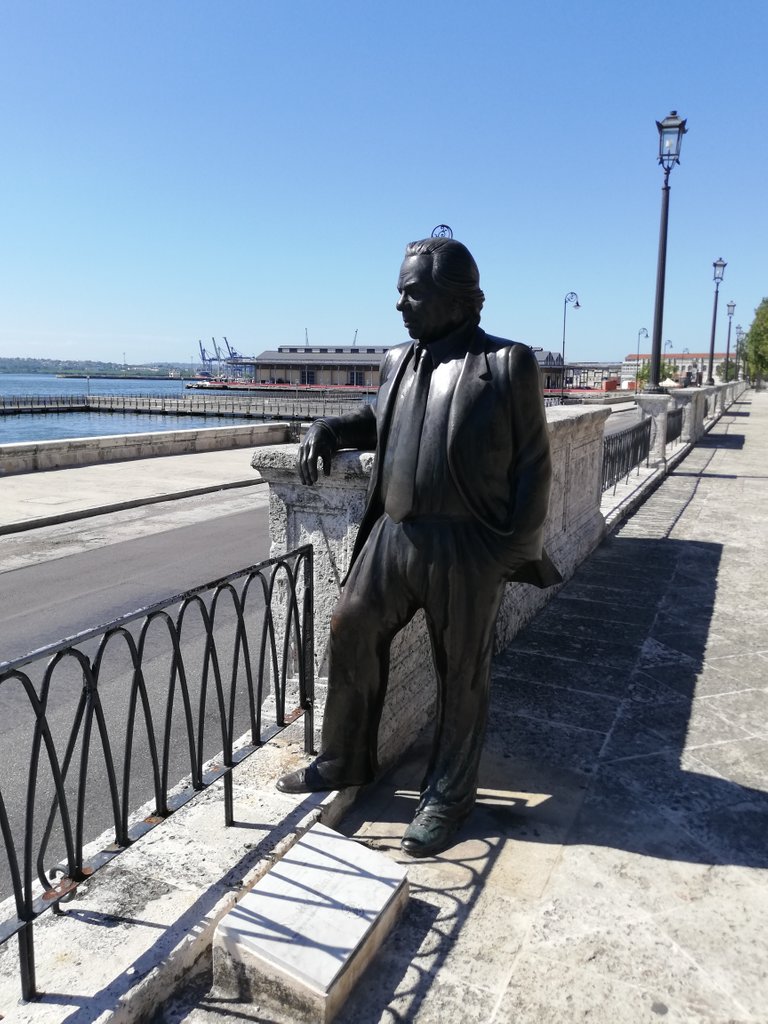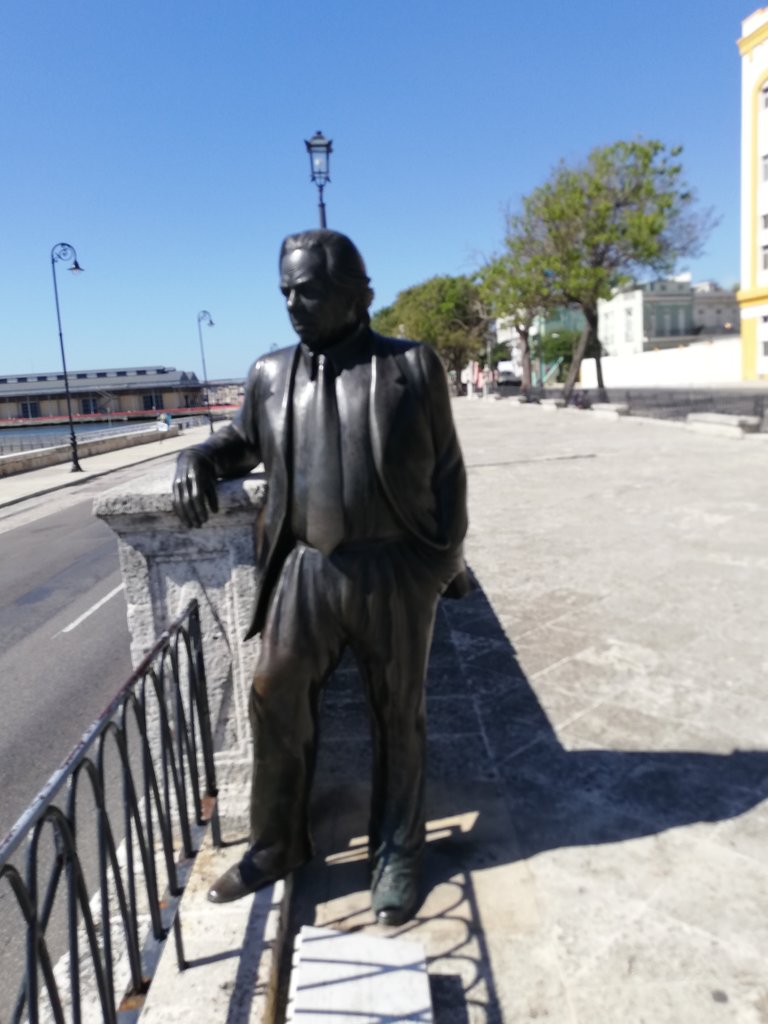 Just 10 steps from walking along the Alameda is the Statue of the national poet Nicolás Guillén, leaning an arm against the wall, made by the artist Enrique Angulo from the province of Sancti Spíritus, it seems that the poet comes to life and insistently looks at the sea ​​.
A solo 10 pasos de caminar por la Alameda se encuentra la Estatua del poeta nacional Nicolás Guillén, apoyando un brazo contra el muro, realizada por el artista Enrique Angulo de la provincia de Sancti Spíritus, parece que el poeta cobra vida y mira con insistencia el mar.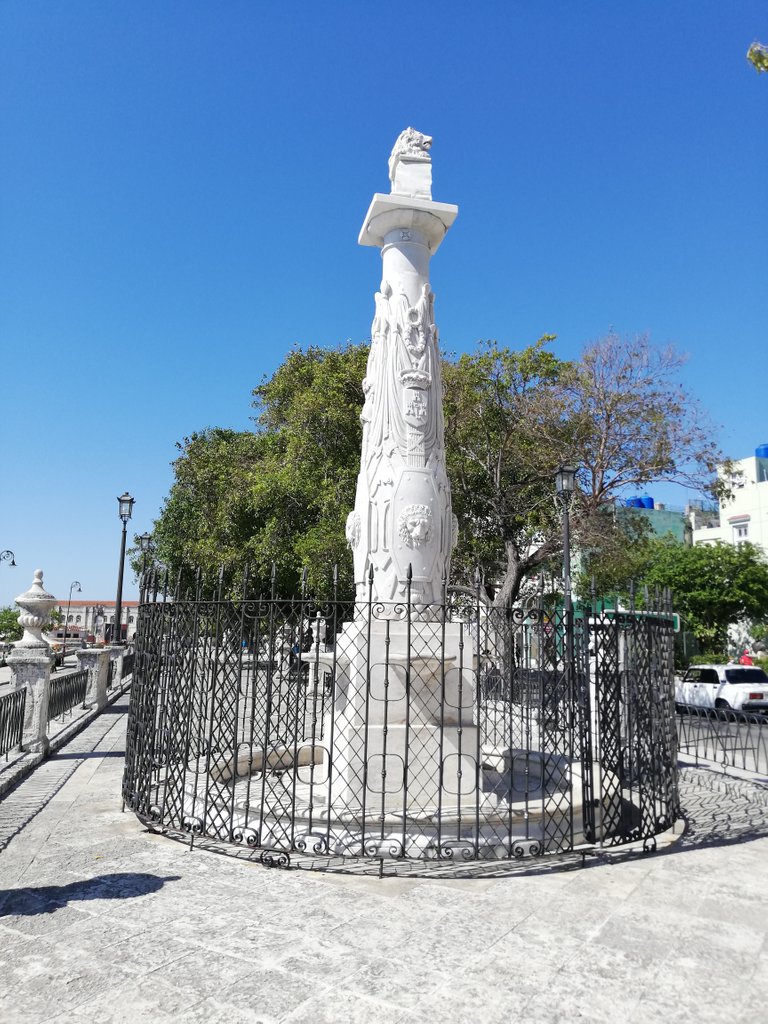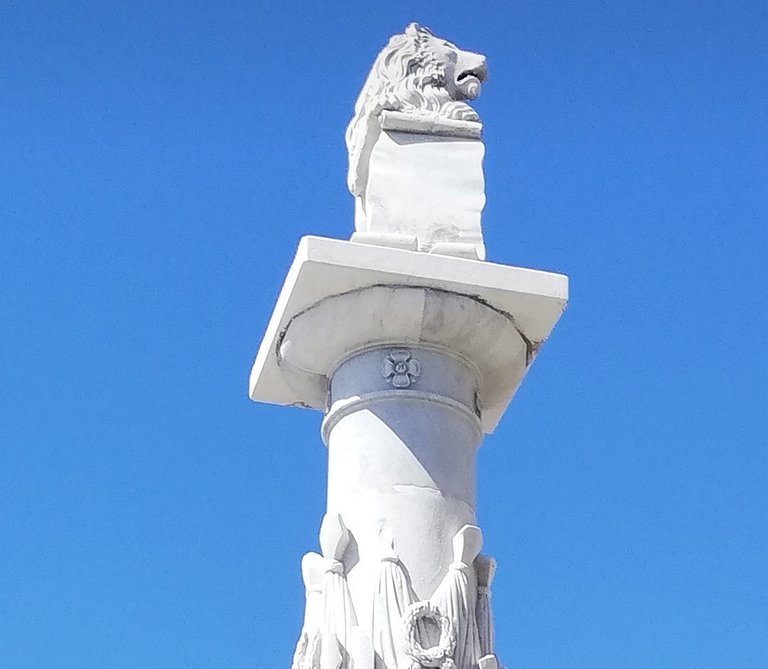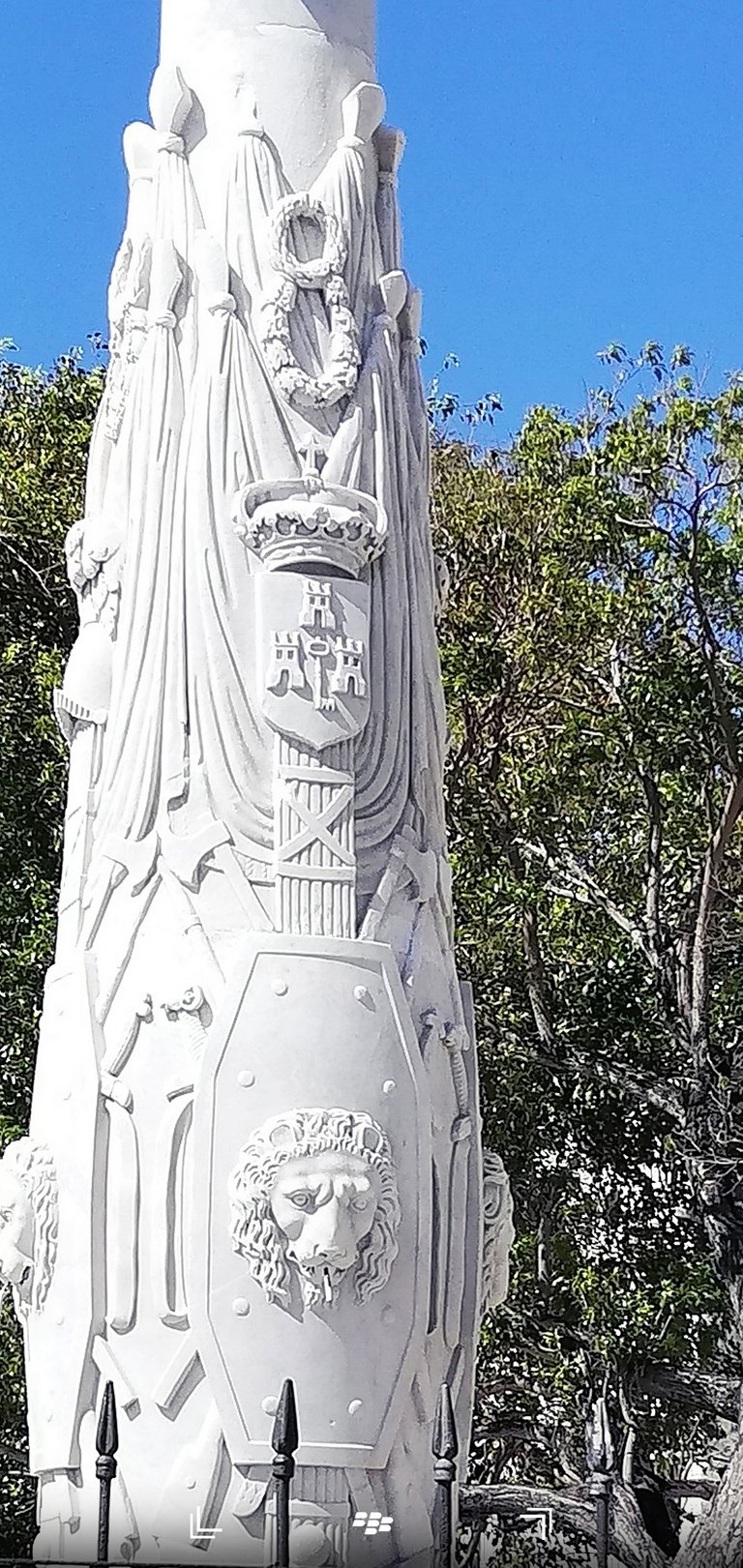 Arriving at the center of the promenade there is a beautiful marble column that has a lion on top and below it has some lion heads, which is where the jets of water come out and fall into the small fountain that surrounds the column, it really is a very nice old work.
Llegando al centro del paseo existe una bella columna de mármol que en la sima tiene un león y más abajo tiene unas cabezas de leones que es por donde salen los chorros de agua hacia que caen en la pequeña fuente que bordea la columna, realmente es una obra antigua muy bonita.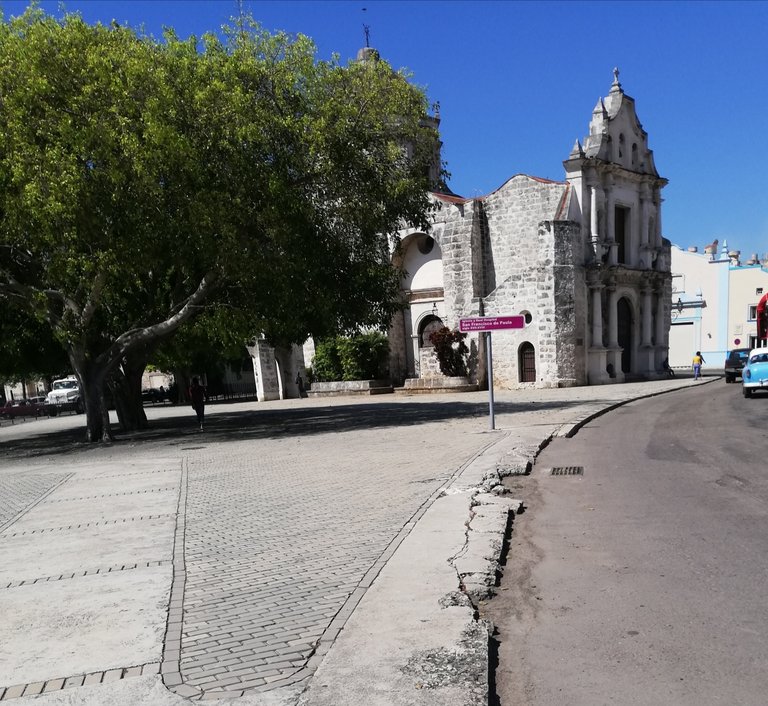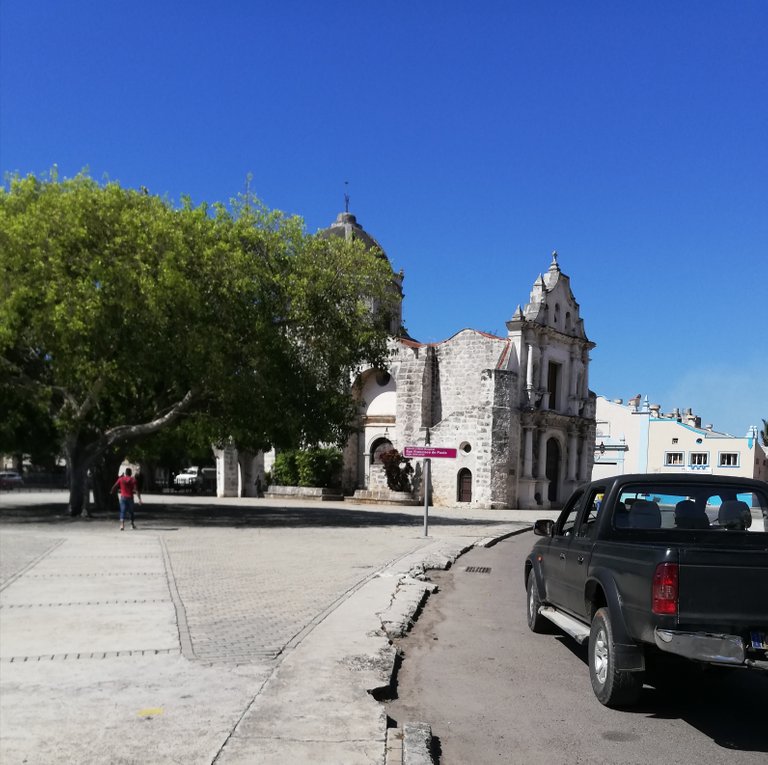 Continuing walking through the Alameda we find the Church of San Francisco de Paula, it has a baroque style that I love, from the 18th century, I want to clarify that at first it was not like that, the Alameda and the Church were separated, as part of the rehabilitation process of havana extended the promenade until reaching the church, it seemed like a nice initiative to unite these two places, it was also carried out respecting the style of the time by extending the promenade with stone floors to the church. The exact address is the intersection of Avenida del Puerto, Calle San Ignacio and Paula.
Siguiendo de paseo por la Alameda nos encontramos con la Iglesia de San Francisco de Paula, tiene un estilo barroco que me encanta, del siglo XVIII, quiero aclarar que en un principio no fue así, la Alameda y la Iglesia estaban separadas, como parte de el proceso de rehabilitacion de la habana extendieron el paseo hasta llegar a la iglesia, me parecio una linda iniciativa unir estos dos lugares, ademas se llevo a cabo respetando el estilo de la epoca extendiendo el paseo con pisos de piedra hasta la iglesia. La dirección exacta es la intersección de Avenida del Puerto, Calle San Ignacio y Paula.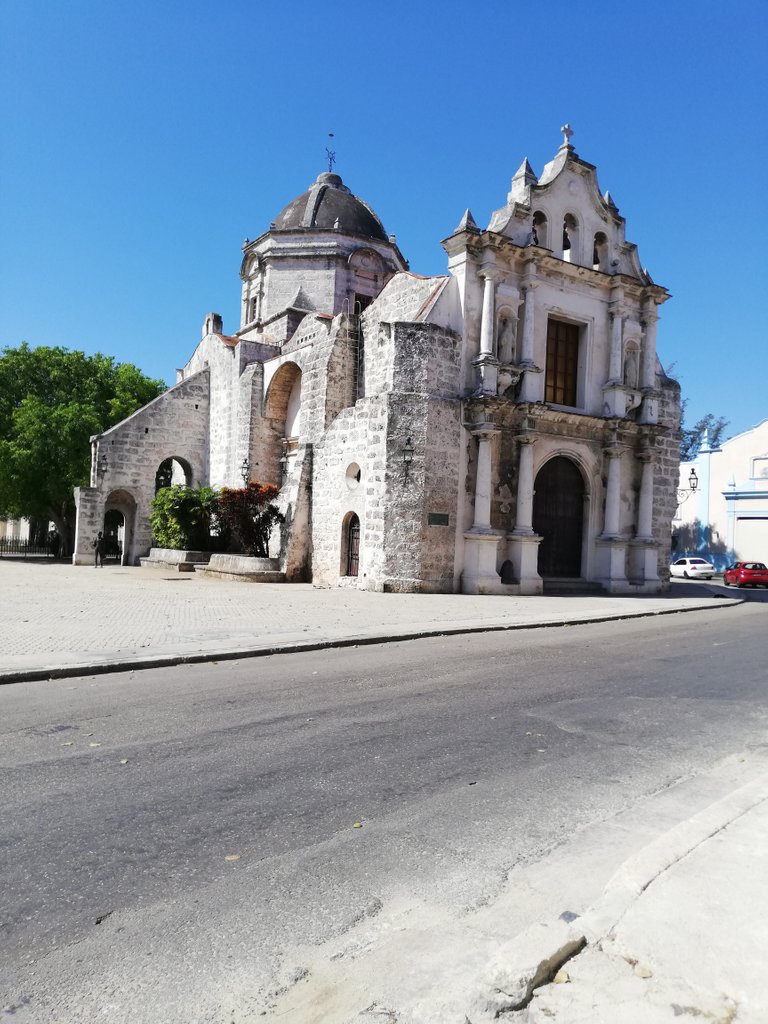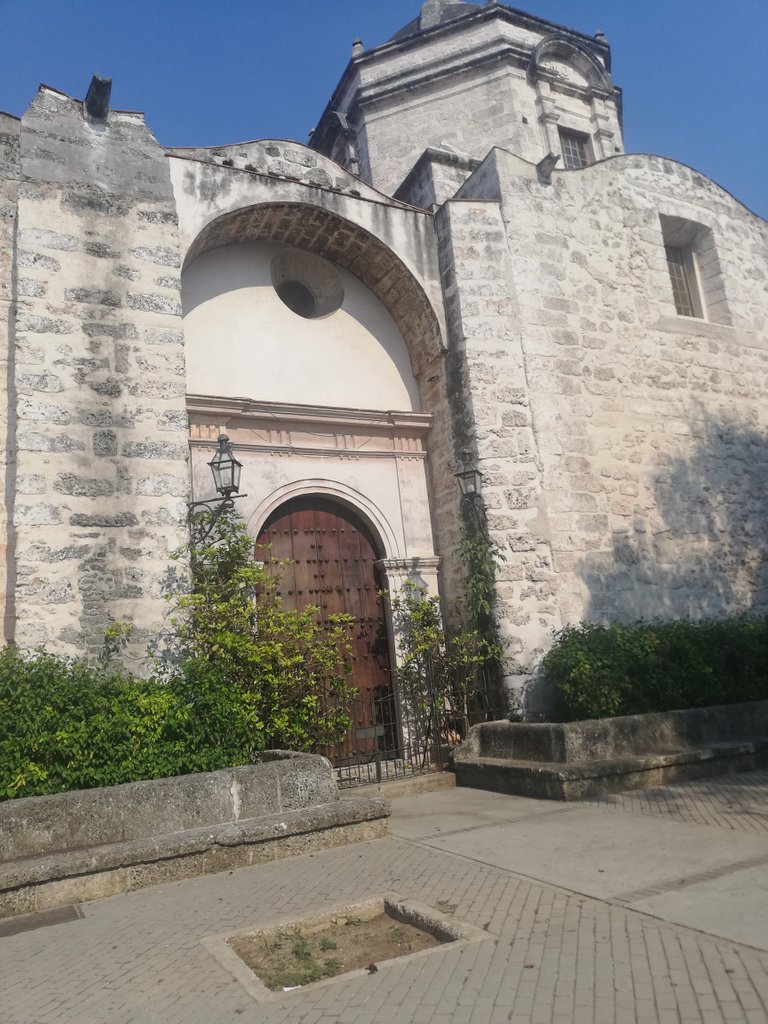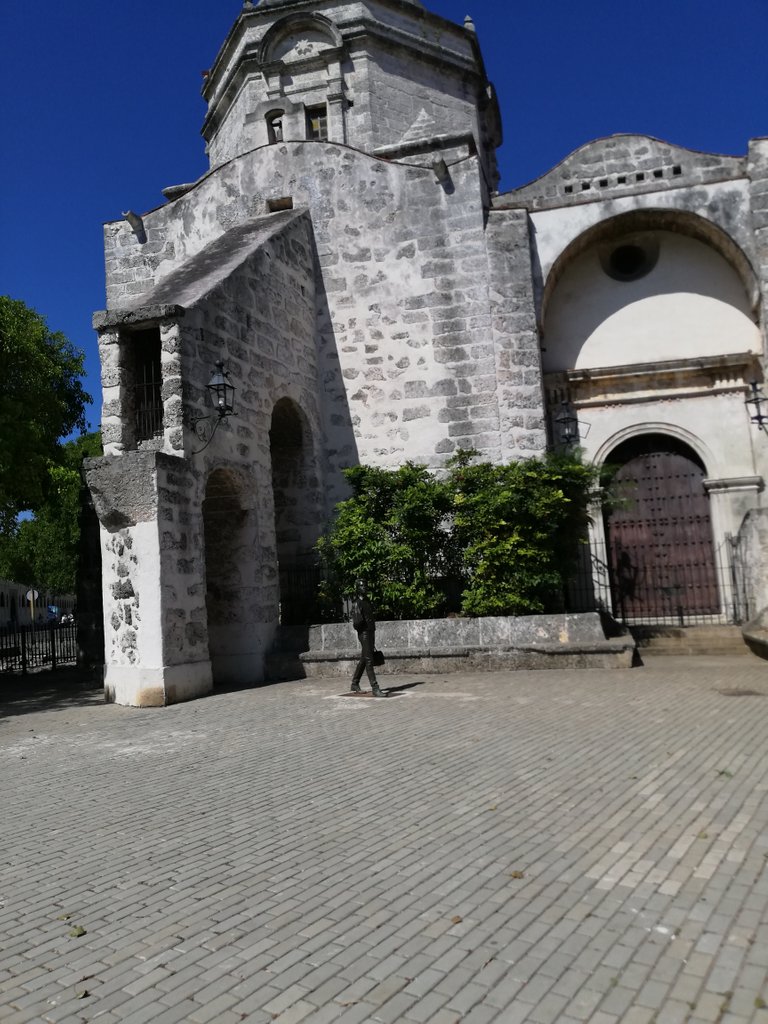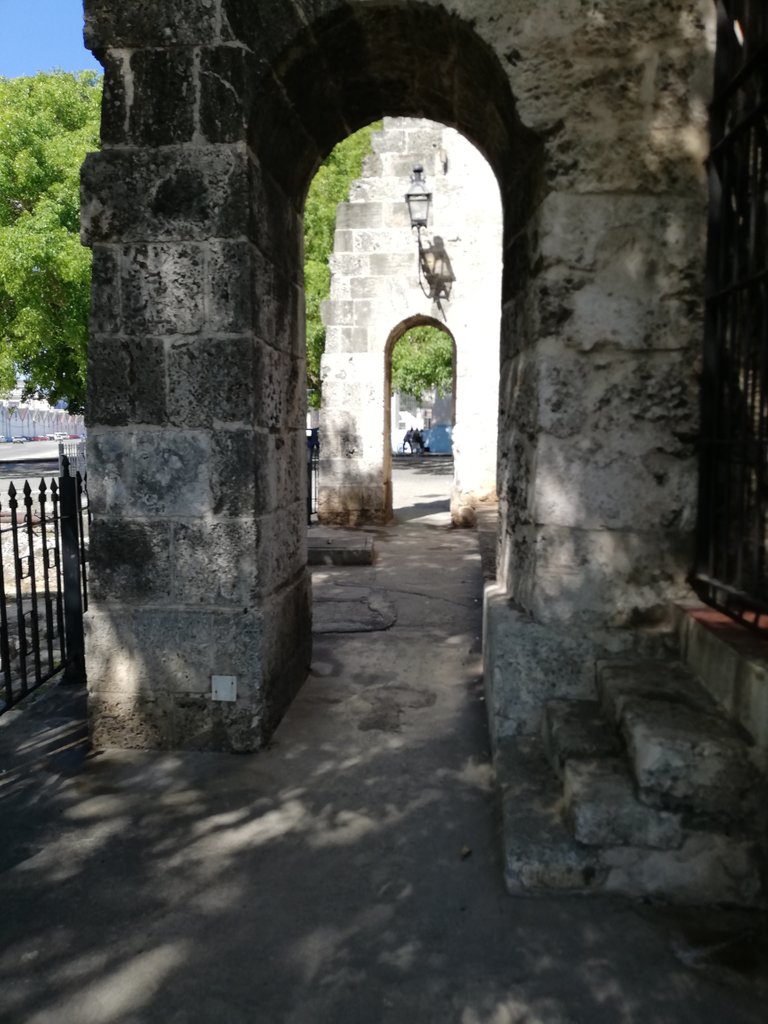 This church has a beautiful dome, around it there are planted trees and vegetation that provides shade. I couldn't get in because it's closed, it doesn't function as a Church anymore, it's a concert hall dedicated to early music. But I was able to take photos from everywhere, it is a beautiful piece of architecture, the main entrance has columns and on top it still has its bells.
Esta iglesia tiene una hermosa cúpula, a su alrededor hay árboles sembrados y vegetación que brinda sombra. No pude entrar porque está cerrado, ya no funciona como Iglesia, es una sala de conciertos dedicada a la música antigua. Pero pude tomar fotos de todos lados, es una hermosa pieza de arquitectura, la entrada principal tiene columnas y encima todavía tiene sus campanas.
Well friends I hope you liked it, you can leave your comments and this is the first publication but it will not be the last, I really like to know places and different designs, so I hope to meet you through this community. See you soon !
Bueno amigos espero que les haya gustado, pueden dejar sus comentarios y esta es la primera publicación pero no será la última, me gusta mucho conocer lugares y diferentes diseños, así que espero conocerlos a través de esta comunidad. Te veo pronto!

The photos were taken with my Huawei P20 lite phone
I used Google Translate
Las fotos fueron tomadas con mi teléfono Huawei P20 lite
utilicé el Traductor de google
---
---