Wednesday Walk - Finally Home.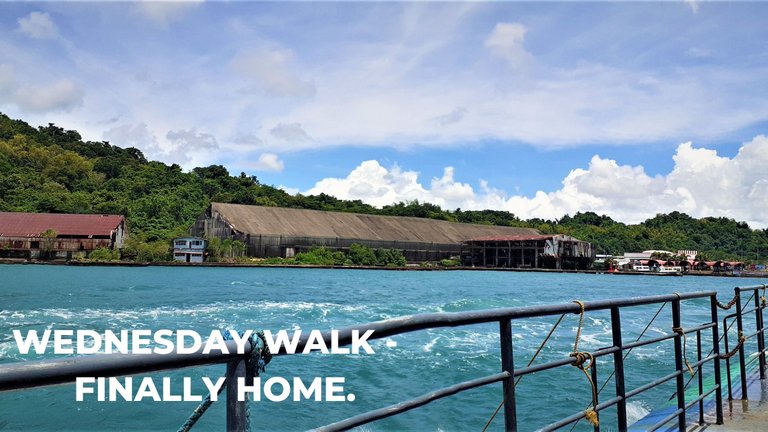 As I posted last Wednesday, I traveled going back home in my hometown which is somewhere in Visayas (Philippines). I got a smooth ride all throughout and my sister who was also on vacation at work just waited for me in the airport as we have different flight schedules as well as the airlines. No one in the family knew that we were going home as the plan was to surprise them. As expected they are and one of my sisters even cried maybe due to mixed emotions. Ahh, she was indeed emotional.
We all decided to go home to surprise the parents.
I woke up early in the morning as I was tasked to buy a few things before going home. Good thing though it's been a year since I went home and there were changes in the route of public transportations, still I can manage to roam around the city.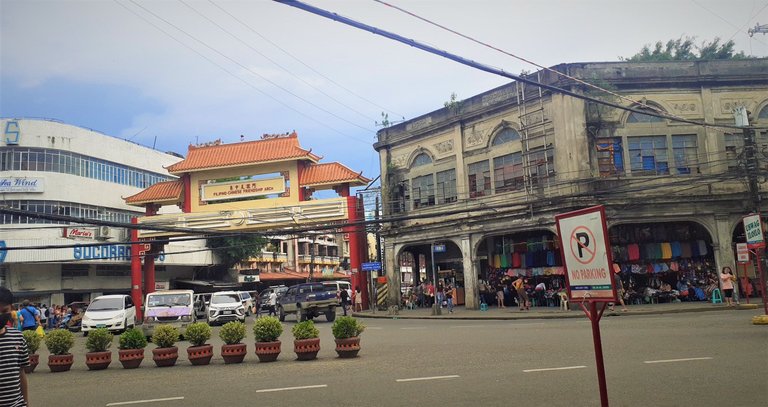 Just I thought, I mistook this place as Calle Real. One of the historic street in Iloilo. Maybe I will feature that place soon. I just realized it is not when I saw the Chinese arc.
After I was done , I hurriedly went to the port as my sisters were already waiting for me.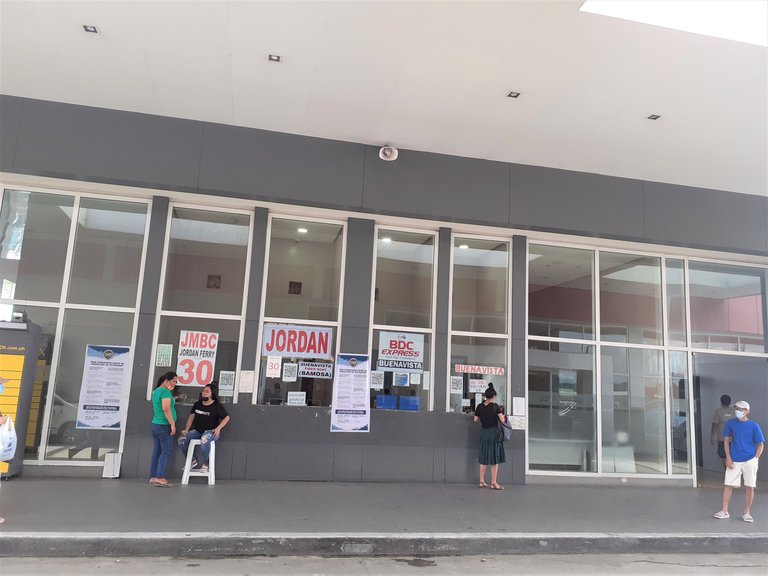 The fare now is already $.52 twice higher than the last time I went home, which was only last year. I think that was because the Ferry boats were upgraded into Fiberglass as well as the port. The location was transferred from Ortiz to Parola wharf.
There were several boats on the dock, waiting for schedules/passengers before sailing.
It takes only approximately 20 minutes before reaching the island, my hometown. The weather was fine, which is important to have a safe trip. One of the inconvenience in living in an island. There are times ships trip schedules were cancelled if there are typhoon for everyone's safety. Not only once there were recorded accidents that cost lives of some locals. Thus, since most of the residents are studying or working in Iloilo (considered as city) many opted to rent to save time and avoid instances like I had mentioned. Also fare expenses is also expensive as mostly it is special trips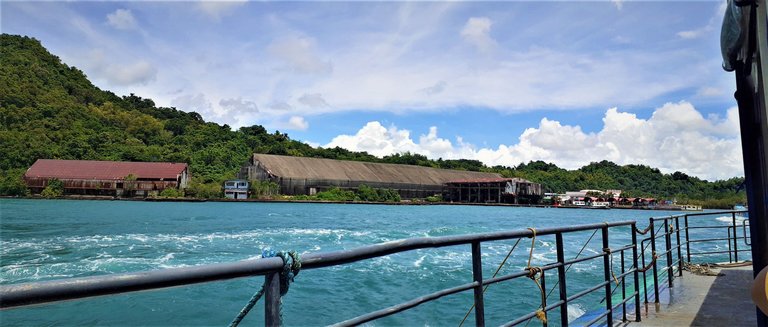 Have you seen that old rusty building? That's the Guimaras Bulk Sugar Installation that operates starting in 1930's. It was one of the biggest sugar bulk in Asia which had the capacity of 60,000 tons. This was a great help in our town before as many Guimarasnon were employed. Thus when Iloilo's sugar industry collapsed in 1984, this also stopped the operation. Yet, this structure became a prominent landmark. Located in one of Guimaras wharf. Source
That's the Wharf
From the wharf, we still need to travel for at least 20 minutes. During the trip, I was amazed as the main road was now wider and could accommodate two vehicles in one lane. It Seems that our province is now starting to make progress. As a matter of fact, we already had one branch of Jollibee last 2019! Yet, still no big shopping malls, just boutiques and local residents that own supermarkets.
Not only the main road but also going to our Barangay.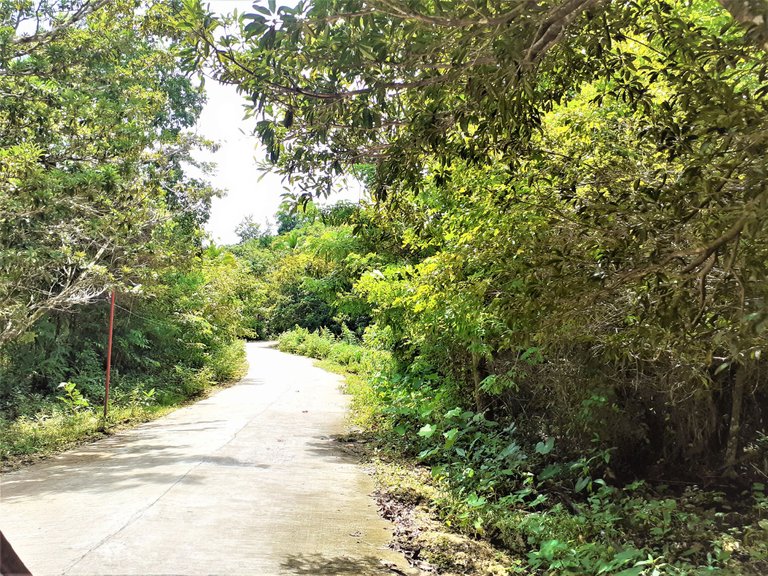 It was no longer hard for us to travel, especially on rainy seasons, no more muddy roads.
Though there is still a rough road left, I think it's only 50 meters. Hayyy, I could still imagine myself walking down this road. On rainy days, my shoes were so muddy and even my skirt (school uniform) back then. In summer, it was so dusty to the point that it was hard to comb my hair. Still make my shoes dirty.
This is not the end of my trip as after that I still need to trek for almost 500meters to reach home. It was just a trail going to our house and it wasn't plain. There are some assaults' too. Just like having a mountain hike for beginners.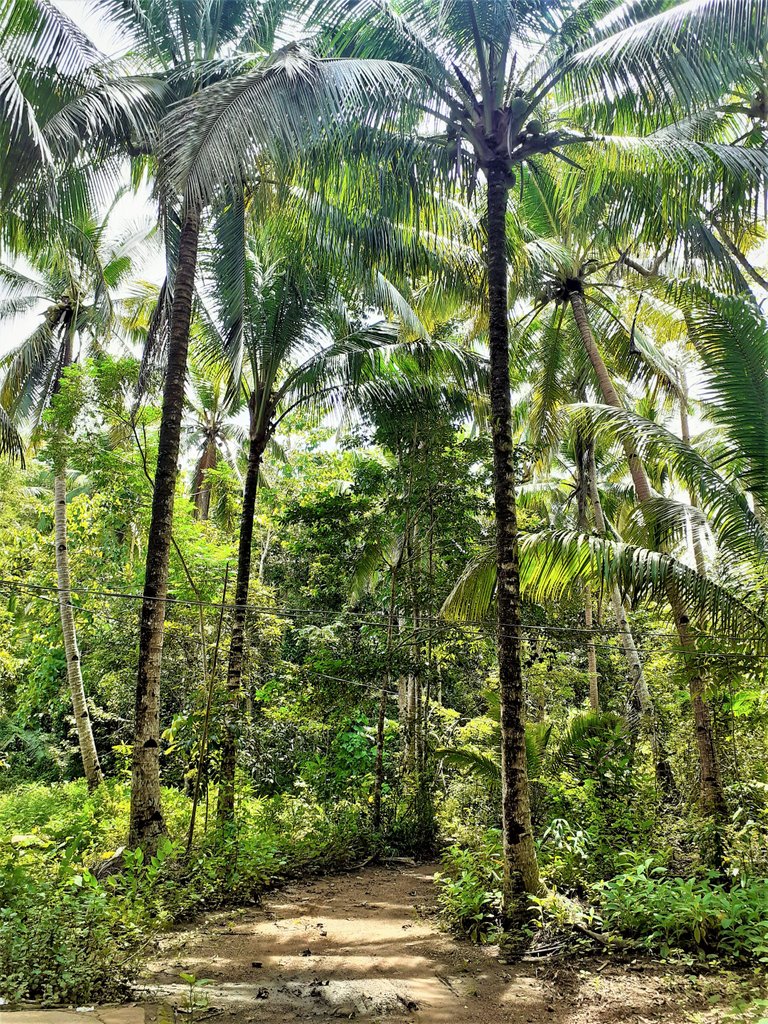 It may be a few more minutes but seeing these coconut trees, I know I am almost reaching home.
Thank you for reading and this is my today's entry entry in sir @tattoodjay Wednesday walk
I wasn't able to write the previous days as well as I was engaged here in the community as I was having hard time in my data connection.
Date published: 09/14/2022
Pinmapple code: [//]:# (!pinmapple 10.57048 lat 122.63777 long Go back home d3scr)
---
---