[ESP-ENG]🎸🤟Festival de rock venezolano Gillmanfest tiene su segunda fecha de este año el 6 de Mayo del 2023 en Nagua Nagua Estado Carabobo (Venezuela)🎸🤟
Saludos con respeto a todas y todos los cibernautas de la red social blockchain #hive la verdad no dejo de conversar con algunas bandas amigas sobre este tipo de plataformas como Hive la cual aspiro que un día volteen sus miradas y experimenten con estas misma, aunque se que técnicamente a las bandas les toca hacer de todo un poco, no solamente dedicarse a sus composiciones si no también hacer de ajitar las redes sociales ya que no cuentan con un community manager
Greetings with respect to all the cybernauts of the social network blockchain #hive the truth is that I keep talking to some bands friends about this type of platforms like Hive which I hope that one day they turn their eyes and experiment with these same, although I know that technically the bands have to do a little bit of everything, not only dedicate themselves to their compositions but also to manage the social networks because they do not have a community manager.
La semana pasada tuve que borrar un vídeo de threespeak, a razón que había hecho uso inadecuado de etiquetas y de comunidades, de paso que casi nunca salgo de #ecency, pero bueno, para este domingo les traeré un especial dedicado a una de las bandas de power trío venezolano, muy longevo y querido por su público donde todas y todos escribimos las hojas de nuestro rock nacional de Venezuela.
Last week I had to delete a video from threespeak, because I had made inappropriate use of tags and communities, by the way I almost never leave #ecency, but well, for this Sunday I will bring you a special dedicated to one of the bands of power trio Venezuelan, very long-lived and loved by his audience where we all write the leaves of our national rock of Venezuela.
...Ahora sí vamos al tema que nos atañe...
...Now let's get down to the subject at hand...

.
Nota: algunas personas no comprenden o no son concientes que el derecho a la cultura y el desarrollo en su diversidad, es deber tanto de las instituciones públicas del estado y privadas en garantizar este derecho y contar con la permisología pertinente para que dichas actividades se lleven a cabo, en términos del rock aún hay muchos mitos que desmontar ya que en su ignorancia hay personas que creen, naturales como jurídicasque el rock es una cultura foránea que no debe ver con noosotros, olvidando por completo que el rock nació de las raíces afrodecendientes a través del blues y gospell y esa falta de comprensión se convierte en impedimento para que las instituciones no nos tomen en cuenta en la mayoría de sus casos y Gillman en su insistencia le ha hecho comprender algunasinstituciones culturales, alcaldía y gobernaciones que el Rock es un derecho cultural y no deben coaccionarla y mandarlas a reprimir tal como sí lo hicieron gobiernos anteriores siendo castigados por el reclutamiento militar forzoso o ley de vagos y maleantes, no estoy hablando ni a favor ni en contra ni a favor del actual gobierno venezolano, simplemente hago énfasis sobre el roll y los deberes con las que deben cumplir las instituciones para garantizar el derecho a las actividades culturales y su diversidad donde se debe tomar conciencia que el rock es parte de nuestra identidad.
Note: some people do not understand or are not aware that the right to culture and development in its diversity, it is the duty of both public institutions of the state and private in guaranteeing this right and have the relevant permitology for such activities to be carried out, in terms of rock there are still many myths to dismantle since in their ignorance there are people who believe, In terms of rock, there are still many myths to dismantle because in their ignorance there are people who believe, both natural and legal, that rock is a foreign culture that should not be seen with us, completely forgetting that rock was born of Afro-descendant roots through the blues and gospel and that lack of understanding becomes an impediment for institutions not to take us into account in most cases and Gillman in his insistence has made him understand some cultural institutions, I am not speaking in favor or against or in favor of the current Venezuelan government, I am simply emphasizing the roll and duties that institutions must fulfill to guarantee the right to cultural activities and diversity where we must be aware that rock is part of our identity.
Sí, señoras y señores, después del exitoso regreso del Gillmanfest Aragua Edición Extremo que se celebró en la Concha Acústica LAS DELICIAS, la Alcaldía de Nagua Nagua y la Gobernación del Estado Carabobo, han aprobado el #Gillmanfest que se va a celebrar a partir del 6 de Mayo del 2023 en la Concha Acústica de Nagua Nagua Estado Carabobo, cuya bandas nacionales e internacionalson las siguientes que pueden visualizar en el siguiente afiche, es decir:
Yes, ladies and gentlemen, after the successful return of the Gillmanfest Aragua Extreme Edition that was held at the Concha Acústica LAS DELICIAS, the Mayor's Office of Nagua Nagua and the Governor's Office of Carabobo State, have approved the #Gillmanfest that will be held from May 6, 2023 at the Concha Acústica de Nagua Nagua Carabobo State, whose national and international bands are the following that you can see in the following poster, ie: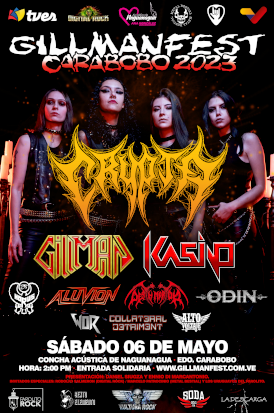 👆Fuente/Source: https://gillmanfest.com.ve/carabobo-2023/
Collateral Detriment, Death Motor, WOR, Alto Voltaje, Odin, Aluvion, Horus, Kasino quien es uno de los miembros fundadores que se encuentra disponible para seguir llevando las canciones de La Misma Gente y Gillman
Collateral Detriment, Death Motor, WOR, Alto Voltaje, Odin, Aluvion, Horus, Kasino who is one of the founding members who is available to continue carrying the songs of La Misma Gente, and Gillman.
Éstas son las bandas venezolanas (cuyo protagonista son las bandas de rock venezolano y su público rockero) y por parte de la representación internacional contaremos nada más y nada menos que con el regreso de las talentosas de la banda de Death y algo de Thrash metal Crypta (Brasil) quienes van a estar de gira promocionando su segunda producción discográfica (que en la actualidad a las fechas que estoy escribiendo el presente blog, se encuentraen proceso de producción) y dicha banda quedaron facinadas por haber tocado en Venezuela ganando nuevas fanaticadas para su banda.
These are the Venezuelan bands (whose protagonist are the Venezuelan rock bands and their rocker public) and from the international representation we will have nothing more and nothing less than the return of the talented band of Death and some Thrash metal Crypta (Brazil) who will be touring promoting their second album (which currently at the time I am writing this blog, is in production process) and the band were thrilled to have played in Venezuela gaining new fans for his band.
Próximamente voy a estar compartiendo los comunicados que vaya emitiendo la Jefatura de prensa del Gillmanfest, creo que publicaré imprenta de pantalla y enlace de los comunicados con la finalidad que mi blog no se mal interprete como un copy/paste, este es un espacio de periodismo rock independiente y resumiremos lo esencial de los comunicados que sean emitidos por su Jefatura de Prensa.
Soon I will be sharing the press releases issued by the Gillmanfest Press Office, I think I will publish a screen print and link of the press releases in order that my blog is not misinterpreted as a copy/paste, this is a space for independent rock journalism and we will summarize the essence of the press releases that are issued by the Gillmanfest Press Office.
Pd: no se si podré asistir, tal como lo hice en Enero, pero pondré mi mayor empeño para poder estar presente con colegas de prensa de diferentes partes del territorio nacional y amistades que he ido conociendo de otros estados.
Pd: I do not know if I will be able to attend, as I did in January, but I will do my best to be present with press colleagues from different parts of the country and friends I have met from other states.
Sin más que añadir por el momento se despide su humilde servidor, Alejandro Sequea, difusor y promotor del rock nacional de Venezuela
Without further ado, your humble servant, Alejandro Sequea, disseminator and promoter of Venezuelan national rock, bids you farewell.
La traducción del español al inglés se logró con a ayuda del traductor Deepl
The translation from Spanish to English was achieved with the help of the translator Deepl
mis redes sociales
My´s Social´s Media´s
TWITTER
http://www.twitter.com/alejandrockvell
---
---