[ESP-ENG]🤟Desafíos en la Escena musical del rock en Venezuela 🤟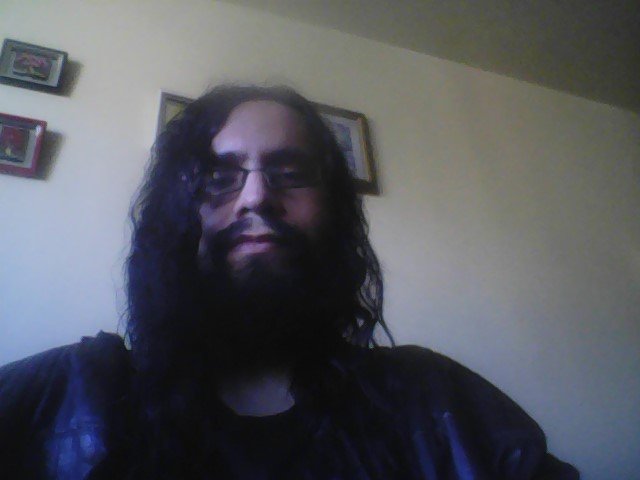 👆Fotografía personal captada desde una Tablet Canaima
Personal photo taken from a Canaima Tablet
Nota: En este artículo solo expreso mis experiencias al haber transitado en diferentes movimientos dedicada a la cutura rockera, por ende todo lo que leas aquí no se vaya a tomar como una verdad absoluta
Note: In this article I only express my experiences having been in different movements dedicated to the rock culture, therefore everything you read here will not be taken as an absolute truth.
Un cordial saludo a todas y todos los usuarios de la red social blockchain #hive
Warm greetings to all users of the blockchain #hive social network.
Inicialmente para el domingo 19 de Marzo tenía planeado difundir una programación especial dedicada a una de las bandas más longeva del rock pesado caracterizado como un power trío, me refiero a La Misma Gente, banda de rock que nació entre el año 1977 conformado originalmente por Pedro Lizardo "PTT" (guitarra y voz principal) Humberto "IKE" Lizardo (Bajo) y Victor González "KASINO" (Batería) sin embargo, nos encontramos con varios contratiempos que era difícil solventarla en un par de días, considerando que parte de las creaciones que llevo a cabo debo transferirlo a otra computadora, es decir, mi vieja computadora desinstalarla, instalar una pc que me ha prestado mi hermano para procesar y ensamblar los vídeos desde esa computadora que ésta se encuentra más adaptada para la elaboración de vídeos y al tener listo ese vídeo descargarlo desde mi pc para publicarlo en 3speak y eso sin contar las ediciones que me corresponde hacer del audio desde Audacity para reacomodar, acortar y/o editarla en dos partes ya que el otro contratiempo encontrada es que Canva no te permite descargar archivos de vídeo que duren más de media hora y como punto y a parte estoy recibiendo clases de un curso sobre desarrollo web 3.0 así que dicha edición lo más ideal fue dividirla en dos partes para poder realizar un especial como debe ser a nuestra querida banda La Misma Gente el cual será lanzada el Domingo, 26 de Marzo y la segunda parte será publicada el siguiente Domingo, 02 de Abril
Initially for Sunday March 19 I had planned to broadcast a special program dedicated to one of the longest running bands of heavy rock characterized as a power trio, I mean La Misma Gente, rock band that was born in 1977 originally formed by Pedro Lizardo "PTT" (guitar and lead vocals) Humberto "IKE" Lizardo (Bass) and Victor Gonzalez "KASINO" (Drums) however, we encountered several setbacks that were difficult to solve in a couple of days, considering that part of the creations that I carry out must be transferred to another computer, that is to say, my old computer must be uninstalled, install a pc that my brother has lent me to process and assemble the videos from that computer that is more adapted for the elaboration of videos and when I have that video ready download it from my pc to publish it in 3speak and that without counting the editions that I have to make of the audio from Audacity to rearrange, shorten and/or edit it in two parts since the other setback found is that [Canva](www. canva.com) doesn't allow you to download video files longer than half an hour and as an aside I'm taking a course on web development 3.0 so the most ideal thing was to split it in two parts in order to make a special as it should be to our beloved band La Misma Gente which will be released on Sunday, March 26th and the second part will be published the following Sunday, April 2nd.
Y bueno, en compensación, decidí publicar el siguiente artículo referente a los desafíos que tenemos principalmente fuera de las esferas de las instituciones y entidades culturales públicas referente a las actividades de rock lo digo de esta forma ya que existen persoans acérrimas a Gillman, Movimiento del Rock Nacional y la Fundación Corazón Rockero y no desean nada que tenga que ver con ello por (inserte discurso random aquí) que al final tecleando y tecleando sin parar, no van a frenar el financiamiento que recibe la Fundación Corazón Rockero para organizar sus conciertos así que comencemos.
And well, in compensation, I decided to publish the following article regarding the challenges we have mainly outside the spheres of public cultural institutions and entities regarding rock activities I say it this way since there are persoans staunch to Gillman, National Rock Movement and the Rock Heart Foundation and do not want anything to do with it by (insert random speech here) that in the end typing and typing without stopping, they will not stop the funding received by the Rock Heart Foundation to organize their concerts so let's start
Elitísmo/Elitrism:
En estos días leí a un amigo que toca batería de género hard rock, heavy metal y en algunas bandas covers sobre lo complicado que ha sido para el conseguir fechas para tocar en los eventos aquí en la ciudad de Caracas.
These days I read to a friend who plays drums in hard rock, heavy metal and some cover bands about how complicated it has been for him to get dates to play in events here in the city of Caracas.
El elitismo no es más que llevar a cabo las cosas para un círculo limitado de personas sin tomar en cuenta el trabajo, talento y capacidades que posee esa persona al no pertenecer a ese círculo de amistades
Elitism is nothing more than carrying out things for a limited circle of people without taking into account the work, talent and capabilities that this person possesses by not belonging to that circle of friends.
Visualizar el rock como un pasatiempo en vez de trabajo por el que debes cobrar/View rock as a hobby rather than a job for which you should be paid:
En antaño, era frecuente, más no se sí en la actualidad (tomando en cuenta las compleja situación económica de Venezuela, las sanciones y anomia social donde el que cobra en Bolívares como empleados públicos, pensionados y jubilados tienen tienen una peor calidad de vida que el que cobra en dolares, pero esto es tema de otra conversación), era frecuente ver como bandas de rock sedían a pagar por una tarima para poder presentarse en los conciertos sin remuneración alguna o siendo remunerados por comida o licor de muy mala calidad (lavagallo le decimos en criollo), tu esfuerzo y trabajo tienen valor y debes dar a respetar tu valor como músico de la misma forma como los Mariachis dan a respetar su profesión como músico y cobran por tocar música rancheras, por citar un ejemplo, no se, digo yo...
In the past, it was frequent, but I do not know if nowadays (taking into account the complex economic situation in Venezuela, the sanctions and social anomie where those who are paid in Bolivars as public employees, pensioners and retirees have a worse quality of life than those who are paid in dollars, but this is the subject of another conversation), It was common to see rock bands paying for a stage to perform in concerts without any remuneration or being paid for food or liquor of very poor quality (lavagallo we call it in Creole), your effort and work have value and you must give respect to your value as a musician in the same way as the Mariachis give respect to their profession as a musician and charge for playing ranchera music, to cite an example, I do not know, I say I do. ..
Tocar las puertas en locales donde el rock sea de verdad bienvenido y recibido/Knock on doors in venues where rock is truly welcomed and received:
Un amigo y yo hace tiempo intentamos organizar un slam en su cumpleaños y nunca logramos llevarlo a cabo buscando lugares, en una de esas contacté al ya extinto Discovery Bar por correo electrónico y me dijeron que "nada de bandas pesadas" y yo así de qué como¿? xDDDDDD aunque este es uno de los pasos mas complicados pero poco a poco hay establecimientos que estan permitiendo e incluyendo bandas de rock incluso en negocios de Restaurante y Panadería Restaurant que hacen uso de sus ingresos para remunerar bandas clásicas del rock, están las experiencias de El Farolito de los Uruguayos ubicado en Bello Monte Municipio Baruta Estado Miranda, que fuertemente han dado cabida sobre presentar bandas de rock y así se va concienciando a negocios que aún hay clientes que están dispuesto a disfrutar de un concierto de rock sin tener que regalar el trabajo a nadie.
A friend and I some time ago tried to organize a slam on his birthday and we never managed to do it looking for places, in one of those I contacted the now defunct Discovery Bar by email and they told me "no heavy bands" and I said "no heavy bands" so what do I eat? xDDDDDDDD although this is one of the most complicated steps but little by little there are establishments that are allowing and including rock bands even in Restaurant and Bakery Restaurant businesses that make use of their income to remunerate classic rock bands, there are the experiences of El Farolito de los Uruguayos located in Bello Monte Municipality Baruta Miranda State, which have strongly given space to present rock bands and thus raising awareness to businesses that there are still customers who are willing to enjoy a rock concert without having to give away the work to anyone.
👆Biela da Costa and Alvaro Falcón
Fuente/Source: https://www.youtube.com/@farolitorock410
Planificación y Profesionalismo/Planning and Professionalism:
Para organizar un concierto de rock debes contar con una planificación y requieren diversas áreas como iluminación, sonido, backline, fotografos, camarógrafos, animadores, preferiblemente si tienen trayectoria en las labores desarrolladas.
To organize a rock concert you must have a planning and require various areas such as lighting, sound, backline, photographers, cameramen, animators, preferably if they have experience in the work developed.
Diseñar un plan de ahorro colectivo cuando no cuentas con financiamiento de entidades públicas o privadas/Design a collective savings plan when you do not have financing from public or private entities:
Cuando coincides y concuerdas con profesionales amantes del rock que van mas allá del título, pueden organizar una recolecta de ingresos (preferiblemente en divisas o stablecoin como Hive Dollar HBD) para poder invertir en publicidad (para enganchar al público metalero) y reunir lo suficiente para costear los servicios de iluminación, sonido, a las bandas, animadores, etc.
When you coincide and agree with professional rock lovers who go beyond the title, they can organize an income collection (preferably in hard currency or stablecoin as Hive Dollar HBD) to invest in advertising (to engage the metal audience) and raise enough to pay for lighting, sound, bands, entertainers, etc..
Son más o menos este tipo de desafíos que debemos tomar en cuenta para tratar de mejorar la ecena del rock y el metal en Venezuela, con planificación y trabajo en colectivo se puede hacer muchas cosas.
These are more or less the kind of challenges that we must take into account to try to improve the rock and metal scene in Venezuela, with planning and collective work we can do many things.
Sín mas que añadir se despide por el momento su humilde servidor Alejandro Sequea, difusor y promotor del rock nacional de Venezuela, español y latinoamericano, hasta la próxima.
Without further ado, your humble servant Alejandro Sequea, disseminator and promoter of Venezuelan, Spanish and Latin American national rock, bids you farewell for the moment, until next time.
Traducido del español al inglés con la ayuda del traductor Deepl
Translated from Spanish to English with the help of the Deepl translator.
Social´s Media´s
FACEBOOK
http://www.facebook.com/alejandro.sequea.1
---
---