[ESP-ENG] ¡Entre carteles! Reciclaje para una evangelización creativa / ¡Between posters! Recycling for creative evangelization
Hola mis amados amigos de Hive / Hello my dear friends from Hive
Este post es bilingüe / This post is bilingual
Algo que me apasiona en llevar el mensaje de Cristo Jesús a las calle. Pero el hecho de hacerlo y ser evangelista requiere de estrategias y algo de inversión para poder hacer cosas llamativas en el nombre del Señor. Pero si hay algo que caracteriza a todo evangelista apasionado es "La creatividad". Por lo que, aprovecho al máximo lo que tengo a la mano y materiales que tal vez otras personas desechan y llevan al bote de basura, esto termina al basurero contaminando el ambiente; pero si somos ingeniosos podemos darle otro uso o funcionalidad y contribuir en la disminución de la cantidad de desechos que generamos y en lo económico ahorrarnos a la hora de exhibir algún mensaje para evangelizar, en la escuela, campaña, entre otros... Con el cartón se puede hacer tantas pero tantas cosas...
Something that I am passionate about in taking the message of Jesus Christ to the streets. But just doing it and being an evangelist requires strategies and some investment to be able to do flashy things in the name of the Lord. But if there is something that characterizes every passionate evangelist, it is "Creativity." Therefore, I make the most of what I have on hand and materials that perhaps other people discard and take to the garbage can, this ends up in the garbage dump contaminating the environment; But if we are ingenious, we can give it another use or functionality and contribute to reducing the amount of waste we generate and economically save when displaying a message to evangelize, at school, campaign, among others ... cardboard can be made so many things...
---
Me gusta aprovechar al máximo el cartón, en el contenido pasado logran apreciarlo con el juego que hice para los niños. En esta oportunidad te muestro los carteles evangelísticos que realice con las cajas grandes de huevos que compran los dueños de abastos o supermercados.
I like to make the most of the cardboard, in the past content they manage to appreciate it with the game I made for children. This time I show you the evangelistic posters that I make with the large boxes of eggs that the owners of groceries or supermarkets buy.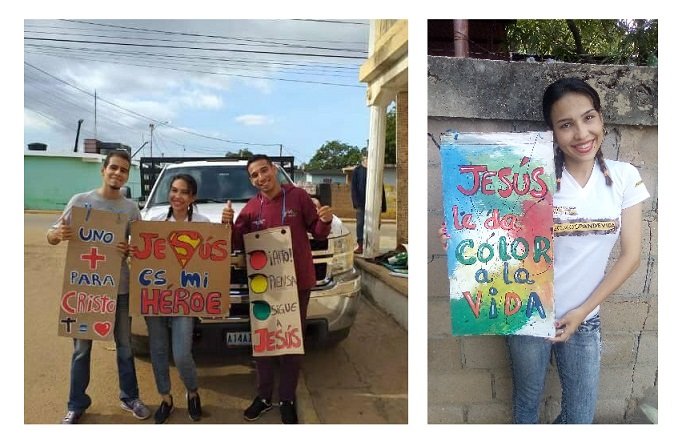 ¡Los carteles fueron un éxito!
A todos les gusto muchísimo y llamaban mucho la atención de las personas que estaban en las calles, así como aquellas a las que nos aproximábamos a invitarlas a la actividad que realizábamos.
They all liked me very much and they attracted a lot of attention from the people who were in the streets, as well as those whom we approached to invite them to the activity we carried out.

Materiales para su elaboración / Materials for its elaboration
| Materiales | | Materials |
| --- | --- | --- |
| Cajas de cartón grande | | Large cardboard boxes |
| Tijera | | Scissor |
| Temperas | | Tempera |
| Pinceles | | Brushes |
| Cinta de regalo | | Gift tape |
| Silicón | | silicon |
| Foamy negro | | Black foamy |
Paso a paso / Step by Step:
1- Recorte los laterales de la caja (pestañas o lo que sirve de tapa de cajas de cartones) y los lados de la caja que eran anchos, largos y espaciosos para la actividad.
1- Cut out the sides of the box (tabs or what serves as a cardboard box lid) and the sides of the box that were wide, long and spacious for the activity.
Por ser una caja de huevos, viene con unos orificios para que el producto este ambientado y no se dañe, estos agujeros son perfectos para pasar por allí cinta y que este puedas colgarlo en tu cuello como verán mas adelante.
Because it is an egg box, it comes with some holes so that the product is set and does not get damaged, these holes are perfect to pass tape through there and that you can hang it on your neck as you will see later.
---
2- El siguiente paso es pensar que mensaje quieres transmitir y elaborar en tu mente la idea creativa para luego plasmarla, aún puedes ayudarte de la web para conseguir mensajes y guiarte por ellos para crear los tuyos. Y pues, a este paso se le suma la pintura con la aplicación de temperas.
2- The next step is to think about what message you want to transmit and elaborate the creative idea in your mind and then translate it, you can still help yourself from the web to get messages and be guided by them to create your own. And then, to this step the paint is added with the application of temperas.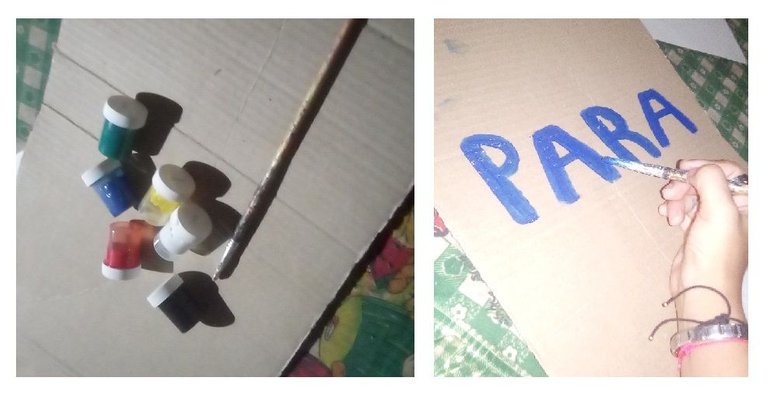 ---
3- Realice varios carteles. En uno de ellos tome un envase de mantequilla vació para hacer tres circunferencias. En otro hice una explosión de color, fíjate en las fotografías.
3- Make several posters. In one of them take an empty butter container to make three circles. In another I made an explosion of color, look at the photographs.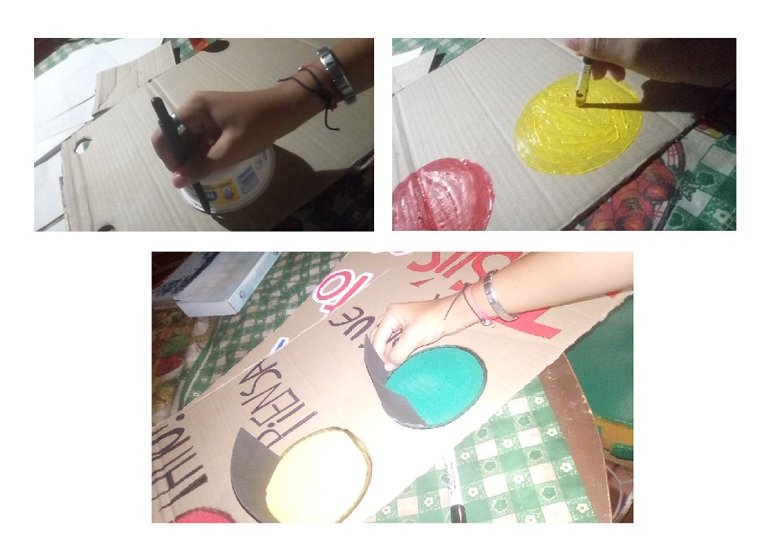 En el caso de este cartel recorte unas pestañas de foamy negro que pegue con silicón en semejanza de un semáforo.
In the case of this poster, cut out some black foamy tabs that you glue with silicone in the likeness of a traffic light.
Colores entremezclados con mis propias manos y salpicados con negro ayudándome del pincel dieron como resultado un cartel hermosamente colorido y llamativo.
Colors intermixed with my own hands and splashed with black with the help of the brush resulted in a beautifully colorful and striking poster.
---
4- Luego de plasmar la idea, darle color y escribir el mensaje. El siguiente paso pasar cinta por los dos agujeros que en el paso numero uno les comente. Las tapas de cartón que no tenían, con ayuda de las tijeras les hice perforación para pasar la cinta y listo.
4- After expressing the idea, give it color and write the message. The next step is to pass tape through the two holes that I mentioned in step one. The cardboard covers that they did not have, with the help of scissors I made holes to pass the tape and that's it.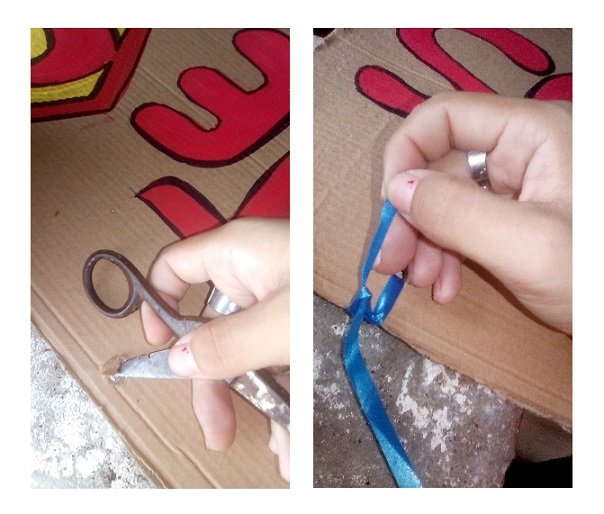 Y ahora con ustedes el resultado... / And now with you the result...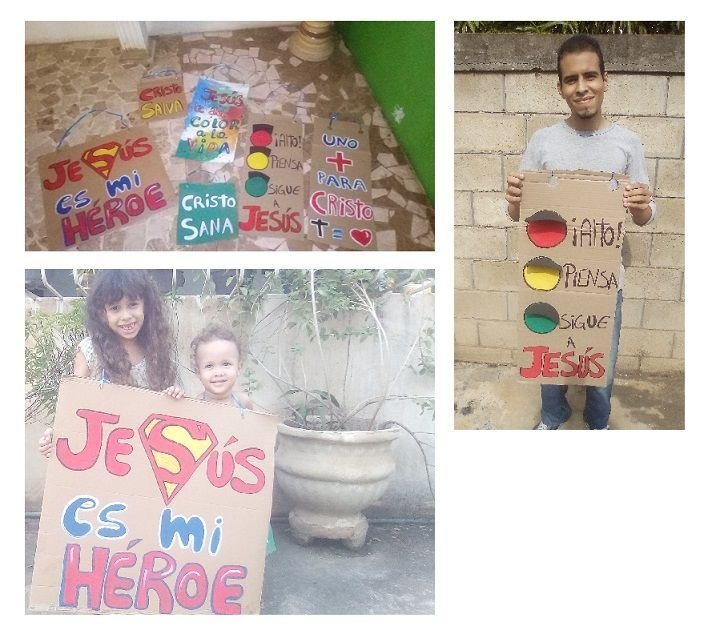 Más de uno se tomo fotos con los carteles / More than one took photos with the posters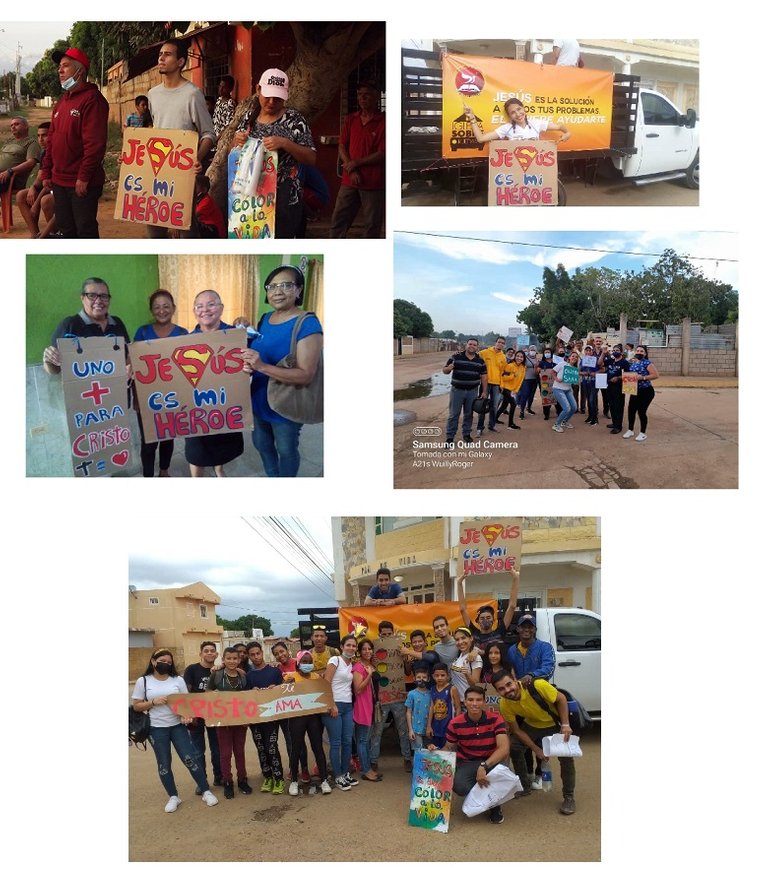 Espero que este contenido haya sido de tu agrado y te sea útil. Gracias por leer este post un rato/I hope this content has been to your liking and is useful to you. Thanks for reading this post for a while.
Las fotografías son de mi autoría tomadas con mi celular Alcatel Tetra/ photographs are my own, taken with my Alcatel Tetra cell phone.
Un fuerte abrazo, hasta el próximo Post/ Until next Post.

---
---