(ENG/ESP) FIFA 08 Manager Mode - My Challenge | New signings | A solid offense for the start of my second season with Nottingham Forest.
ENG
After a solid first season in terms of the league, I've got down to work to start my second season with Nottingham Forest. I'm already in England's second division (Coca-Cola Championship) and have made a good start in shaping the team's squad.
ESP
Después de una primera temporada sólida en cuanto a la Liga, me he puesto manos a la obra para empezar mi segunda temporada con el Nottingham Forest. Ya me encuentro en la Segunda División de Inglaterra (Coca – Cola Championship) y he empezado de lleno en ir dándole forma a la plantilla del equipo.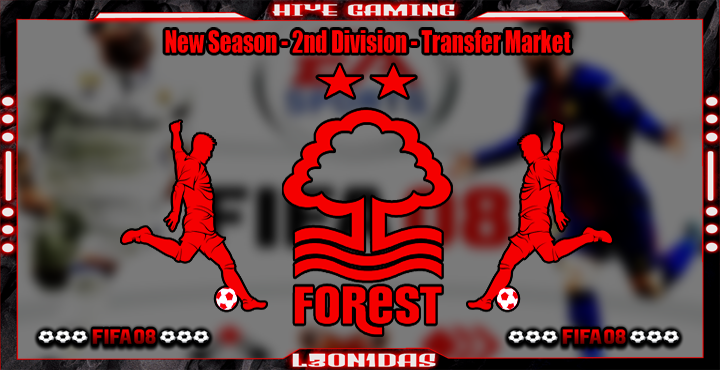 As with every start of the season in FIFA 08, we always start with the transfer window active, so I always try to prioritize those players that are released.
Como en todo inicio de temporada en el FIFA 08, siempre empezamos con el mercado de fichajes activo, así que siempre intento priorizar a esos jugadores que son dejados en libertad.

Fortunately for me I have managed to get a couple of very good players with a very acceptable age, as they are quite young for their time and with that they also have a good potential.
These players are T.Huddlestone (MED 81) and Zé Roberto (MED 77), when I saw them on the first page of the list I went for them without thinking, obviously they are players that have a fairly high starting salary with respect to my financial resources, so the idea itself is not to sign them to have them in the team, but to try to get them to accept the offer and thus at first sell them, all this in order to raise funds and to get other promising young players that can effectively adjust to the salary support of the team.
Para mi suerte he conseguido a un par de jugadores bastante buenos y con una edad muy aceptable, ya que para su momento son bastante jóvenes y con ello también poseen un buen potencial.
Estos jugadores son T.Huddlestone (MED 81) y Zé Roberto (MED 77), al verlos en la primera página de la lista fui por ellos sin pensarlo, obviamente son jugadores que tienen un salario inicial bastante elevado con respecto a mis recursos económicos, así que la idea en sí no es ficharlos para tenerlos en el equipo, si no, de intentar que acepten la oferta y así en un primer momento venderlos, todo esto con el fin de recaudar fondos y poder conseguir otros jóvenes promesas que se puedan ajustar de forma efectiva al soporte salarial del equipo.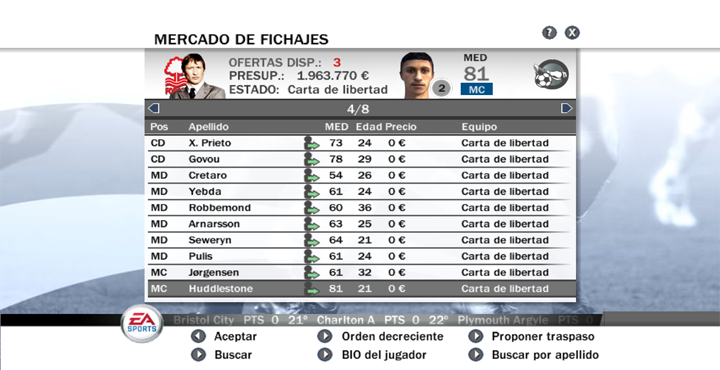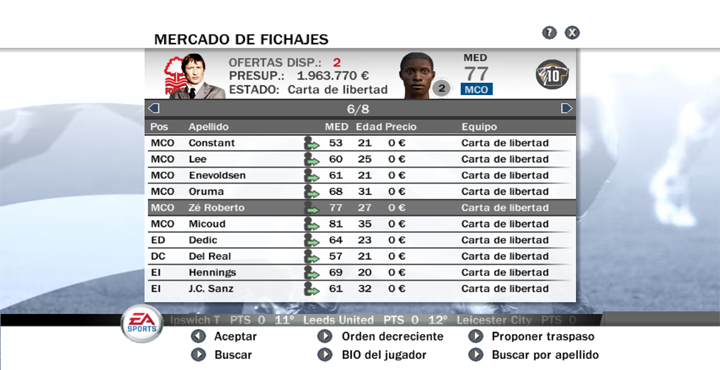 For the first offer I made neither of the two players accepted, but with the second offer they did not hesitate to accept.
Para la primera oferta que hice ninguno de los dos jugadores acepto, pero con la segunda oferta sí que no dudaron en aceptar.

When I managed to convince both players, I immediately put them in transferable mode and best of all, I received offers for the next date of the friendly matches. I did not hesitate to sell them and managed to raise a good sum to increase my budget, which was less than 2 million, after both sales I managed to bring my budget to 19 million.
Al conseguir convencer a ambos jugadores, inmediatamente los puse en modo transferibles y lo mejor de todo es que recibí ofertas para la siguiente fecha de los partidos amistosos. No dude en venderlos y logre recaudar una buena suma para aumentar mi presupuesto que lo tenía en menos de 2 millones, después de ambas ventas logre llevar mi presupuesto a los 19 millones.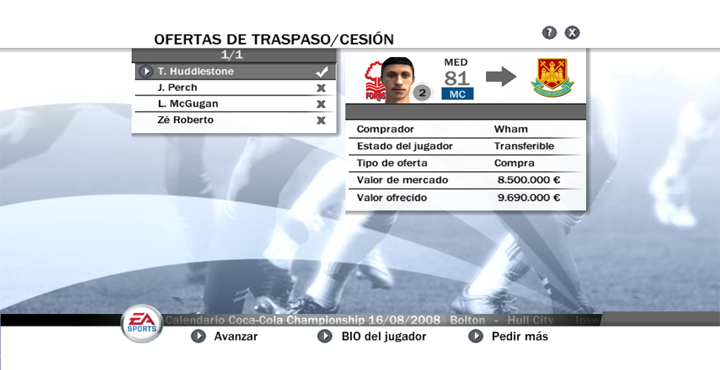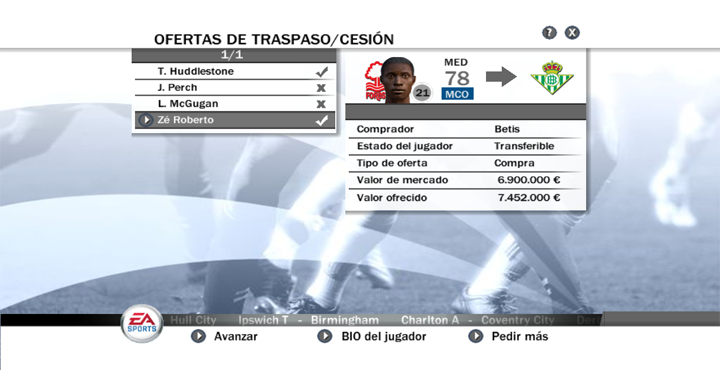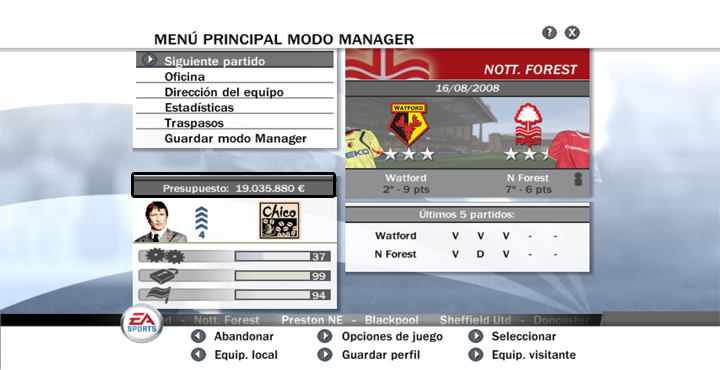 It was a very positive move in the transfer market and with that I was able to look for the promising players I had in mind to sign.
Fue una jugada bastante positiva en el mercado de traspaso y con eso pude plantearme a buscar a los jugadores promesas que tenía en mente para fichar.

Once I got that good budget, I started to move in the transfer market and focused on the US League. With my experience in this FIFA I already have a clear idea of where to go to look for my best options =) In this league there are two pretty good and young players, the best of all is that being a statistically weak league, the salaries of the players are low, so for me it is quite easy to make a good offer also offering a fairly affordable salary to have the player for 5 seasons (The maximum allowed by the game).
The players have been J.Altidore (MED 77) and E.Johnson (MED 80)... This pair of players have offensive characteristics, they are quite fast strikers, with good stamina and a moderate punch. For them I only had to spend a little more than 10 million, I can say with this that it has been a good investment, they are players with potential and great growth, best of all is that surely later I can get up to double the profit for a good offer that I can make.
Una vez que conseguí ese buen presupuesto, empecé a moverme en el mercado de traspaso y me enfoque en la Liga de Estados Unidos. Con mi experiencia en este FIFA ya tengo una idea clara de donde ir a buscar mis mejores opciones =) En esta liga hay dos jugadores bastante buenos y jóvenes, lo mejor de todo es que por ser una liga estadísticamente débil, los salarios de los jugadores son bajos, así que para mí es bastante fácil hacer una buena oferta ofreciendo también un salario bastante accesible para poder tener al jugador por 5 temporadas (Lo máximo que permite el juego).
Los jugadores han sido J.Altidore (MED 77) y E.Johnson (MED 80)… Este par de jugadores son de características ofensivas, son delanteros bastante veloces, con buena resistencia y una pegada moderada. Por ellos solo he tenido que gastar un poco más de 10 millones, puedo decir con esto que ha sido una buena inversión, son jugadores con potencial y gran crecimiento, lo mejor de todo es que seguramente más adelante le pueda sacar hasta el doble de ganancia por una buena oferta que me puedan hacer.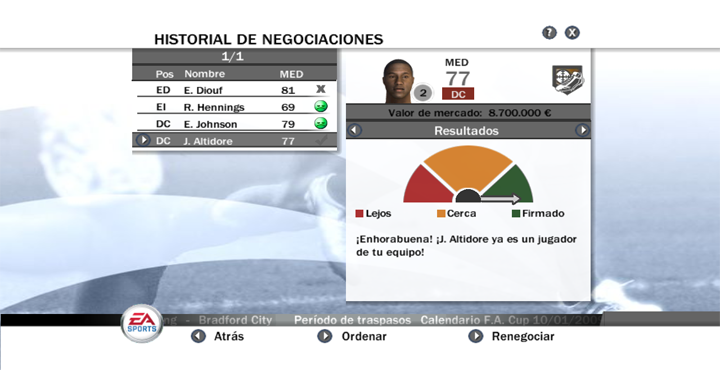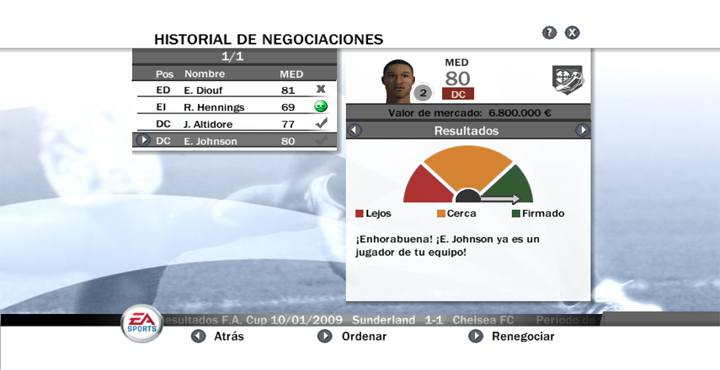 Another good signing that I managed to make was that of T.Kroos... For anyone who knows about soccer knows very well what this player means today, a reference in world soccer in his position. At that time in 2008 T.Kroos was a promising young player with great potential and in this FIFA 08 game they put it as it is, the player has a MED of 64 with an age of 16 years, his progression is somewhat high and his maximum is able to reach a MED of 96. At least I is a player who always signed for my team, but it always cost me something, because, although he had that MED so low at the beginning, his price was somewhat high and it was difficult when I played with teams of low resources as for example in the case of now. But again for my luck Kroos was no longer in the "Bayer Munich", in the first season he had been sold to "Catania" of the Italian Seria A, this made his value in the market went down and when I realized this I did not hesitate to make a good offer for him =) This is how T.Kroos arrived to the historic Nottingham Forest.
Otro buen fichaje que logre hacer fue el de T.Kroos… Para todo aquel que conozca de futbol sabe muy bien lo que significa ese jugador en la actualidad, un referente del futbol mundial en su posición. Para ese entonces del año 2008 T.Kroos era una joven promesa con gran potencial y en este juego de FIFA 08 lo pusieron tal cual, el jugador tiene una MED de 64 con una edad de 16 años, su progresión es algo elevada y su tope máximo es capaz de alcanzar una MED de 96. Por lo menos yo es un jugador que siempre ficho para mi equipo, pero siempre me costaba algo, ya que, aunque tuviera esa MED tan baja al inicio, su precio era algo elevado y se me dificultaba cuando jugaba con equipos de bajos recursos como por ejemplo en el caso de ahora. Pero nuevamente para mi suerte Kroos ya no se encontraba en el "Bayer Munich", en la primera temporada lo habían vendido al "Catania" de la Seria A de Italia, esto hizo que su valor en el mercado bajara y al darme cuenta de esto no dude en hacer una buena oferta por el =) De esta manera llegaría T.Kroos al histórico Nottingham Forest.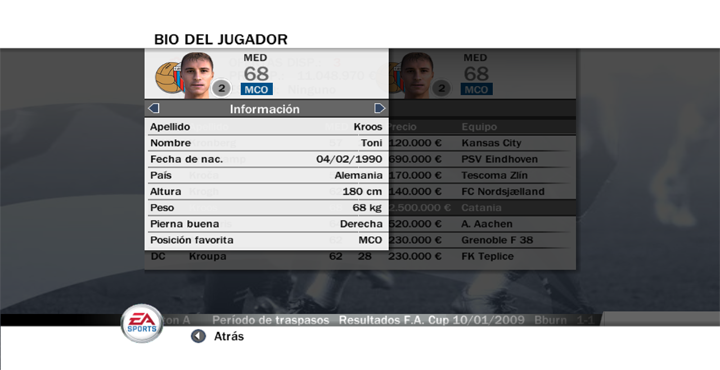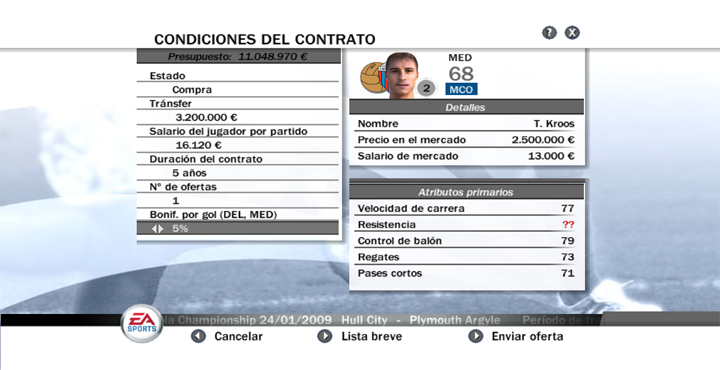 For now I have secured a good striker to face the season, although I must say that not everything is attacking. The defense is still quite weak and it's hard for me to stop the attacks of the rivals, later I will try to sign a defender who can give me a little more stability in that position. For now I'll start like this =)
Por ahora tengo asegurada una buena delantera para afrontar la temporada, aunque debo decir que no todo es atacar. La defensa aún está bastante débil y me cuesta un poco parar los ataques de los rivales, más adelante intentaré fichar a un defensor que logre darme un poco más de estabilidad en esa posición. Por ahora empezaré así =)

The links you will see below belong to the images I used for the elaboration of the cover, I took them from the web (they are free to use). All the other images are of my authorship, I took them from my player profile in FIFA 08, thank you for visiting and reading my content... See you soon!
Los links que verán a continuación pertenecen a las imágenes que use para la elaboración de la portada, las mismas las tome de la web (Son de libre uso). Todas las demás imágenes son de mi autoría, las tome de mi perfil de jugador en el FIFA 08, gracias por visitar y leer mi contenido... Hasta pronto!
"Soccer Player"
"Logo Nottingham Forest"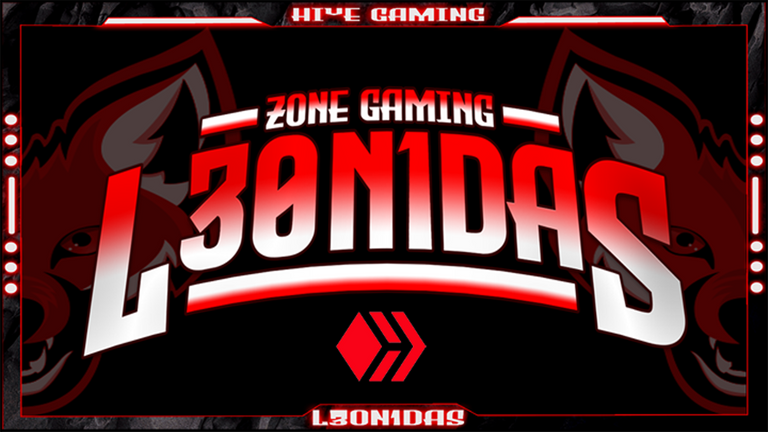 ---
---