This Week in LEO | ProjectBlank? PolyCUB V2, LeoMobile V1, LeoThreads, Community Pages and CUB V2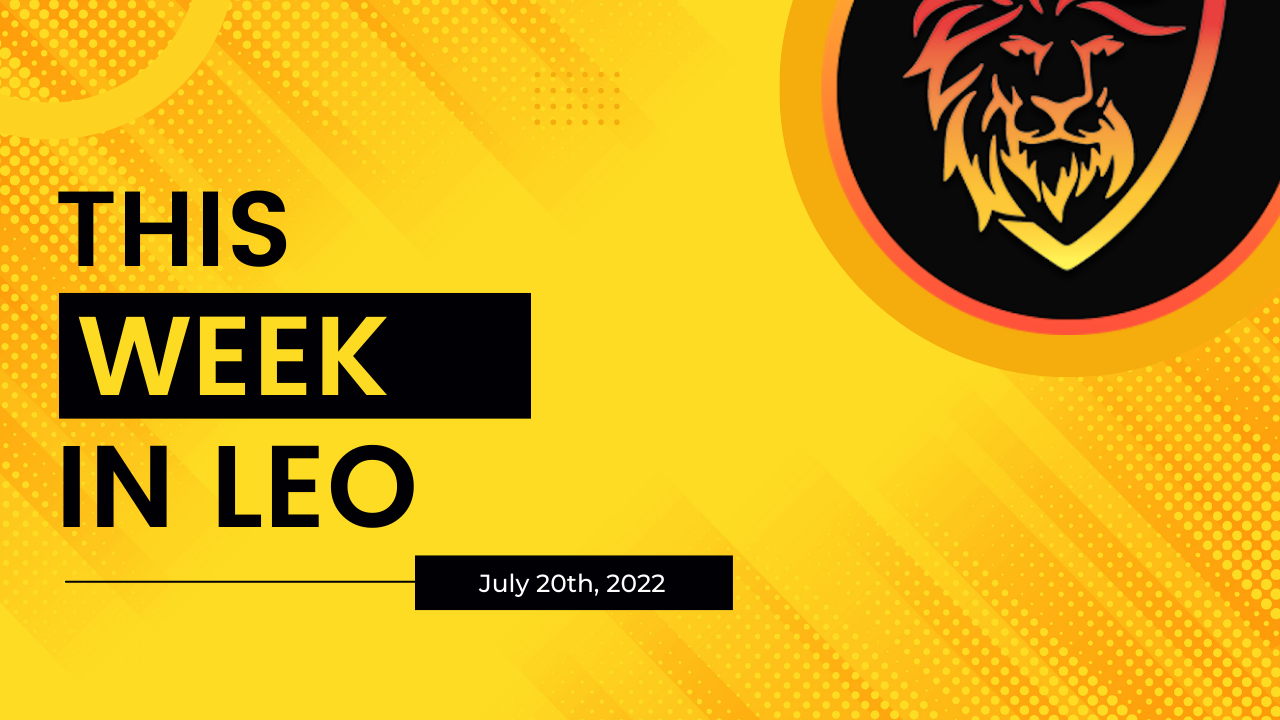 Welcome to this week in LEO. We'll be covering all of our team's developments over the past week and look at some KPIs (key performance indicators) for the LeoVerse.
In recent months, we've onboarded a ton of new devs. The progress we're making on new features and updates to existing platforms is unprecedented. Strap in, things are about to get crazy 🦁
Development
POLYCUB V2
LeoMobile V1
LeoThreads
LeoCommunity Pages
CUB V2
Multi-Token Bridge Update
POLYCUB V2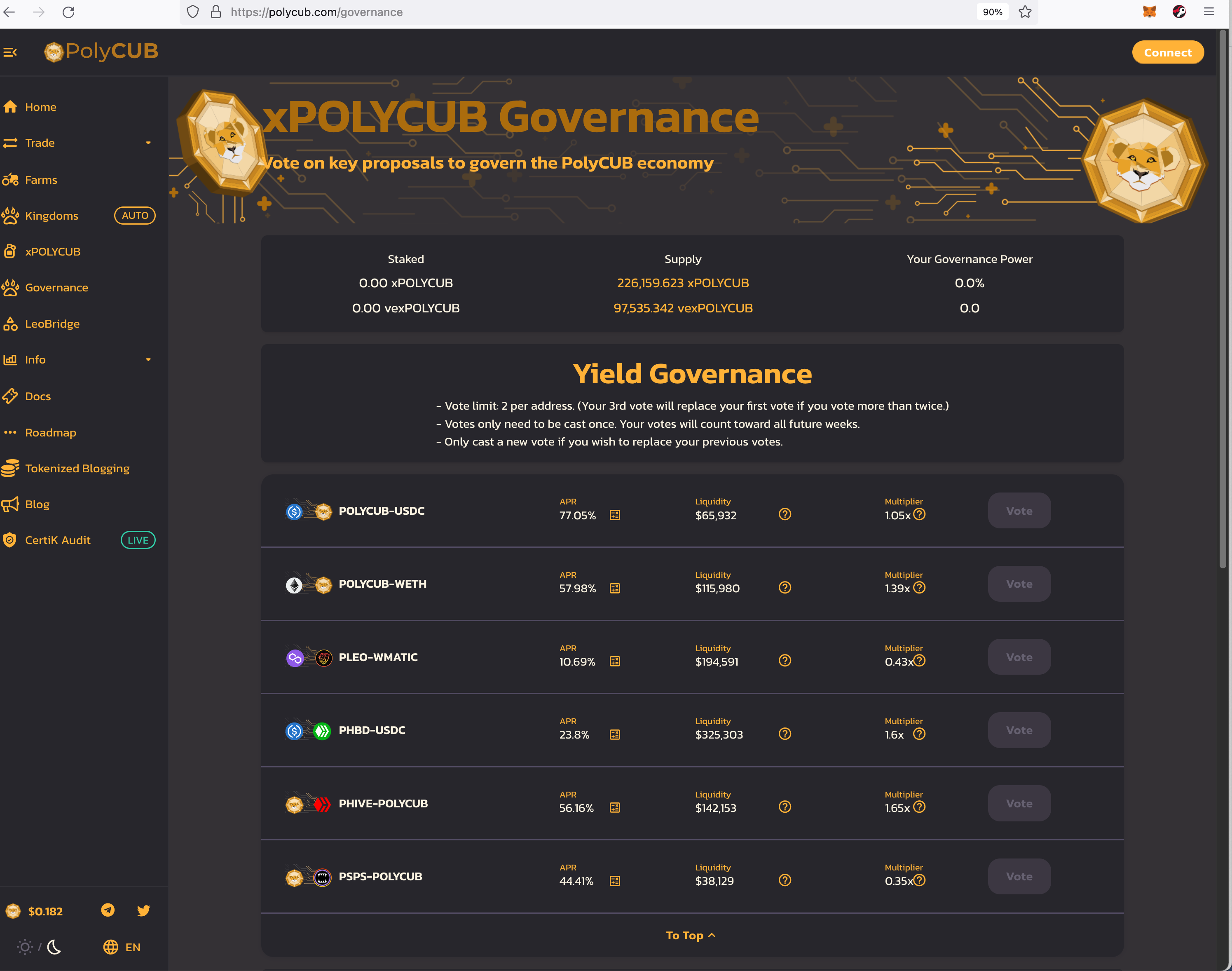 This week, we released POLYCUB V2:
V2 entails the release of vexPOLYCUB, Governance UI, PIP2, Multi-Token Bridge and Buybacks. We've been working on this release for months for the PolyCUB Protocol. These are extremely important updates that all lead us to a sustainable future for our DeFi Platform on the Polygon Network.
The Multi-Token Bridge has been generating a disporportionate amount of revenue for the PolyCUB Protocol. With the release of vexPOLYCUB, we're now taking a % of that revenue and autonomously buying back POLYCUB from the market and then depositing it to all vexPOLYCUB stakeholders.
As of this writing, there is now nearly $400k in the vexPOLYCUB vault. This means that ~$6700 per month worth of POLYCUB needs to be bought back from the market and deployed into the vexPOLYCUB contract.
The dynamics of this setup are extremely interesting. They create a permanent buyer for POLYCUB which will establish a higher floor price. If the POLYCUB price drops, then the monthly buybacks will be even more effective at removing POLYCUB from the market.
If the price rises, then the protocol will remove less POLYCUB from the open market (since $1 buys less POLYCUB).
When the buybacks occur, they deposit POLYCUB into the vexPOLYCUB vault to create a fixed 20% APY for all vexPOLYCUB holders. This locks up newly bought POLYCUB for 2 years, reducing the liquid circulating supply.
After the first monthly report comes out, we'll see how this starts to play out. We expect some interesting shake-ups in the POLYCUB economy as circulating liquid supply is locked up. Over 2M POLYCUB has already been locked for 2 years.
LeoMobile V1
LeoMobile V1 has been approved in the Android App store. We're still waiting for IOS approval. In the meantime, our team has continued to deploy bug fixes and this week, we started our work on integrating some new features to LeoMobile Like Community Pages and Threads.
LeoThreads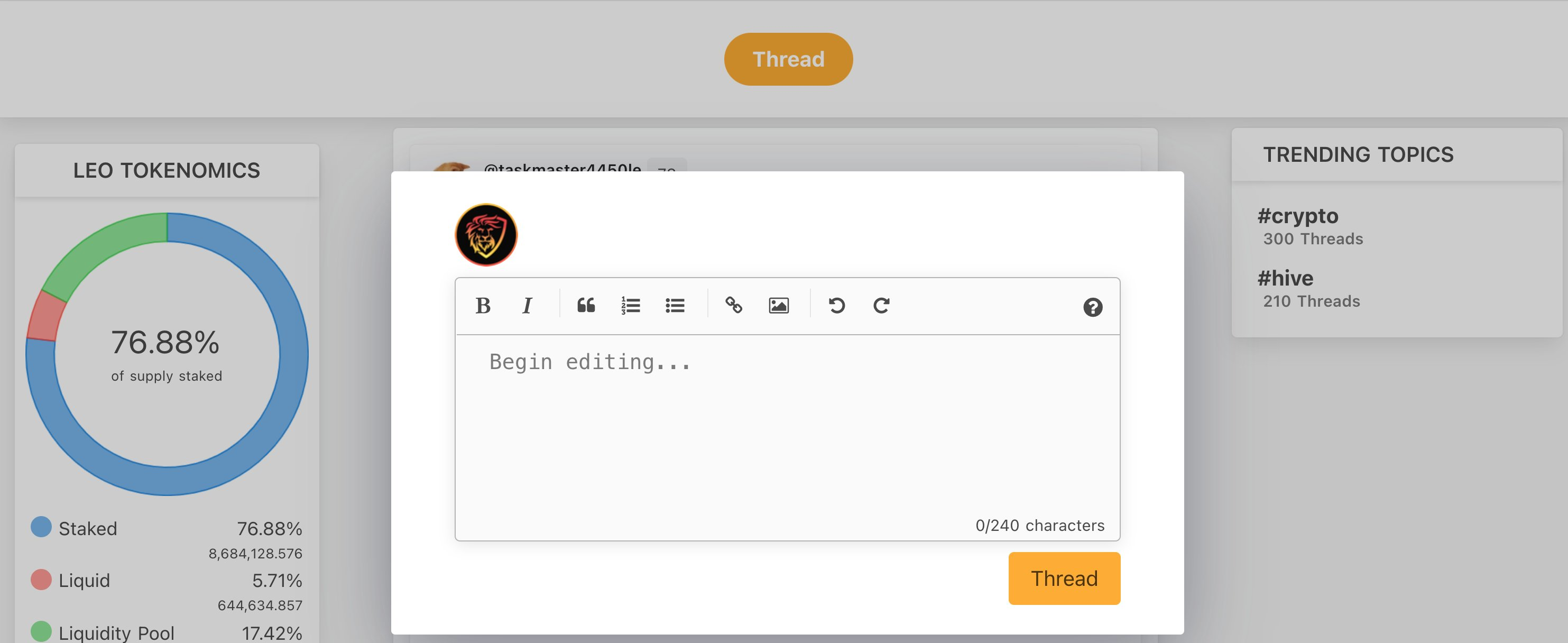 We posted this teaser of LeoThreads on Twitter yesterday. Our development of LeoThreads is coming along extremely well and the team is hoping to deliver a testable product to the community by the end of July.
ICYMI: we've been talking about LeoThreads extensively during the LeoFinance Weekly AMAs. LeoThreads is the culmination of our months (dipping into years now) of development toward ProjectBlank.
LeoThreads is somewhat of a live beta test of ProjectBlank infrastructure while also delivering a Crypto Twitter experience to LeoFinance.io.
With LeoThreads, we're able to stress test the capacity of LeoInfra and LeoLightning DB while also building out a great UI and refining the UX.
This is not just a test, however... This is the future of LeoFinance. Microblogging directly on our UI and onto the Hive blockchain.
As it stands today, all content on LeoFinance is long-form. When LeoThreads goes live, that changes... Forever.
Get ready to microblog directly on Hive. We believe this will change your LeoFinance and Hive blockchain experience forever. We're already testing it as a team and it is so fun to use already!
LeoCommunity Pages

We launched nearly 15 new Community Pages in the past week. The LeoAmbassador program - which is run by @leogrowth - has placed 1 ambassador in charge of each of these new Community Pages.
Each Ambassador is in charge of populating the pages with content, moderating the pages and also reaching out to communities on Twitter to onboard them to Community Pages.
CPs are one of our most important developments for the long-term growth of LeoFinance. Our vision is being fulfilled, one step at a time.
This in conjunction with LeoThreads create an entirely new experience for LeoFinance users. Using Hive has been pretty singular up to this point: create long-form content or read long-form content.
With Community Pages, you can now setup a page and build your crypto community, right on LeoFinance.io.
With LeoThreads, you'll be able to supercharge that experience and add microblogging to your community page.
CUB V2
CUB V2 was teased in yesterday's Live AMA. We've been working hard behind the scenes to deviver POLYCUB V2 and all of those features are being migrated straight into CUB.
We believe that the Multi-Token Bridge brings about the level of sustainability and growth in DeFi that everyone is looking for. The revenue it generates is astonishing.
On POLYCUB, this MTB revenue buys POLYCUB and distributes it as fixed 20% APY to all vexPOLYCUB stakeholders.
On CUB, this MTB revenue will buy CUB and burn it on a regular basis.
Multi-Token Bridge Update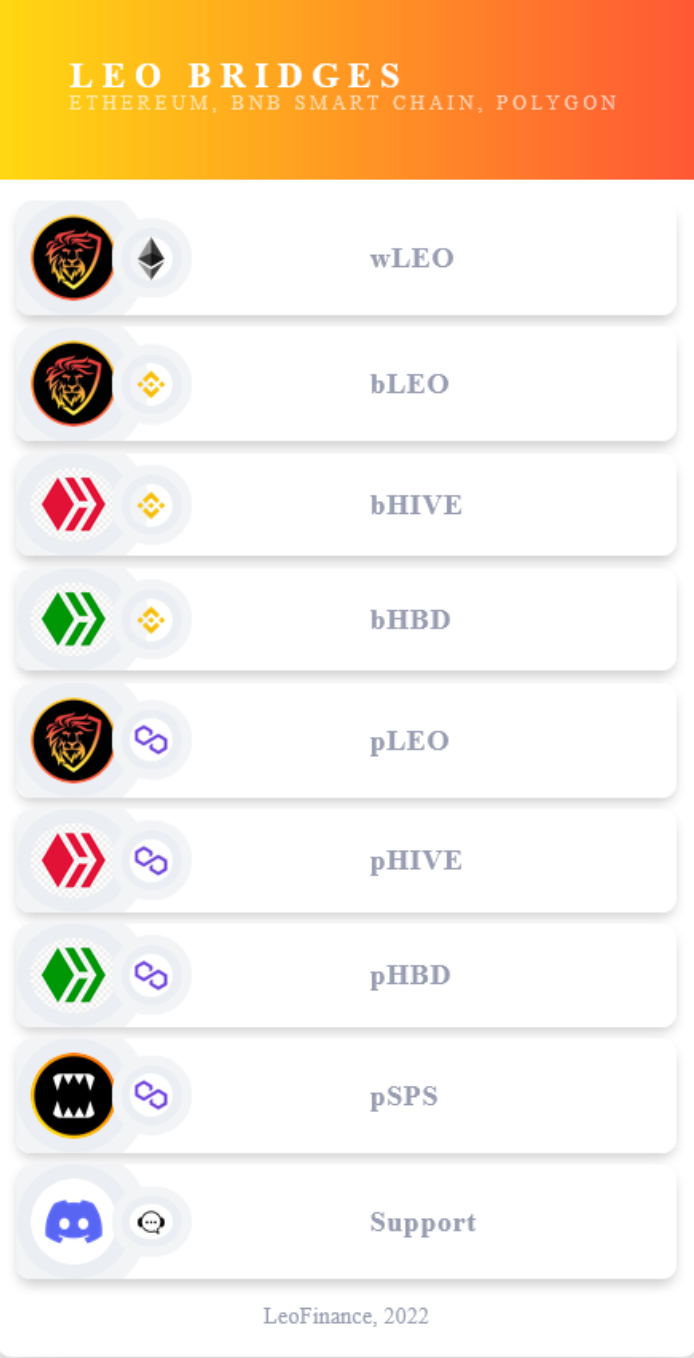 We're currently working on a massive MTB update. This includes better refund handling and also an improved User Interface and UX.
We're hoping to have this live before the end of July, coinciding with the multi-phase rollout of CUB V2.
---
In general, our team has grown so much in recent months. The bear market is very nice to builders. We've managed to onboard several new devs who are all working on the project full-time. Our pace of development and delivery of new code has never been faster. It's truly amazing. This is my favorite time to be a part of this project - when devs and ideas are flowing fast and we're able to innovate rapidly toward our vision.
Traffic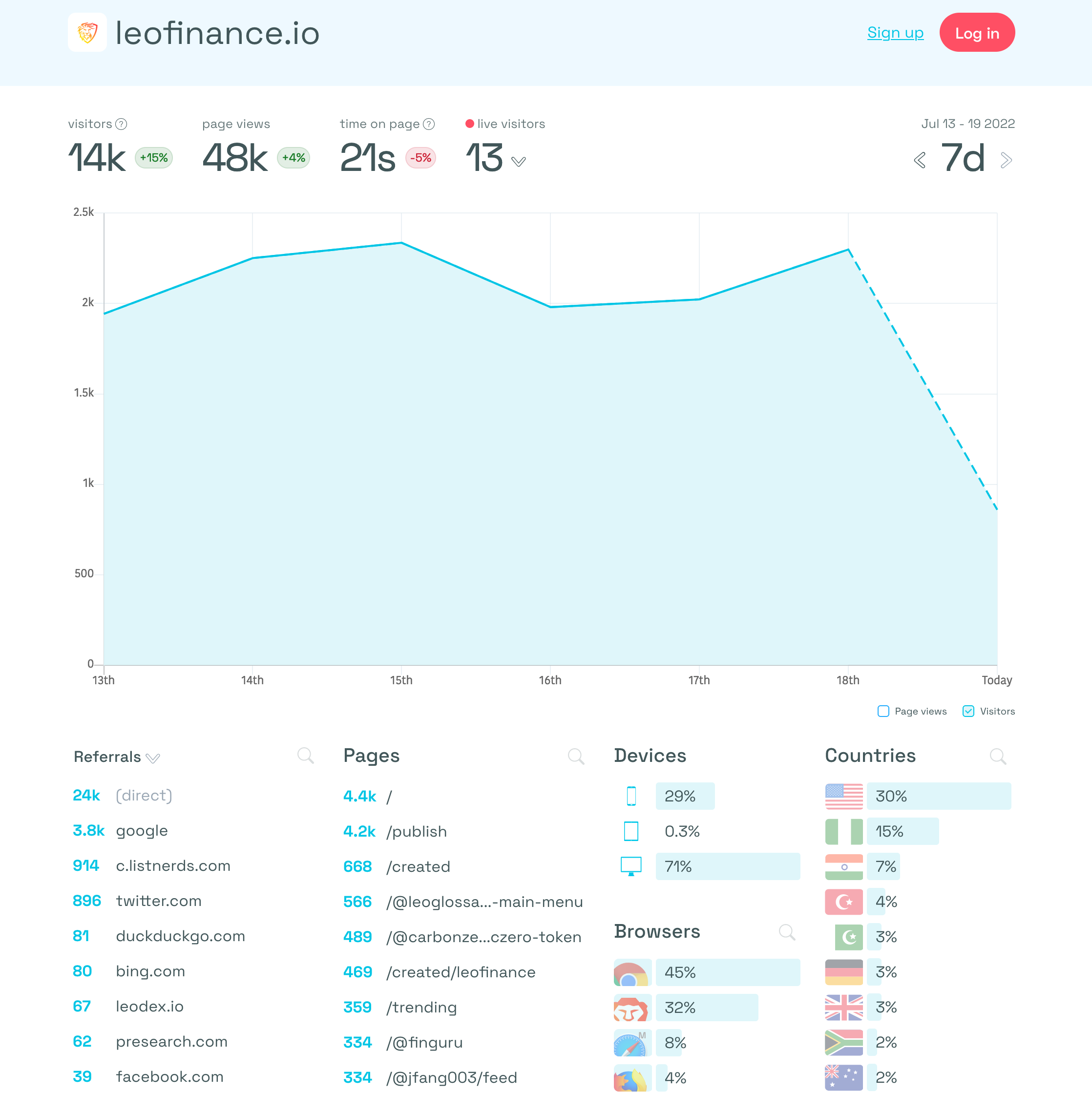 Top Pages or Articles
@leoglossary is a new LeoFinance Community Initiative headed-up by @taskmaster4450. Their mission is to create an index of terms - similar to what is seen on Investopedia.
This initiative now allows you to go to the "main glossary menu" and then link to terms you utilize in your LeoFinance posts. It's already having an impact on overall traffic as search engines tend to like articles that have infinite linking within them (i.e. Wikipedia).
If you're writing content, consider going to the LeoGlossary main menu and finding terms you used in your content and linking back to them!
The second most viewed article this week is by @carbonzerozone. This is the official account for the project by the same name and they were onboarded by @jk6276.
We also created a community page for them called "Comdex" at Jk's request - https://leofinance.io/communities/comdex. That is already starting to bear some fruit! One of their official posts is the top most viewed written article this week on LeoFinance as they're sharing all their official content on Twitter as well.
Onboard a few projects to do their official updates and community pages like this one and could you imagine the potential?
MAUs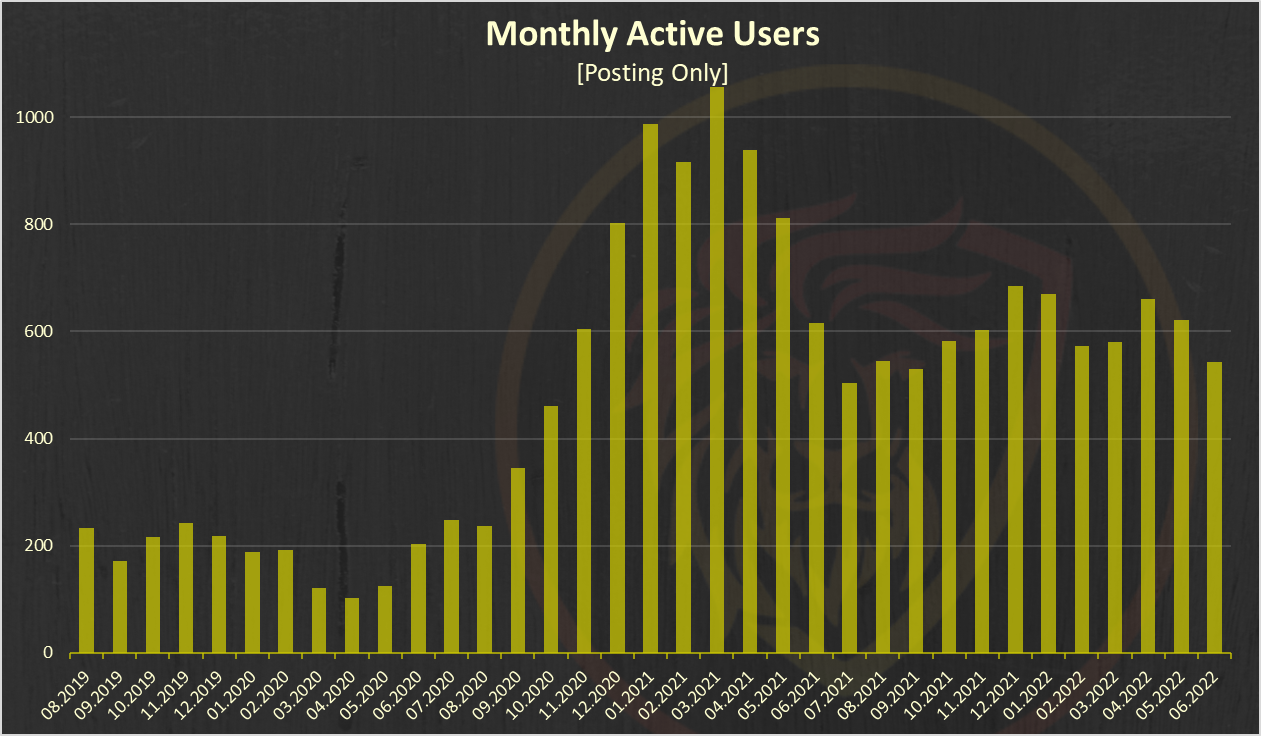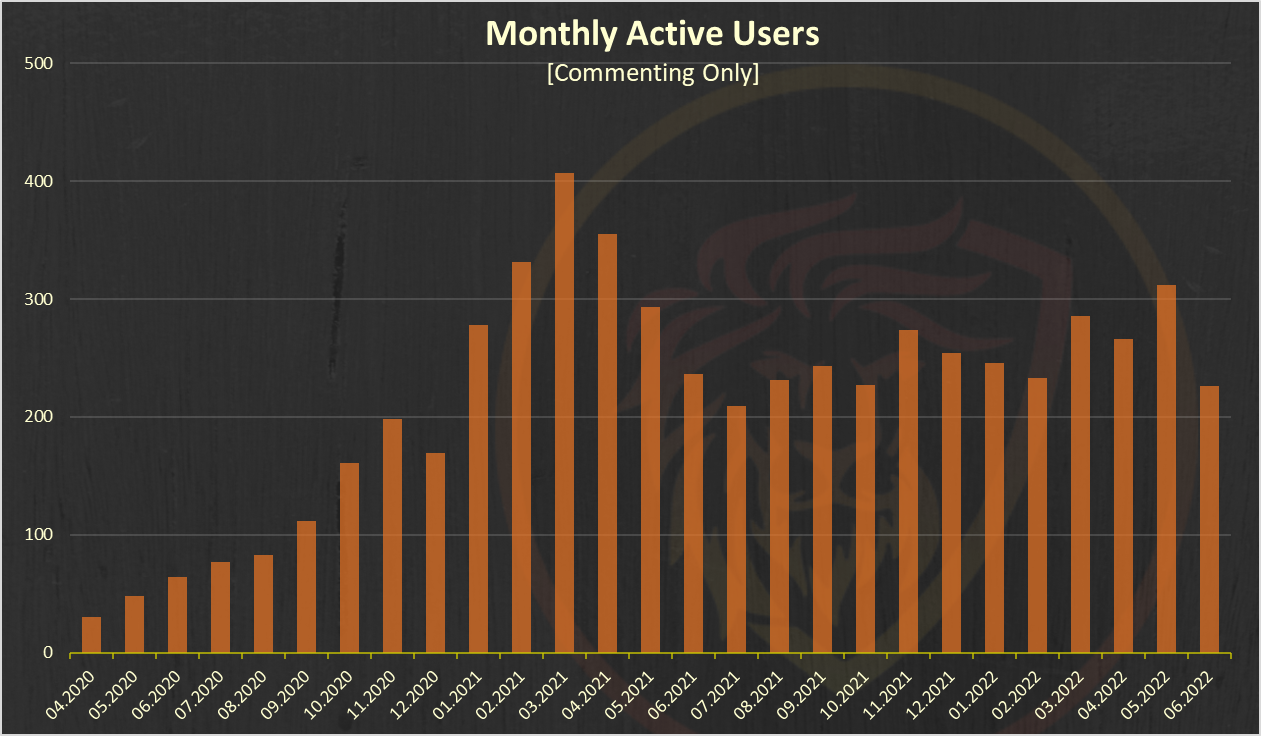 Monthly Active Users saw a slight dip month-over-month - likely due to the crypto markets. As we've seen on Hive for years, people tend to stop posting and using Hive as much when prices are low - since they feel less rewarded.
The veterans, however, know that when prices are low it's time to stack. It's actually the most rewarding time to be a LeoFinance / Hive user in a bear market as competition for post rewards drops off a cliff and you can stack for the next cycle.
MAUs is our core metric as a Social Web3 project. We're always looking for ways to grow this figure. With Community Pages just launched and Threads on the way, we've got plenty of new features aimed at increasing current userbase engagement while also reaching out and getting more MAUs onboarded.
LeoMobile will also be a significant player in this arena when V1 is approved in the IOS app store.
LEO Price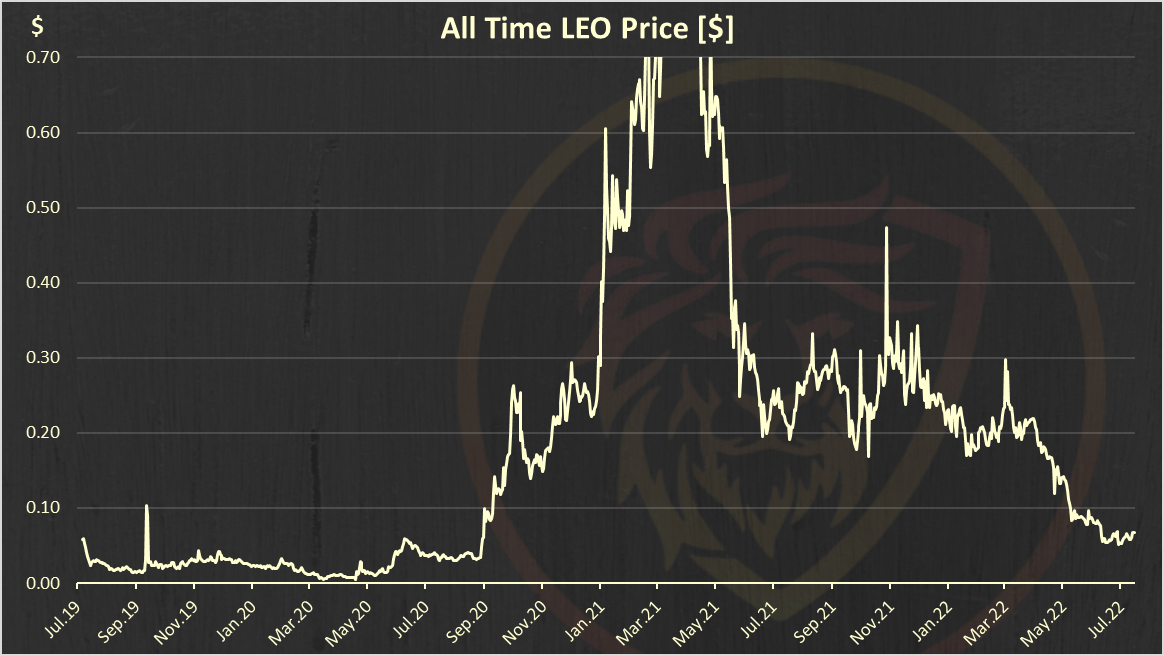 LEO has done nearly a full-round trip through this bear-bull-bear cycle. The time to build is when things look like they are their weakest. In fact, when LEO hit $1, our Team was less than 1/4 the size that it is now.
It's awesome to see the fundamental growth despite the drop in price. Our progress from a development perspective has never been so rapid.
With PolyCUB V2 just released a few days ago, LeoMobile V1 in app stores (or awaiting app store approval, but fully developed), LeoCommunity Pages done, LeoThreads nearly done, Multi-Token Bridge update for improved wrapping reliability and CUB V2 on the way, we've got so many things cooking at once.
We proved in the last bear cycle that building rapidly and making insane technological leaps was very profitable when the bull cycle hit. We'll show quite the same thing happen once again as we build in this bear market.
Our technology has never progressed so quickly. Sit tight and stack on. It's time to grow.

About LeoFinance
LeoFinance is a blockchain-based Web3 community that builds innovative applications on the Hive, BSC, ETH and Polygon blockchains. Our flagship application: LeoFinance.io allows users and creators to engage and share content on the blockchain while earning cryptocurrency rewards.
Our mission is to put Web3 in the palm of your hands.
Twitter: https://twitter.com/FinanceLeo
Discord: https://discord.gg/E4jePHe
Whitepaper: https://whitepaper.leofinance.io
Our Hive Applications
Join Web3: https://leofinance.io/
LeoMobile (IOS): https://testflight.apple.com/join/cskYPK1a
LeoMobile (Android): https://play.google.com/store/apps/details?id=io.leofi.mobile
Delegate HIVE POWER: Earn 16% APR, Paid Daily. Currently @ 2.8M HP
Hivestats: https://hivestats.io
LeoDex: https://leodex.io
LeoFi: https://leofi.io
Polygon HBD (pHBD): https://wleo.io/hbd
Polygon HIVE (pHIVE): https://wleo.io/hive
Web3 & DeFi
Web3 is about more than social media. It encompasses a personal revolution in financial awareness and data ownership. We've merged the two with our Social Apps and our DeFi Apps:
CubFinance (BSC): https://cubdefi.com
PolyCUB (Polygon): https://polycub.com
LEO Wrapping Bridge: https://wleo.io
Posted Using LeoFinance Beta
---
---