Project Blank Dev Update | One-Click Voting, Hide Threads, Decentralized Hive Polls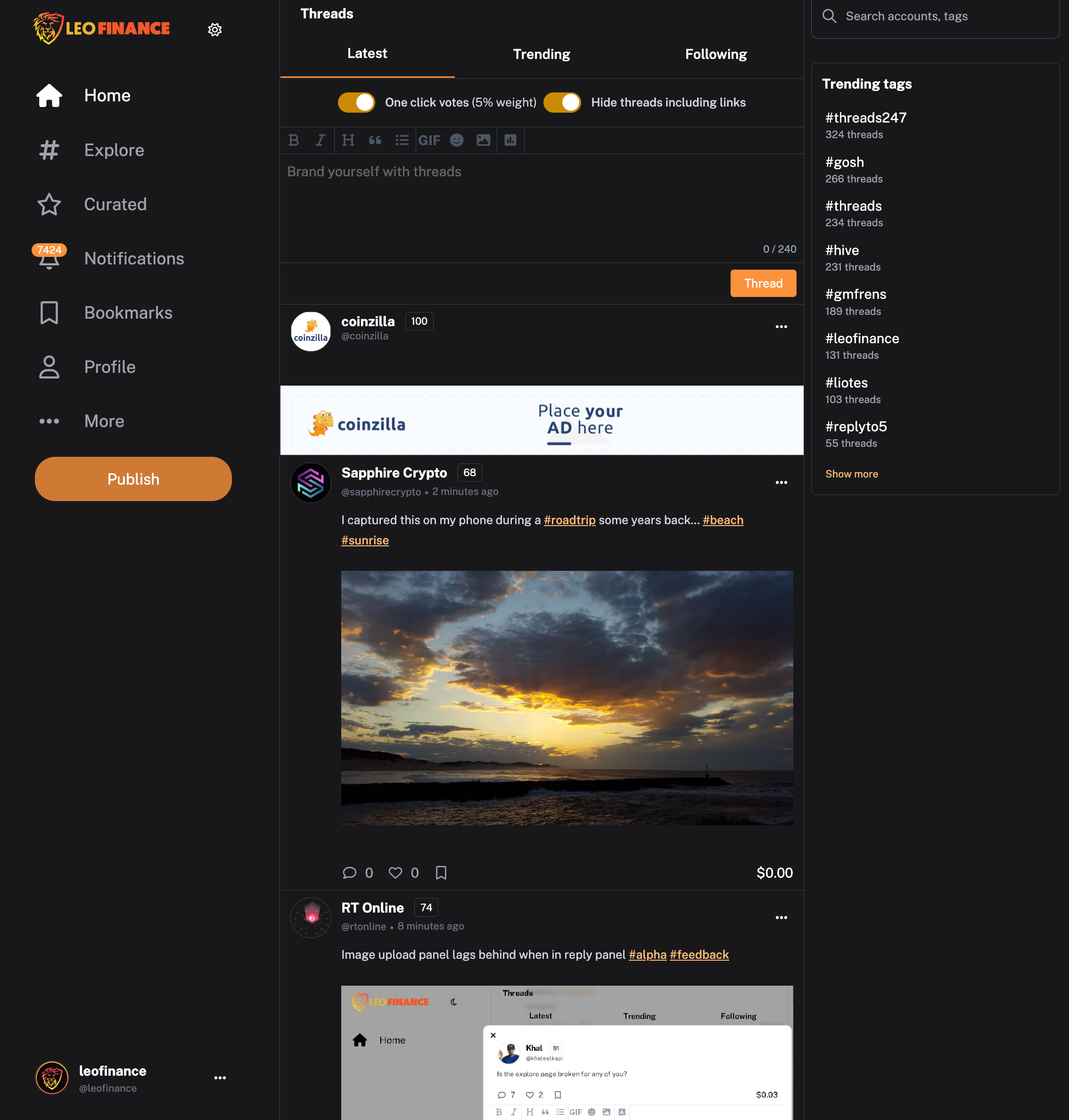 Another week, another major update to the Alpha UI. This update rolled out last Friday and then we deployed another patch for it earlier this week to fix a few issues.
This update was centered around usability and engagement. Our mission with Threads is to create a highly-engaged environment.
A homebase for engagement on the Hive blockchain. We want Threads to be where you go to keep up with all sorts of topics, build your Hive brand and also be an active member of the entire Hive community.
Threads offers that but there are definitely some features that we can release to further improve the experience.
We'll start by talking about this update and then jump into the "Up Next" features. Remember: the UI moves to production next Monday (May 1st). Be ready frens!
In This Update:
Hide Threads Including Links
One-Click Votes
Polls Switched to Posting Key From Active Key
Up Next:
Settings Page
Curated Page
Schedule Posts
Ads (update next iteration)
Polishing
Hide Threads Including Links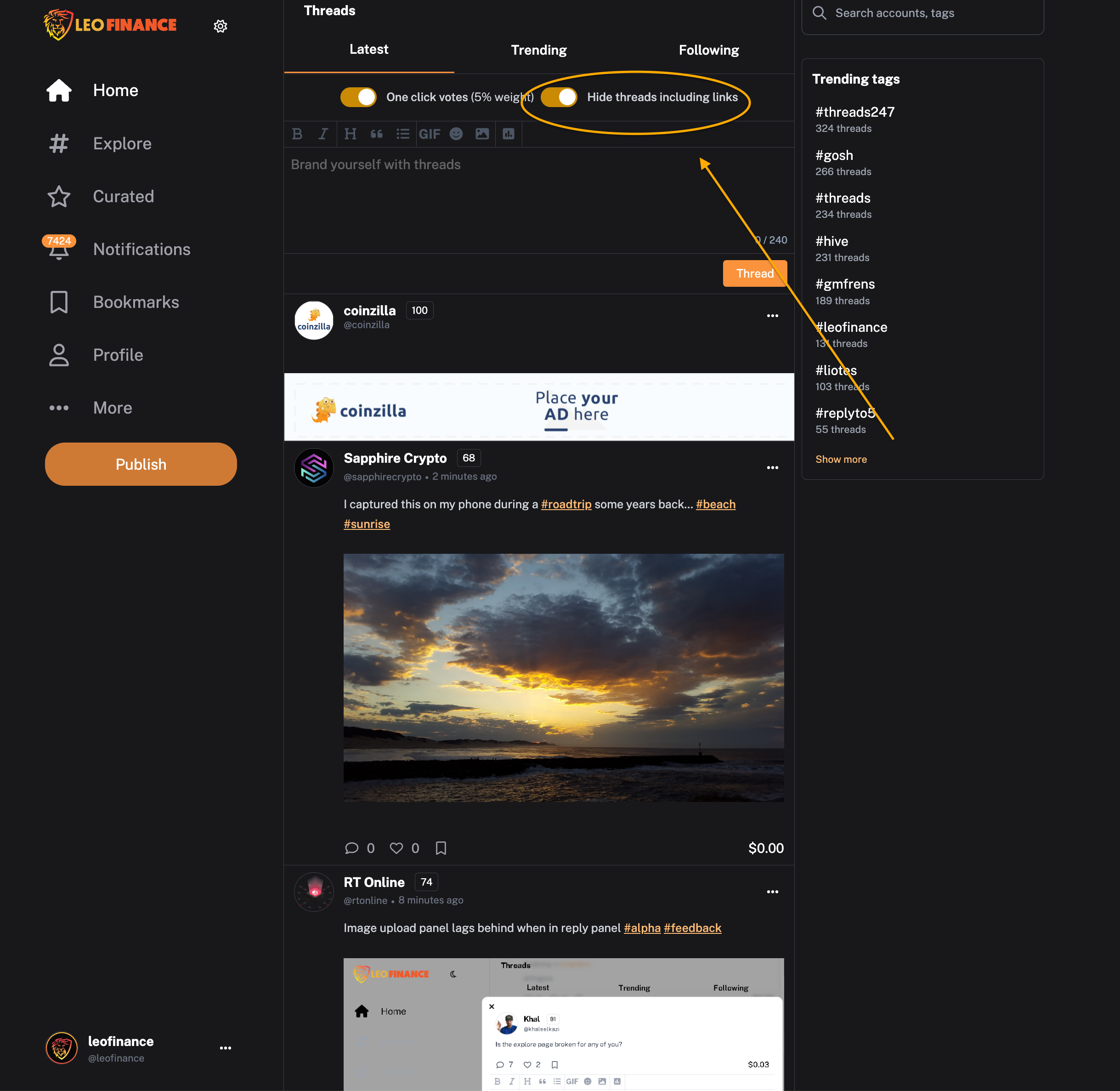 Hiding Threads including links was a controversial addition to the UI. We want people to be able to share links but we also found that a major issue had emerged on Threads.
This issue needed to be addressed. Immediately. We deployed a blunt version of the feature that we wanted to add later on because we wanted to ensure that engagement and enjoyment on the platform wasn't lost in the echo chamber that is Hive post promotion culture.
There exists a negative culture on Hive. This culture is around promoting posts and really just link dropping and spamming across all channels.
You see it in Hive discord servers. You see it in the comment section on peoples' content. Then, we saw it on Threads.
Threads became a massive spam fest for people that created Hive posts and then would just link drop them on the UI and leave.
While we want to encourage sharing your post, we don't want people who just abuse the platform to link drop and leave. Essentially treating Threads like a post promotion channel.
Our short-term (blunt) fix for this is the new "Hide Threads Including Links" toggle. You can find the toggle at the top of the page (see above image).
When this is toggled, any top-level Threads that have a link in them will not be shown in the main feeds. However, replies to Threads can include a link and won't be hidden once you click on the top-level Thread that the reply was made to.
For now, this is a blunt way to address this massive spam issue. We don't mind if people share links and you can still do so. If the user decides they don't want to see link spam, then they can toggle it off.
The next iteration of this feature will introduce a LEO POWER threshold. For example, if you hold more than 5,000 LEO POWER, you can link drop in the main feeds (when the user has it toggled on). We may also introduce some settings later on to "whitelist" certain accounts who you want to see links from.
Our goal - one that we keep reiterating - is to build the ultimate Web3 experience. One of the core tenants of Web3 is the idea of a customizable, user-driven experience.
With the new UI, we're building a massively customizable experience through the settings page. Aspects of the UI like content feeds will have the ability to tailor to the user based on what they like, don't like and choose to see more of.
One-Click Votes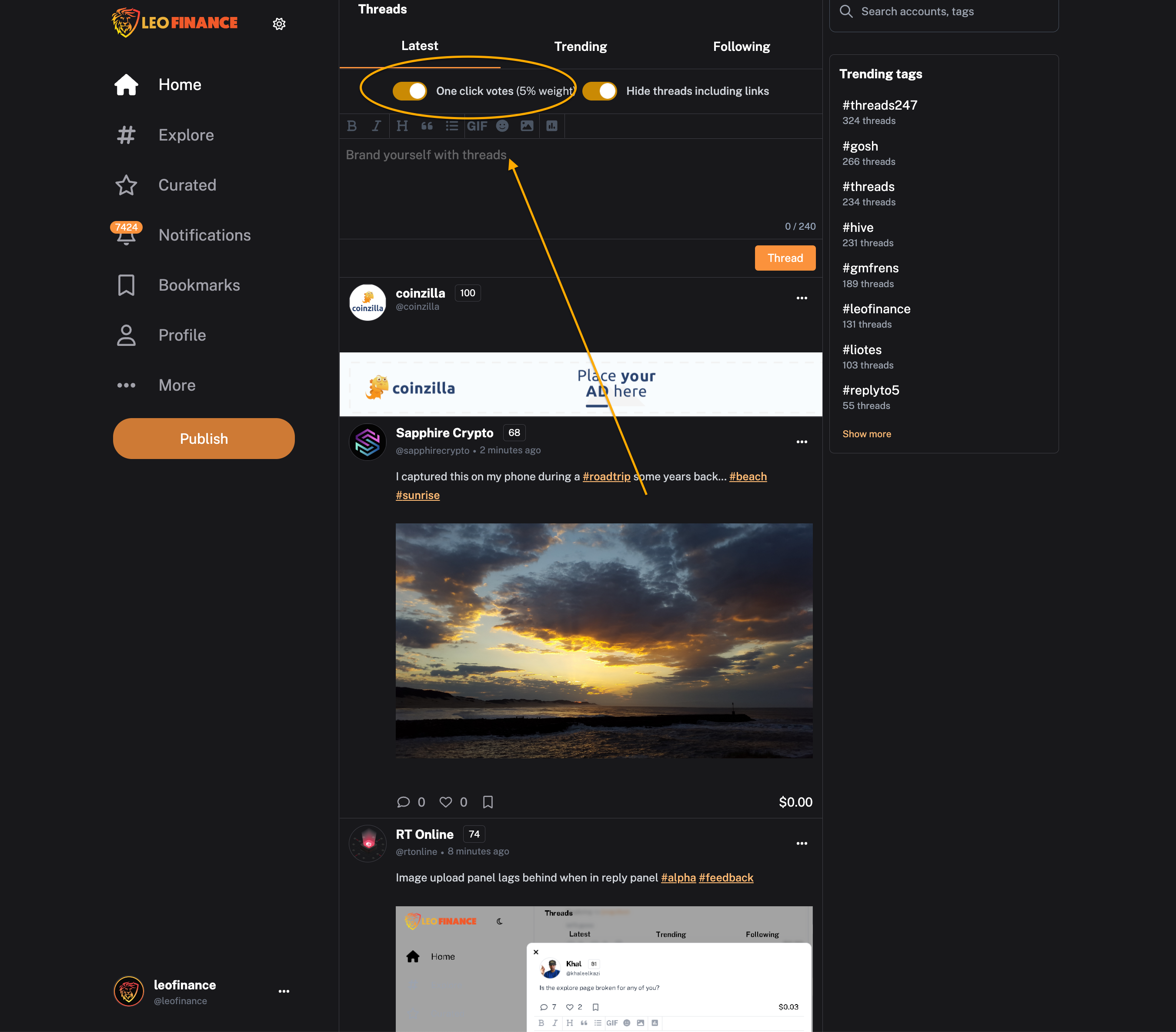 This has turned out to be one of the most praised feature-adds to the new UI. One of the devs came up with it and I think it's absolutely genius.
Normally on Hive UIs, when you click "Upvote", you get a vote slider to choose how big of an upvote you want to give.
On Threads, we tend to upvote with the same %. You likely have some % that you like to vote Threads with and this % always remains the same.
Iteration 1 (now live) of this feature is to add a one-click toggle with a preset to 5% voting weight. If this is toggled on, then the upvote button works identically as something like a "Twitter Like Button" where you just tap it once and it highlights to indicate that you cast your upvote.
Iteration 2 of this feature (soon frens) will allow you to choose what % this is. Right now it is defaulted to 5% voting weight but the new settings page will let you change this.
This feature is a massive upgrade to the experience. A reminder that even the smallest of features can radically improve the usability and enjoyment you can have on Threads. Go to the UI, flip on the toggle and give it a shot!
Polls Switched to Posting Key From Active Key
This is a backend update to Polls but it impacts the ability to vote on Polls using your Hive Posting Key instead of your Hive Active Key as an authorization method.
This is an improved level of security and also improves the scalability of Polls in the long-run.
@leogrowth posted on twitter / threads recently that one Author of the Week poll got a record 300 votes!
That's 300 CUSTOM JSONs posted directly onto the Hive blockchain.
Just the beginning of a massive change to the Hive experience. Decentralized voting has arrived.
If you want to run a decentralized vote and are a Hive community member or maybe you even run your own Hive Project/Community, we urge you to try launching a Decentralized Poll on threads.
It's truly incredible and this is just V1 of an amazing set of features that we plan to roll out including Stake-Weighted Voting settings, NFT voting and more!
Up Next
On May 1st (next Monday) the Alpha UI will be officially replacing the current production https://leofinance.io domain.
Before that happens, we need to release some massive features. You can expect these to roll out tomorrow (Friday) and over the weekend.
The devs are also working overtime to get LeoInfra Hive Lite accounts live on the Alpha UI. Wish them luck as its a massive project and has already sunk a bunch of hours.
Settings Page
Curated Page
Schedule Posts
Ads (update next iteration)
Polishing
We know that the LeoInfra Hive Lite Account onboarding is critical to our long-term roadmap of onboarding 5,000 Monthly Active Users (MAUs) and beyond.
With the newest version of LeoInfra, onboarding will be 10x better than on the previous UI which was already a step function improvement from other onboarding methods.
The ability to instantly sign-up and sign-in to Hive with your Twitter, Facebook, Google, Phone Number, Email is a game changer. The new LeoInfra will do this bigger and better.
We're also rolling out an update to the Ads code. There's an issue where it only shows at the top and isn't properly aligned with the UI. The update will fix both of these and likely lead to a massive increase in ad efficiency, clicks and overall ad revenue.

About LeoFinance
LeoFinance is a blockchain-based Web3 community that builds innovative applications on the Hive, BSC, ETH and Polygon blockchains. Our flagship application: LeoFinance.io allows users and creators to engage & share micro and long-form content on the blockchain while earning cryptocurrency rewards.
Our mission is to democratize financial knowledge and access with Web3.
Twitter: https://twitter.com/FinanceLeo
Discord: https://discord.gg/E4jePHe
Whitepaper: https://whitepaper.leofinance.io
Our Hive Applications
Join Web3: https://leofinance.io/
Microblog on Hive: https://leofinance.io/threads
LeoMobile (IOS): https://testflight.apple.com/join/cskYPK1a
LeoMobile (Android): https://play.google.com/store/apps/details?id=io.leofi.mobile
Delegate HIVE POWER: Earn 16% APR, Paid Daily. Currently @ 2.8M HP
Hivestats: https://hivestats.io
LeoDex: https://leodex.io
LeoFi: https://leofi.io
BSC HBD (bHBD): https://wleo.io/hbd-bsc/
BSC HIVE (bHIVE): https://wleo.io/hive-bsc/
Earn 50%+ APR on HIVE/HBD: https://cubdefi.com/farms
Web3 & DeFi
Web3 is about more than social media. It encompasses a personal revolution in financial awareness and data ownership. We've merged the two with our Social Apps and our DeFi Apps:
CubFinance (BSC): https://cubdefi.com
PolyCUB (Polygon): https://polycub.com
Multi-Token Bridge (Bridge HIVE, HBD, LEO): https://wleo.io
Posted Using LeoFinance Alpha
---
---