LeoMobile V1 is Now Live on the Google Play Store!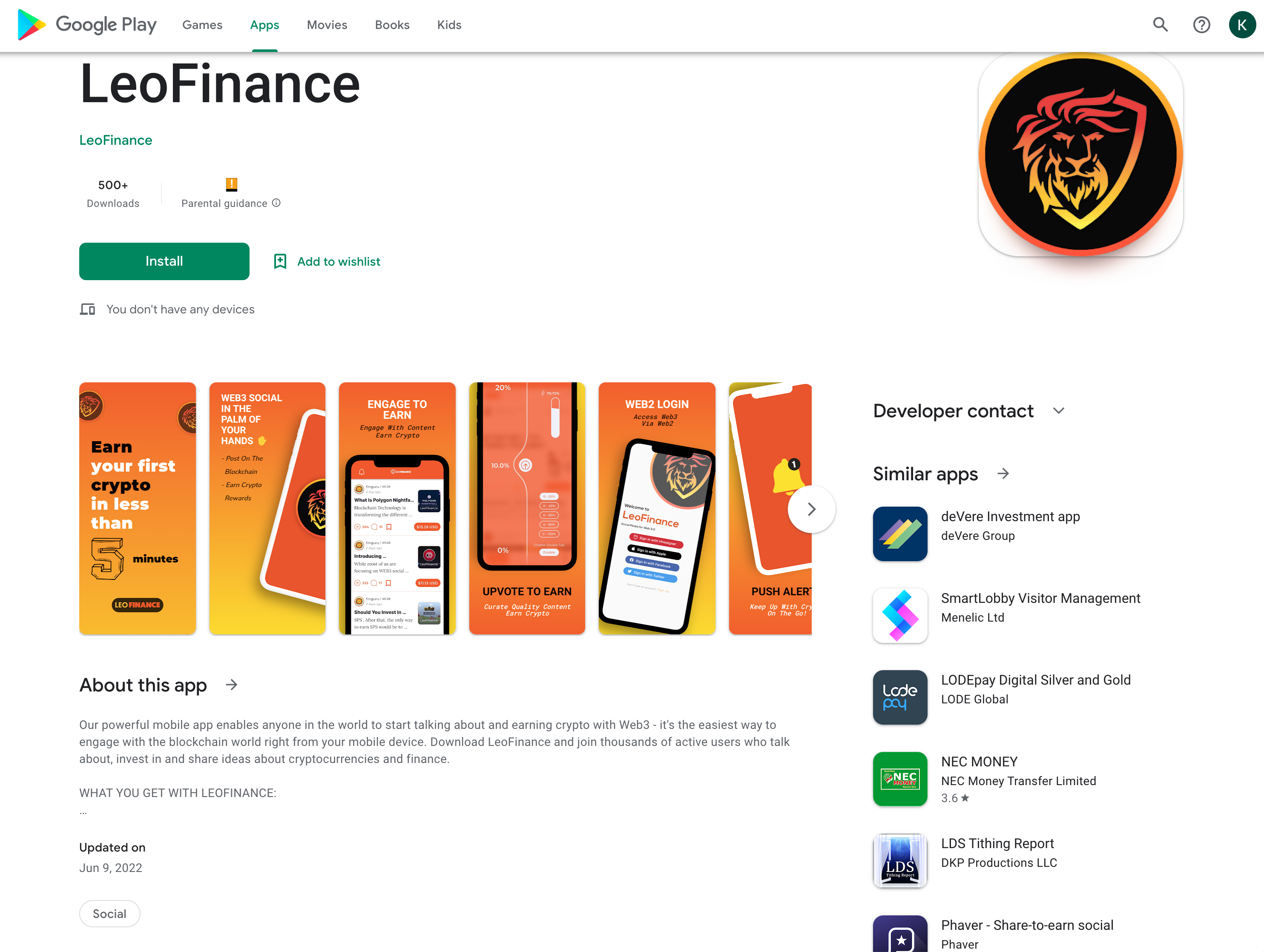 This happened much faster than we expected! If you've been following the updates for LeoMobile, we've been pushing a wide-range of features and bug fixes to the app. All of these pushes were aimed at the larger roadmap to Version 1 of LeoMobile.
LeoMobile V1 is what we consider to the be the core features of our MVP of the LeoFinance Web3 Mobile App. It allows our users to do all the essential activities on LeoFinance through the mobile app, native to mobile devices.
We recently added:
Facebook Logins
Fully revamped version of LeoInfra
Fully revamped version of LeoLightning DB
Full-Text Search Database
and many, many more features!
All of these features add up to V1 and we're excited to finally get it into app stores and start pushing the envelope of our marketing strategy to get more users on LeoMobile.
---
---
LeoMobile Mission Statement
It's vital to have a clear reason for the existence of something. LeoMobile exists to serve a clear purpose in the LeoFinance ecosystem:
LeoFinance.io is aimed at the content creator experience - providing the best possible experience to users who create content on LeoFinance
LeoMobile is aimed at the content consumer experience - providing the best possible experience to users who consume content on LeoFinance
With LeoMobile aiming at the consumer experience, we're able to clearly define our goals for the app.
Our Goals for LeoMobile
By the end of 2022, we're aiming for 50,000+ downloads of LeoMobile across Android and IOS. As of now, we're already at about 1200 downloads of LeoMobile just in testflight.
Obviously, only a % of those downloads will actually stick around. We've publicly stated our goal to reach 2,500 Active monthly users. Not just a random one-off user, but 2500 people who actively make transactions (posts and comments) on LeoFinance on a monthly basis.
With LeoDesktop aiming to serve the content creators and LeoMobile giving a seamless experience for the content consumers, we believe this is highly achievable and would essentially be a ~5x in our current user base by the end of the year.
LeoMobile in the Google Play Store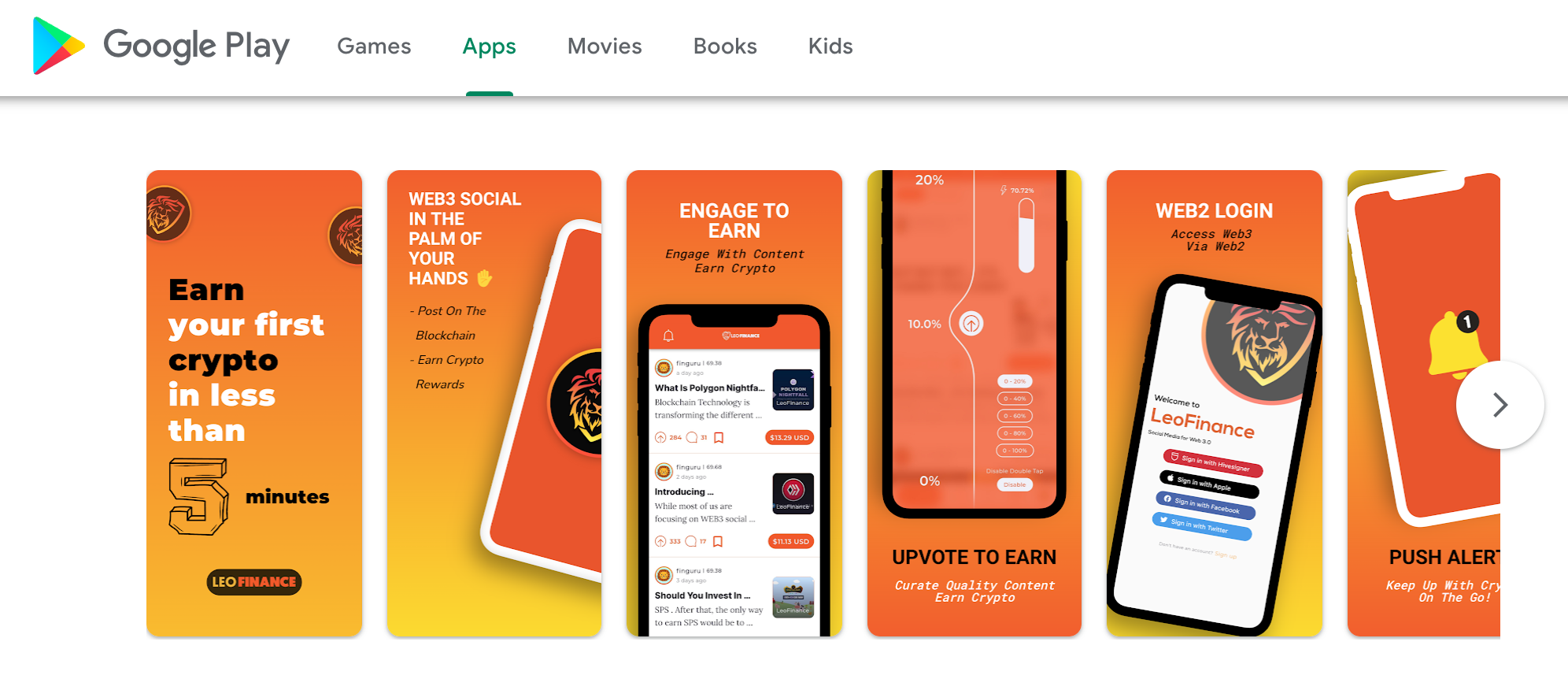 shoutout to @finguru who won our contest to design our App Store Layout Photos!
We submitted to both the IOS App Store and Google Play Store yesterday.
IOS is notorious for taking much longer and we are still pending approval with them.
The Google Play Store, however, approved the app in less than 3 hours. LeoMobile is now LIVE in the Google Play Store!!
Feedback Wanted
Android apps can be tricky - as we've learned in the process of building LeoMobile. There are so many Android device variations and we've had a ton of compatibility issues.
The vast majority of these issues have been solved but we occasionally hear about someone - especially with an older Android Device - having trouble with the mobile app. Whether you have this issue or any other issue we strongly encourage you to open a Bug Report ticket in the LeoFinance Discord Server.
Opening a bug report allows us to quickly index issues and fix them. Yesterday, for example, there was a major issue with the new Community Pages integration which caused lightning to prevent people from publishing posts on LeoFinance.io. A few users reported this issue in Bug Report tickets and we had it fixed in under 2 hours.
Tell Your Friends About LeoMobile V1!
If your friends are on an Android device, have them download LeoMobile V1 and try making an account using LeoInfra's login options - Twitter or Facebook Lite accounts.
They'll experience a simple and intuitive sign up process and be instantly welcomed to the world of Web3.
Encourage them to read some Financial content on LeoMobile and leave a few comments! Give them some upvotes and share their username with the LeoFinance community so we can welcome them with open arms.
It's time to take our Monthly Active Users to the next level. LeoMobile is a key pillar in our long-term growth strategy. Our team is ridiculously excited for this moment!

About LeoFinance
LeoFinance is a blockchain-based Web3 community that builds innovative applications on the Hive, BSC, ETH and Polygon blockchains. Our flagship application: LeoFinance.io allows users and creators to engage and share content on the blockchain while earning cryptocurrency rewards.
Our mission is to put Web3 in the palm of your hands.
Twitter: https://twitter.com/FinanceLeo
Discord: https://discord.gg/E4jePHe
Whitepaper: https://whitepaper.leofinance.io
Our Hive Applications
Join Web3: https://leofinance.io/
LeoMobile (IOS): https://testflight.apple.com/join/cskYPK1a
LeoMobile (Android): https://play.google.com/store/apps/details?id=io.leofi.mobile
Delegate HIVE POWER: Earn 16% APR, Paid Daily. Currently @ 2.8M HP
Hivestats: https://hivestats.io
LeoDex: https://leodex.io
LeoFi: https://leofi.io
Polygon HBD (pHBD): https://wleo.io/hbd
Web3 & DeFi
Web3 is about more than social media. It encompasses a personal revolution in financial awareness and data ownership. We've merged the two with our Social Apps and our DeFi Apps:
CubFinance (BSC): https://cubdefi.com
PolyCUB (Polygon): https://polycub.com
LEO Wrapping Bridge: https://wleo.io
Posted Using LeoFinance Beta
---
---