Introducing the LeoFinance WhiteBook Version 1.0 | Our Vision, Mission and Expansion as a Web3 Platform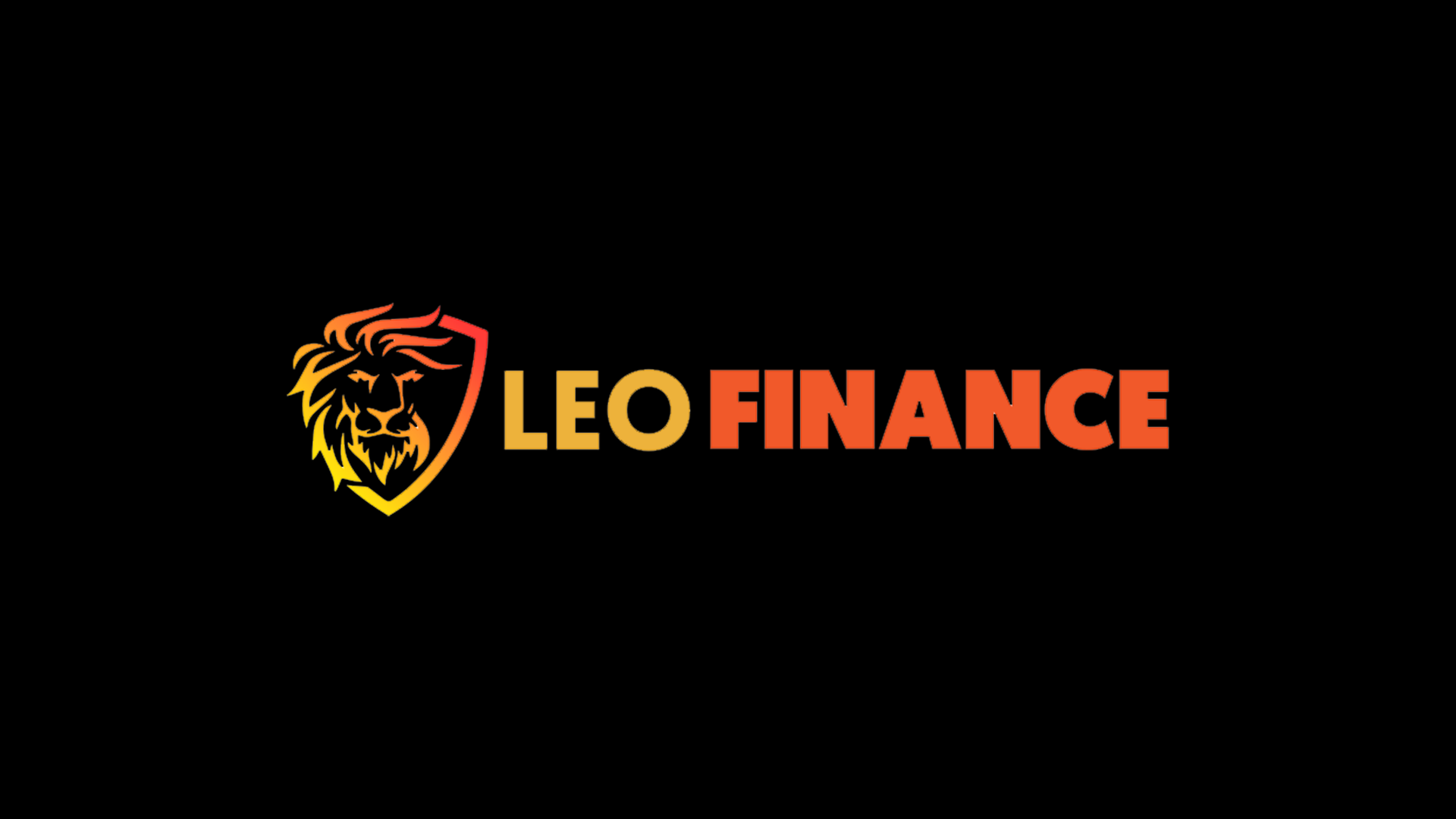 My Important Preface
Nobody has seen this whitebook yet. It's been a draft for over a year now and has continually changed shapes and reorganized itself.
As LeoFinance continues to expand what we're developing and where we're developing alongside the ever-changing landscape of Web3, we hope you understand that this Whitebook will be in a constant state of evolution.
This Whitebook is just exiting the "Draft" phase and entering Version 1.0. With this in mind, there are still many things left to add to this Whitebook.
I personally have dozens of more chapters to the Whitebook that I left out of Version 1.0. I'm not ready for everyone to see those just yet. There are a number of locked chapters that are displayed (so that you can see what will be released in the next few phases... More on this below).
Additionally, there are a lot of graphics, infographics, charts, etc. that I've had made for the Whitebook. We're still working on finalizing many of these to publish into the book itself.
With all of this in mind, understand that this is an early version of LeoFinance's Whitebook and far from the final version. This book will get added to, changed and improved constantly: much as our entire project operates the applications we build.
Get Involved - An Open Discussion Release Method
I wanted to release this WhiteBook in a sort of interesting way. I believe - as many in this community do - that our community is our strength. Having all of your input is how I believe this Whitebook can evolve into something much better than is currently written on the 276 pages that it currently covers.
I spent a lot of time thinking - as I've had ample time to do when it comes to this book - about how I want to release it. All of this time led me to something interesting:
A release-discuss-edit-release-discuss-edit format.
What I've decided to do is take the best of everyone's suggestions. @nealmcspadden has said a few times that I should just release some chapters and add more later. Similar words were reiterated by @taskmaster4450 and others.
So, I've dceided to do just that but add a few twists of my own. We're releasing only a few chapters at a time and I would love to see some engagement with those chapters on https://leofinance.io.
I think it would be a great benefit to the Whitebook and to our whole community if we take the few chapters that are released every couple of days and spend some time breaking them down in posts. Give me your feedback. Give me your suggestions.
Release Schedule
I've mapped out the release schedule over the next few weeks. Every couple of days, a few more chapters will be released and we'll put up a post to notify everyone of which chapters have been added. This few day period will give us all some time to read the released chapters, write some posts about them, give feedback and discuss them.
Without Further Ado...
Enjoy this whitebook! I am extremely excited to finally have this out into the world. I've really wanted some feedback on the whole thing, so I am equally excited for this multi-phase discussion style release.
There are currently 276 pages in the full (unreleased) version of the Whitebook. The first few chapters that we're opening up with encompass only about 5% of the whitebook and as stated above, we'll be unlocking chapters every 2 or 3 days for the coming few weeks.
---
LeoFinance: A Web3 Ecosystem
LeoFinance is a Web3 ecosystem that develops and manages a wide range of blockchain-based applications. We launched in July 2019 as a social media platform for crypto and finance content.
We have since evolved in our journey to become a multi-blockchain Web3 ecosystem: A community and organization operating blockchain-based applications that fulfill our mission of revolutionizing the world of self-directed investing and utilization of Web3 and tokenization.
The community and our social platform (LeoFinance.io) are the base layer (Layer 0) of the entire LeoFinance project. The community doesn't just create and interact with content, they research and disseminate incredible ideas as we all live on the bleeding edge of technology, finance and the crypto industry. Many would describe us as a tokenized community for crypto creators but since mid 2020, this vision has reshaped itself into something much more dynamic alongside the continual evolution of Web3 and Cryptocurrencies.
Our project has evolved on all levels and the most apt description of who we are, what we do and how we operate is: Web3 Ecosystem.
Our primary focus is always on creating the best possible Web3 social platform for crypto and finance. LeoFinance.io is the backbone of this entire project and it is the core application that we developed from the ground up and continue to develop and manage every single day. With this in mind, we build other applications that go hand-in-hand with our flagship application and the community that makes this entire ecosystem thrive.
We believe in Layer 0: Community. The community is everything and we're building a Web3 ecosystem where our growth is reliant on our ability to generate network effect and peer-to-peer adoption at scale.
By taking a unique approach of relentlessly pushing the bounds of frontend, backend and blockchain technology while listening to the crowd wisdom of our core user base, we've developed a wide range of applications to service both our core user-base and a broader group of blockchain users on Hive, Ethereum, Binance Smart Chain, Polygon and Thorchain:
LeoFinance
LeoMobile
CubFinance
PolyCub.com (coming soon)
LeoPedia
LeoBridge
LeoFi
LeoDex
Hivestats
Wrapped LEO
ProjectBlank (coming soon)
Our Web 3.0 Philosophy
Web3 is the New Frontier of the Internet, Digital Assets and Peer-to-Peer Engagement. Learn more about our philosophy and our Vision for Web 3.0:
https://whitepaper.leofinance.io/our-vision
How to Use This Whitepaper
Whitepaper, Docs, Whitebook.. Whatever you want to call this treatise on the LeoFinance Web3 Ecosystem, there are as many ways to use it as there are ways to describe it.
Our goal with these pages is to educate and disseminate the LeoFinance Mission and carve out a definitive vision as we continue to build applications on the bleeding edge of the Crypto and Web 3.0 industry.
Much like the edge of the Universe itself, we believe that this industry is rapidly expanding and continuously evolving into something new. Our aim is to always stay on the bleeding edge of development and build incredible new tools to push forward our vision of Web 3.0 and empower our community to engage with and best utilize the democratization of financial access that is happening before our eyes.
The world of finance is rapidly changing. Whether you're looking at the stock market, real estate, digital assets or even federal reserves and fiat currencies... The landscape of the financial markets has never been as volatile and open as today.
The younger generations of people have become deeply engrained in the internet and digital access. It's a part of their everyday lives. While talking about the Metaverse and all these crazy applications that may one day become reality might seem far off, we believe that the Metaverse is already here and that it is actively shaping itself around the intersection of our digital and physical lives today.
What we're seeing today is the advent of Web 3.0 and the adoption of new technologies that will forever change the way we use the internet, participate in financial opportunities and engage with each other as human beings.
LeoFinance is today and will forever live on the bleeding edge of these technologies. Looking for ways to fulfill our mission statement of expanding the width and depth of our Web3 Community Ecosystem while building innovative applications with great UI/UX that further democratize open access to the new internet of opportunity.
Our Vision
LeoFinance is a community project that is deeply entrenched in the principles of web3, tokenization and the abundant future that blockchain is building
Web3 is the New Frontier of the Internet, Digital Assets and Peer-to-Peer Engagement:
The early 90s internet showed the world that something enormous was emerging. Well, it showed part of the world that something big was brewing... in reality, most people thought of the internet as a passing fad. Like beanie babies.
Web2 came about a decade ago with the advent of social media platforms. We began seeing the internet turn from being "digital yellow pages" where companies had static websites to becoming a peer-to-peer landscape where companies like Facebook enabled us to engage with each other on social media.
Web3 is something in a whole category of its own. It bridges the gap between Web1, Web2, blockchain, crypto, decentralized ideals. It creates an entirely new landscape where incredible tools, platforms and economies are being built.
LeoFinance's Vision of Web3
Our vision of Web3 is what you see being actively built with the LeoFinance Ecosystem.
Building a wide array of applications, tools and tokenomics, we're actively on the bleeding edge and testing the bounds of Web3. The definition of Web3 is dynamic. It is not static like that of Web1 or even Web2.
Instead, a state of constant evolution must be pursued. You can see this if you follow the history of LeoFinance.
Initially, we began with the goal of becoming the "Decentralized Seeking Alpha" - a distributed community who shared financial and crypto content via a blockchain-based, tokenized platform (https://leofinance.io).
That vision quickly expanded as we saw Web3 shift dramatically. The universe of Web3 is always expanding and so are our ambitions as we pursue the new technologies we and others are building in this industry.
Our Community: True Layer 0
Layer 1 in crypto refers to the first-layer blockchains that seed the foundation for many other developments. Bitcoin is Layer 1. Ethereum is Layer 1. Hive is Layer 1.
Many have taken this idea and applied it to community and importantly: network effects. Layer 0 has been coined as the community layer. The people who ardently follow the network and actively seek to grow that network.
LeoFinance's Community has been built from the ground up over the past 3 years. We started with nothing, then launched a MVP (minimum viable product) in the form of a Proof of Brain Token and barebones User Interface that we forked from the Steemit Condenser project.
After our initial launch, we started to gain some momentum. LeoFinance found itself some true Layer 0 Heroes. People like Taskmaster4450, Flauwy, Zaxan, Abh12345 and many, many more who were here at the beginning and worked hard to help build LeoFinance into what it is today.
One of the core beliefs of LeoFinance is that all of the value resides in Layer 0. That is, The Community of hardcore believers is what matters most in our project. By focusing on community, we are building the bedrock of the future. Without community, applications are useless. Tools are useless, projects are worthless. Tokenomics don't matter.
Community is everything and that is why we relentlessly focus on our mission statement:
Expand the width and depth of the LeoFinance Web3 Community.
Network Effects and the Impact of Distributed Ownership
Network effects and mass adoption have been the subject of intense macro investor curiosity. Many people who have invested in things like Amazon, Tesla, Web1 companies, Bitcoin etc. have studied the impacts of Network Effects and they have tried (and some succeeded) to create models to help them make informed decisions about what to invest in, where the cycle is and where mass adoption might take hold.
Distributed ownership is changing the entire landscape of the internet. With companies like Facebook, the company got rich from user interactions and the massive library of content that is continually built by the people who believe they are the customer of Facebook and other large social media corporations.
What many didn't realize - but realize now - is that Facebook and these other corporations built their businesses on the blood, sweat and tears of their users. The users are not the customers... They are the product. The users are not buying things from Facebook to generate money for Facebook.
Instead, the users are the product of Facebook's Ad business. User Demographics, User Data, User Generate Content (UGC) and all the other various ways that users wittingly or unwittingly provide value to Facebook are how Facebook became a Trillion Dollar Business in less than 2 decades.
Distributed Ownership turns this model on its head. Instead of Facebook getting rich on the back of UGC, User's take ownership of the platform through Tokenization.
LeoFinance, Web3 and Tokenization
LeoFinance is a distributed platform. Made up of our Layer 0 community, LEO tokenomics and applications that create a fun and engaging User Experience.
All content on LeoFinance.io is published on a decentralized, immutable blockchain database.
What exactly does this mean? It means that every piece of User-Generated Content: whether it's a post, comment or "like" (upvote) is published onto a blockchain database that is controlled by a decentralized group of node operators living and operating from all over the world.
LeoFinance does not run this blockchain. We are built as a Layer 2 application on top of this blockchain called Hive, which enables us to instantaneously deploy content and resources on-chain.
The Leo Token also lives on this Hive blockchain as a layer 2 asset.
By having our content and token live on a blockchain, we're able to do some incredible things. All UGC on LeoFinance is eligble to earn LEO token rewards. The LEO token is a digital asset that is distributed to content creators and content curators on a daily basis and in a decentralized manner.
In this section, we'll dive deeper into LEO Proof of Brain Mechanics
Web3 is More Than "New Social Media"
Web3 is also about digital asset access and opportunities. It's about decentralizing and democratizing the access that retail investors and average users have to the amazing opportunities of the new age of the internet.
Even in a place like America, retail investors are limited in what they have access to from an investment perspective. They're not allowed to participate in VC investing, for example, unless they're an accredited investor.
Web3 democratizes the access to opportunities like this via Smart Contracts that live on various blockchains like Ethereum.
LeoFinance isn't just a social media community. Our Layer 0 lives on a social blockchain where we engage with each other on-chain every single day. From there, we have other layers of opportunities and access that our community taps into on a daily basis as well.
LeoFinance is a Web3 community in the truest sense of the word. By building, educating our users and providing access to the broader crypto industry, we're seeding the ground for the democratization of financial access and opportunity.
CubFinance was our major expansion to the DeFi (Decentralized Finance) industry. What it represents is so much more than "Yield Farming" or many of the other buzz words about DeFi that you may have heard.
What it represents is a foundational building block to an expansion across the entire DeFi industry via LeoFinance. Our part in fulfilling the mission of democratizing retail investor access to a whole new world of financial opportunities. Our community grew on such a massive scale when this initially took place.. and we're just getting started.
Through the advent of Smart Contracts, many applications and communities are able to do incredible things at-scale and provide opportunities that were never possible before. LeoFinance utilizes dozens of Smart Contracts to do a wide variety of operations.
LEO: Liquidity Pools
CubFinance bLEO Pool (86% APY)
LEO is a versatile asset that as of this writing, can be wrapped to two external blockchains along with living on its home blockchain - Hive. bLEO represents BEP20 LEO (Binance Smart Chain LEO) and users can seamlessly wrap native LEO into bLEO to utilize bLEO on Binance Smart Chain.
CubDeFi is a yield optimization app built and continually developed for the LeoFinance Web3 Ecosystem. The app allows you to stake bLEO into the bLEO-BNB Liquidity Pool on https://cubdefi.com/farms and earn yield at 86% annualized (compounding earned CUB back into bLEO-BNB Position).

Uniswap wLEO Pool (~31% APY)
On the Ethereum blockchain, Wrapped LEO (wLEO) can be deposited with ETH into a wLEO-ETH liquidity pool on the Uniswap platform - one of the largest Decentralized Exchanges (DEXes) in the entire world.
This pool is incentivized via built-in AMM Swap Fees. Every time a user swaps wLEO or ETH, they pay a small fractional fee that is autonomously distributed to all the liquidity providers in the wLEO-ETH Pool.
In its current form, the Uniswap wLEO Pool favors large amounts of capital (Whales) who add to the pool. This is due, in large part, to the enormous gas fees on the Ethereum blockchain.
For most users, we recommend staking LEO as bLEO on https://cubdefi.com/farms to maximize your yearly ROI and minimize your gas fee costs.
If you're staking a large amount of LEO, then consider the wLEO-ETH Uniswap Pool.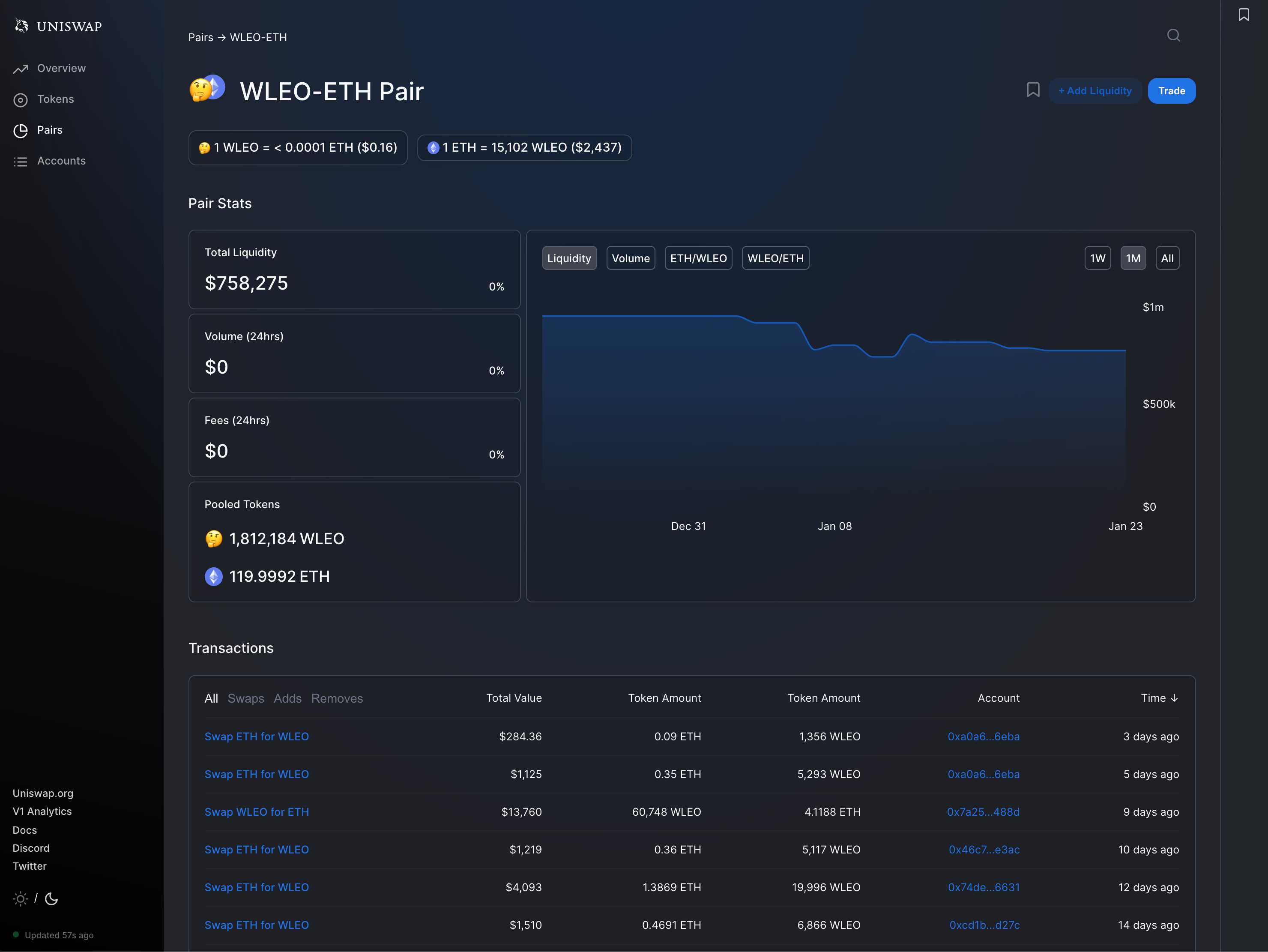 Beeswap LEO Pool (~26% APY)
In it's native form of LEO on the Hive blockchain, you can stake LEO with HIVE (SWAP.HIVE) on the https://beeswap.dcity.io/swap?pools&search=LEO platform. This allows you to stake LEO with HIVE and be exposed to two of the leading Web3 cryptocurrencies at the same time.
HIVE has some incredible features which you can learn about in the Technology Section of this paper.
The Beeswap LEO:SWAP.HIVE pool is incentivized with their BXT token and is currently paying about 19.422% APR which (depending on your compounding rate) comes out to roughly 26% APY.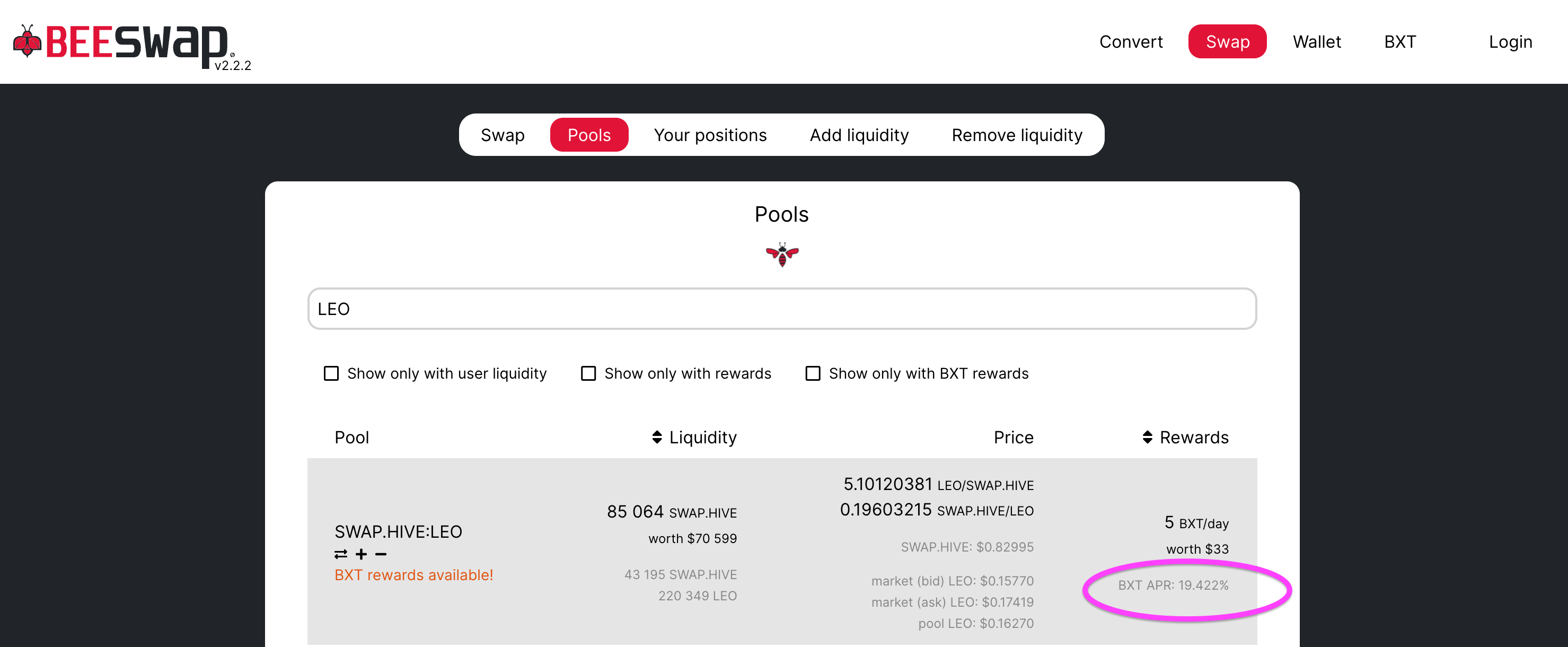 PolyCUB pLEO Pool (~High APY)
PolyCUB is one of our newest applications and we're planning to release it in Q1 2022. The release of PolyCUB will also signal the release of a pLEO-MATIC pool (Polygon LEO).
This means that a whole new blockchain of opportunities will open up for the LEO token as we enter the Polygon network. The last time this happened was when CubFinance launched on BSC and we introduced the bLEO token.
When bLEO was introduced, LEO shot up to about $1.20 per LEO and the APY for staking bLEO was in the range of thousands of % APY for the first weeks of CubFinance's launch.
We expect a very similar effect during the launch of PolyCUB!
What is the LEO Token Economy?
At the Center of the LeoFinance Web3 Ecosystem is the LEO Token Economy
LEO is our native token which lives as a second-layer economy on the Hive blockchain. Hive is a unique blockchain in that it offers fast, free, scalable and flexible transactions. Our project processes tens of thousands of operations on the blockchain every single day.
If you're familiar with blockchains like Ethereum or Bitcoin, then you'll know that processing tens of thousands of operations is extremely expensive and essentially impossible with the technology that currently exists.
Some of the core features of the LEO token are:
Free Transactions
Fast Transactions
Dynamic Token Issuance (Rewarding Content Creators, Curators and Commenters)
Immutable Transactions (all token data & balances are stored on a decentralized, public blockchain)
Learn More About Our Native Token and the Blockchain Technology It's Built On:
https://whitepaper.leofinance.io/technology-1/hive
Free Transactions:
Our project requires free transactions in order to operate. Our apps - especially social ones such as LeoFinance.io - are built with social blockchain features. Users are able to post content, comments, upvotes, wallet operations, etc. all from our app. A typical active user of our project might process 100+ operations per day without ever leaving the LeoFinance.io interface.
The Hive blockchain offers us the ability to process all of our transactions directly on a blockchain with essentially 0 running costs. We're able to do this by utilizing the resource credit ecosystem on the Hive blockchain.
In exchange for our project holding a large amount of the HIVE token, we're able to access a rechargeable pool of resource credits. As our project scales, we have a growing need for these credits and thus an ongoing desire to acquire more stake in the native HIVE token.
Fast Transactions:
For a social project on the blockchain, having instantaneous transactions is just as important as having free transactions. When was the last time you used a Web2 platform like Twitter and waited 5 minutes for a confirmation of your post being published or a like being distributed?
LeoFinance leverages the 3 second block times of the Hive blockchain in order to conduct tens of thousands of blockchain-based operations on a daily basis.
This includes:
Token transfers
Wallet operations
Upvote distribution ("likes" on content)
Content published on the blockchain
Comments published on the blockchain
....
Dynamic Token Issuance:
The LEO token economy is unlike any other tokenized economy in the industry. The initial distribution of LEO started as a simple ecosystem for distributing tokens to users who created and curated content. Since our launch, we have introduced new ways to earn and distribute tokens which have created one of the most dynamic ecosystems in the space.
Users, token holders and readers can earn LEO by:
Users, token holders and readers can earn LEO by:
Creating Content
Engaging with Content
Curating Content with Staked LEO
Leasing Staked LEO
Providing Liquidity for LeoBridge
2022 KPI Goals for LeoFinance
Community and Organization-Level Goals for the LeoFinance Project and Our KPIs as We Grow Our Web3 Ecosystem From the Ground Up
We have an incredible community on LeoFinance. One of the many fascinating aspects that Bitcoin brought to the world is having a global community of people who are deeply entrenched in the same mission.
With Bitcoin, network effect is vital. It's incentivized by the fact that every Bitcoiner also owns BTC. Inherently, they desire more people to join their "community" and also own Bitcoin even from the most selfish vantage point: more people owning BTC increases the value of the BTC they own.
Couple this with the innate human desire to have more people in your "tribe" believing the same things you believe and you can see why Bitcoin has managed to become one of the fastest growing technologies in the history of humanity.
LeoFinance: A Tribe With Entrenched Network Effects
In this sense, LeoFinance operates very similarly to Bitcoin. Every LeoFinance user wants LeoFinance to gain more users. It is simply in their best interest from all perspectives: we all want people to believe in the Web3 mission that we are pushing forward and by having more people buy into this vision, we're increasing the value of LEO.
That means that by adding new users to our community and keeping those users engaged, we're selfishly increasing the value of our stake in the network.
The network effect of a platform like Facebook was so incredibly powerful. It took over the world in just about a decade.
Now imagine that LeoFinance - with all the same social network effects of Facebook - bridges the gap between those network effects and financial network effects.
The combination of these two is incredibly powerful. It has the power to radically change the world for the better. Putting power back into the hands of "members of the Tribe" who are deeply incentivized on social and financial levels to grow the overarching platform.
KPIs and Goals
LeoFinance has a wide-range of Key Performance Indicators. Like many tokens, people tend to look at the price as one of the KPIs. Sure, this is a metric that everyone looks at (especially on the outside) but it is also just one metric. Not one that tends to be driven by fundamentals.
Our goal is to teach every LeoFinance user about the KPIs that drive our platform from a fundamental value perspective. In a world of abundance, bringing in more users, driving new traffic and increasing the KPIs of LeoFinance is how we'll see the platform grow into the Web3 ecosystem that we know it can be.
2022
In 2022, the LeoFinance Team has set the following KPI targets. Our mission is to drive relentless toward these KPIs with all of our technological developments, marketing efforts and collaboration with LeoFinance community leaders on projects LeoMarketTalk, LeoAlpha and LeoPedia.
Monthly Active Users:
As of this writing, LeoFinance's MAUs have been steadily increasing. We reached a major boom cycle (closely coinciding with the booming crypto market), reverted to the mean and now we're climbing steadily once again: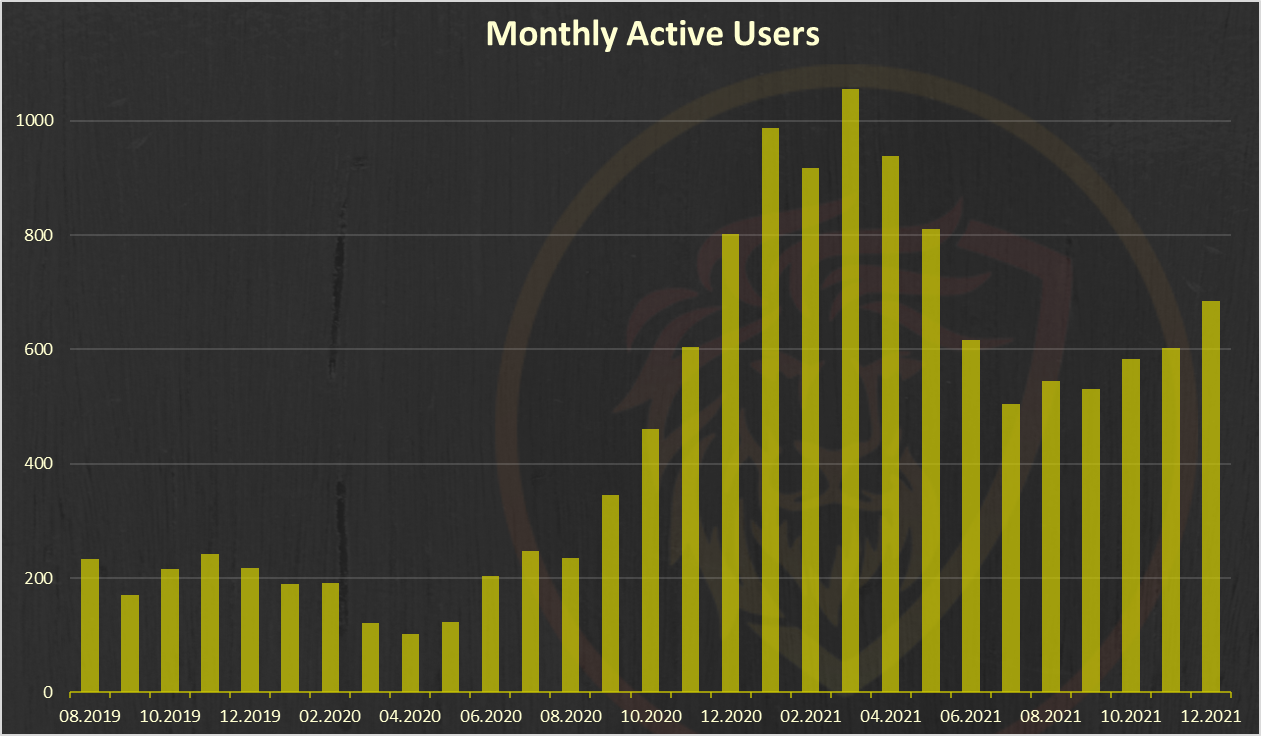 LeoFinance's MAUs. Last Updated: 1/24/22
LeoFinance MAUs are tracked by looking for unique active accounts that posted on . Obviously, our Web3 community is quite diverse and this is just one metric displaying actual content creators who are publishing content on LeoFinance specifically. This metric doesn't track any Curators, stakeholders, CubFinance users, etc.
That being said, this MAUs metric is still considered our #1 way to track the fundamental growth of the LeoFinance Web3 community. This is the primary metric we use to see that our reach is growing, our regular users are active and new community members are being onboarded.
We worked closely with the marketing team and our community leaders to come up with a goal that is both ambitious and highly achievable. As stated above, LeoFinance has exponential network effects from both social and financial perspectives.
By December 31st, 2022 LeoFinance is aiming to ~6x our MAUs to 5,000 MAUs publishing content on the platform. This might seem like quite the stretch, but if you've seen our growth in the past (starting, obviously from 0) we've grown exponentially in short timeframes.
We will closely monitor our month-to-month growth of MAUs and talk with community leaders and the marketing team to increase this metric relentlessly. It is our #1 goal moving into 2022.
LeoFinance Activity (Posts and Comments)
Activity on the LeoFinance UI is - similarly to MAUs - one of our primary metrics for tracking the activity and overall growth of our Web3 community. Our ambition is always to:
Expand the width and depth of our Web3 community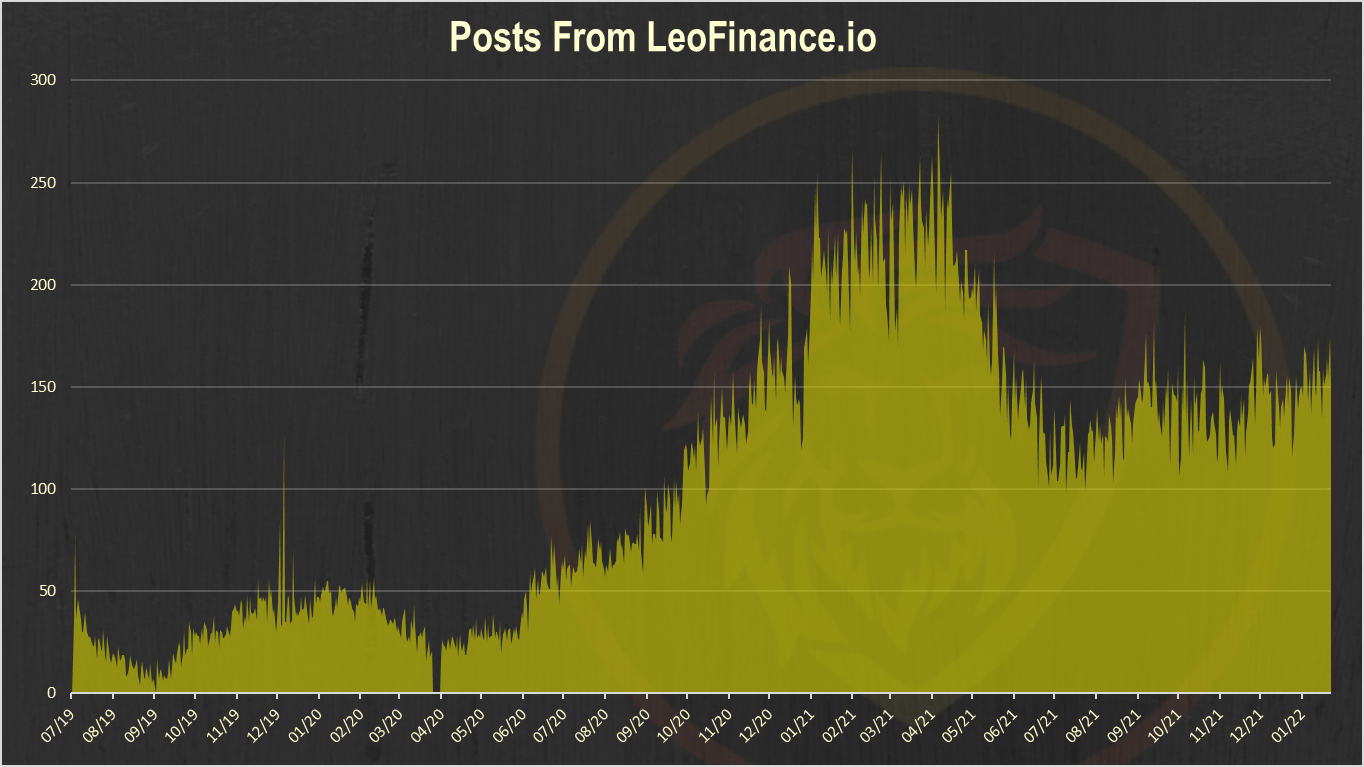 Unique Daily Posts From LeoFinance.io (~150 Per Day): Last Updated 1/24/22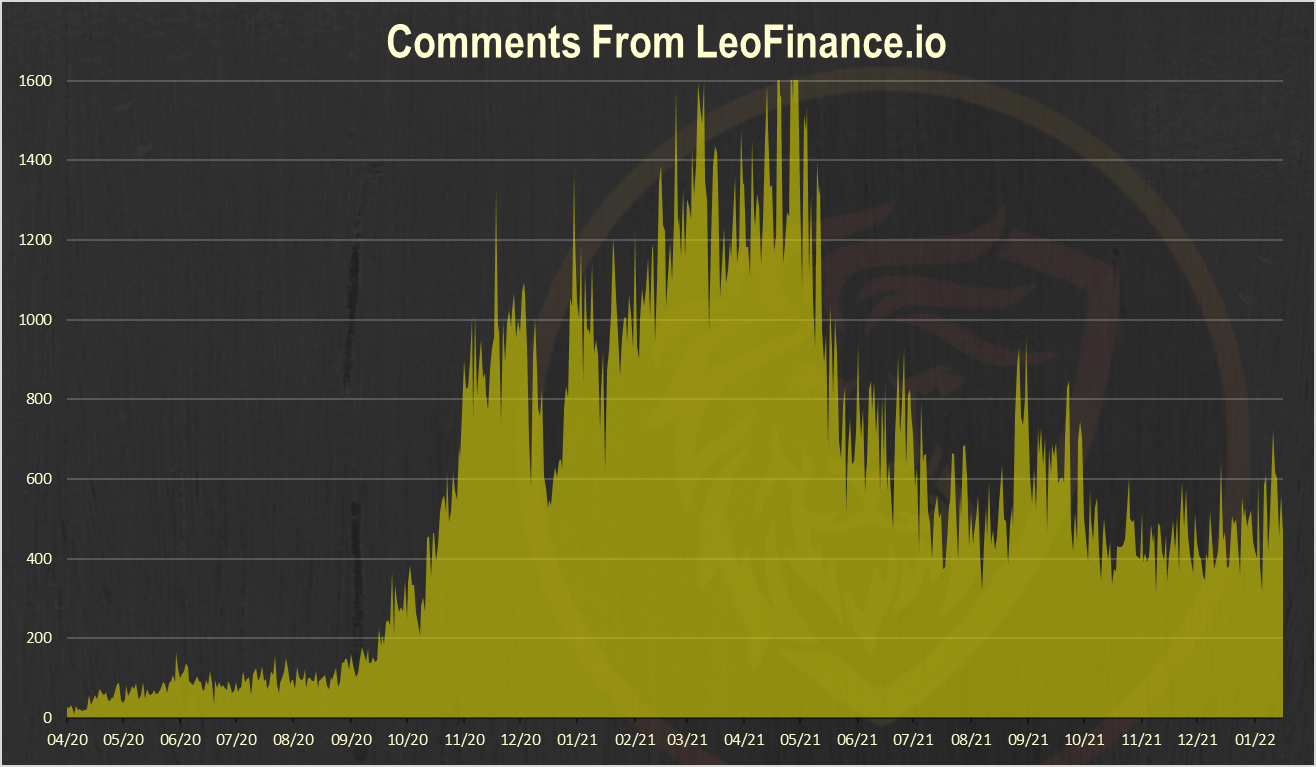 Unique Daily Comments From LeoFinance.io (~600 / Day): Last Updated 1/24/22
As you can see in these charts, we followed a major boom cycle right around the release of CubFinance. This boom led to a ridiculous level of growth for LeoFinance. So much growth, in fact, that our applications started blowing up.
Since then (and especially with the release of our newest app - PolyCUB - on the horizon) we've spent months upgrading the scalability and reliability of our servers and applications to make sure there's no downtime when another boom in users occurs.
Our goal by December 31st, 2022 is to track the pace of growth in MAUs with both comments and posts published on LeoFinance.io. A ~6x would lead us to ~1000 unique posts per day on and 4,000 comments per day.
Community Leaders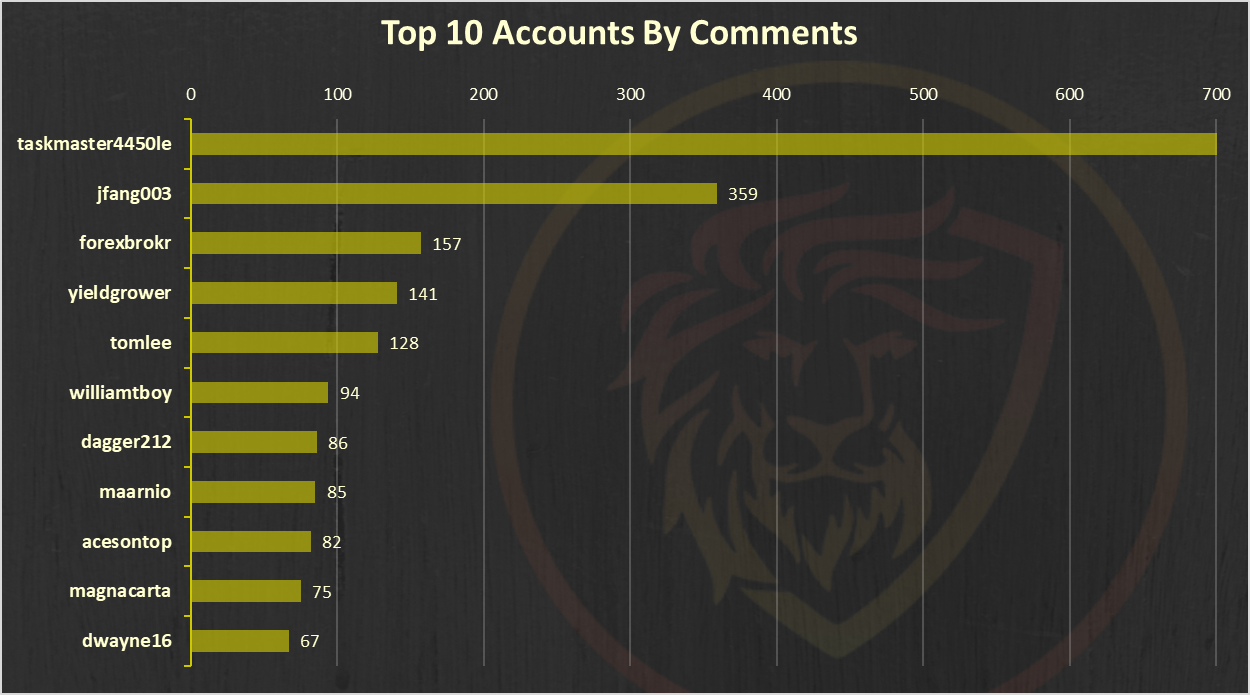 Engagement Heroes - Top 10 User's Who Commented the Most This Week on LeoFinance: Last Updated 1/24/22
This one is more of a shoutout than a goal. We've got some incredible community leaders in LeoFinance. As stated at the beginning of this section: they have an inherent desire to grow the platform and keep other users engaged and active on . This desire is both social and financial.
Taskmaster4450 is and has always been the most active person in our community. He also runs LeoMarketTalk and the DailyLEO Newsletter.
DailyLeo Newsletter
The DailyLeo Newsletter was established as a way to communicate with a broader audience and drive link clicks back to on a regular basis.
Community Leader has taken over the DailyLeo newsletter and publishes a new email on Substack for all of our subscribers every Monday and Friday.
He's done an incredible job so far and the growth has been truly amazing in such a short period of time: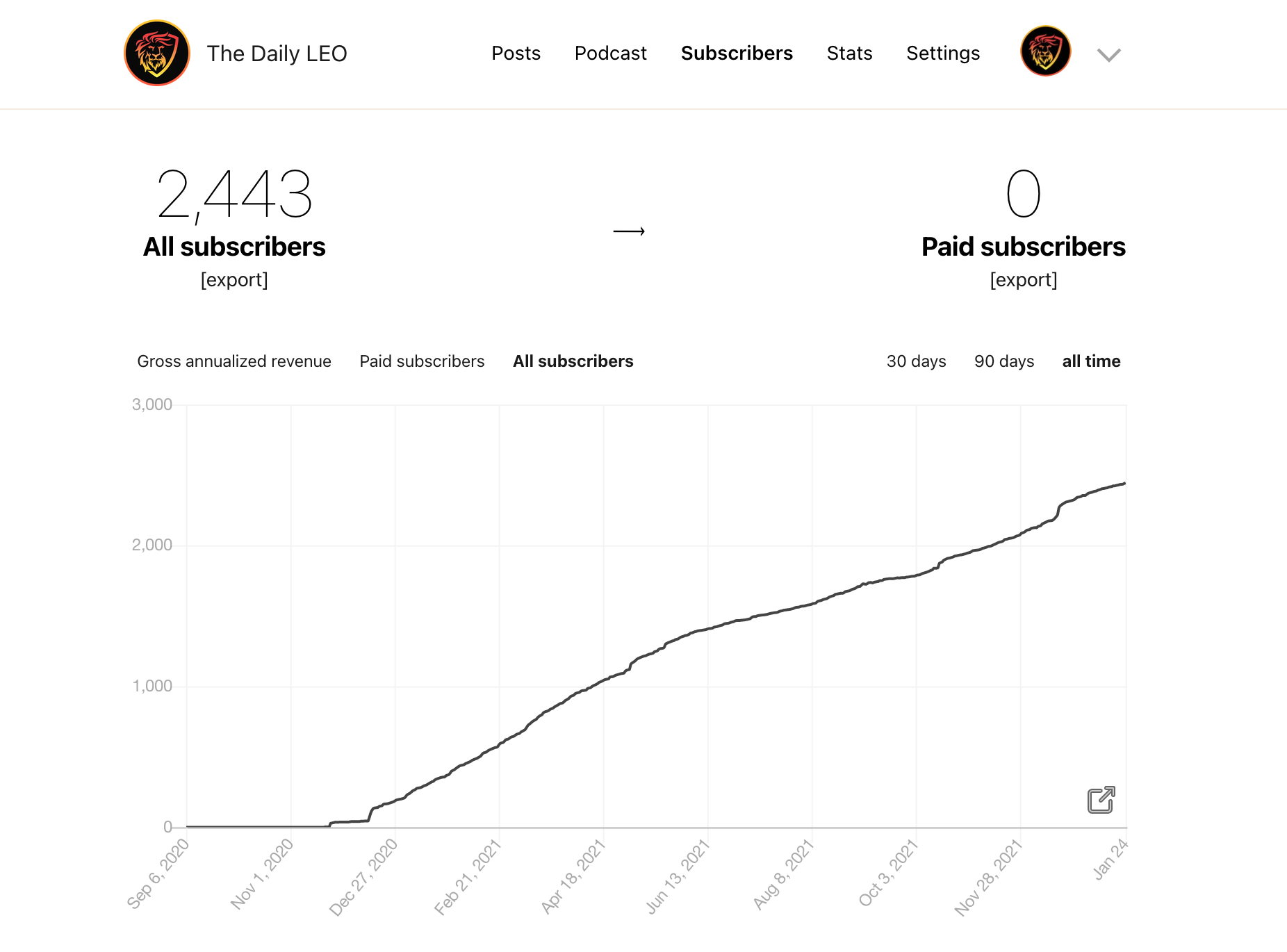 DailyLeo Newsletter Subscribers. Growing Exponentially Since Taskmaster4450 Took the Lead. Last Updated: 1/24/22
Our community's goal by December 31st, 2022 is to have 25,000 subscribers to the DailyLeo. Might sound like a big jump, but the exponential growth has already been astonishing and as we see LeoFinance's google traffic growing right alongside it.
Site Traffic:
The amount of monthly traffic to has always astonished people at first glance. We've grown so much in such a short period of time and now we have hundreds of thousands of visitors hitting all the content on LeoFinance.
In the not-so-distant past, LeoFinance's main source of traffic was our community sharing Twitter links. Twitter was our driver of initial external traffic growth. After gaining more popularity, content creators and site authority in the eyes of Google, LeoFinance now gets the vast majority of its traffic from Google and other Search Engines.
This means a lot of things. Namely, that evergreen content is more important than ever. LeoFinance as a community seeks to reward and engage with evergreen crypto & financial content that will drive traffic now and into the future as it ranks highly on search engines.
Our community's goal throughout 2022 is to 10x these traffic numbers as we continue the exponential growth we saw throughout 2021 and seek to bolster it to new heights.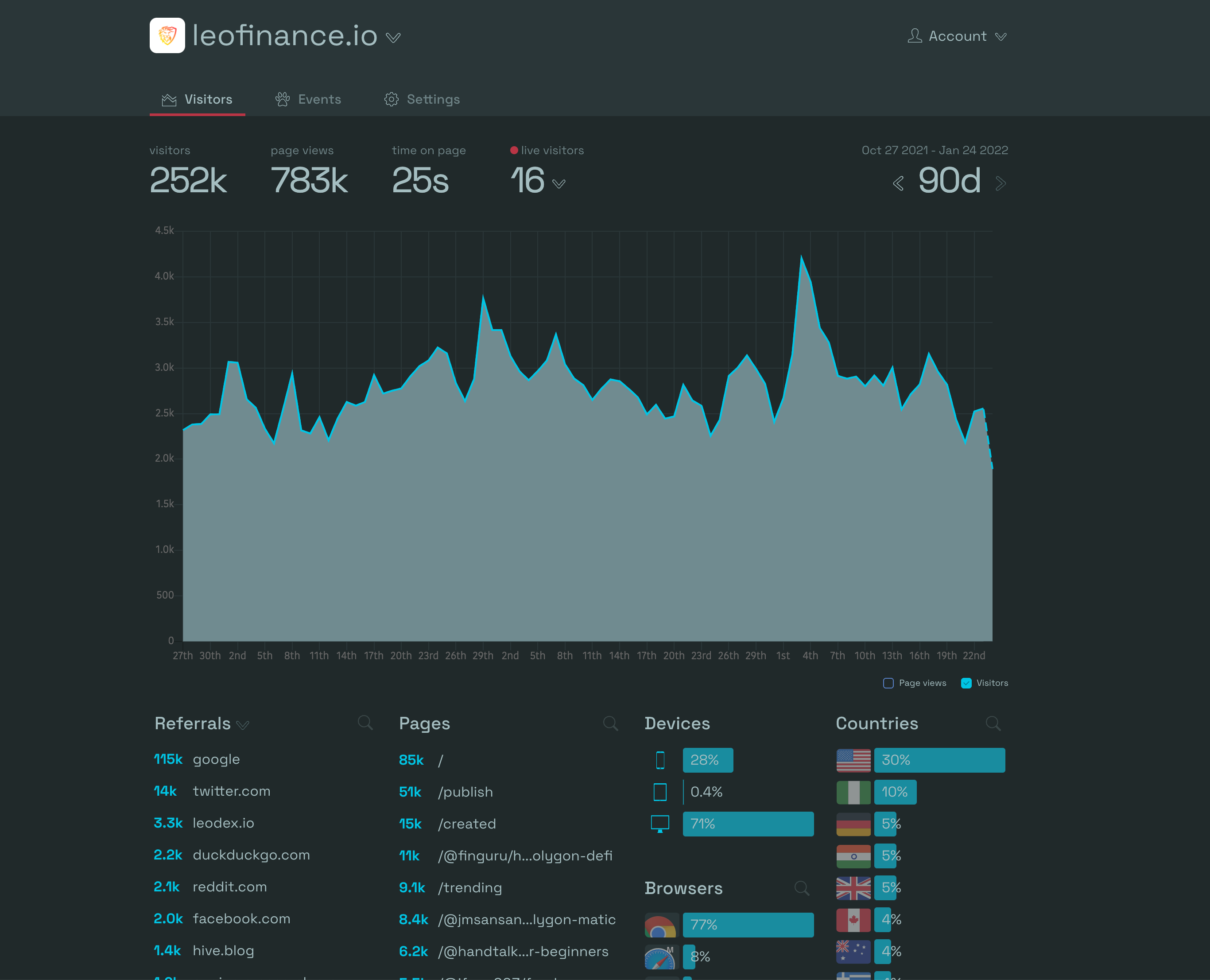 LeoFinance.io Overall Site Traffic on Our Privacy-Oriented Analytics Integration
---
These are the first few chapters available on the Whitebook! https://whitepaper.leofinance.io
Discuss, Engage, Feedback, Release
As I said at the beginning, let's discuss the first few chapters. I'd love to see some great posts and comments about them and any feedback from the community. Every 2 or 3 days, we'll release a few more chapters from the Whitebook and discuss them!
This is only about 10-15 pages down. We've got 276 pages in total so let's have fun with this 🦁

LeoFinance is a blockchain-based Web3 community that builds innovative applications on the Hive, BSC, ETH and Polygon blockchains. Our flagship application: LeoFinance.io allows users and creators to engage and share content on the blockchain while earning cryptocurrency rewards.
LeoFinance | CubFinance | Hivestats | LeoDex | LeoFi
Delegate HP & Earn 16% APR, Paid Daily. Currently @ 2M HP
---
LeoMobile Open Beta is Now Live! Join The Fastest Growing Web3 Community:
IOS / Android

Posted Using LeoFinance Beta
---
---