Introducing LeoMobile on Android | Web3 and Community Tokenization at Your Finger Tips!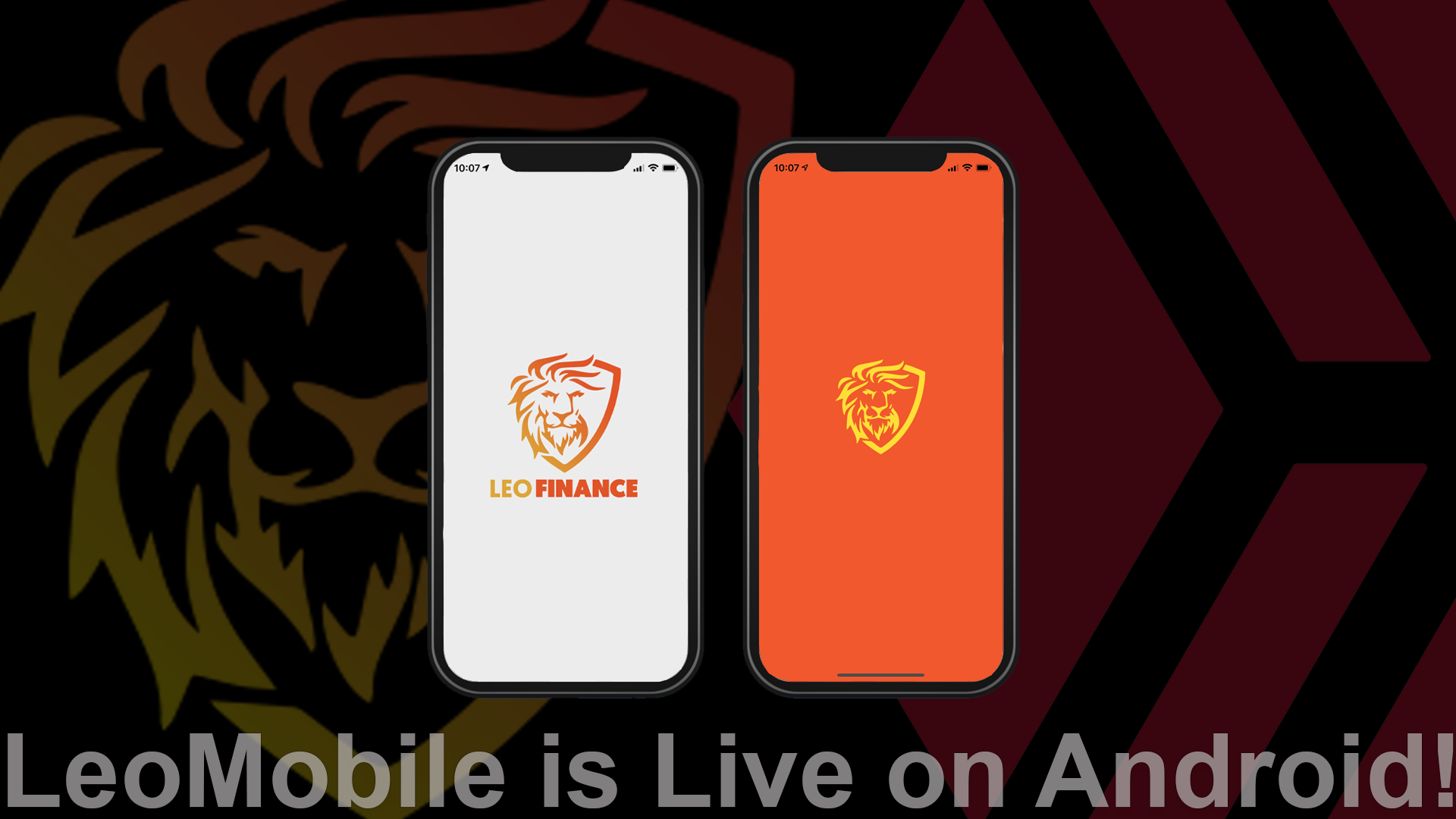 We've been waiting for this day for months now... LeoMobile has finally arrived and Open Beta is in session.
If you saw, last week we had a planned release for IOS. The day before that release, the Apple App Store decided to put our testflight under review. We're working with Apple now to get our app back online in Testflight so everyone on IOS can get out there and start Open Beta.
Originally, we planned on releasing Android several weeks after IOS. This was for a number of reasons but life is funny. Since IOS delayed our first iteration of Open Beta, we spent the last week working on Android and focusing on pushing it out into the Google Play Store.
Well, this morning we finally got approval... from the Google Play Store.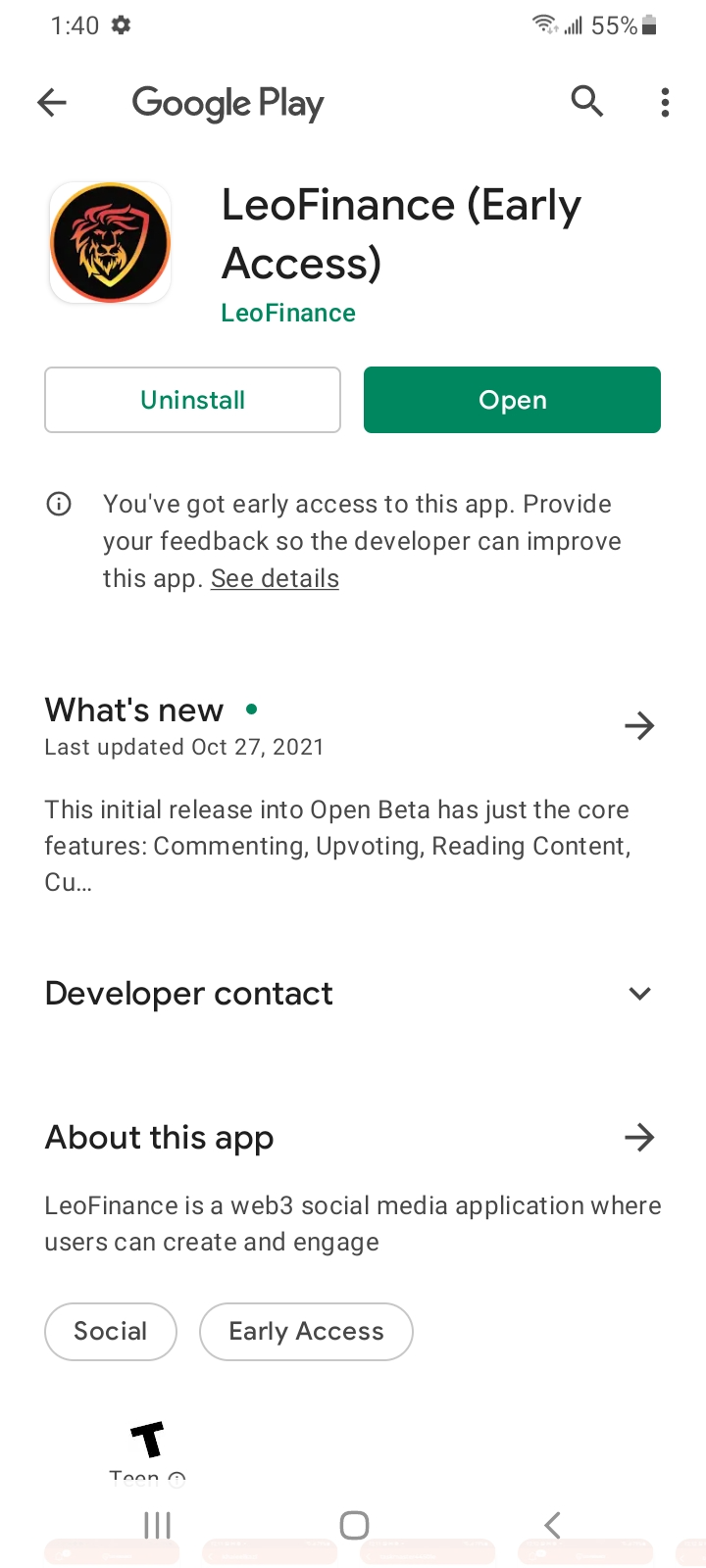 How ironic is it that we announce IOS first, many 🦁s are anxiously waiting for Android but then Android beats IOS. Funny world we all live in.
This quick post was not our planned release notes. We'll throw our launch day shenanigans in the next couple of days but we didn't want to delay the announcement of LeoMobile finally getting approved.
When you go and download LeoMobile on Android, you'll find it to be a familiar experience. We've talked about this in a few AMAs in a broad sense but never the true details of how LeoMobile came to be.
Originally, we designed and began development of LeoMobile from scratch at the beginning of 2021. Shortly after we began, we were contact about an opportunity to acquire the codebase of a former Hive-based application.
The potential acquisition of this codebase would speed up our development by several months and allow us to release a much more battle-tested, feature rich app experience at the start. It would save us tens of thousands of dollars in development costs and the time it would save would be even more valuable (especially since LeoMobile is the precursor to ProjectBlank).
After a few months of acquisition talks, we finally struck a deal. We merged our work on LeoMobile with this codebase a few months ago and began the incredibly hard work of bringing it back to life for LeoMobile. This entailed 2 major things:
We had to revive the app (it was left on the shelf for so many months that it became completely unstable and unusable in its existing form)
We had to merge Hive-Engine L2 features into the app and bring about a number of key changes including Leo Lightning DB integration
The work that we did is almost entirely on the backend. You'll notice some frontend changes but in its current basic Open Beta version, the frontend is very familiar to its predecessor - despite us pretty much completely reworking the backend and inner-workings of the application over the past 3 months.
The coolest part about all of this is that our new framework can be merged with much of the existing leofinance.io code. Things like Lightning and LeoInfra are already integrated (although LeoInfra on a basic - not-yet-complete - level). This means that LeoFinance.io on Desktop will get a complete reworking as well.
It also means that any updates we make to the main framework can be merged into the codebase of all the apps:
LeoFinance.io Web App
LeoMobile (IOS)
LeoMobile (Android)
What we've built here is the stepping stone to the future of Web3. Seamless access to immutable content, tokenized communities and all of the other amazing features that LeoFinance offers has finally arrived!
Get ready for relentless updates. Our schedule for updates has been incredibly rapid (new versions of the app are being released essentially every 2 days). We expect this pace to continue for a while and eventually we'll get to a more set-in-stone pace of 1x per week or 1x per 2 weeks for new major version releases.
All of this leads us up to LeoMobile Version 1.0 which will be released before the end of the year. This version will look radically different to the current version. Stay tuned for major updates along with our roadmap for LeoMobile 🦁
Introducing LeoMobile: Android Edition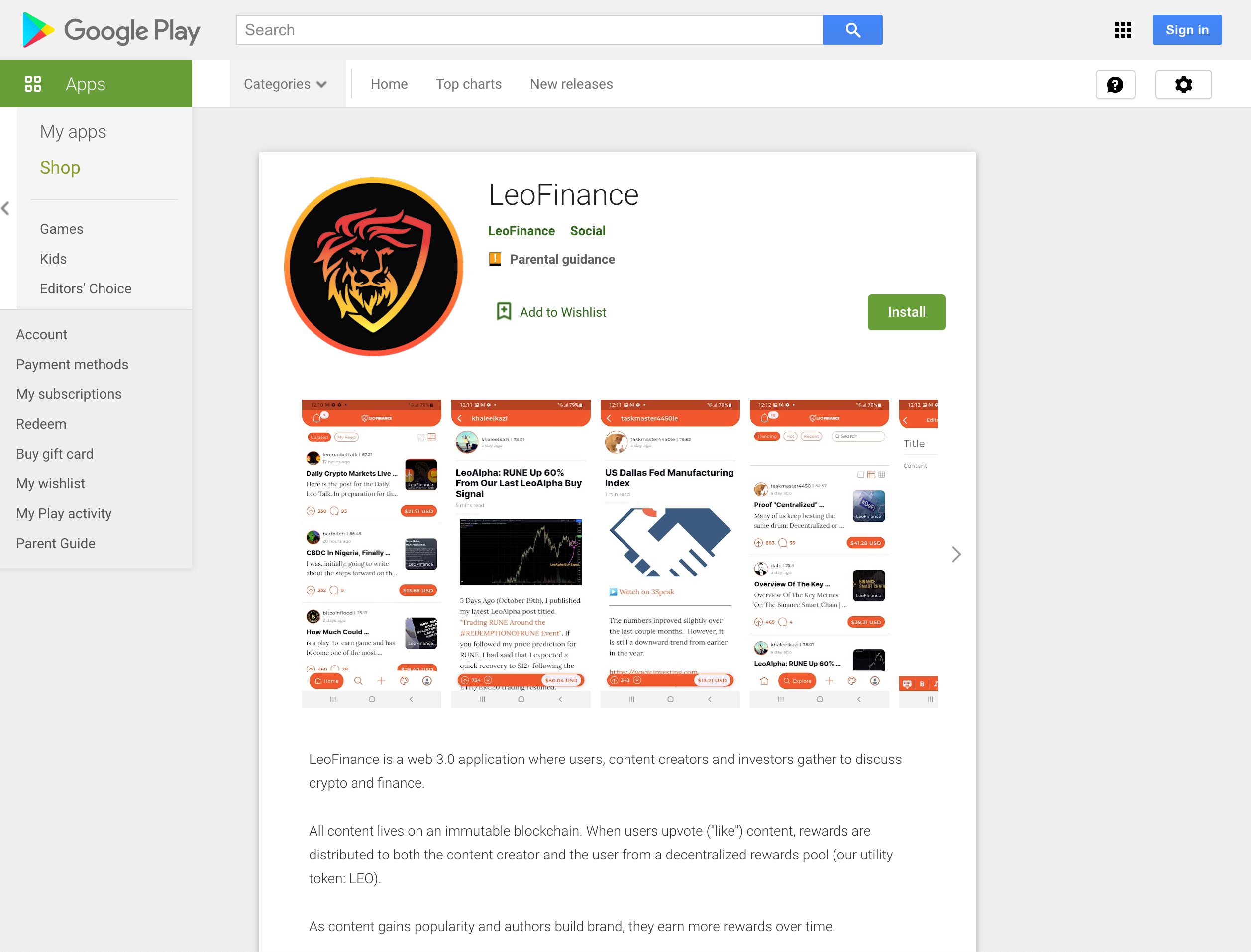 LeoMobile is officially in the Android Google Play Store!!
Please keep in mind: this is open beta. You will likely come across bugs and various UI issues. If/when you do, please report the issues via the in-app process or via Discord Tech Support Ticketing system on Leo Discord 🦁
A post with major release notes about what exactly we've done under the hood of LeoMobile will be released on Monday after the weekend.
For now, go out there and enjoy the app (if you're on Android). We hope to hear your feedback, first-impressions, etc. We've made some truly incredible progress on the backend with our Lightning integrations. We hope you find that app experience to be Lightning fast and the improved content layout to be an enjoyable reading experience!
https://play.google.com/store/apps/details?id=io.leofi.mobile
p.s. we've had good dialogue with Apple lately. Fingers crossed, but we believe that it's likely to get re-approved in the coming week 🤞🏽
Posted Using LeoFinance Beta
---
---