Cointelegraph Just Released a PR About POLYCUB | Next Generation of Yield Optimizers!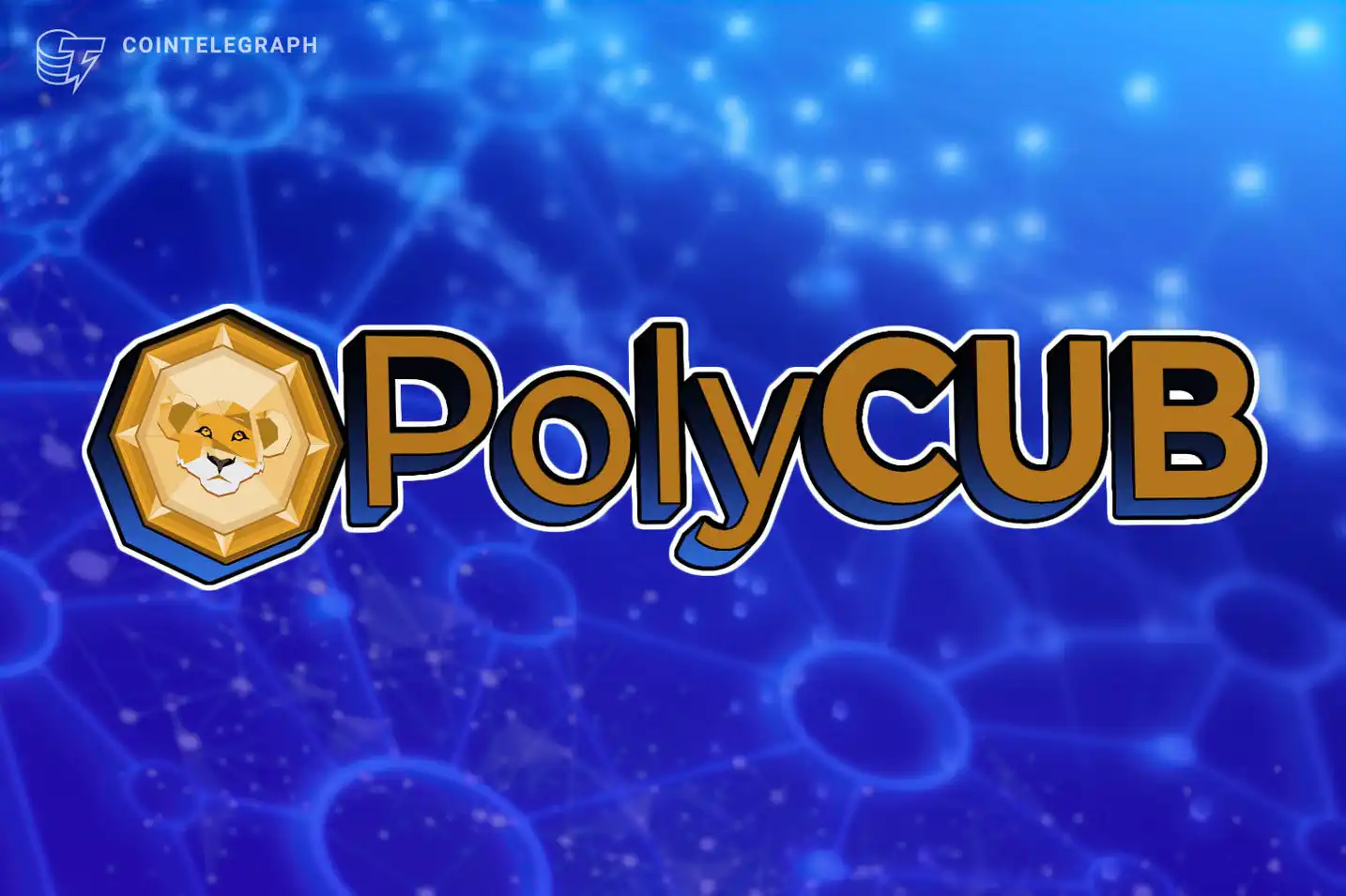 Cointelegraph is one of the largest crypto news outlets in the world. At the outset of PolyCUB, one of our primary directives was to connect and start establishing business relationships with all the major crypto news outlets, PR agencies and other organizations.
In the broader vision of LeoFinance and our Web3 ecosystem, this is vital to our future. The critical path forward is expanding the scope and scale of our community and we've done an incredible job of that so far with PolyCUB.
Traffic, users and signups are all up. Many of the KPIs we use to track the growth of LeoFinance as a whole are up as well.
Just last night, a LeoFinance.io article was also picked up and linked to by The Washington Post which gets 79M unique visitors every single month.

All of the PRs and articles about PolyCUB also included links to LeoFinance.io along with a description of what LeoFinance is and how we're building a massive Web3 Ecosystem from the ground up.
The point here is to illustrate the broader vision: we're building authority for LeoFinance.io while getting brand recognition for LeoFinance while simultaneously onboarding outside capital to PolyCUB.com and getting our hooks into potential new users.
LeoFinance is growing exponentially when you look at the broader picture. Our entire mission is to expand the width and depth of our Web3 Community Ecosystem and that is happening on a pace that we have never seen before.
With an expanded team including our newest Head of Business Development and Head of Growth, we're seeing initiatives take place on more than 50 major crypto news outlets just like Cointelegraph along with our Tik Tok account growing at rapid speed. The reach of LeoFinance and our brand recognition continues to grow.
Cointelegraph's Coverage of PolyCUB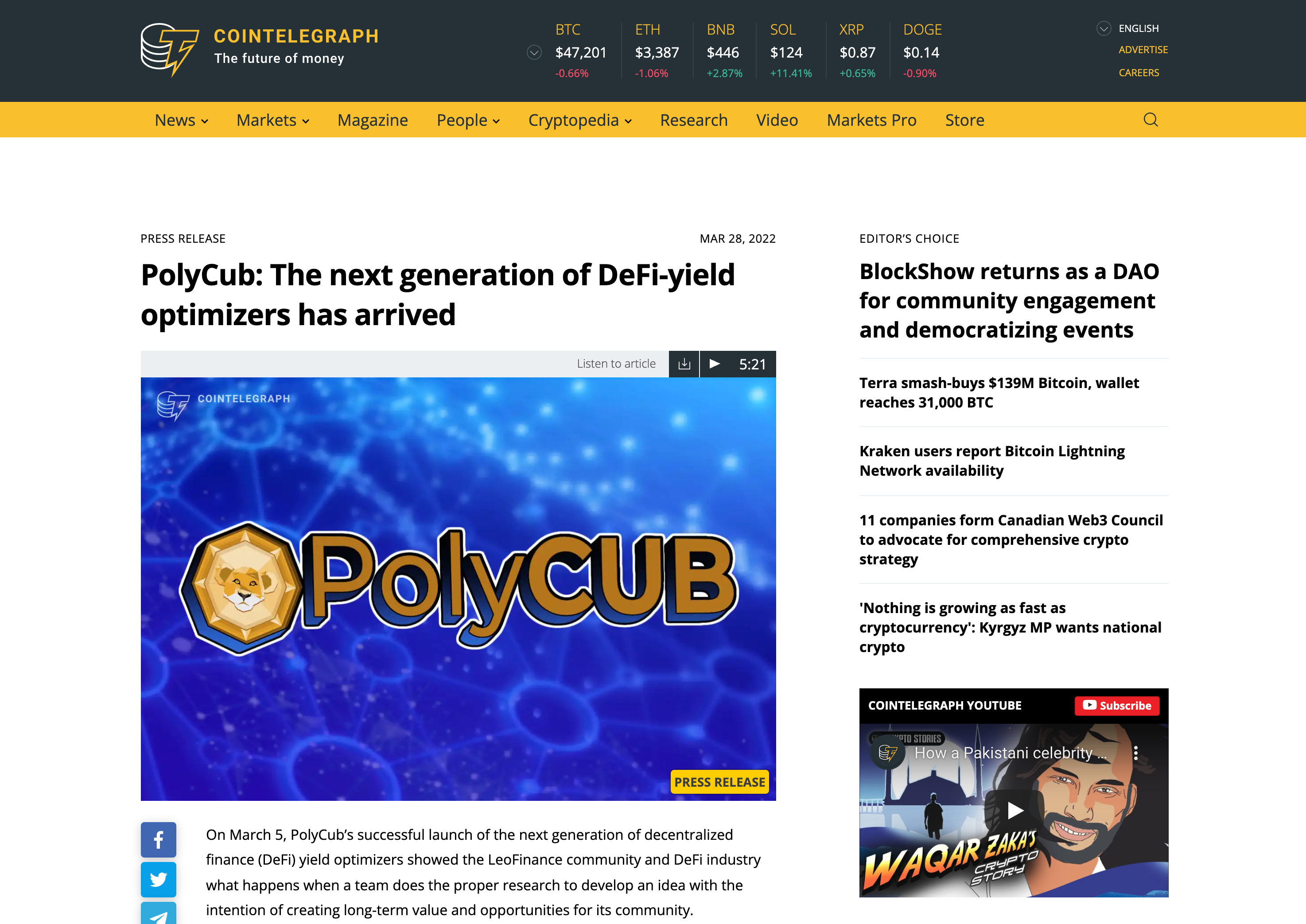 Cointelegraph's coverage of POLYCUB focused primarily on the future of what we're building.
Afterall, LeoFinance is about the long-term. We're not here for the quick hits. We're here to build for the next decade and beyond.
If you believe in LeoTeam and LeoCommunity, then you'll believe in our ecosystem and our ability to evolve with the times and continue to innovate.
We're still in the early stages of the entire LeoFinance Project. There is so much to be built, so many users to onboard and so much growth to be had.
Our ask to you, the community, is to help amplify the coverage of all these PRs and articles that we have worked with our media partners to distribute.
It's vital that we build as much traction as possible and continue the growth rates that we've seen while expanding our reach simultaneously.
https://cointelegraph.com/press-releases/polycub-the-next-generation-of-defi-yield-optimizers-has-arrived

LeoFinance is a blockchain-based Web3 community that builds innovative applications on the Hive, BSC, ETH and Polygon blockchains. Our flagship application: LeoFinance.io allows users and creators to engage and share content on the blockchain while earning cryptocurrency rewards.
LeoFinance | CubFinance | Hivestats | LeoDex | LeoFi
Delegate HP & Earn 16% APR, Paid Daily. Currently @ 2M HP
---
LeoMobile Open Beta is Now Live! Join The Fastest Growing Web3 Community:
IOS / Android

Posted Using LeoFinance Beta
---
---