Call to Action! PolyCUB Marketing Week | Cointelegraph, DeFi Listings, Bitcoin.com and More!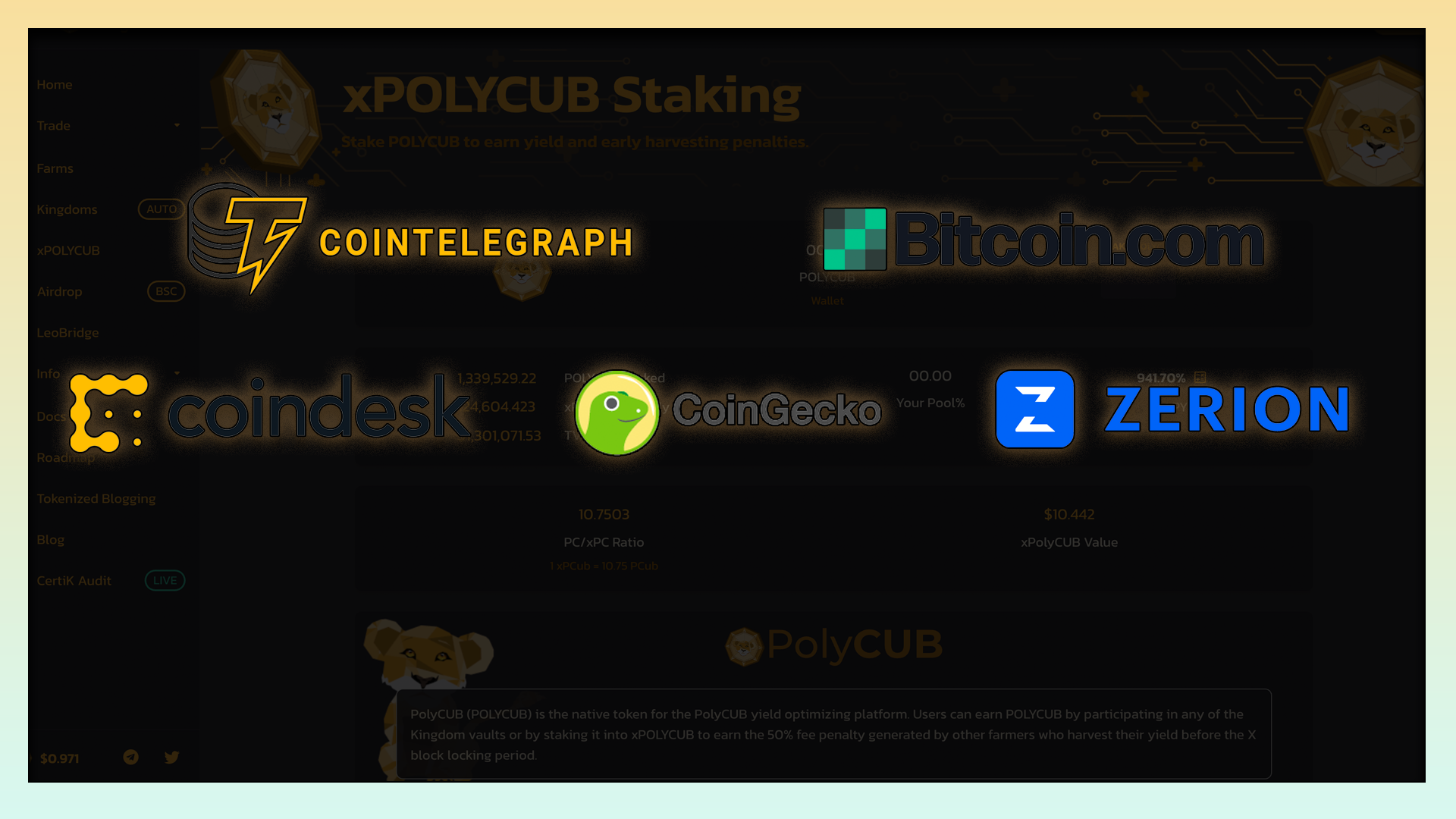 Wow what a big week. POLYCUB launched just about 8 days ago and it has been a wild ride, to say the least. The amount of attention being drummed up for LeoFinance and all of our applications through the launch of POLYCUB is going exactly as we expected.
In terms of sustainability, we saw a massive boom and bust of the initial hype cycle for POLYCUB. As typical with this high inflation model of launching - since there's no pre-sale of any kind - the only ways to get your hands on POLYCUB are to:
Buy and stake CUB (BSC) for the airdrop
Buy POLYCUB
When the initial launch of a platform like this happens with such a limited supply, the boom and bust can be quite drastic. Now that we've made our way through that initial cycle where liquidity was way too low and the inflation was super high, we're on track for the first truly sustainable DeFi 2.0 Yield Optimizer to make a name for itself.
In terms of price and overall liquidity / TVL, POLYCUB is performing insanely well. We're attracting hundreds of thousands of dollars per day in capital and this is with just the initial steps of marketing this application in motion.
The real week of marketing for POLYCUB starts NOW!
Press Releases
POLYCUB Listings
Interviews
LeoFinance Community Word of Mouth
Marketing POLYCUB can be broken out into these 4 main categories. With our new Head of Business Development and our Social Media Manager / Head of Growth taking the lead on many of these initiatives, we're seeing a major boom in what we're able to achieve in a short period of time.
We'll keep pushing out posts here on Hive/LeoFinance to update everyone on what's happening in real-time. This post will be a quick overview on what we're doing now and what's about to happen over the next 4 days (Monday through Friday). There's a lot, so strap in.
Press Releases
We're working with Cointelegraph, Coindesk, Bitcoin.com and about a dozen other PR firms to push out Press Releases about https://PolyCub.com.
While we would've liked to get these PRs out on the day of launch, we had various agencies put our releases on hold while final drafts were produced and coupling that with the volatility of last week, we decided to wait over the weekend. All of the PRs that we've had in motion since 2 weeks ago are going to be released this week.
Cointelegraph, Coindesk and Bitcoin.com will obviously get everyone excited. These are going to be the big PRs that potentially grab the attention of tens of thousands of crypto users.
Our new Head of Business Development (acronym: HBD), is in charge of managing all of these PRs. He went out and researched and compiled a massive list of Crypto news organizations that we could work with and then he analyzed their traffic data to come up with the best list that we can tackle.
This is the first time we've made a coordinated effort to do marketing for any of the LeoFinance App Products. We're all VERY excited to see how this shakes out.
I have a feeling the flow of traffic to https://polycub.com, https://leofinance.io and all of our applications will astonish everyone.
just kidding about the acronym, that would be super confusing for everyone on Hive
PolyCUB Listings - CALL TO ACTION LIONS!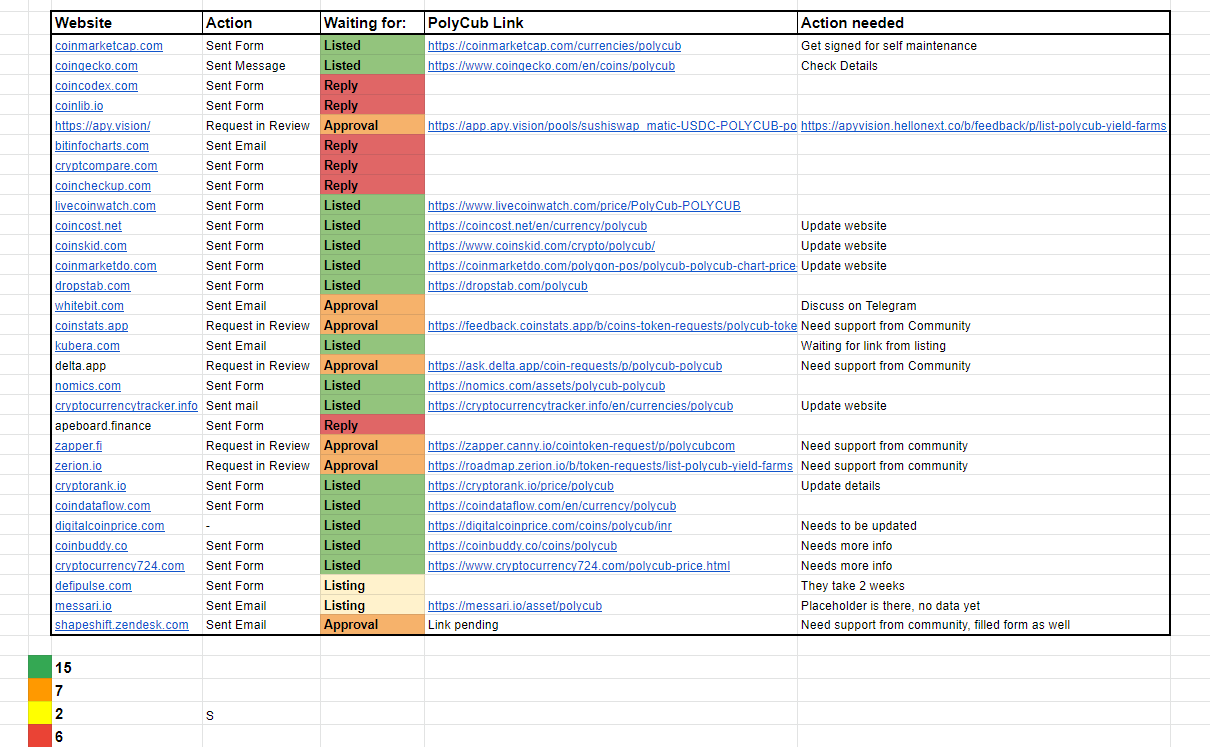 We're working on listings for POLYCUB on every possible DeFi tracker, exchange and application on the Polygon network. This is a massive effort and it is helped immensely by community participation. If you're reading this and want POLYCUB to succeed as a sustainable DeFi 2.0 Yield Optimizer, please go out and VOTE ON ALL OF THE LISTINGS. It is a huge help to get the community involved in these listing requests:
That's a lot of listings so far. There are more on the way. Again - PLEASE go out and vote on these. It will help us get POLYCUB listed so much faster.
Interviews
There have already been several interviews featuring Khal to talk about LeoFinance and mainly about POLYCUB and why it was built. We're working on a number of other interviews that should get released over the coming days and weeks.
Recently, Khal was on: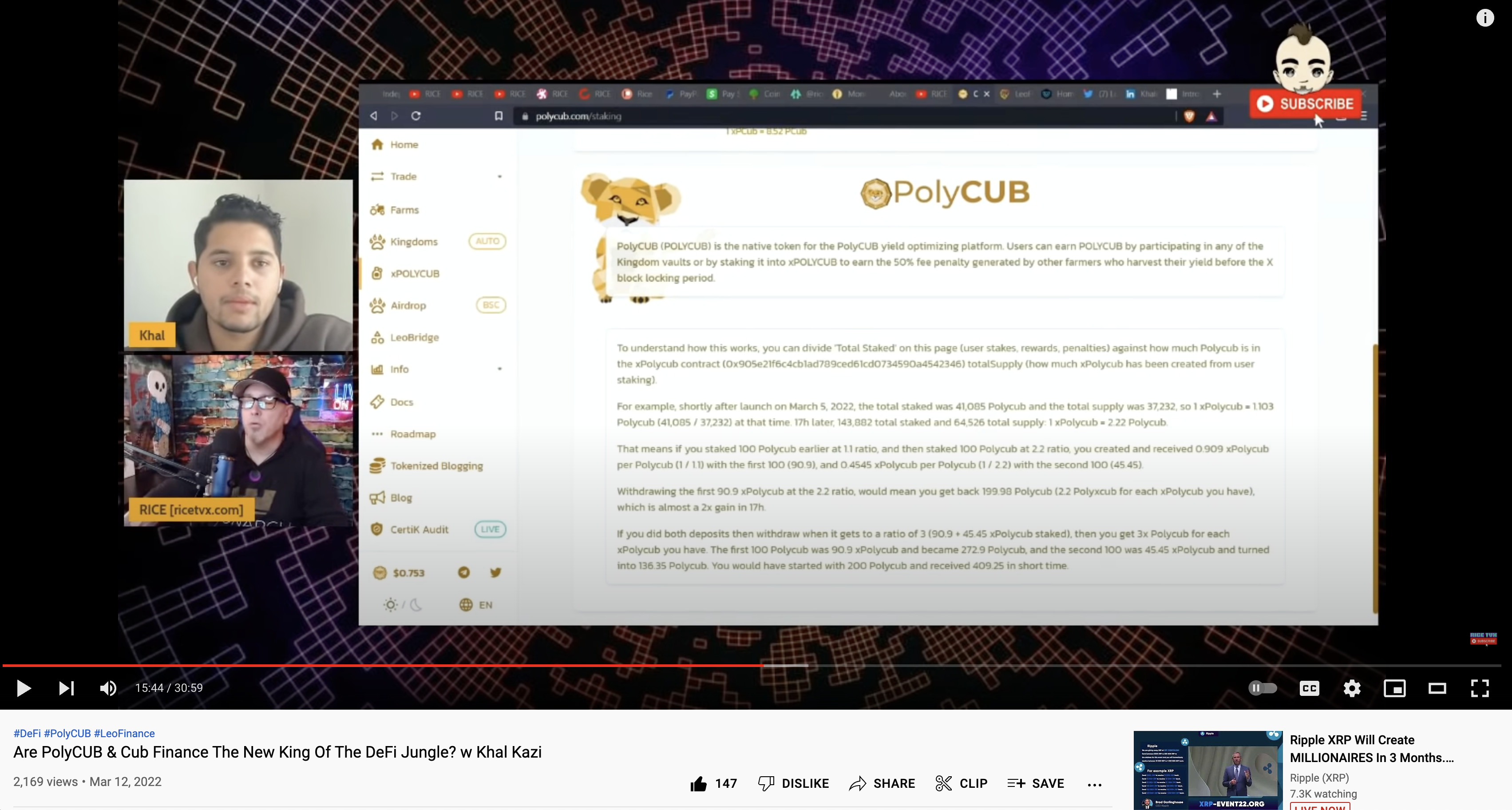 These are just the few podcasts that have been posted already. There are more that have been recorded and we're waiting on the final release. This week, Khal is also booked on about 3-5 more interviews with more being set up as we speak!
LeoFinance Community Word of Mouth
The word of mouth this community generates is truly incredible. This is the #1 way to spread the word about our Web3 ecosystem and all of the apps like PolyCUB that we build.
Word of mouth can happen in so many ways. Whether it's a post on LeoFinance / Hive or a tweet talking about PolyCUB or a Linkedin post or a Facebook post or a comment on someone else's post... It's all spreading through the actions of our Lions.
---
More to come! Stay tuned for the real-time updates of what we're doing re:marketing PolyCUB.com. It's going to be yuuge as @scaredycatguide would say.

LeoFinance is a blockchain-based Web3 community that builds innovative applications on the Hive, BSC, ETH and Polygon blockchains. Our flagship application: LeoFinance.io allows users and creators to engage and share content on the blockchain while earning cryptocurrency rewards.
LeoFinance | CubFinance | Hivestats | LeoDex | LeoFi
Delegate HP & Earn 16% APR, Paid Daily. Currently @ 2M HP
---
LeoMobile Open Beta is Now Live! Join The Fastest Growing Web3 Community:
IOS / Android

Posted Using LeoFinance Beta
---
---