Bitcoin.com Interviews Khal About Hive, PolyCUB and LeoFinance's Web3 Vision of the Future!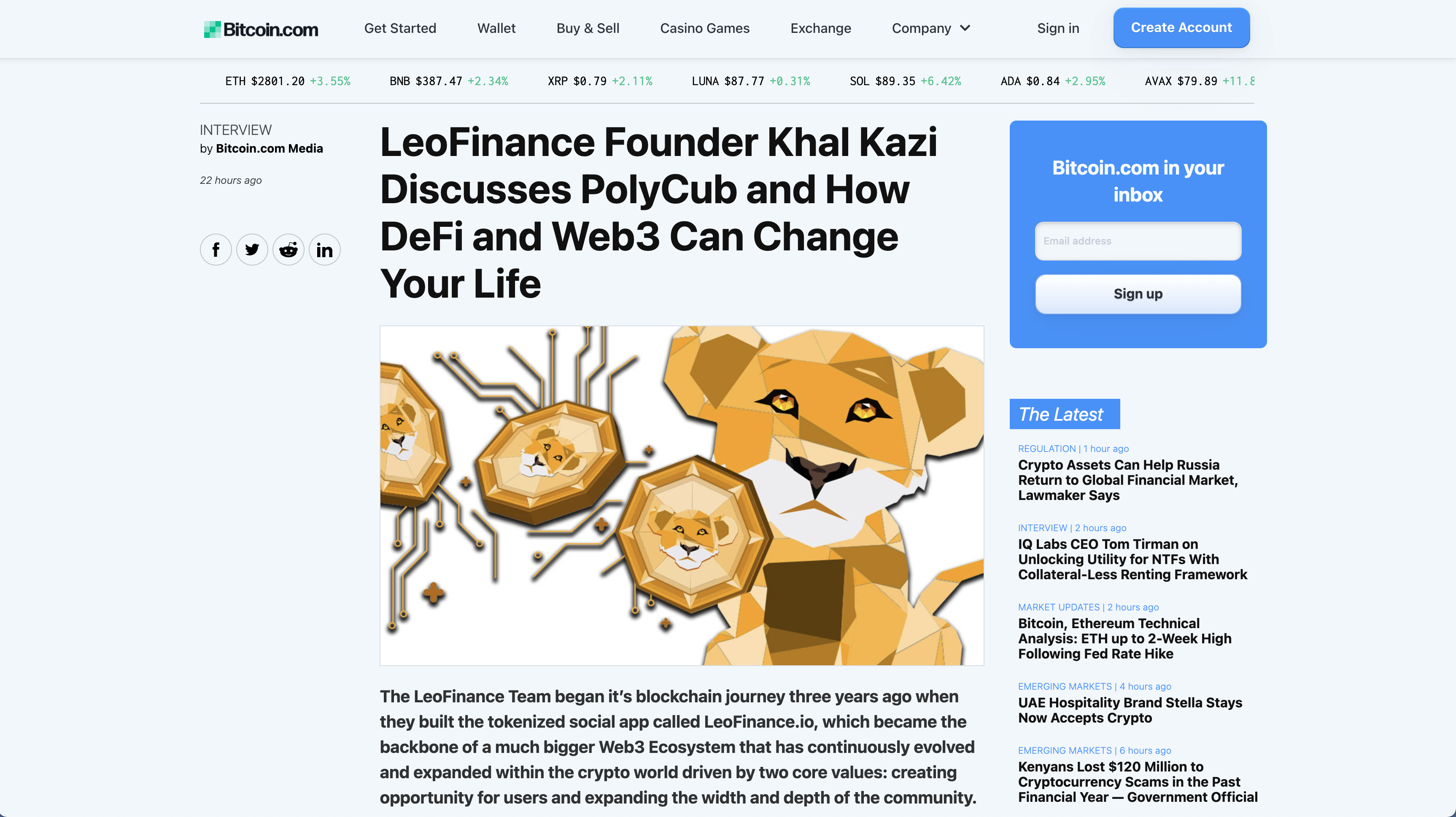 "The LeoFinance Team began it's blockchain journey three years ago when they built the tokenized social app called LeoFinance.io, which became the backbone of a much bigger Web3 Ecosystem that has continuously evolved and expanded within the crypto world driven by two core values: creating opportunity for users and expanding the width and depth of the community."
Bitcoin.com on LeoFinance and our Web3 Ecosystem
As we've been talking about since the launch of POLYCUB less than 2 weeks ago, this is the major marketing cycle that we've been building up to.
PolyCUB is growing in a massive way. We're getting attention on the LeoFinance project at levels that we've never seen before.
We are doing some major things in the mainstream landscape of crypto. Right now, we're pushing PolyCUB and expanding awareness about one of the most opportunity-laden DeFi platforms in the Polygon ecosystem right now but in the longer-term we're doing something even more powerful for our community: building backlinks, authority and brand recognition for LeoFinance.
Bitcoin.com Podcast About LeoFinance's Web3 Expansion with PolyCUB
Being on the Bitcoin.com podcast to talk about LeoFinance, PolyCUB and our Web3 vision was incredible. We talked primarily about DeFi and Web3 and this led us into discussions about Hive, LeoFinance, PolyCUB and how the whole ecosystem works and thrives off each other.
One of the driving goals for us with PolyCUB - and all of the apps we build, for that matter - is to build width and depth for our community.
To bring a wider and wider range of community members to this Web3 Ecosystem that we're actively building. That is our mission.
Cointelegraph wrote an awesome piece about PolyCUB yesterday. They've got a full-length PR that will follow that publication up later this week.
Bitcoin.com wanted to do a podcast with us, they also shared our interview on all their major social channels which has led to a big boom in engagement for the entire LeoFinance Web3 ecosystem - especially PolyCUB.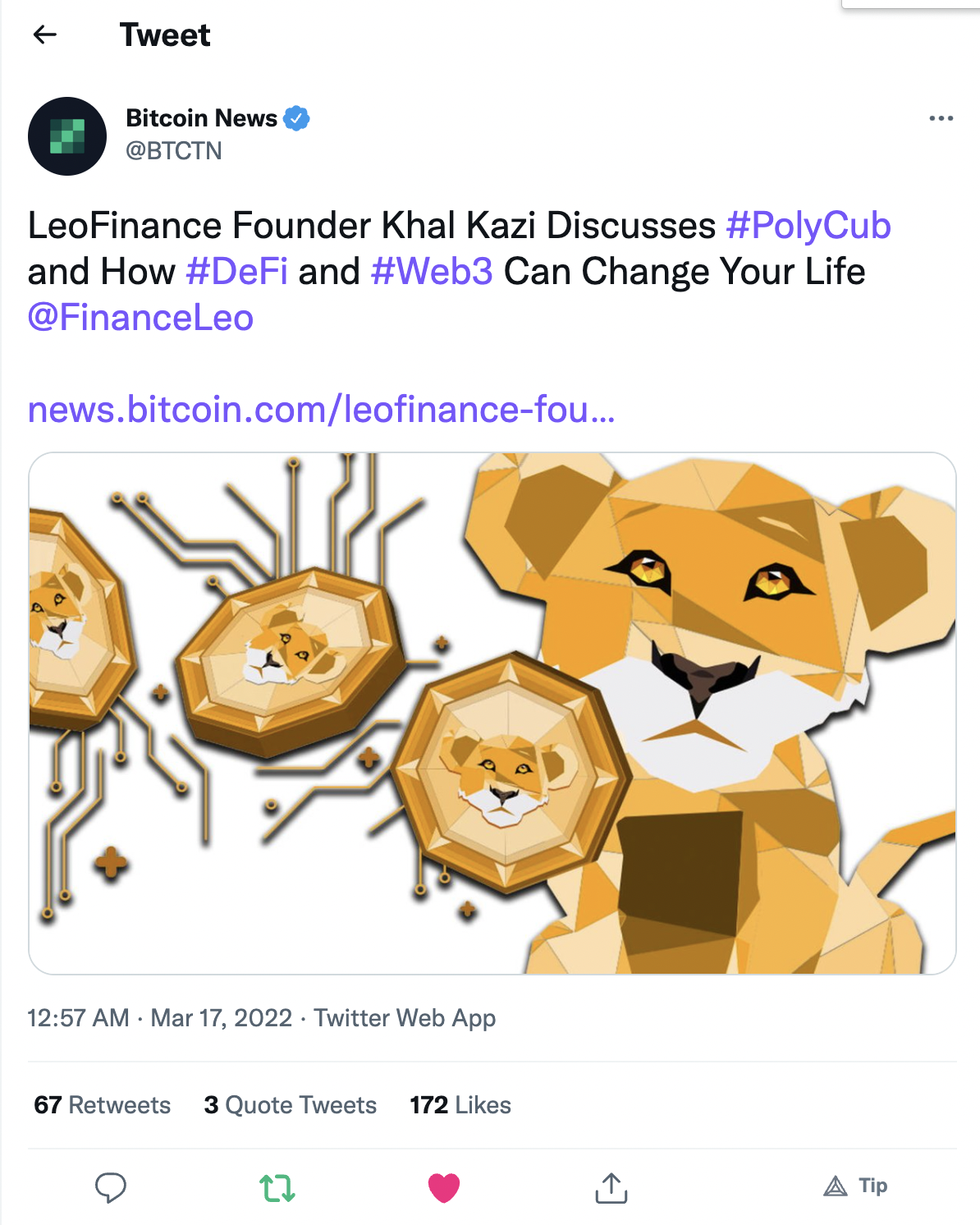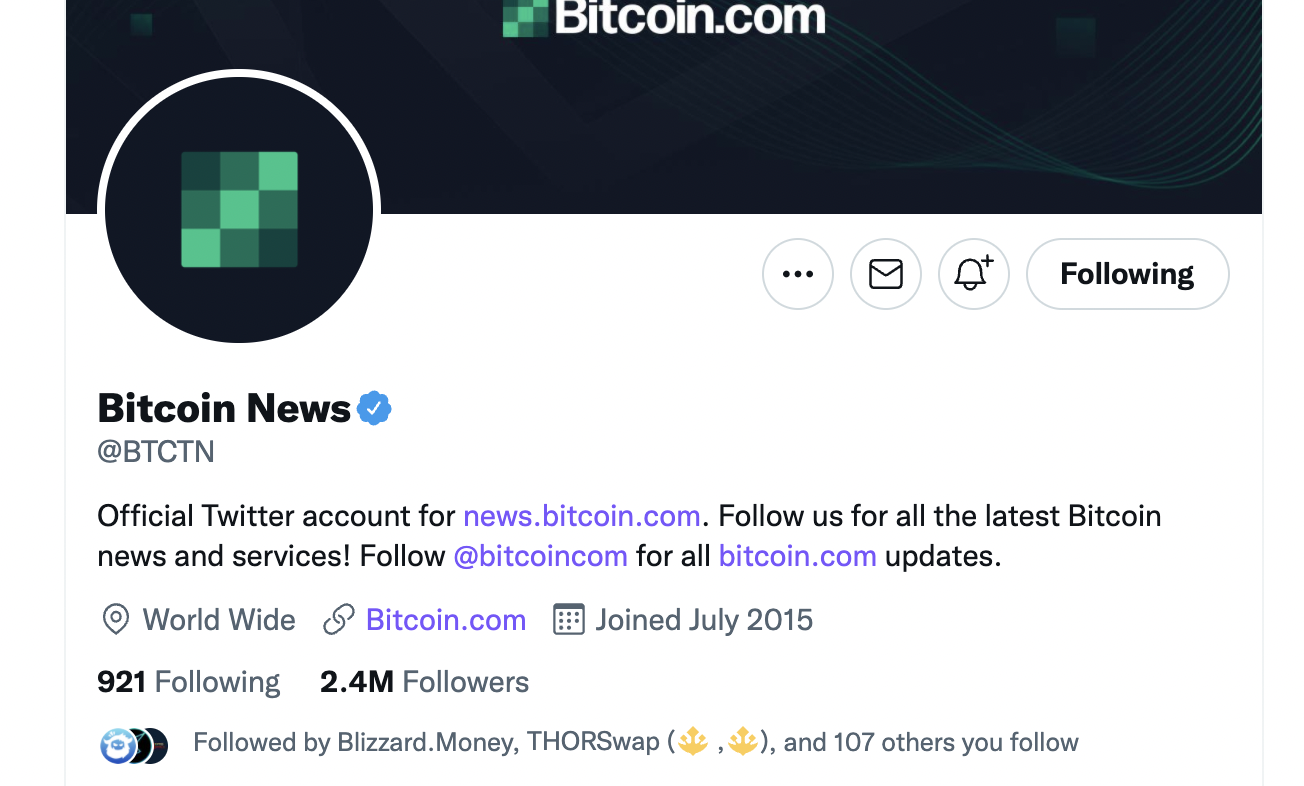 Be the Slingshot Thing
Do the slingshot thing that we talked about in the last AMA. Our whole community has already done an incredible job of amplifying the reach of our press release tour for PolyCUB and we need to keep this momentum going. It's extremely valuable for our ecosystem if you go out and:
Like
Comment
Write a post about
Share
It's one thing to throw a pebble as far as you can in the ocean. If you have a slingshot, you can send it much further. Be the slingshot and amplify the reach of our marketing efforts for PolyCUB and the entire LeoFinance Web3 Ecosystem!
Here are all of the links to the Bitcoin.com podcast, articles, tweets, etc.

LeoFinance is a blockchain-based Web3 community that builds innovative applications on the Hive, BSC, ETH and Polygon blockchains. Our flagship application: LeoFinance.io allows users and creators to engage and share content on the blockchain while earning cryptocurrency rewards.
LeoFinance | CubFinance | Hivestats | LeoDex | LeoFi
Delegate HP & Earn 16% APR, Paid Daily. Currently @ 2M HP
---
LeoMobile Open Beta is Now Live! Join The Fastest Growing Web3 Community:
IOS / Android

Posted Using LeoFinance Beta
---
---