Are You Hodling HBD and HIVE? How to Earn Over 53.32% APY, Paid Daily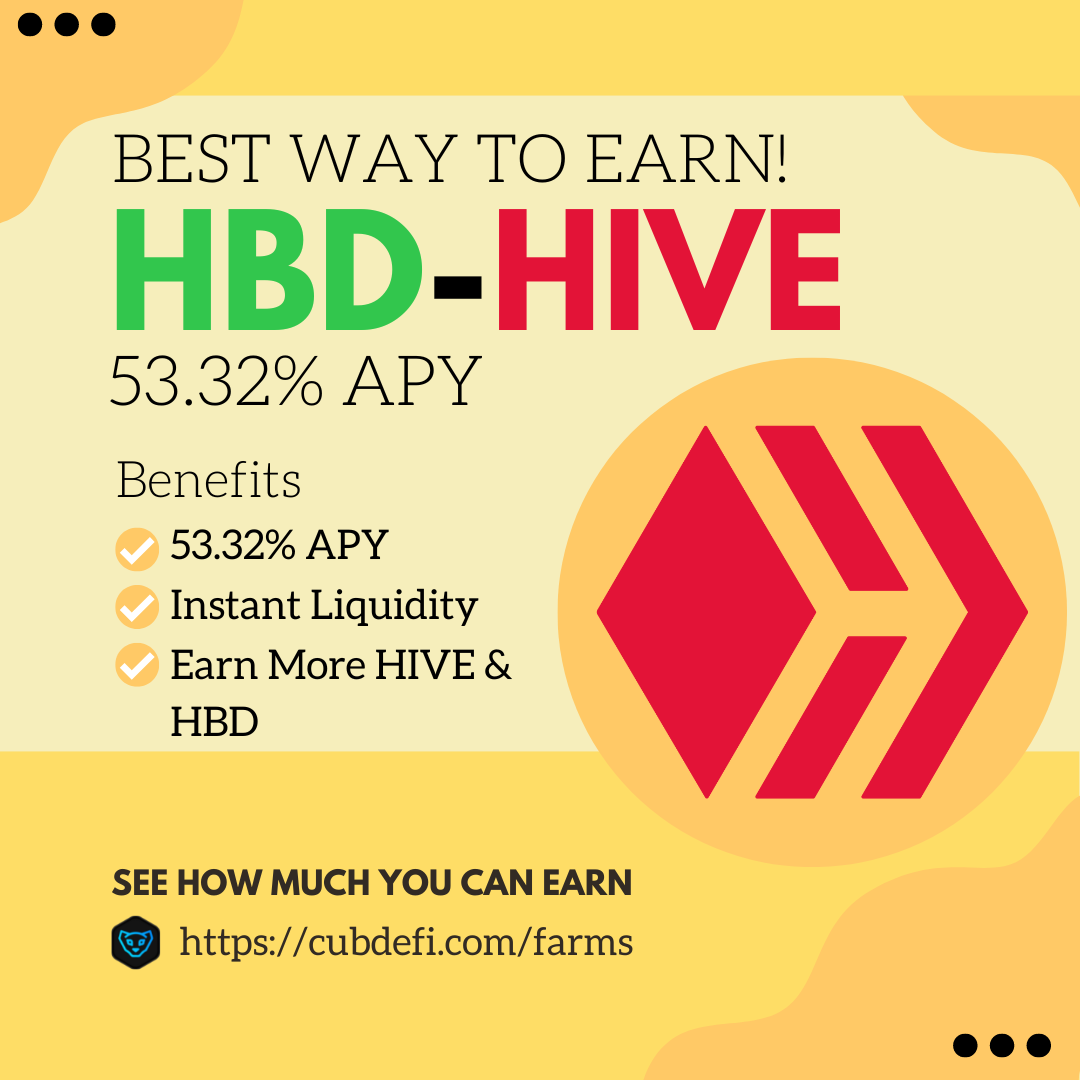 HIVE runs deep in our veins. The LeoFinance Community has always aimed to grow: in terms of engagement on-chain, capital on blockchains and now liquidity for Hive-based assets. We have done a complete 180 degree turn in the business model governing CUB Finance on BSC. We are now focused entirely on HIVE and HBD. Building liquidity for bHIVE and bHBD pools.
The war on centralized exchanges has been waged by governments across the globe. We're seeing a massive crackdown on the operations of many exchanges. HIVE and HBD are scarcely listed on CEXes.
HIVE's #1 listing is Binance.
HBD's #1 listing is a Korean-KYC only exchange called Upbit.
What happens if one exchange delists these assets? What happens if the exchanges get regulated (already happening).
As it stands, most people don't have access to these CEXes. This is a huge problem and is likely to only get worse.
Enter bHBD and bHIVE.
bHBD and bHIVE are not the end-all-be-all solution. They're not the only solution out there. We also have the internal market, Hive-Engine, blocktrades and many other operations out there which facilitate the exchange of HIVE and HBD.
Our goal with bHIVE and bHBD is simply to build another solution. Another option out there in the Crypto universe.
A way to permissionlessly swap assets from one blockchain to another. Seamlessly moving your HIVE/HBD to and from the Hive & BSC Blockchains. The power in doing this is incredible but we are still in the baby stages of making this a reality.
The technology is there. Our bridge technology received a ridiculous number of updates (over 12 different bug patches!) in the past few months. This has led to a HIGH DEGREE of reliability in transfers.
If you've utilized the Multi-Token Bridge in the past, you may have had a failed TX that needed manual refunding.
If you've utilized the MTB more recently (last few weeks), you may have noticed a 99% uptime for bridge wraps and unwraps. This is an amazing achievement for us. We're seeing so much reliability on the bridge and it's made life a lot easier and better all around.
In the unlikely event of a failed wrap/unwrap, you can open a support ticket on our Discord and have it manually processed in less than 12 hours (used to be 48 hours).
bHBD and bHIVE - Going All-In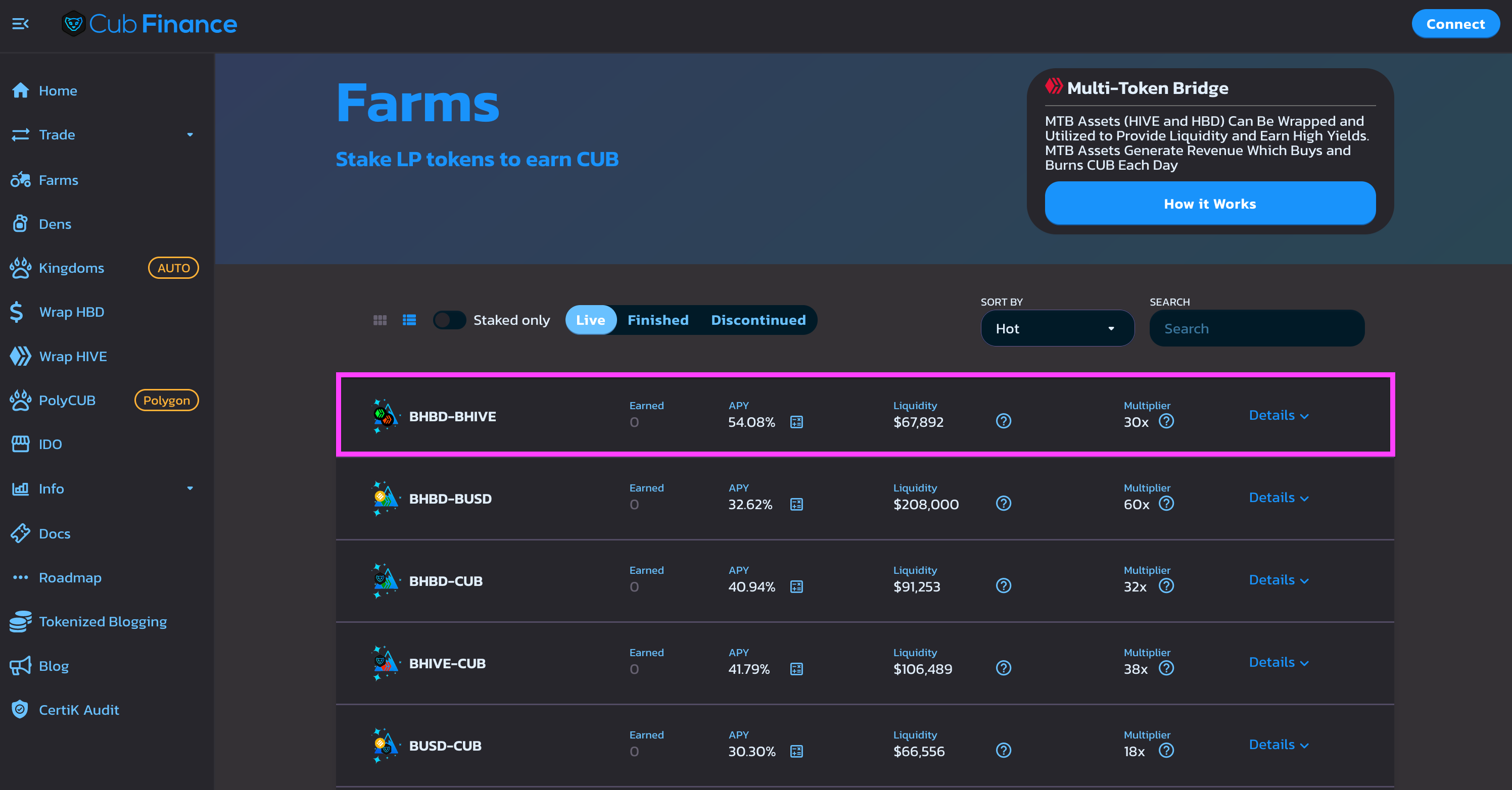 The newest vault on CubFinance is the bHBD-bHIVE vault. This is one of the most highly requested vaults from our community and it allows anyone to pool HIVE and HBD together.
This has a lot of benefits for LPs
The pool is currently paying 54% APY
Impermanent loss will equate to you getting more HIVE or more HBD as prices fluctuate. No more worrying about IL. You simply get more Hive assets one way or another
Instant liquidity - we've seen some crazy HIVE & HBD pumps come out of nowhere lately. Staking on-chain results in missing those pumps. Continue staking your stack on-chain but keep a little extra liquid by sticking it in the LP. You can earn 54% APY while you wait for one big pump and then withdraw to take advantage of it
Build the future of HIVE - liquidity is vital for HIVE and HBD. This is a decentralized exchange listing (Pancakeswap) and it is just another option for trading HIVE and HBD that can't get delisted. Decentralization is key and decentralizing our liquidity is just another way to become more antifragile
Our focus on building liquidity for bHBD and bHIVE will never end. Be prepared to see even more multipliers flow toward the bHBD-bHIVE vault as well as the stablecoin vault which has been performing astonishingly well: collecting over $200k in total liquidity in less than 6 weeks.
How to Provide Liquidity
Providing liquidity is quite simply. There's a video tutorial on 3speak that shows you exactly how to do it.
The brand new CUB Docs also have some pages to help you out (timestamps in the video):
Wrap HIVE or HBD to bHIVE or bHBD using https://wleo.io
Visit https://cubdefi.com/farms and select the farm drop down that you want to add liquidity to
Click "Get bHBD-bHIVE" (or whatever "get asset pair you selected") and it will direct you to the correct vault page on Pancakeswap
Add liquidity
Return to https://cubdefi.com/farms, approve the deposit LP contract and deposit the LP tokens to start earning yield instantly!
How to Trade
Want to trade bHIVE or bHBD and then unwrap the native asset? Trading is as easy as 1-2-3 and there is often a premium or discount on HIVE/HBD. Meaning, you can buy HBD/HIVE at less than the market (discount) or sell HBD/HIVE higher than the market (premium) depending on the current price.
Select the asset swap dropdown (BNB) and change it to bHIVE or bHBD by searching the name and/or pasting the contract address (listed below)
Swap!
bHIVE Contract: 0x9faf07d1fbc130d698e227e50d1fb72657c0a342
bHBD Contract: 0x874966221020d6ac1aed0e2cfad9cbfee0ba713b

About LeoFinance
LeoFinance is a blockchain-based Web3 community that builds innovative applications on the Hive, BSC, ETH and Polygon blockchains. Our flagship application: LeoFinance.io allows users and creators to engage and share content on the blockchain while earning cryptocurrency rewards.
Our mission is to put Web3 in the palm of your hands.
Twitter: https://twitter.com/FinanceLeo
Discord: https://discord.gg/E4jePHe
Whitepaper: https://whitepaper.leofinance.io
Our Hive Applications
Join Web3: https://leofinance.io/
Microblog on Hive: https://leofinance.io/threads
LeoMobile (IOS): https://testflight.apple.com/join/cskYPK1a
LeoMobile (Android): https://play.google.com/store/apps/details?id=io.leofi.mobile
Delegate HIVE POWER: Earn 16% APR, Paid Daily. Currently @ 2.8M HP
Hivestats: https://hivestats.io
LeoDex: https://leodex.io
LeoFi: https://leofi.io
BSC HBD (bHBD): https://wleo.io/hbd-bsc/
BSC HIVE (bHIVE): https://wleo.io/hive-bsc/
Earn 50%+ APR on HIVE/HBD: https://cubdefi.com/farms
Web3 & DeFi
Web3 is about more than social media. It encompasses a personal revolution in financial awareness and data ownership. We've merged the two with our Social Apps and our DeFi Apps:
CubFinance (BSC): https://cubdefi.com
PolyCUB (Polygon): https://polycub.com
Multi-Token Bridge (Bridge HIVE, HBD, LEO): https://wleo.io
Posted Using LeoFinance Beta
---
---