CARAMEL BROWNIES

Hey Guys!
I hope you are all well here on HIVE and we can reconnect again after my considerably long absence.
Honestly, I did not plan to take such a long time off, but I needed to figure out lots of things. As some of you know, I started a new blog that needed my attention and most importantly, as many of you know am a grandmother. My grandsons are turning five in April 1st and they already started kindergarten last year. We been spending lots of time together, reading, crafting, drawing, and playing.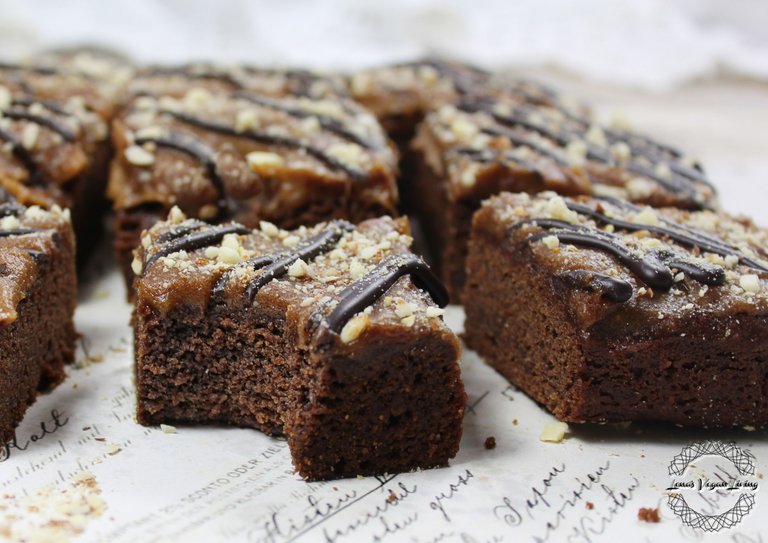 Nevertheless, I am back now, with a new and fresh way to share with you my recipes! Yes, I finally made it happen and I created my first video and more is in the process. Well, I made some short recipe videos before, but I wouldn't really count them.
It may not be perfect, because I am still learning, and it will take a long time before I master it. My son in law downloaded quite challenging video software for me, the "Adobe Premier Pro", but I am having hard time with it. He is helping me, but he is also busy with his construction business, so he has only little time left.
Therefore, I decided to combine the editing part for now on very basic "Windows Video Maker", which I think is fine for now. I guess with the arrival of spring I feel the need to get going again and join the HIVE community.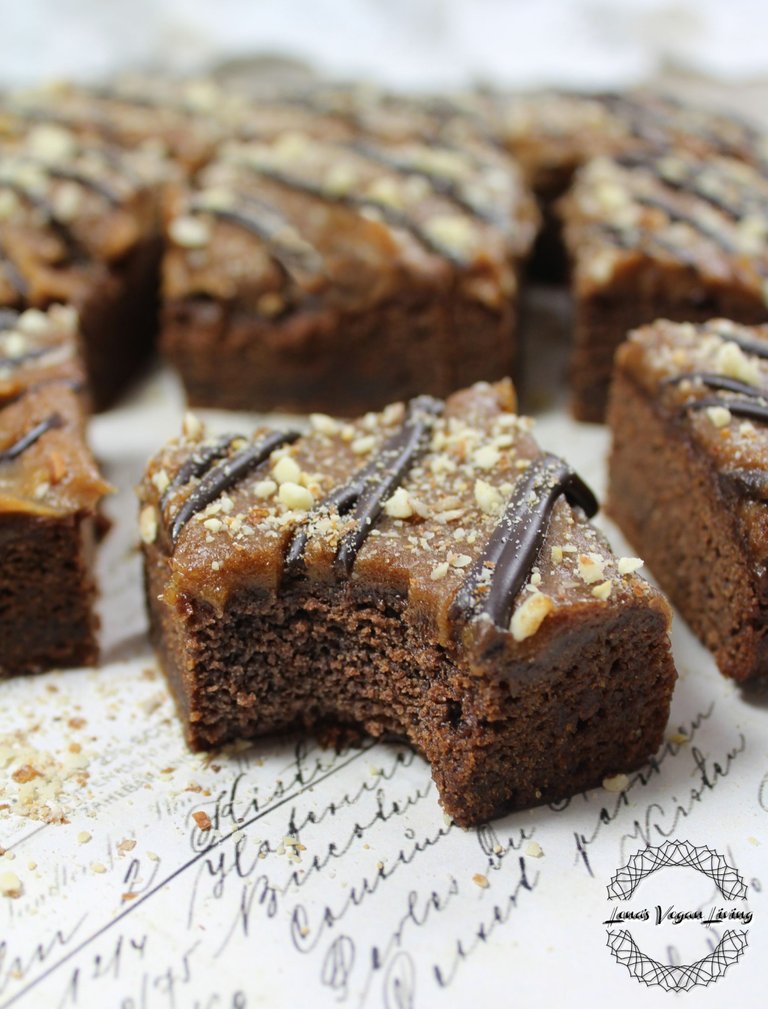 By the way these CARAMEL BROWNIES are absolutely delicious and totally guilt free. What surprised me the most was that both of my daughters loved them and they have completely different likes when comes to sweets. My older daughter likes chocolate and nuts and my younger chocolate and fruits. Yet, neither of them are bog fan of caramel until I introduce them to vegan and practically raw caramel made of Medjool dates. It is definitely must try recipe, not to mention,super easy!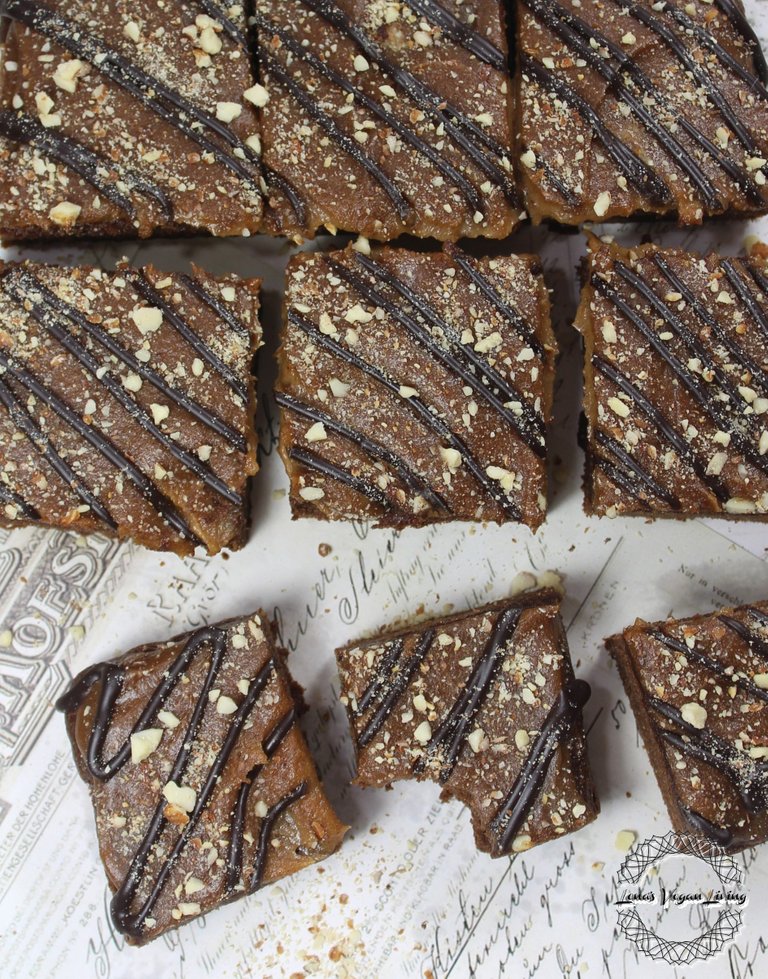 The full recipe and video is here:

CARAMELBROWNIES
Brownies with Caramel Layer,Drizzled with Chocolate and Sprinkled with Almonds are pure delight for your taste buds. They are also easy to make and totally guilt free made of highly nutritious ingredients.
Vegan – Gluten Free –Refined Sugar Free
Prep Time
15 mins
Active Time
30 mins
Bake Time
20 mins
Total Time
1 hr 5 mins
Yield: 9 Author: Lena Novak - Lena's Vegan Living
Equipment
Baking pan 8X8inch, whisk, spatula, blender, double boiler, parchment paper
INGREDIENTS
½ cup coconut oil melted above the steam in double boiler
½ cup raw coconut sugar
1/3 cup maple syrup
1 tsp pure vanilla extract
½ cup cacao powder
¼ cup of almond butter
¾ cup of gluten free mix flour I use Bob's Red Mill
¼ cup of almond flour
1/3 tsp baking powder
Pinch of Himalayan pink salt
½ cup of almond milk
CARAMEL LAYER
1 cup Medjool dates pitted & soaked 15min and rinsed
½ cup plant almond milk
2 tbsp tahini
¼ cup almond butter unsweetened
Pinch of Himalayan pink salt
1 tsp caramel extract
Blend all in a blender until smooth.
CHOCOLATE DRIZZLE
200 gr dark chocolate at least 75%, but I use Lindt 95%
1 tbsp coconut cream
1 tbsp maple syrup
Melt the chocolate including the other ingredients above the steam while stirring with spoon or whisk.
Instructions
Preheat the oven to 350F, 175C
In a large bowl, start whisking coconut butter with maple syrup coconut sugar and vanilla extract.
Whisk until smooth, then add almond butter and whisk well again
Add salt, baking powder and cacao powder and whisk until smooth.
Blend in the almond flour and start adding flour and milk.
Stir thoroughly by using spatula.
Pour the dough to a baking pan lined with parchment paper and smooth out the surface with spatula.
Bake for 20minutes or until the toothpick comes out clean.
When ready, let it cool down for at least 30minues.
Remove from the pan, apply the caramel layer and place into a refrigerator for 30minutes.
Drizzle with chocolate and sprinkle with almonds.
Refrigerate for 2 hours and serve.
DESSERTS WITH CARAMEL YOU MAY ALSO LIKE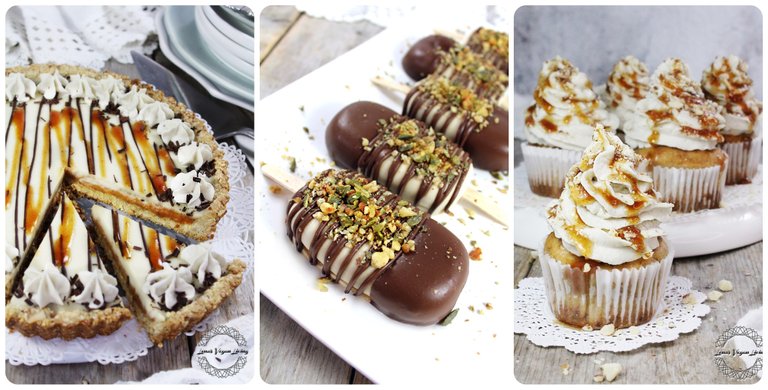 Recipes available on my Blog
Lena's Vegan Living
Thank you for visiting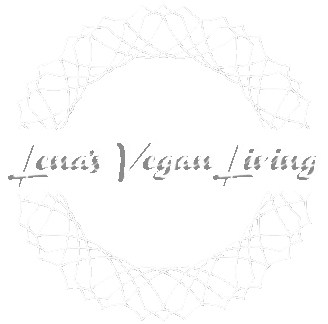 ---
---