I'm Slowly Figuring Out My Art Style; The Progress
Last week, I was talking to myself, talking to myself means inside my mind. I got this click inside my brain that told me that this idea was a good art style. I was experimenting with several art styles for months now. I find my art style normal like "yeah" and I want to sprinkle uniqueness into it.


What I did is I used my emotion to execute that "sprinkle of uniqueness to it". What I observed was when I am mentally emotional I burst my artistic self out like I can't stop until you are satisfied, that is me. Yeah, I find it weird not in a bad way but in a good way. I got this quote from an actor that being weird is not a bad thing it is just you, your character, and that character of yours makes you look special to someone and everyone has a weirdness to themselves too.


At first, I was hesitant again to try this idea of mine. "Oh, will it work this time?" I was encouraging myself by telling myself I can do it and " just trust the process " this sentence really works for me in believing that I can do it. If you absorb that in your mind that will work instantly.


Back to my art.


Practice really does work! But there is still a lot of space needed for improvement and one of my biggest enemies is body anatomy which I am practicing now I am not still confident to go for it. There is this time that I didn't notice that I improve you will just notice when someone told you that or when you go back from your past arts. "Wow! practice really does work".


Like right now, The idea of me writing blogs is one of the scariest things to do. I realize the longer you're writing the more you improve the more natural you are because the more you share a little the natural flow of the sentence you write. People sometimes think that writing a blog is easy, no you need a lot of effort, focus, and time.


This is one of the best art I made this year. This is my new favorite so far. As I am writing this blog I already have an idea for my next piece. I am still thinking about what should I name this art I made. I just name it "portrait". LOL


This time I will explain in as much detail as possible to make this blog worth reading and interesting. I will make a hundred percent best!


---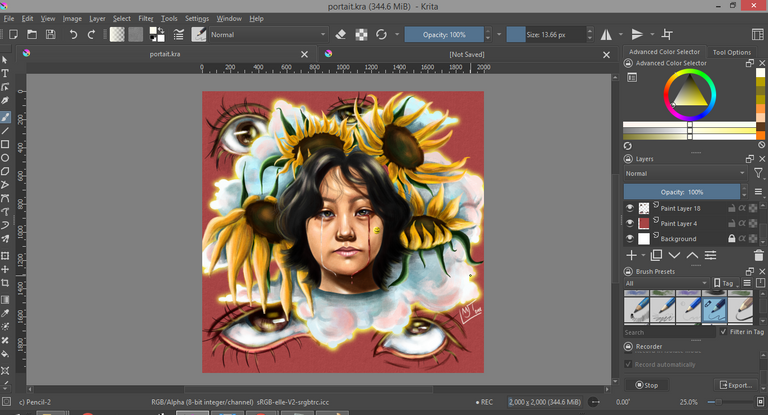 This is the interface of the drawing program I used the name is Krita. Simple easy to understand and the good thing about this is this editor is free, with no monthly fee which is good for me beginner artists like me. Highly recommended! There are a lot of other features too. Maybe in the future, I might write a blog about it.


---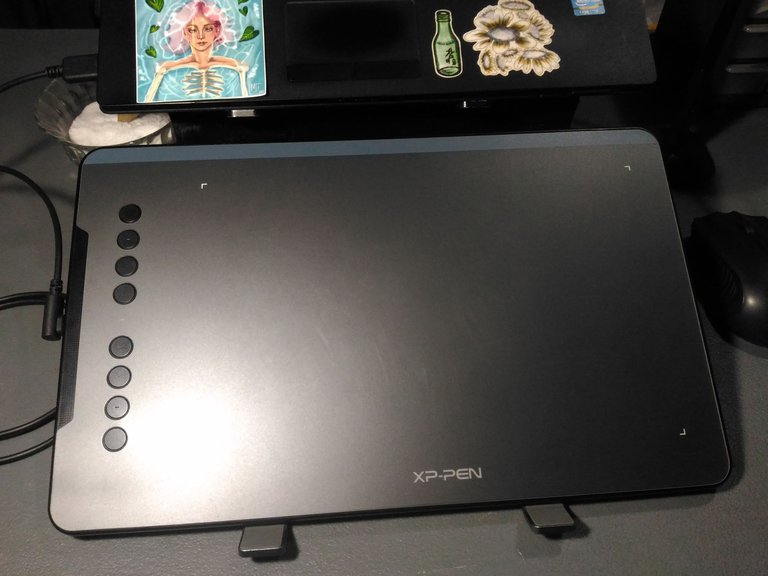 This is the graphic tablet I used to draw. XP-Pen budget-friendly tablet good investment If you are just starting digital art. If you prefer a pen display they sell that too. As I get into digital art I much prefer a pen display easy-to-draw line art. hehe. I am still saving money for that manifesting to get it before the new year. I still have bills to pay. LOL


---
The Idea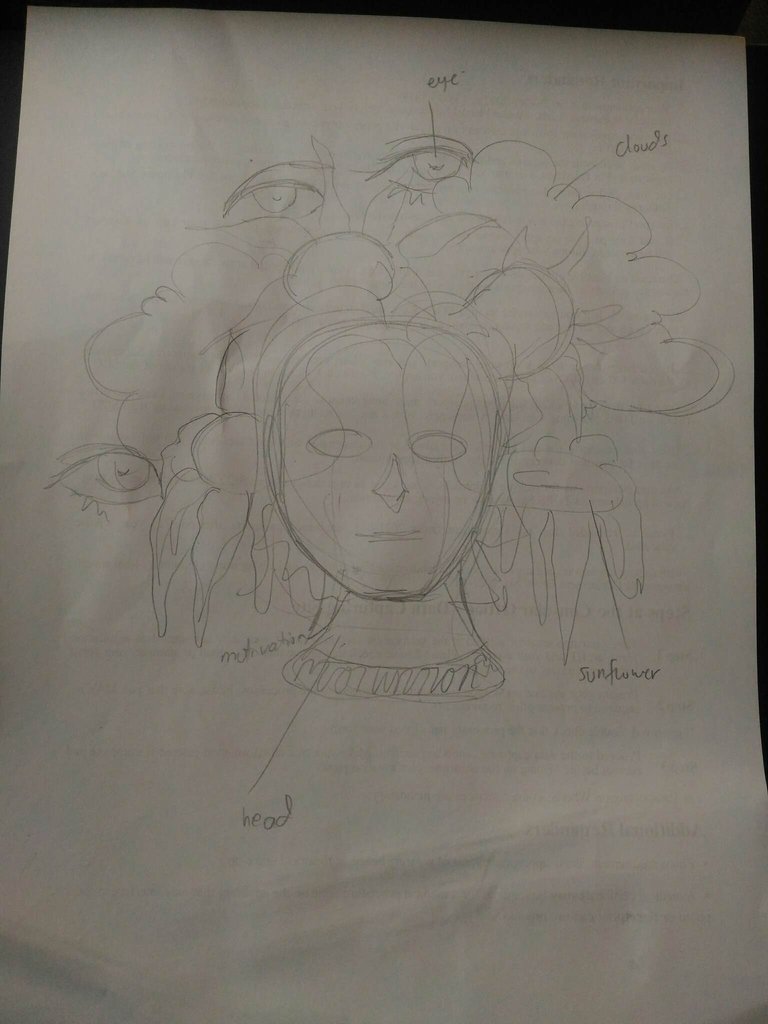 This idea started it all from scratch to digitalize art. As the sketch on the paper, there is this head in the middle, sunflowers, clouds, and eyes. My mind is messed up so what comes out of my mind randomly? At first sight, how will I execute this to be an art? You will see the process of it next.


---
The Process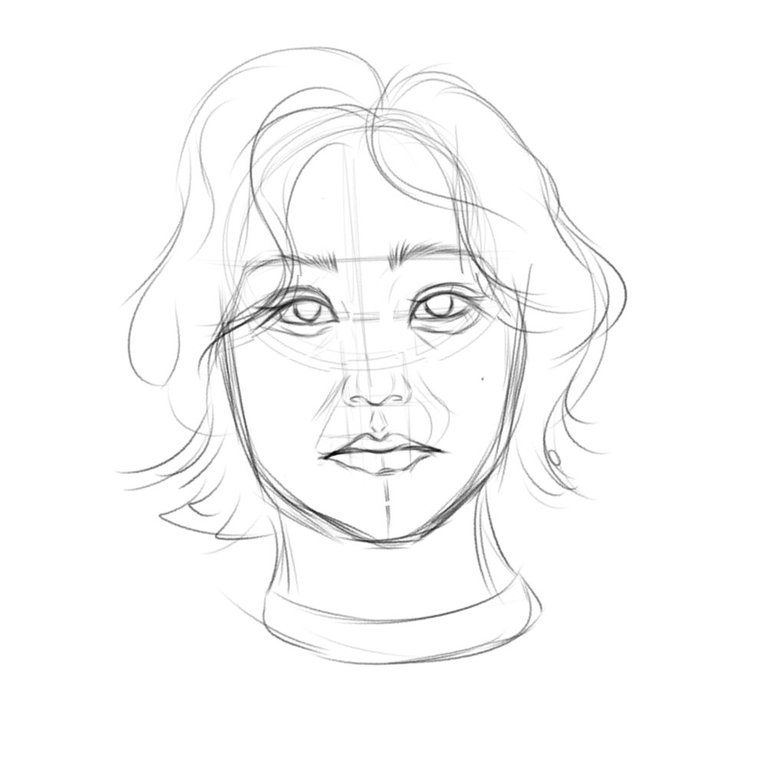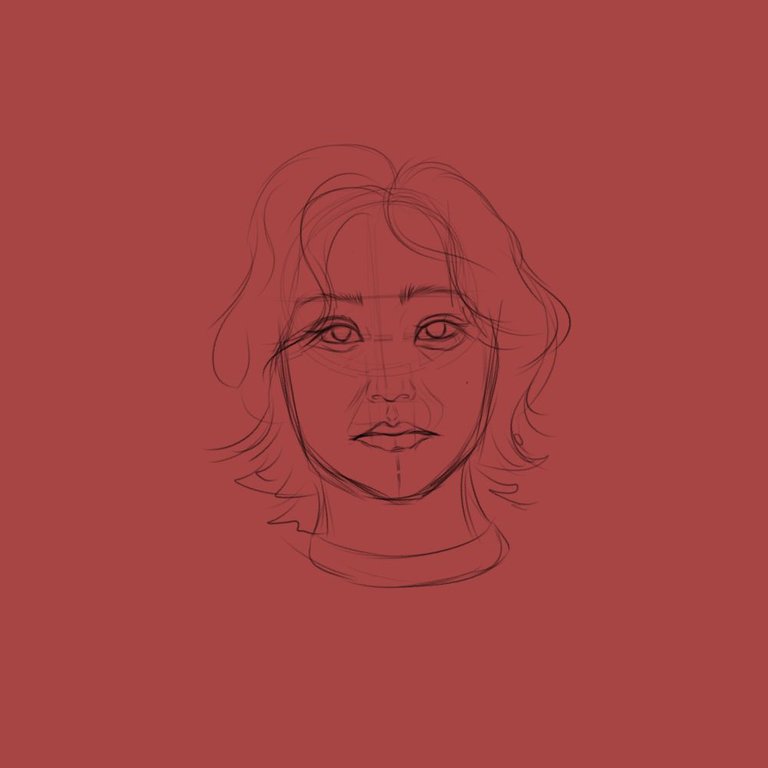 The hardest thing about starting an art is the references so I decided to follow my gut and scroll through my gallery and find a perfect portrait for my art I found something that will represent what I like to portray in my art. I found one that is perfect emotion which looks emotionless.


---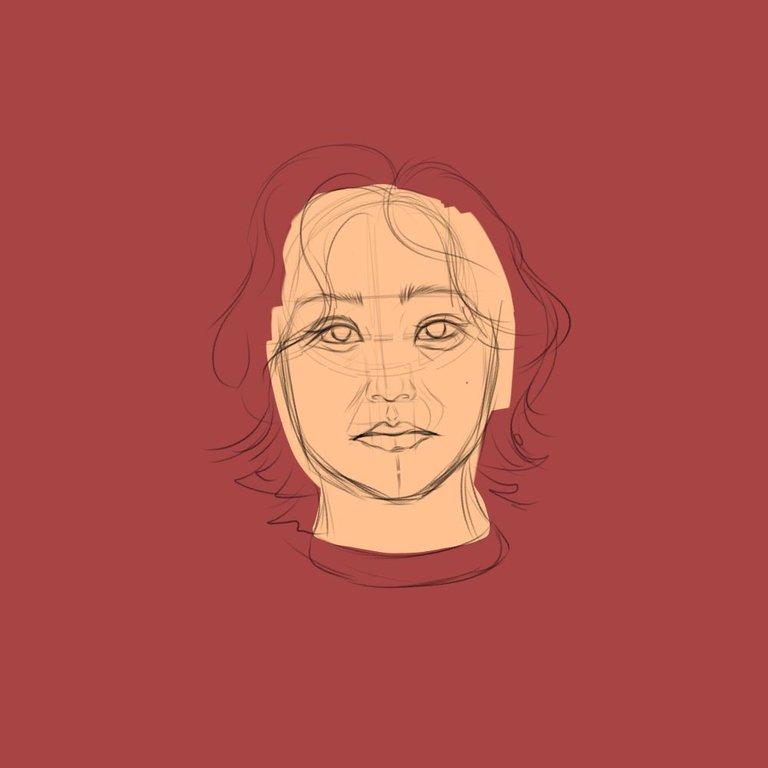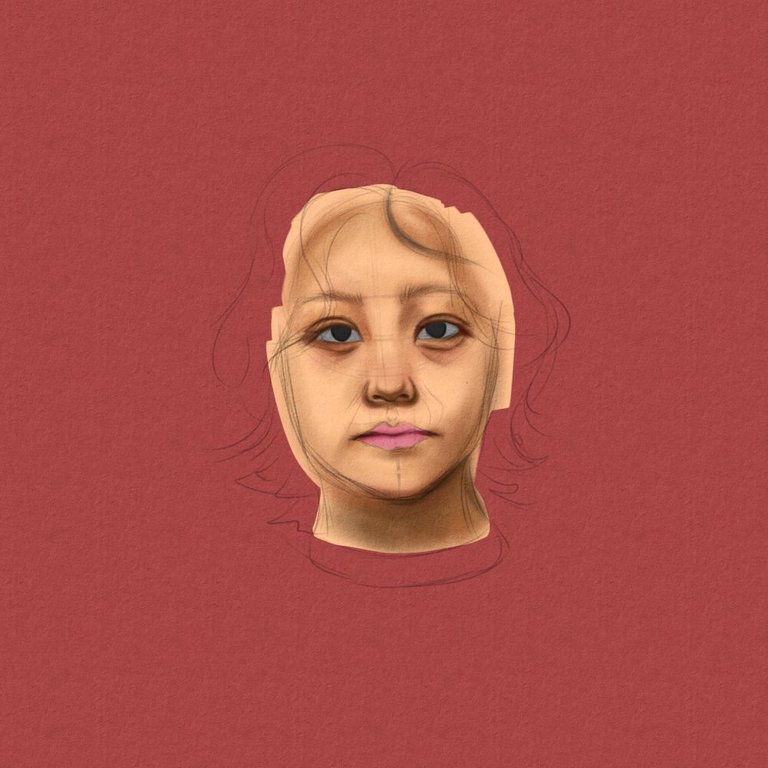 I was rendering the face I knew that this art piece will work so I continue, at first I was doubting but It work so I keep working until ideas pop out one by one.


---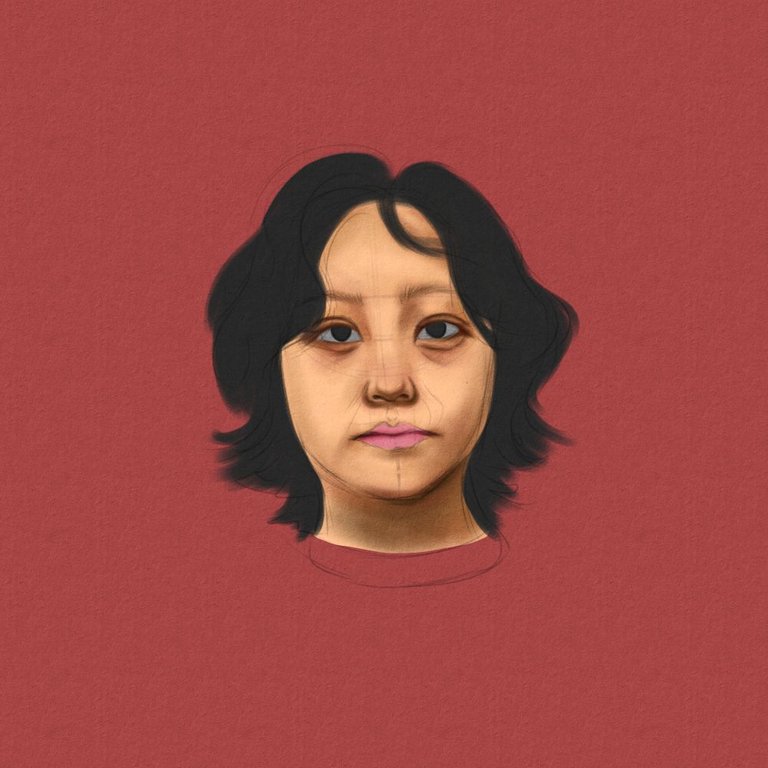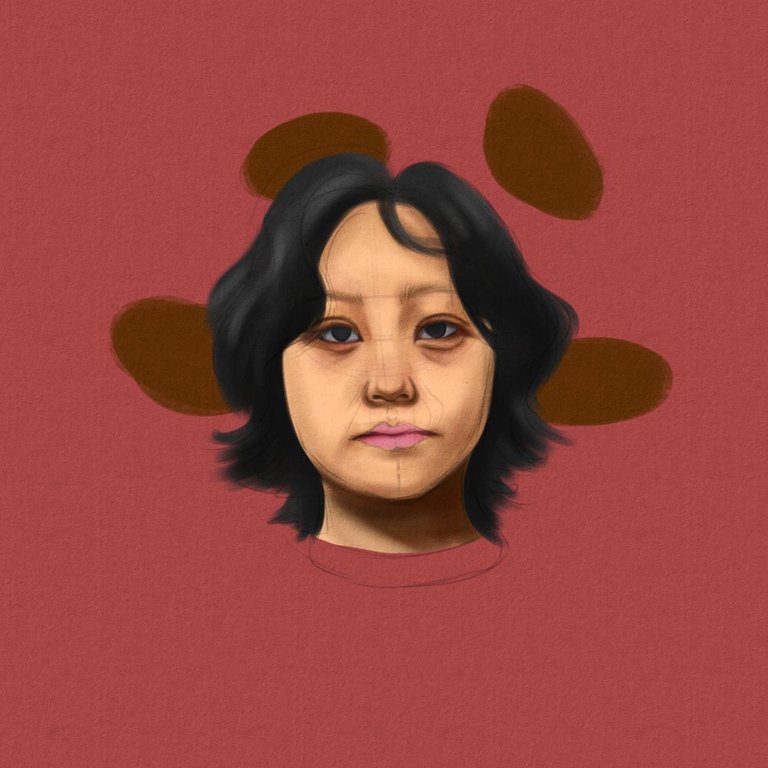 One reason why I choose this portrait as a reference is the way the hair naturally looks like that.


---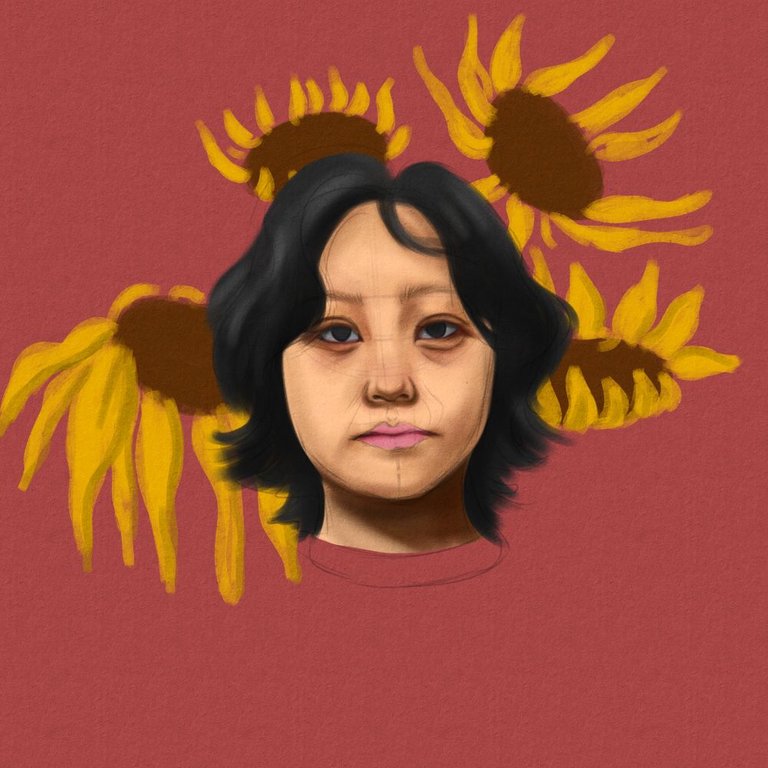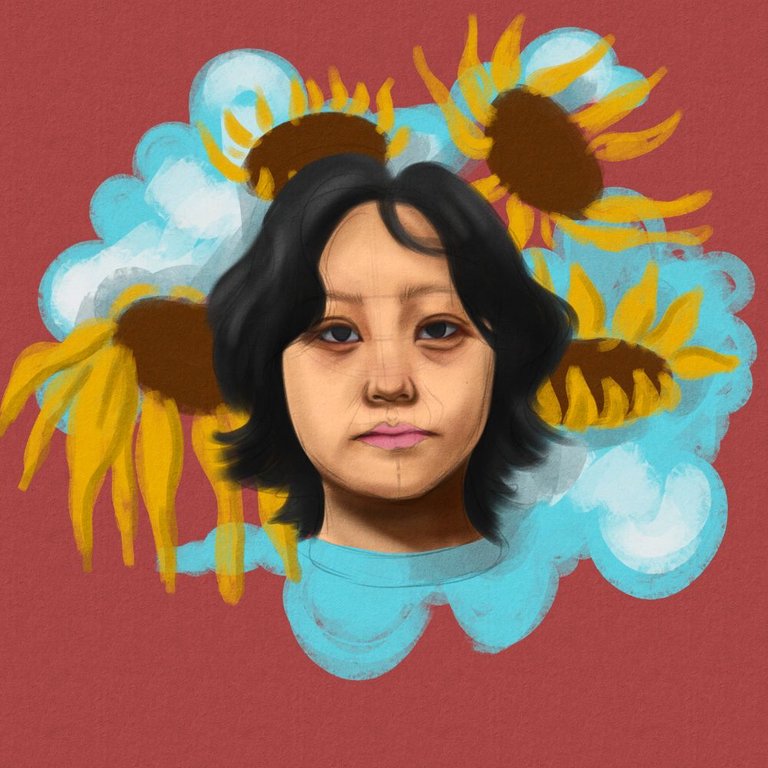 I get obsessed with sunflowers when my cousin requested to draw on one of his notebooks I like the flow of the petals and I have this feeling when I drew sunflowers made me calm. There is not only one kind of sunflower there are different kinds of it. I was going to make the sunflower die here but nahhh I can't. Hehehe.


---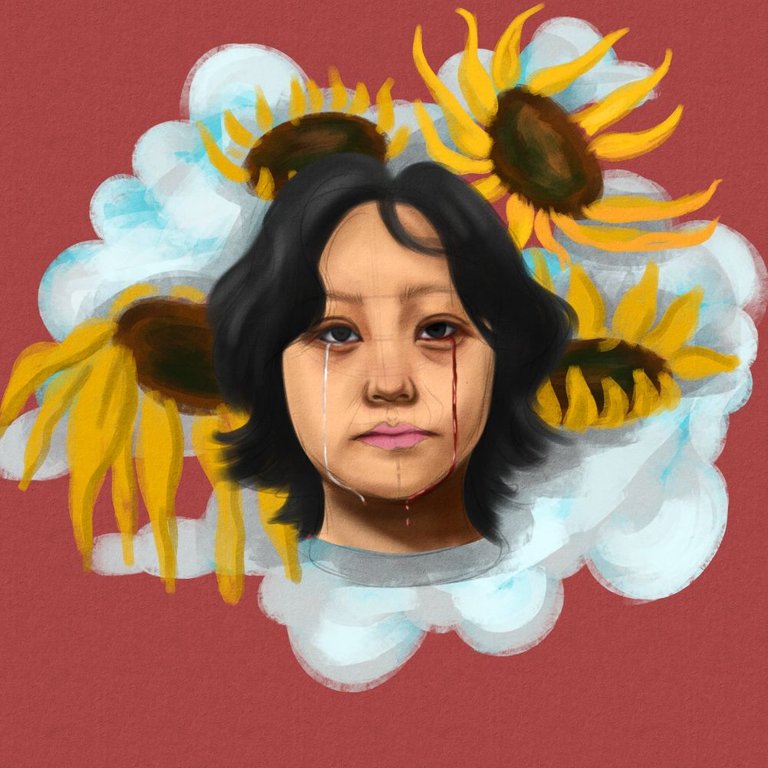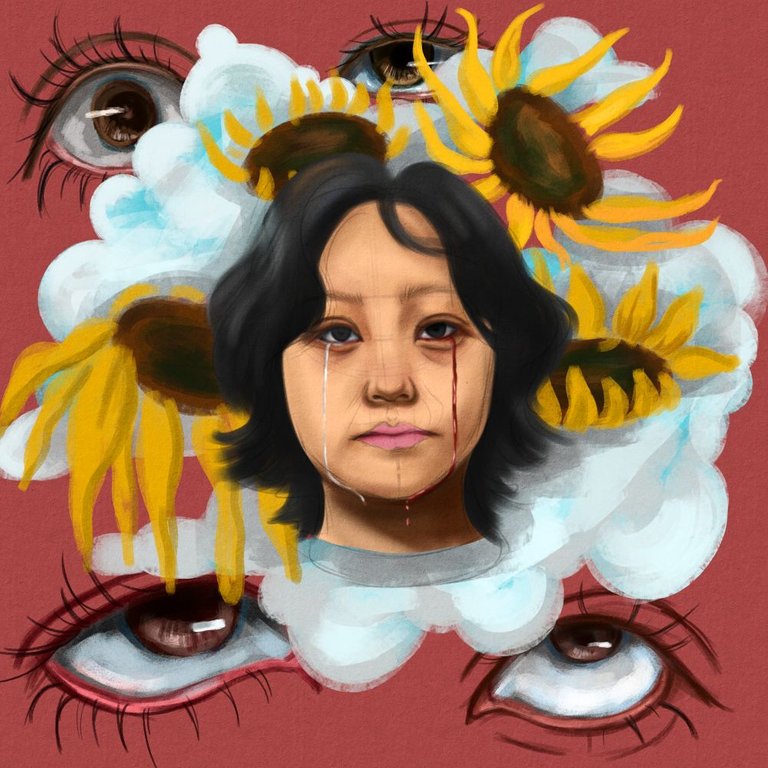 Adding clouds was the best idea for the portrait, It makes the art-filled and the sunflower look like it is floating I guess that's the idea of it I will add more details to it. And the eyes, represent different kinds of emotions which I love.


---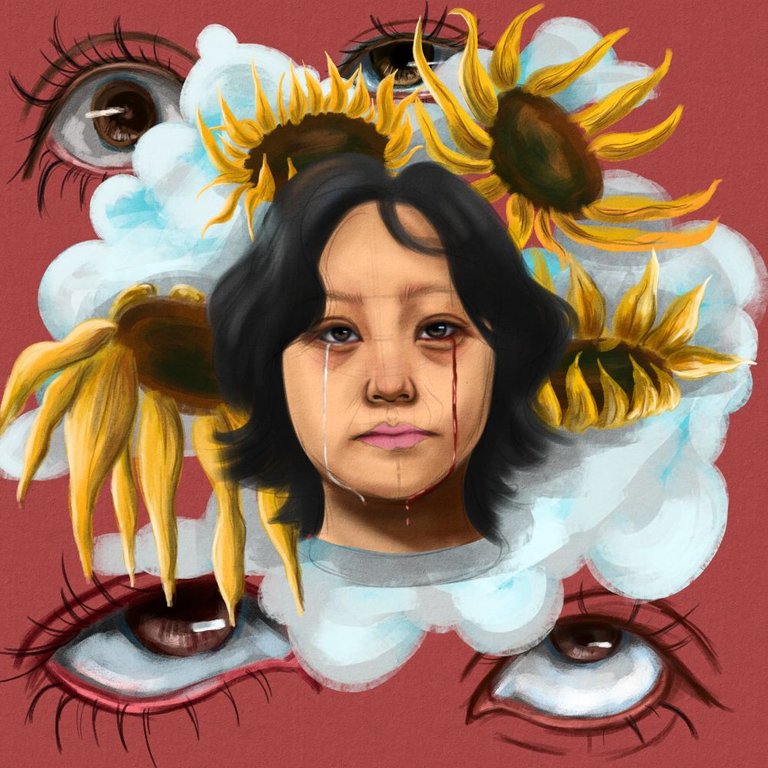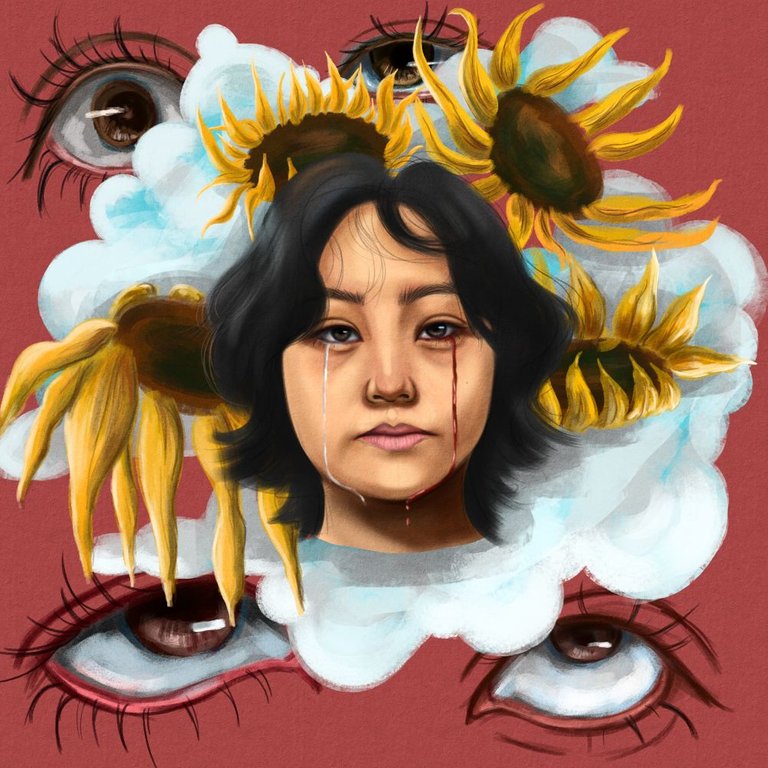 for teared-up eyes, at first, I was just gonna put tears on her left side which base on my research "if the tears dropped on your left side of the eyes it means it is from sadness and if it is on the right side it means happiness. So what I did is I made it more dramatic and more meaningful.


---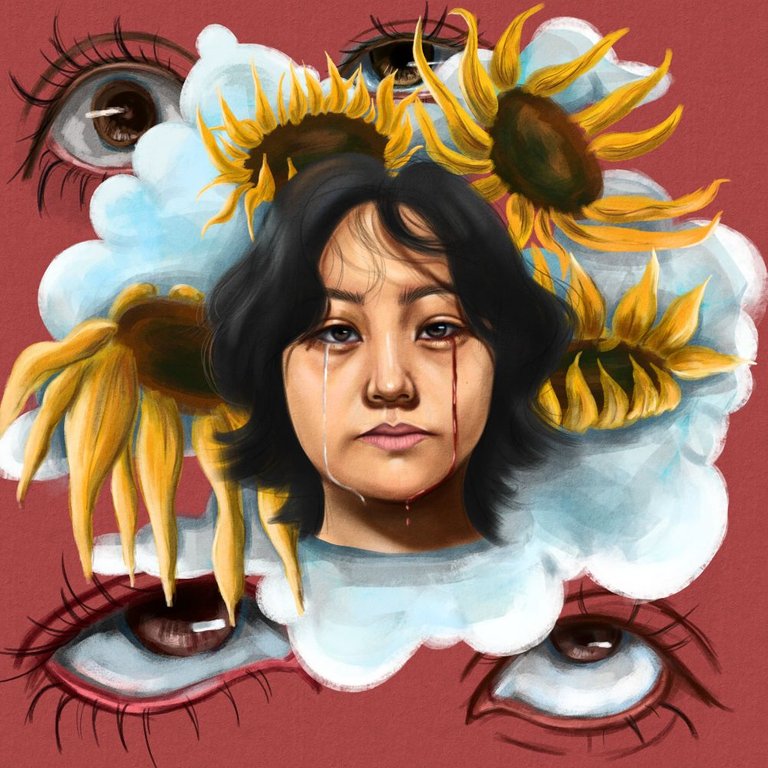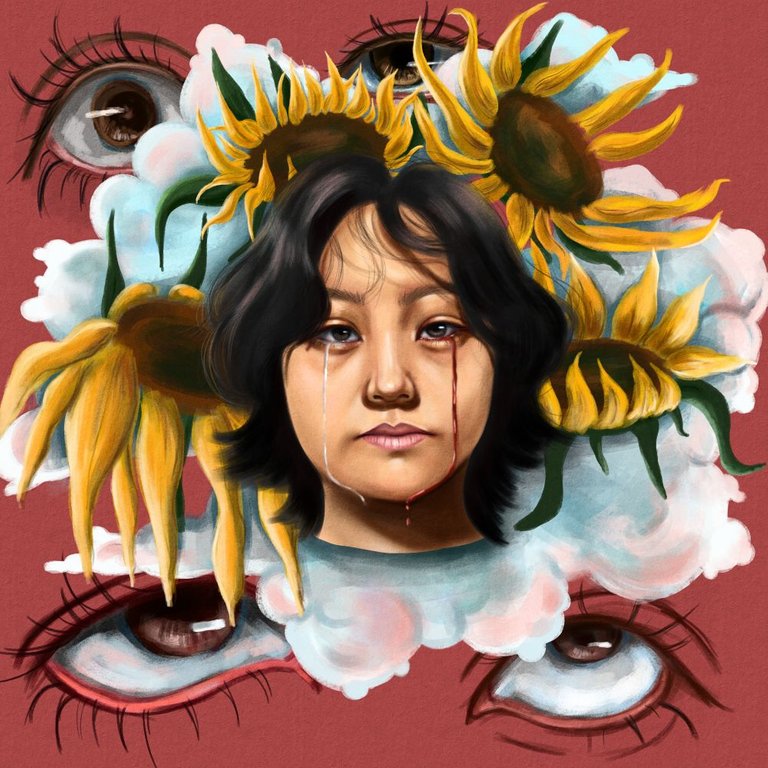 For this part, I focus more on adding details like lighting, shadows, and details on subjects. I added a bract on the sunflowers so they will look more like a sunflower. LOL. And I added more details on the cloud.


---
"Lemme try to add lighting on the cloud" adjust this adjust that. I was like woooow~~~ looks good "Imma keeps you~~" hehe and I added a little smiley sticker to her left side to I forgot the meaning behind it so it was like " Always a smile covers up behind the pain".


---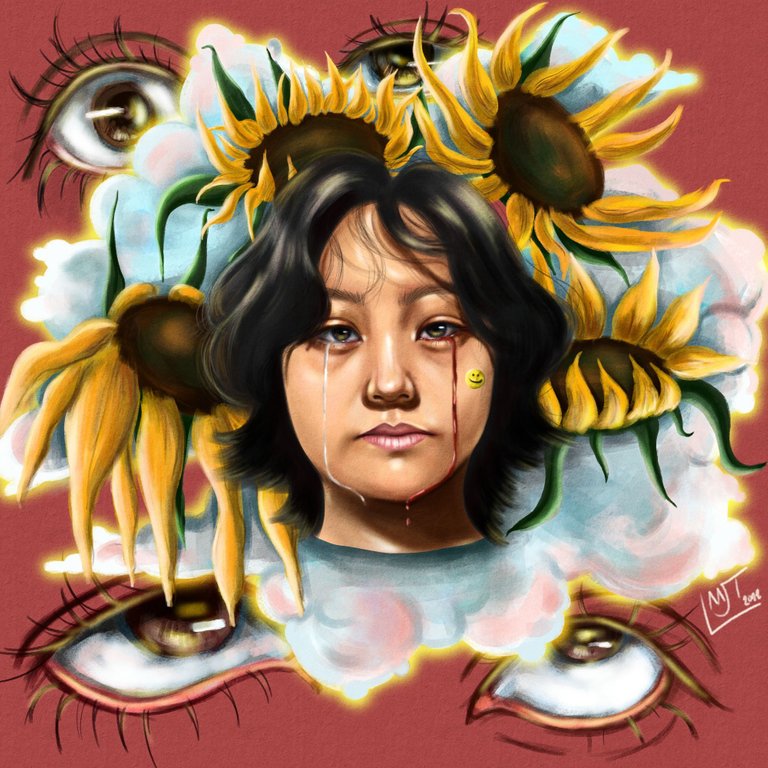 ---
I enjoyed making this art piece. You can make art if you believe you can do it. Sometimes I blame the materials I used, but I realize I am the one to blame because not believing you can do something will never go well. I was too late to realize that I like art. I wanted to be serious about it; "Artblock" is my number one problem. I once had an art block for a month or more. I can't draw anything because it's always trash for me; like, seriously, my materials are begging me to use them. As I remember, there is this someone who inspires me to draw again, and yeah, maybe this art block for me is a seasonal thing. Sometimes I have this idea while I am out and then forget to take note, and that idea will be forgotten forever, so when I go out and a sudden idea pops into my mind, I tend to take note of it. Forcing yourself to draw can also work, such as when you hate it at first but see the progress that makes you unconsciously enjoy it, and you're done. Art is unconditional love for me. LOL
---
THANK YOU
---
---
---