Amazon Fire Stick TV | Unboxing

---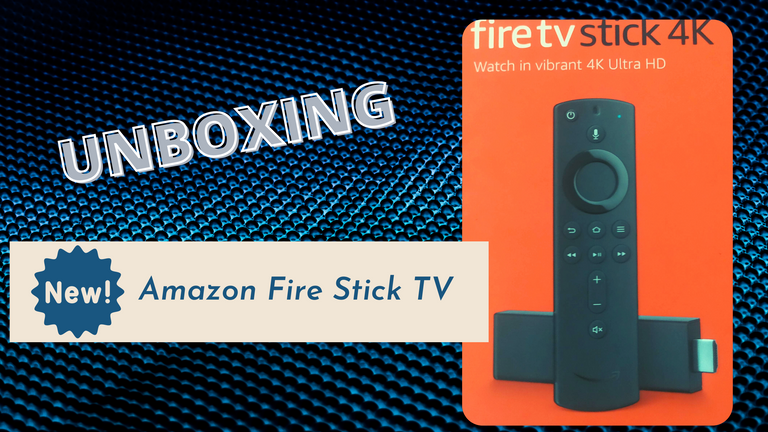 A few days ago I added to my devices a new one that I wanted for a long time. Everyone knows well that I am an inveterate cinephile, that I love to watch movies and series, but to do so I had to connect the TV to the laptop and really there was not much problem except when I wanted to play, or just did not want to connect the laptop. Something that also gave me tediousness was when I wanted to change, volume up and down, change movies, or anything else, I had to stand up and do it all with the mouse and it was really annoying. So I started to find out about some devices that turn our TVs into Smart TVs.
Hace unos días agregué a mis dispositivos uno nuevo que quería desde hace mucho tiempo. Todos saben bien que soy una cinefila empedernida, que amo ver películas y series, pero para hacerlo tenía que conectar el televisor a la laptop y realmente no había mucho problema salvo en el momento que quería jugar, o que simplemente no quería conectar la laptop. Algo que tamién me daba tedio era cuando quería cambiar, subir y bajar volumen, cambiar de pelicula, o cualquier otra cosa, tenía que pararme y hacerlo todo con el mouse y era realmente fastidioso. Así que empecé a averiguar acerca de unos dispositivos que convierten nuestros televisores en un Smart TV.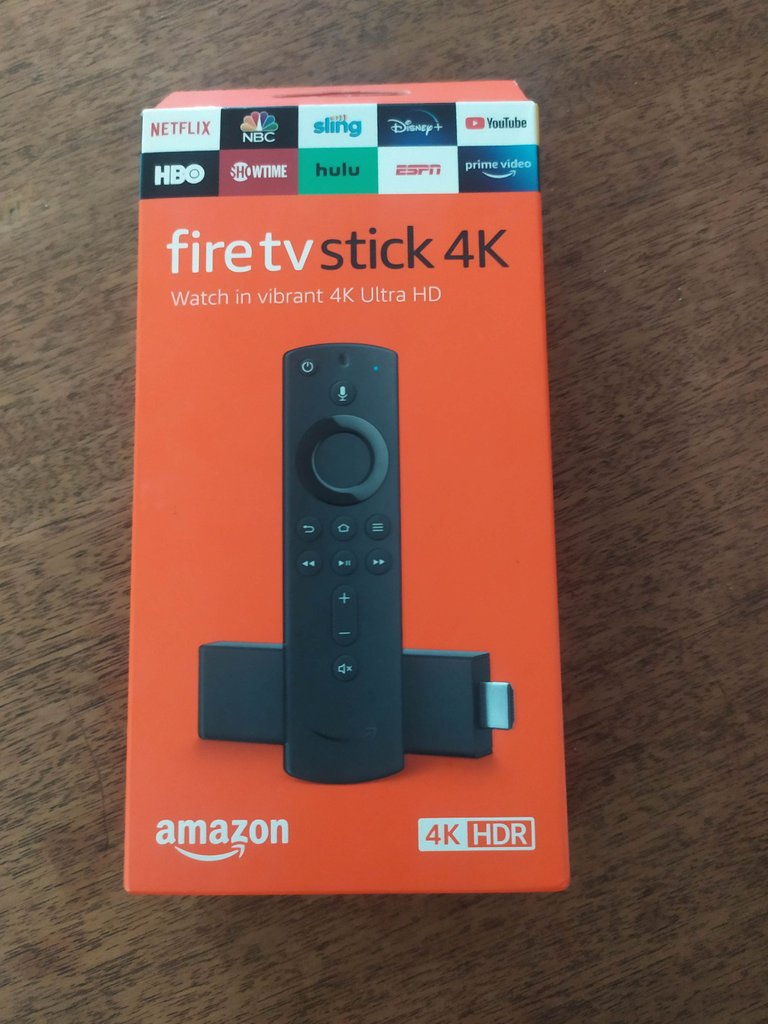 After exhaustive research and investigating which of the best models I had at hand, I decided on one. The models to choose from were between a TV Box, which although a friend recommended to me when I went to YouTube comparisons, they all said: "Run away! So I kept researching: Xiaomi TV Stick, I didn't get it, so I passed on this one. Then I found a store that sold: Roku Express, Google Chromecast, and three models of Amazon's Fire TV Stick, with few differences between them all.
Luego de una investigación exhaustiva, y de investigar cual de los modelos que tenía a la mano era el mejor, me decidí por uno. Los modelos a elegir estaban entre un TV Box, que aunque me lo recomendó una amiga, cuando fui a las comparaciones de YouTube, en todas me decían: "¡Huye!". Así que seguí investigando: TV Stick de Xiaomi, no lo conseguí,así que pasé de este. Luego encontré una tienda en la que se vendía: Roku Express, Google Chromecast y tres modelos del Fire TV Stick de Amazon, con pocas diferencias entre todos.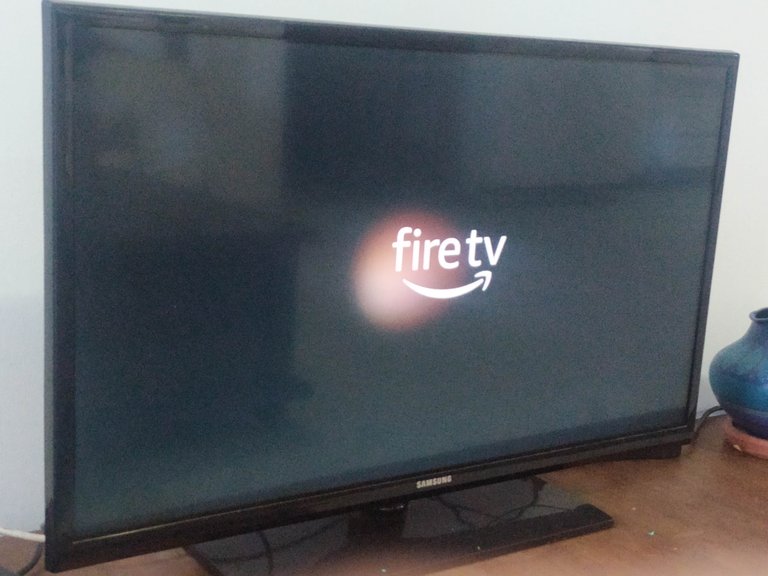 The Roku is great, but I had to create a VPN account to be able to connect the device here in Venezuela. The Chromecast is an excellent option, but it doesn't come with remote control, you can operate it with your cell phone, but when there are kids in the house, who want to change what you are watching, you will never want to lend your cell phone every half hour to switch from Sonic to Avatar! So I was left with the three models of the Fire Tv, and I went with the middle option, priced at $50, and not only does it have a remote control to control the apps, but I can also turn off the TV and control the volume of the TV.
El Roku, genial, pero tenía que crear una cuenta con VPN para poder conectar el aparato acá en Venezuela. El Chromecast es una excelente opción, pero no trae control remoto, lo puedes manejar con tu móvil, pero cuando hay niños en la casa, que quieren cambiar lo que estás viendo, ¡nunca vas a querer prestar tu celular cada media hora para camiar de Sonic a Avatar! Así que me quedaban los tres modelos del Fire Tv, y me quedé con la opción media, con un precio de 50$, y no solo tiene un control remoto para controlar las aplicaciones, sin que también puedo apagar la tele y controlar el volumen de esta.
This device has several parts:
Fire Stick TV 4K
Remote Control.
Power converter.
USB cable.
HDMI adapter
AA batteries
Installation manual.
Este dispositivo tiene varias partes:
Fire Stick TV 4K
Control Remoto.
Conveertidor de energía.
Cable USB.
Adaptador HDMI
Baterías AA
Manual de instalación.
---
The installation is quite simple, you just need to have a TV with HDMI input, connect the Fire Stick to this input and connect using the USB cable to a power outlet. To log in you only need WiFi, an Amazon account, and from this, you manage the rest of the streaming accounts. You can have Netflix, Disney+, and obviously amazon prime, among others. In addition, it has applications where you can watch TV for free.
La instalación es bastante sencilla, solo debes tener un televisor con entrada HDMI, conectar el Fire Stick a esta entrada y conectar con el uso del cable USB a un tomacorriente. Para ingresar solo necesitas WiFi, una cuenta de Amazon y a partir de esta manejas el resto de las cuentas de streaming. Puedes tener Netflix, Disney + y obviamente amazon prime, entre otros. Además, tiene aplicaciones en las que puedes ver televisión gratis.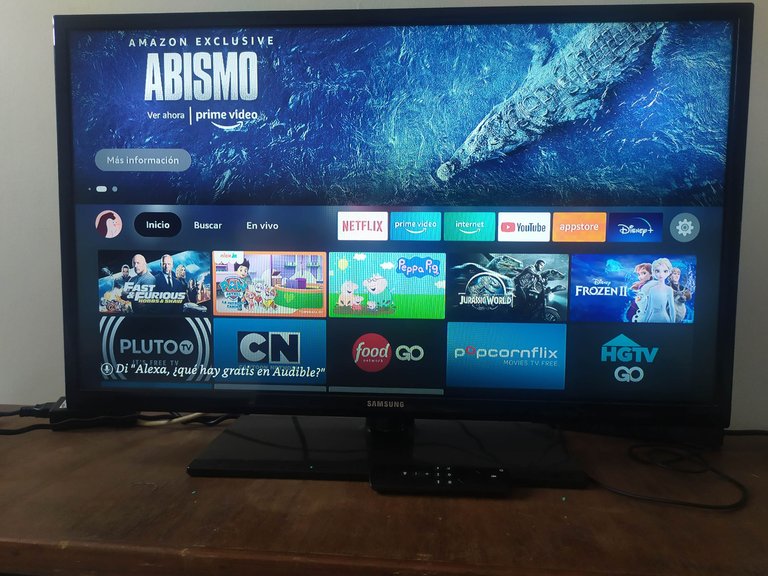 In this week that I have been able to access, I have been captivated by this marvel. I am thinking of making a publication of the experience I have had because, in addition to all the advantages I have already described, it has integrated Alexa, which helps me a lot when I do not want to write a title. If you want to turn your TV into a Smart Tv and you have internet, this is a perfect option to facilitate the way we watch TV.
En esta semana que he podido acceder, he quedado prendada de esta maravilla. Estoy pensando en hacer una publicación de la experiencia que he tenido, porque además de todas las ventajas que ya describí, tiene integrada a Alexa, que me ayuda muchísimo cuando no quiero escribir un título. Si quieren convertir su televisor en un Smart Tv ytienen internet, esta es una opción perfecta para facilitar la manera en que vemos televisión.

Video y fotos realizadas con un Redmi Note 7.
Banner y footer realizado con Canva.
---
▶️ 3Speak
---
---