Food for Delivery: Bonsai Sushi
Don't you find that there are days when you don't want to do anything to cook? Well, it happens to me very often so I resort to the (risky) practice of ordering food for delivery, and lately it has been more and more constant for different reasons; tiredness could be the main reason, but it is not.
¿No les pasa que hay días en que no quieren hacer nada para cocinar? Pues a mí me pasa muy seguido así que recurro a la práctica (arriesgada) de pedir comida por delivery, y últimamente ha sido cada vez más constante por diferentes razones; el cansancio pudiera ser la principal razón, pero no lo es así.
With the constant problem of the lack of domestic gas, I have had to cook on an electric stove, which although it is quite fast, it is still only one and the time is not enough, so I get lazy just thinking about spending 4 hours making a lunch of various preparations, so this is one reason. The other reason is a more important one: power failures and blackouts, there was a day when a power phase went out in my building and the voltage was very low, I spent 8 hours making chicken soup, so when these failures and blackouts happen close to lunchtime, I call my delivery and order food. Sounds simple, but it's not either; ordering food during a power outage also means I have to go down 12 floors to get the food and back up again, so I think long and hard about it. And there are days when it just triggers me, as in this case, I wanted to eat some nice sushi. So I've decided to make several posts where I'll review everything I order.
Con el problema constante de la falta de gas doméstico he tenido que cocinar en una hornilla eléctrica, que aunque es bastante rápida,sigue siendo sólo una y el tiempo no me rinde, así que me da flojera solo de pensar en pasar 4 horas haciendo un almuerzo de varias preparaciones, así que esta es una razón. La otra razón es una más importante: fallas eléctricas y apagones, hubo un día en que se fue una fase de luz en mi edificio y el voltaje estaba muy bajo, pasé 8 horas haciendo una sopa de pollo, así que cuando estas fallas y los apagones ocurren cerca de la hora de comer, llamo a mi delivery y ordeno comida. Suena sencillo, pero tampoco lo es; ordenar comida durante un apagón significa también que tengo que bajar 12 pisos para buscar la comida y volver a subir, así que lo pienso detenidamente. Y hay días en que simplemente me provoca, como en este caso, que quería comer un rico sushi. Así que me he decidido a hacer varias publicaciones en donde reseñaré todo lo que pido.
Today I bring you something that I am determined to learn how to make: sushi. This time I ordered from a well-known restaurant, an Asian food chain from all over the country with its own delivery service; I got them looking for their social networks and then ordered directly by WhatsApp. To access their social networks just go to https://www.instagram.com/bonsaisushive/ and get their direct contact link.
El día de hoy les traigo algo que estoy decidida a aprender a hacer: sushi. En esta oportunidad pedí en un restaurant bastante conocido, una cadena de comida asiática de todo el país que tiene su propio servicio de delivery; los conseguí buscando sus redes sociales y luego hice el pedido directamente por whatsapp. Para acceder a sus redes sociales solo deben ingresar a https://www.instagram.com/bonsaisushive/ y obtener su link de contacto directo.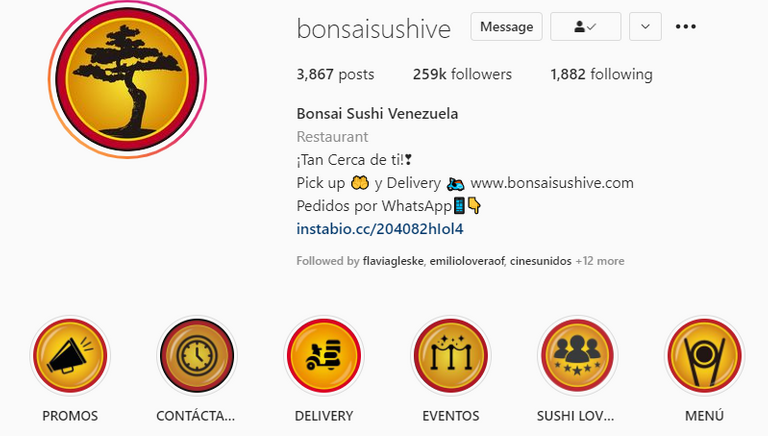 I wrote directly to their WhatsApp and they sent me the menu in a PDF file. It was honestly fast, in 30 minutes and my beautiful bag was in my hands, they are quite dedicated, and even a little note with your name stapled on the bag.
Les escribí directamente a su whatsapp y me enviaron el menú en un archivo PDF. Fue sinceramente rápido, en 30 minutos ya mi hermosa bolsita estaba en mis manos, son bastante dedicados y hasta una notita con tu nombre grapan en la bolsita.
I never imagined that the presentation would be so beautiful, the sushi was in a cute little plastic boat!
Jamás me imaginé que la presentación iba a ser tan hermosa, ¡el sushi estaba en un barquito de plástico demasiado lindo!
Although it seemed like a lot, I only ordered 4 things:

1 Wakame salad: I love it and couldn't leave it out.

1 Tigger Roll special for Alejandro: it is a tempura roll breaded with crab, kampache, cream cheese, and eel sauce.

1 Mixed Roll (the little boat) with California roll, tuna TekkaMaki, nigiri: tuna, salmon, shrimp, crab and white fish, squid Gunkan, and eel sauce.
Aunque pareciera muchísimo, solo pedí 4 cosas:

1 ensalada Wakame: me encanta y no la podía dejar por fuera.

1 Tigger Roll especial para Alejandro: es un roll tempurizado y empanizado con cangrejo, kampache, queso crema con salsa de anguila.

1 Roll Mixto (el barquito) que trae: California roll, TekkaMaki de atún, niguiris: atún, salmón, langostino, cangrejo y pescado blanco, Gunkan de calamar y salsa de anguila.
---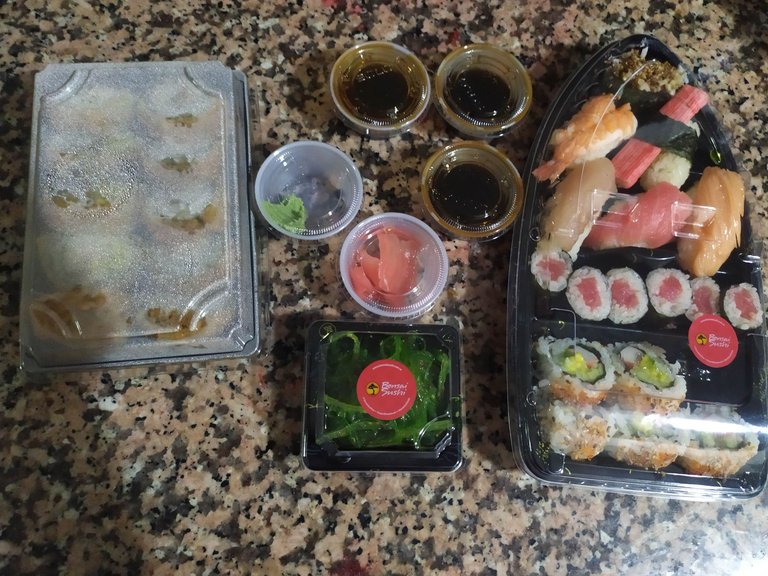 Everything was delicious, but there were only two of us and we couldn't handle it in one meal, but I would go back and forth to get some extra rolls after eating. The only thing I have to say against this service was: they forgot the chopsticks! I had to eat wakame with a fork, I notified them what happened and they immediately replied that they would fire the person in charge of doing it, obviously, I told them that it was not necessary, that I was just notifying them so they would be more attentive in the future.
Todo estaba delicioso,pero solo eramos dos y no pudimos con esto en una sola comida, pero iba recurrentemente a buscar algún roll extra luego de comer. Lo único en contra que tengo que decir de este servicio fue: ¡se olvidaron de los palillos! Tuve que comer wakame con un tenedor, les notifiqué lo sucedido y enseguida me respondieron que despedirían al encargado de hacerlo, obviamente les dije que no era necesario, que solo les notificaba para que estuvieran más pendientes en el futuro.
Would I order here again? Not only would I do it again, I already have. Thanks for reading this little review and be prepared for the next one.
¿Volvería a pedir aquí? No solo lo haría otra vez, es que ya lo hice. Gracias por leer esta pequeña reseña y estén preparados para la próxima.

Fotos tomadas por mi con Redmi Note 7.
Banners y Footers editados con Adobe Spark Post.
---
---