A day with me in Genshin Impact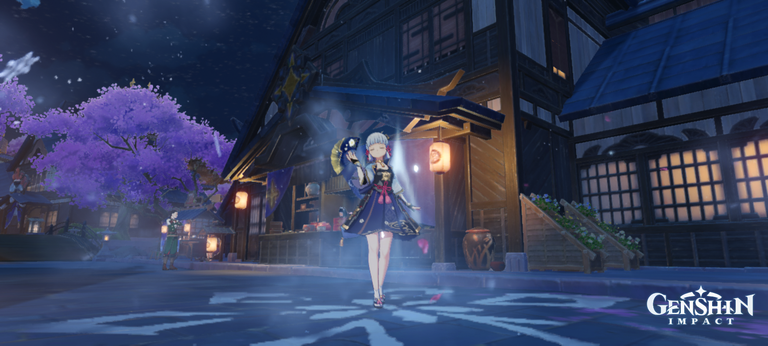 ¡Hola, mis gamers bonitos de Hive! Hoy les traigo un gameplay para mostrar lo que sería una mañana común para mí. Lo primero que hago al despertarme es tomar ni celular y empezar a jugar Genshin. Y aunque ya tenía mucho rato jugando antes de grabar, decidí hacerlo haciendo las quests diarias y aprovechando de matar uno que otro espectro que se me apareciera en el camino.
Hello, my beautiful gamers of Hive! Today I bring you gameplay to show you what an ordinary morning would be like for me. The first thing I do when I wake up is to take my phone and start playing Genshin. And although I had already been playing for a long time before recording, I decided to do the daily quests and kill one or another specter that appeared on my way.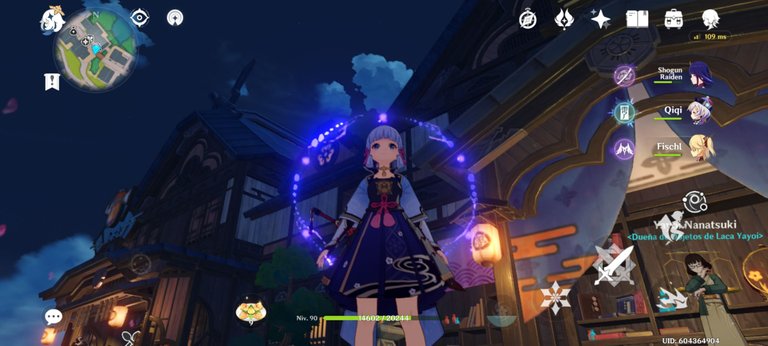 En esta oportunidad estoy haciendo las quests del día en la región de Inazuma, y lo hago precisamente porque necesito recoger materiales para ascender el nivel y los talentos de mis personajes. Hoy me concentré en buscar espectros porque me dan un material para subir específicamente a Kokomi, un nuevo personaje que obtuve cuando terminó el banner pasado. Es por esto que el vídeo es un poco largo, pero no importa mucho, porque sé que lo verán todo (ja,ja,ja).
This time I'm doing the quests of the day in the Inazuma region, and I'm doing it precisely because I need to collect materials to level up my characters and their talents. Today I focused on looking for wraiths because they give me material to specifically level up Kokomi, a new character I got when the last banner ended. That's why the video is a bit long, but it doesn't matter much, because I know you'll see it all (ha, ha, ha).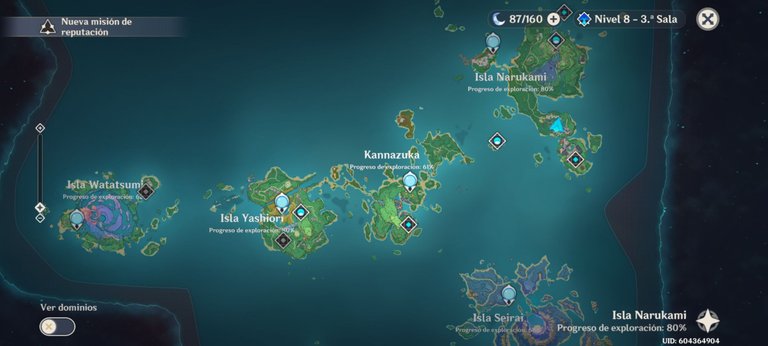 El equipo que he llevado conmigo ha sido en la primera parte: Shogun Raider, Ayaka, Qiqi y Venti, luego como sabía que necesitaba un personaje para derrotar a los espectros más rápido, cambié a Venti por Fischl. Fischl es una de mis personajes support favoritos porque cuenta con Oz, que va haciendo daño mientras cambio de personajes, lo que me permite más reacciones elementales. La dificultad de estos espectros reside en que al volar, es difícil que un personaje con espadas, lanzas o mandobles, puedan hacer daño, la única manera es esperar que bajen a tierra, lo que hace que el combate sea más largo. Así, con Oz atacando, y los demás personajes haciendo reacciones elementales, el combate es mucho más veloz, así como pueden verlo en el video.
The team I took with me in the first part was: Shogun Raider, Ayaka, Qiqi, and Venti, then as I knew I needed a character to defeat the wraiths faster, I changed Venti for Fischl. Fischl is one of my favorite support characters because he has Oz, which deals damage as I switch characters, allowing me more elemental reactions. The difficulty with these wraiths is that when flying, it's difficult for a character with swords, spears, or commanders to do damage, the only way is to wait for them to come down to the ground, which makes the fight longer. So, with Oz attacking, and the other characters doing elemental reactions, the combat is much faster, as you can see in the video.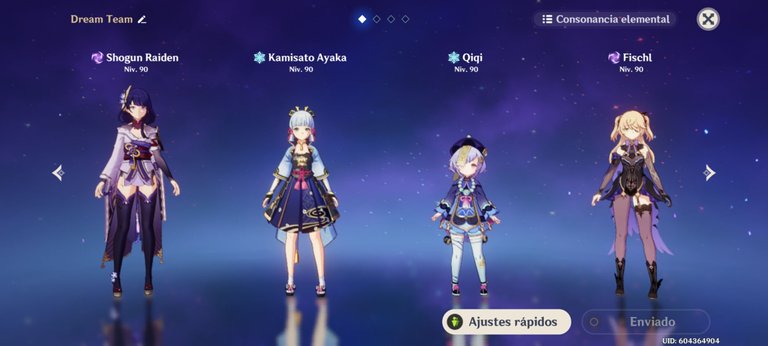 Otra cosa que no había considerado es que al final jugué con dos personajes Cryo y dos Electro, lo que les da un porcentaje de bono que les muestro en la captura: Cuando tienes dos electro, reduce al 40% la duración del efecto de hydro, y cuando tengo dos Cryo se reducen los efectos de Electro. Como lesdije anteriormente, esta publicación es solopara mostrarles un poco de lo que hago en Genshin Impact, próximamente les estaré mostrando como busco materiales y además, les debo una megaflora Cryo.
Another thing I hadn't considered is that in the end, I played with two Cryo and two Electro characters, which gives you a bonus percentage that I show you in the screenshot: When you have two Electro, it reduces the duration of the Hydro effect to 40%, and when I have two Cryo, the Electro effects are reduced. As I said before, this post is just to show you a little bit of what I do in Genshin Impact, soon I will be showing you how I look for materials, and also, I owe you a Cryo megaflora.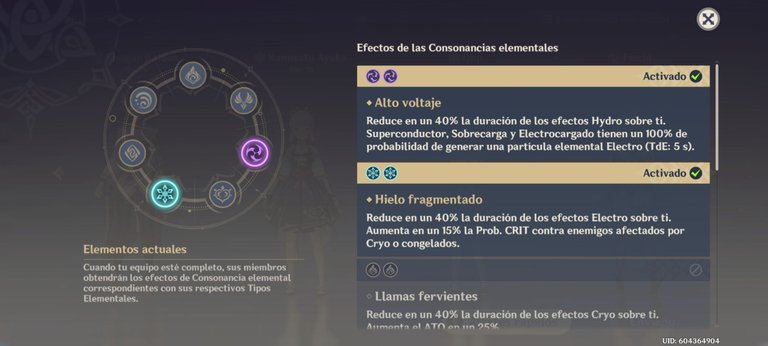 A continuación le dejo el Gameplay de mi publicación, espero que lo disfruten. Hasta la próxima.
Here is the Gameplay of my publication, I hope you enjoy it. See you next time.
---
Están todos invitados a formar parte de la genial comunidad de HIVE GAME MOBILE, en el que podrás publicar todo lo relacionado con videojuegos para dispositivo móviles. Si estos son multijugadores, mucho mejor. Puedes suscribirte en: https://peakd.com/c/hive-137757/created. Además, tenemos un grupo de Discord en el que compartimos mucho y organizamos partidas online.


Editado con CapCut y grabado con XRecord.
Banners, separadores y Footers con canva.com y Adobe Spark Post.
Capturas tomadas directamente del juego.

---
---
---