Traditional Weddings In Edo State, Nigeria

Hello Hive World.
On one of my early posts, I wrote a little about my traditional wedding and interestingly, a hive user asked,
I am curious about the beads and head dress though. Do these items have specific meaning?
This question prompted me to write this post and share with you our traditional weddings culture and the significance of the beaded bridal wear.
---
Significance of Beads
---
In Edo culture, and from long ago, wearing beads symbolize royalty, authority and wealth. These beads are of different types and styles. The very deep red coral beads are the most valued among other beads and worn by people in authority like the Oba or a person bestowed with a chieftaincy title.
These highly placed people wear their beads around the neck or wrist and for the female, they wear it around their hair. It is our belief that those beads worn by leaders and chiefs have amulet powers to ward off danger and protect them against spells.
Also, the use of red coral beads is synonymous with marriage because long ago, when royalty (king or prince) sends a coral bead to a young lady, it becomes a marriage proposal which she must accept. This is one of the reasons our brides adorn themselves with these beautiful beads.
---
Beaded Bridal Wear
---
In Edo state and parts of south/mid-western Nigeria, our brides are well known for intricate and colourful bridal dressing for the occasion of traditional weddings. Please note that it is common to have two to four wedding celebrations in Nigeria. When I was to get married, I had two - the traditional wedding and church (white) wedding.
---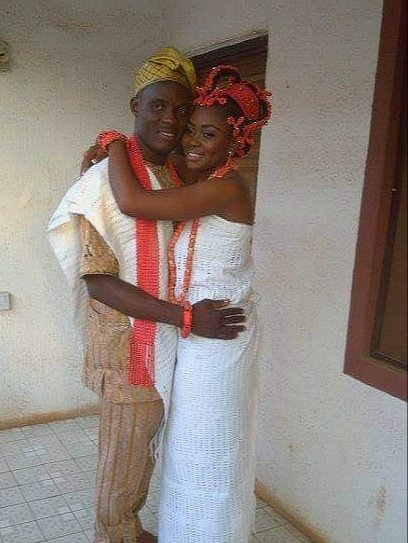 ---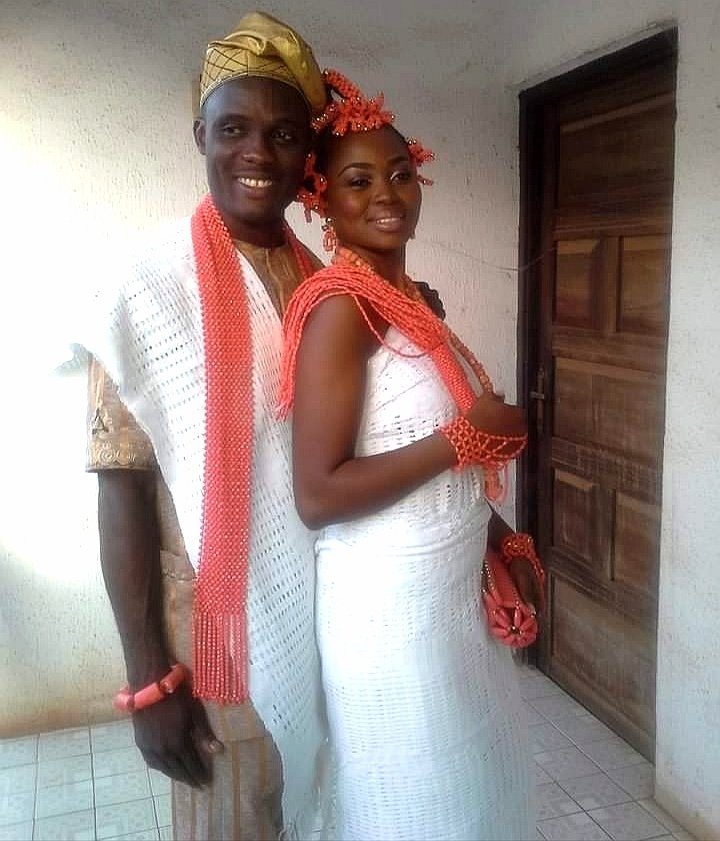 ---
Our traditional wedding involves the culture of either or both bride and groom and it's usually fun. In Edo State it is customary to beautify our brides with elaborate and colourful beaded bridal wears.
The bridal wear usually consists of the head gear (crown) called okuku which is sometimes sewn into the hair, small cape called ewu-ivie, necklaces called ivie-uru, wrist beads called ivie-ebo, earrings called emi-ehorivie, and handbag called ekpa-ivie. Some brides go all out to make beaded shoes or slippers. It's a thing of pride and beauty.
The groom also has his own beads to put on but it's simply a necklace and wrist beads.
---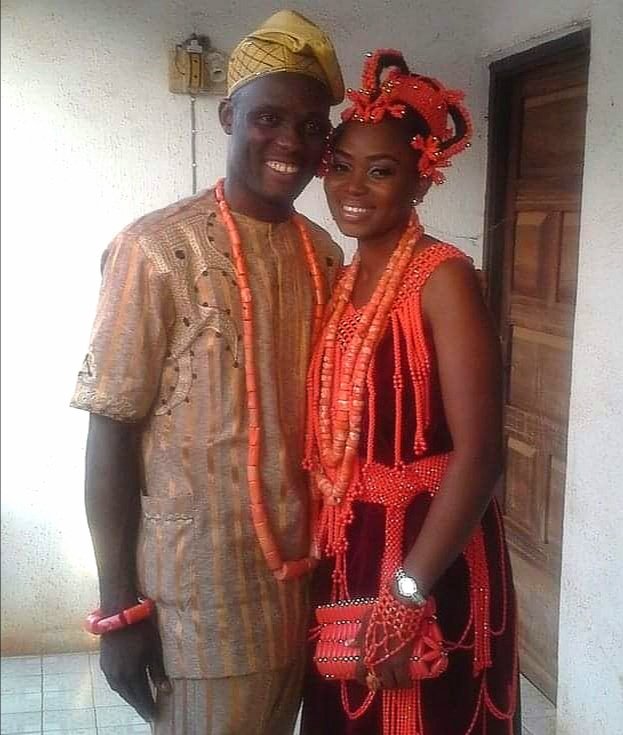 ---
These beaded wears are adornments and worn on fabrics called "George". It could be velvet or lace George. I had always admired other brides and when it was my turn, I took special care to get quality beaded wear.
For my traditional wedding, I chose two different George fabrics and adorned myself with the beads. Do your brides have special dressing in your culture?
Thanks for reading.
---
---