The Lily's Dew Drop Necklace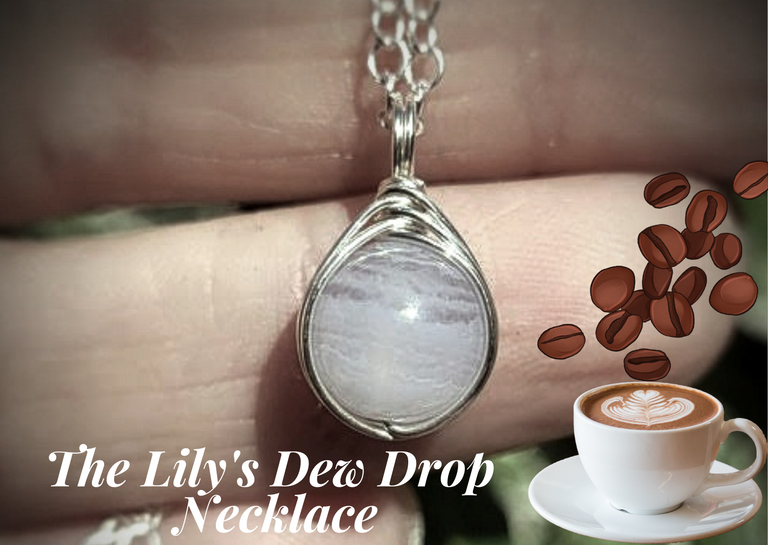 Designed in Canva
Joyce broke out in a sweat from the scorching sun glaring down but she did not mind as long as she found the portal key. She'd already been to three yard sales around town and found nothing. Another yard sale was about to start close to the town's Chapel.
She arrived at the Chapel and saw it was jam-packed. Some people were going through the second-hand and vintage items laid out on tables and shelves while others stood in groups chatting.
Joyce drew close and smiled at the woman in charge. Then her eyes widened in shock at the sight of a mural painting of a woman sitting on a beach chair on an ocean shore wearing a wide-brim hat that shielded part of her face from the sun while she drank coffee. The painting sat with other fine vintage pieces on a mahogany table.
A wave of nostalgia swept over her as she stared at the painting. She was that woman in the mural. She remembered the day, aeons ago, when her aunt, Nyssa, painted her by the beach.
Those were carefree days until Leather Apron killed her parents, the king and queen of Warthford, and came after her for the lily's dew drop necklace so he could take over the world.
The necklace must not fall into the wrong hands. The only way to stop Leather Apron was if the two halves of the necklace were placed side by side. The other half belonged to her twin brother, Roberd, who had gone hunting at the time.
When Leather Apron came after her, Nyssa, who became her guardian after the king and queen's death, made a snap decision and opened a portal sending her to Uranus.
"The key??" Joyce screamed as the portal swirled fiercely around her.
"You'll know it when you see it," Nyssa's voice echoed as the portal closed.
She'd been moving through universes for the past two centuries hoping to find her twin so they could banish Leather Apron together. In each universe, she always found Nyssa's painting when she sensed Leather Apron was closing in on her.
The painting was the portal key.
"Excuse me, ma'am. I'll take this. How much?" She asked the woman in charge.
"That will be $50.75."
Joyce paid, snatched the painting from the woman as soon as it was wrapped and hurried to her apartment. She'd gotten new coordinates of Roberd's location in another universe and was anxious to see him. Now with this painting, everything was falling into place.
She unwrapped the mural and gasped. One of the edges was fading into white and it was spreading slowly into the centre of the painting. This had never happened before. She touched the back and noticed the tip of a paper jutting out. She carefully pulled it and saw it was a letter.

MY DEAREST JOYCE.
How is your search for Roberd? I pray mornin' and noon that you find each other and finish this mission. Your kingdom awaits.
Guard your lily's dew drop with your life. I send another painting ahead of you into Earth. It is a fine place but slightly backwards. Do not get too comfortable.
This painting has a little fade by the edge because I am ill. It's incurable and I feel my time is almost up. I hope you will find this mural soon. The worse my illness gets, the more the fade spreads. If it covers the entire painting by the time you find it, know that I have departed and will see you in the afterlife.
I wish you and Roberd will finish this mad business and return home soon.
I miss you rascals.

Dropping to her knees, Joyce's shoulders shook with the force of her sobs as she mourned Nyssa and her home. It would break her heart not to see Nyssa one more time before she passed away to the afterlife.
She wiped her tears away, placed the painting on her coffee table and strode into her bedroom. Hidden behind a large painting on the wall was a safe. She inputted a code, opened it and pulled out her sword and fighting gear.
Dressed with determination, she wore the lily's dew drop necklace around her neck. She entered the coordinates of Roberd's location into her phone and waved the painting around until a portal opened up in the centre of her apartment.
She'd had enough. No more running around the multiverse. It was time to confront Leather Apron face to face and seize her life and kingdom back.
---
---