How To Create Extra Hive Accounts - The Easy Way
Ever wondered what is the easiest way to get another Hive account? I'll show you.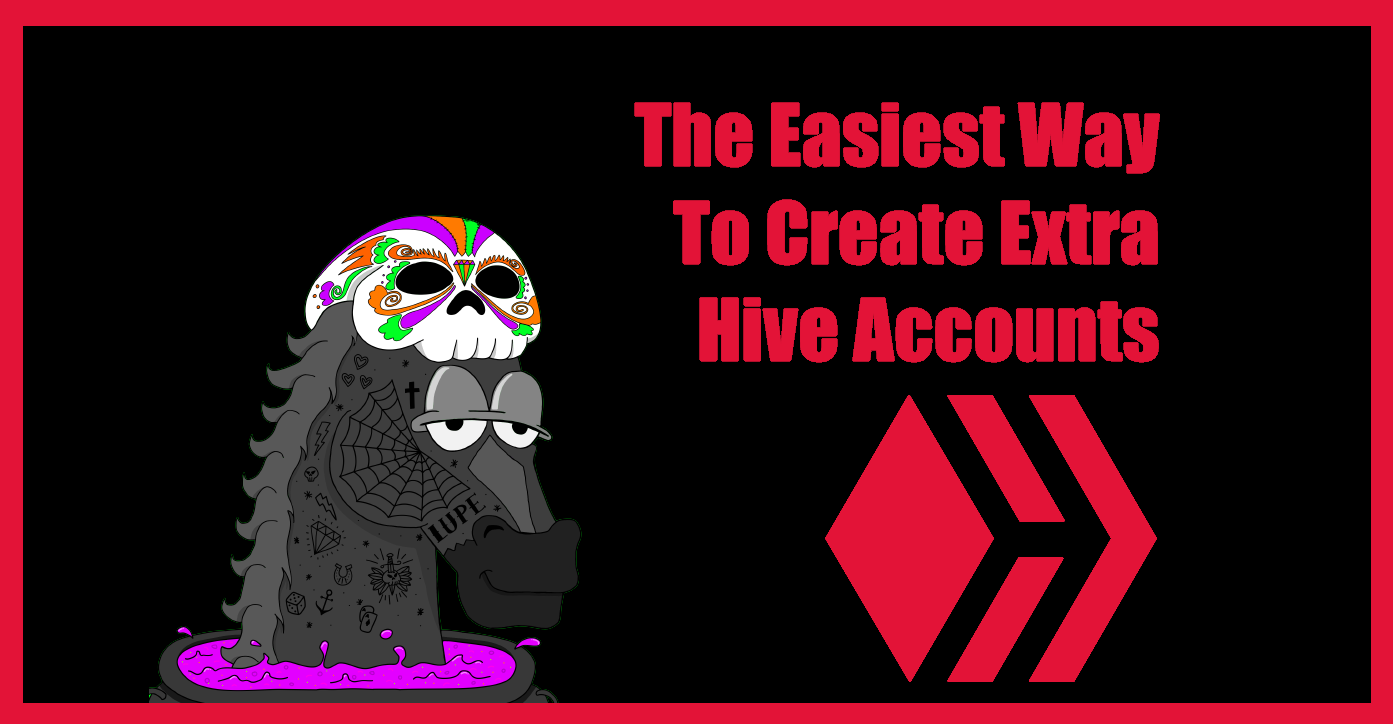 Extra Hive Accounts
You might be wondering... Why would I want an extra Hive account? Well, there's tons of reasons you might want to get a couple extra accounts. For example - I wrote a new issue of Crypto Noobs where I showed an easy way to secure your account without having another Hive account. One major security feature that is often overlooked because people assume it's something that's done for them is account recovery. New flash - This is not web 2.0 where you create an account and the company/website is able to reset your password or recover your account.
This is Web 3 and one of the major advantages to Web 3 is that you truly own your account just like you own that precious NFT. This is a simple thing but it comes with a lot of responsibility like securing your own account and making sure you can recover your account in the event of access loss or compromise. So if you're like me and don't have another Hive account to use or anyone you really trust to be your Hive recovery account, you can use the service linked above to do that. Or you can create another Hive account with this super easy new feature on PeakD!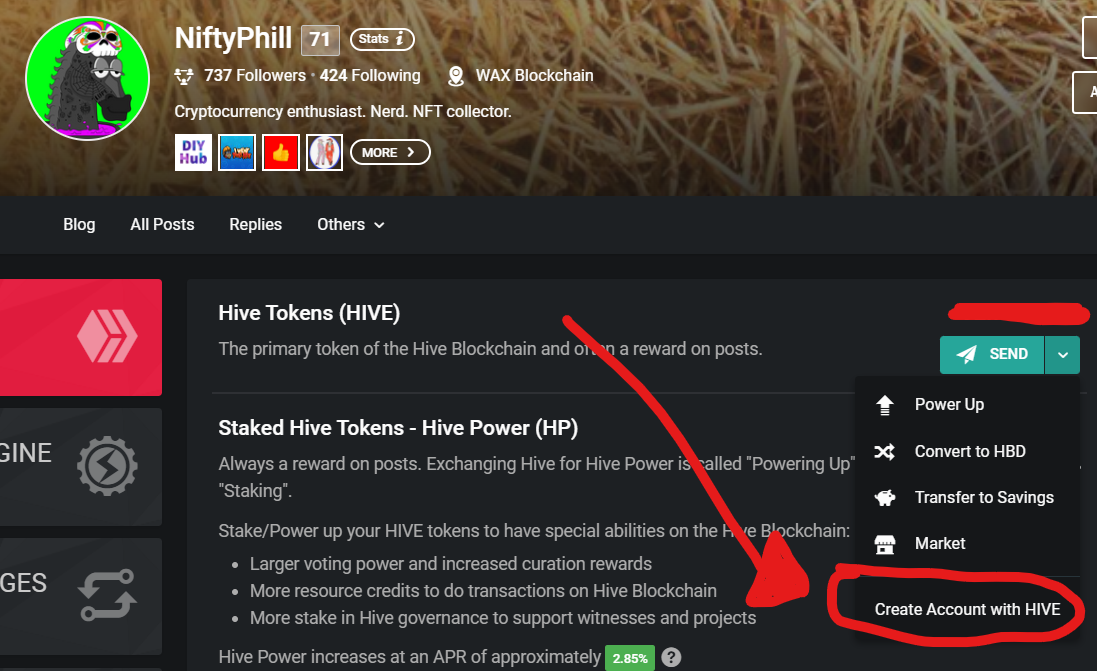 If you're not a Hive whale, it can be difficult to claim a new account because you won't have account creation credits. Now, you can burn 3 HIVE to create a new account right from inside PeakD. All you have to do is make sure you have at least 3 HIVE liquid in your wallet, and visit your Wallet page. There is a drop down menu to the right of your Hive Tokens.
Click the option Create Account with HIVE. Once you click it, you will get a pop-up window where you will enter the desired username for the new account.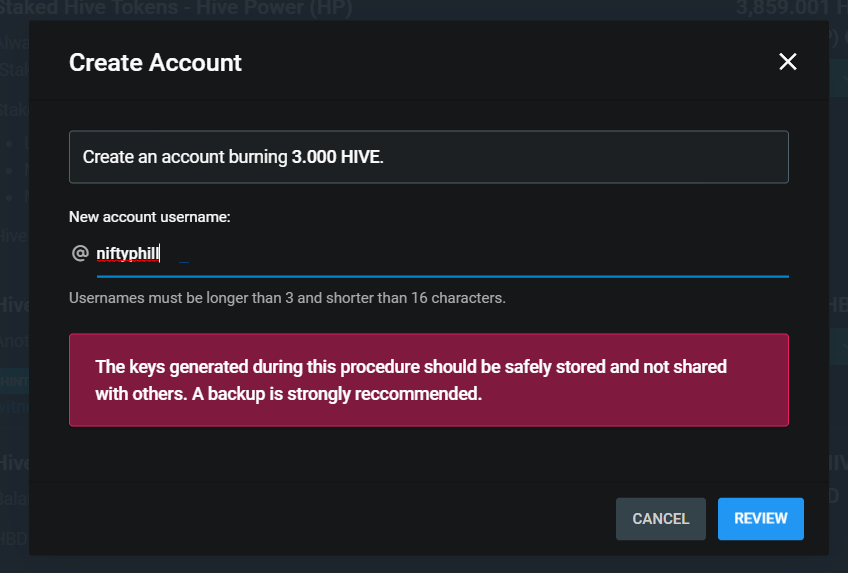 After choosing the desired username for the new account, click Review. This will check that the username is available and then you will be greeted with another pop-up window.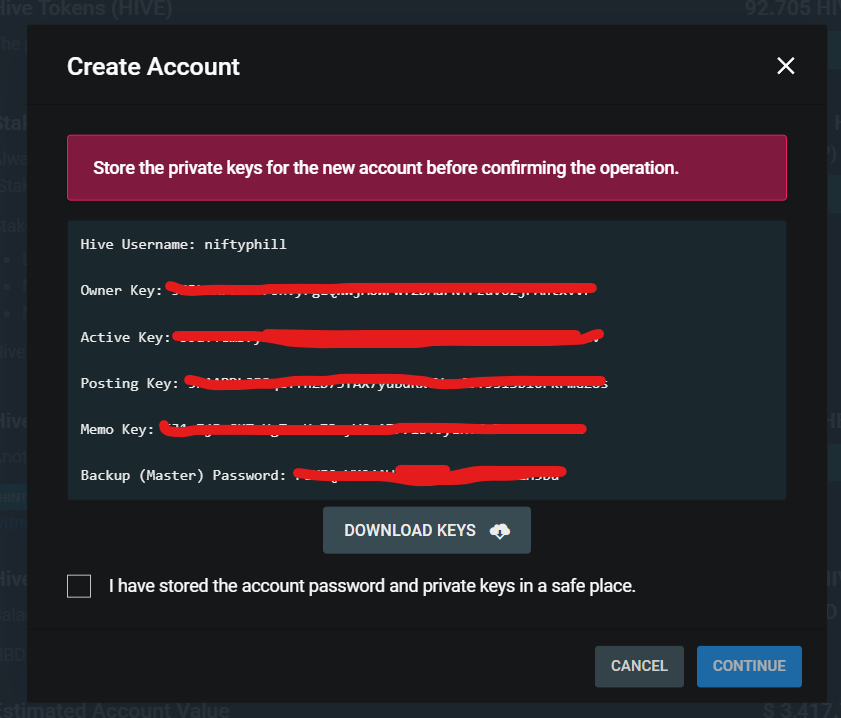 This window will display all of the private keys generated for the new account and allow you to download them. I recommend physically writing these down on a piece of paper rather than just copy/pasting to a word doc or downloading. You do you, I just take security very seriously.
Once you have secured the keys for your new account, check the box to indicate that you have done that and click Continue.

Congratulations! You now have another Hive account that you can use for a number of different things! The main reason I wanted to share this is for those that still don't have a good recovery account option or don't trust using the Hive Account Recovery service. Now you have a second account that you own the keys to so if you ever lose access to your main account, you can recover it with this one as long as you set it as the recovery account.
Hive accounts are valuable.
Some people use alternate Hive accounts to curate for certain tribes. For example, a lot of users have a an account that looks like this - insertaccount.leo or insertaccount.pob. These accounts are primarily used for curation with specific tokens like LEO and POB. I'm going to be using mine for a few different things, but mostly recovery purposes. Maybe I'll delegate my LEO over there and try out curating with only LEO. Hive accounts are scarce assets just like some NFTs are.
I think of my Hive account as a business. I've dropped hints that I'll be doing some NFT stuff soon so maybe I'll use this account for that. Who knows. Suggestions?

Thanks for reading! Much love.
---
Links 'n Shit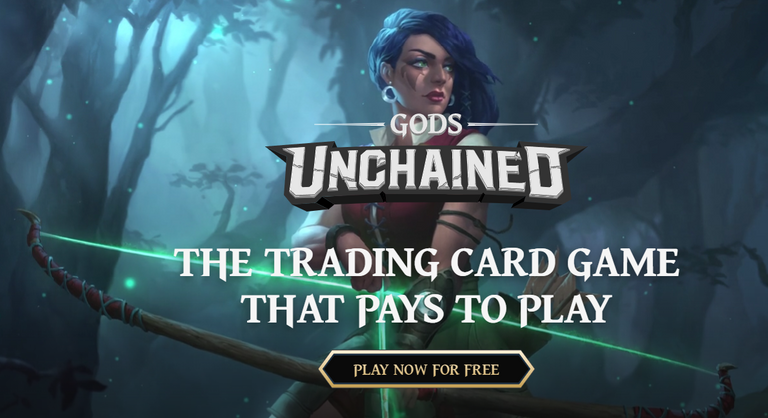 Posted Using LeoFinance Beta
---
---