Rising Star Game - Progress In My Twenty-Third Week [ENG -ESP]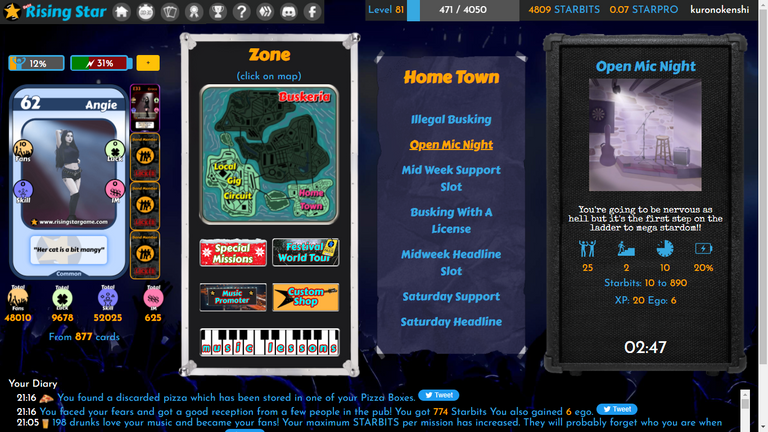 A big greeting to all the players of Rising Star Game and a Happy New Year a few days late, I hope you have had a good holiday and that this year is very successful for everyone at the same time that is loaded with at least 1 legendary for all those who open envelopes every week and still no legendary haha. For today I will continue once again with my weekly preview posts and this time I'm on my 23rd week since I started Rising Star. This week I continued with my tradition of opening 12 packs thanks to the combo of 12 packs for only 100K Starbits and although again the first legendary card does not want to make an appearance if I managed to get good cards, remember that we already have the new cards available in packs so there are always high chances of getting useful cards. Here are my 12 booster pack openings: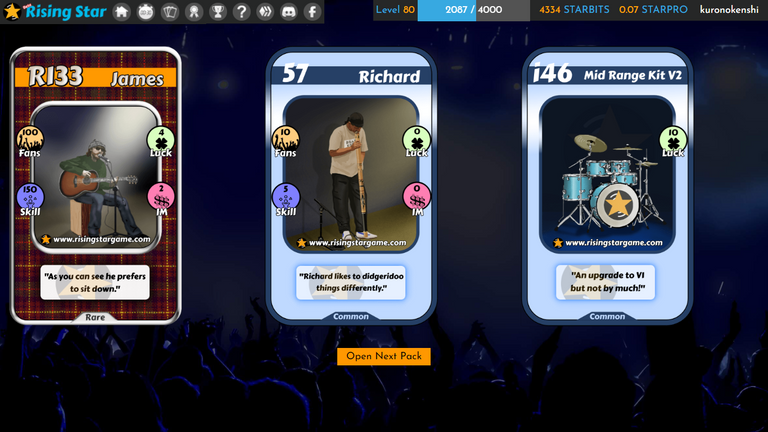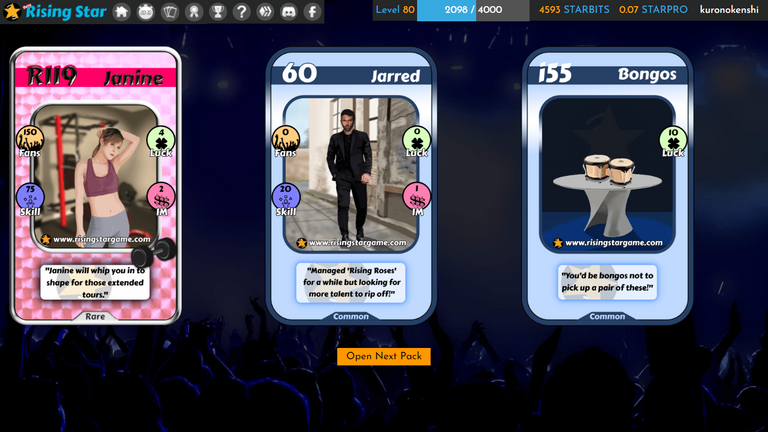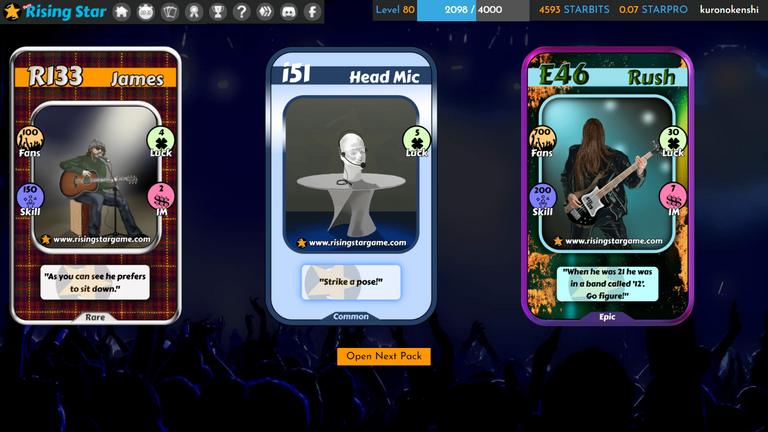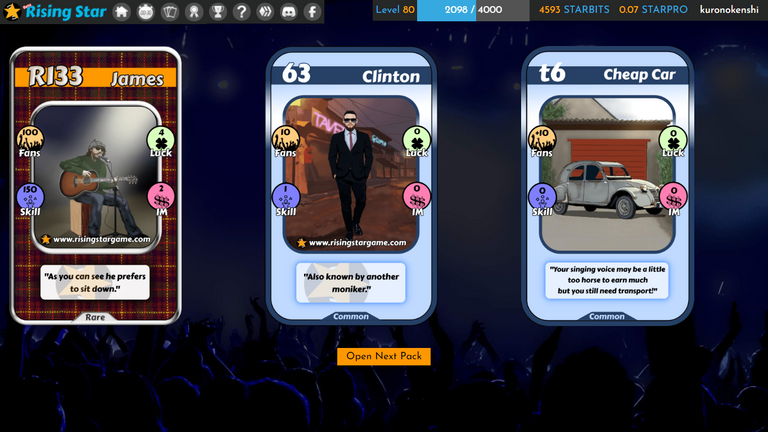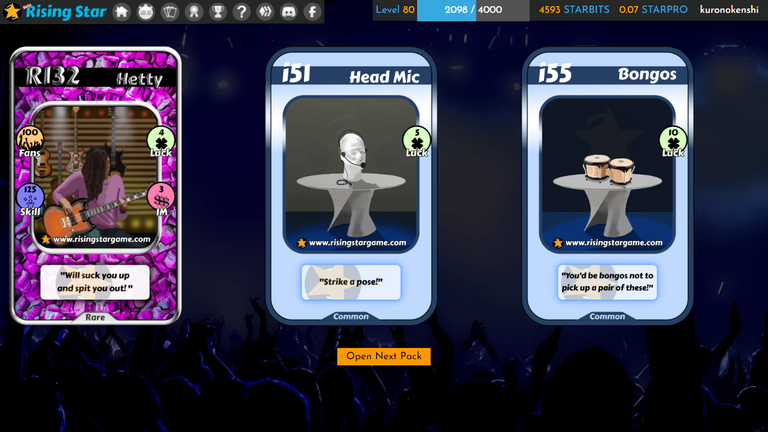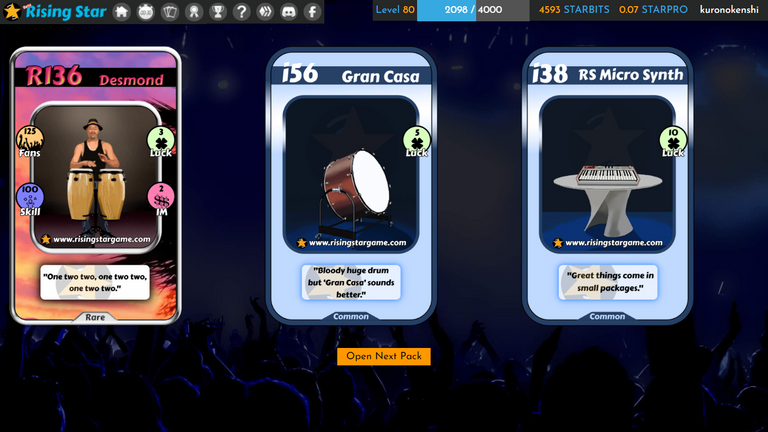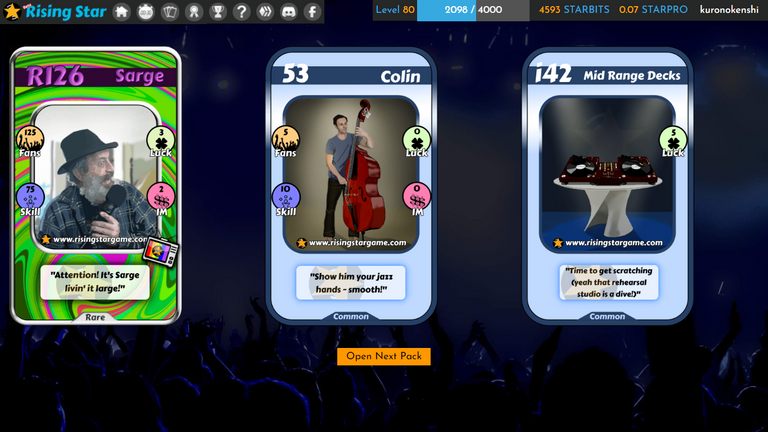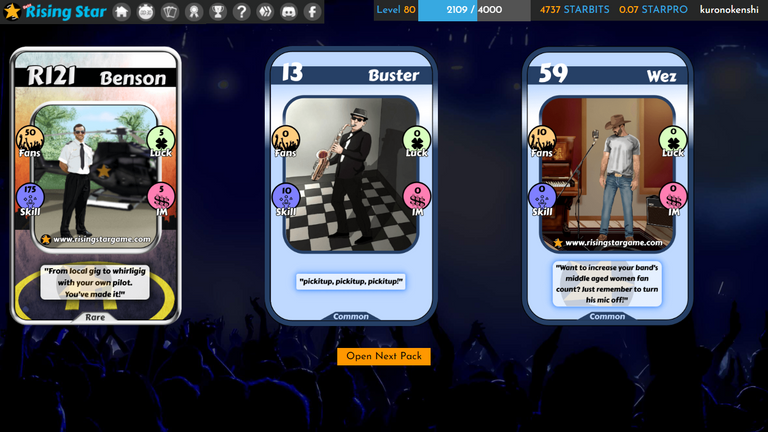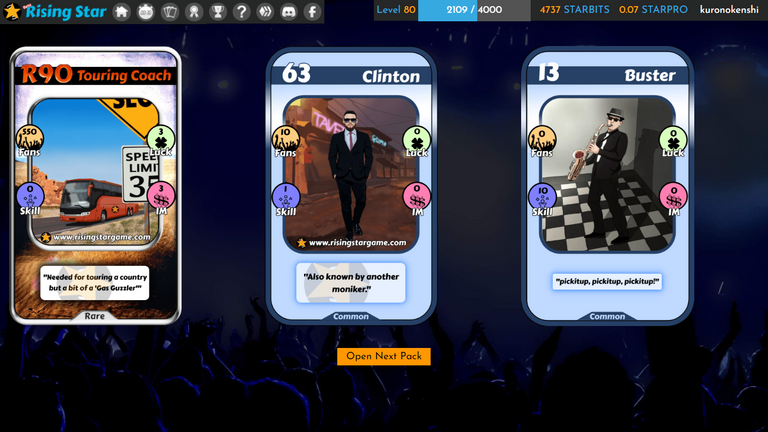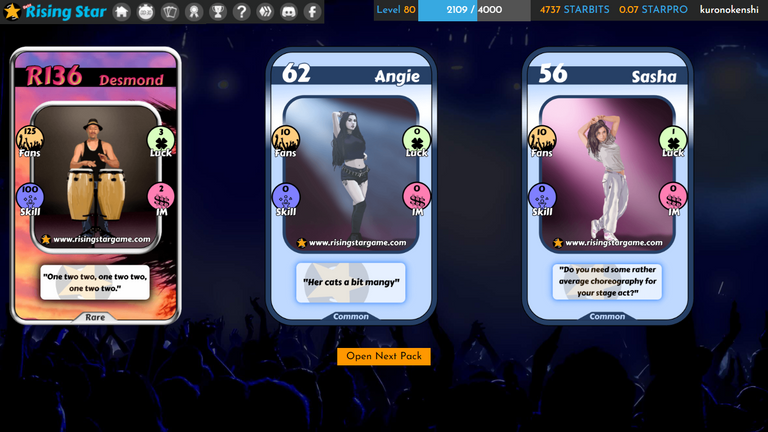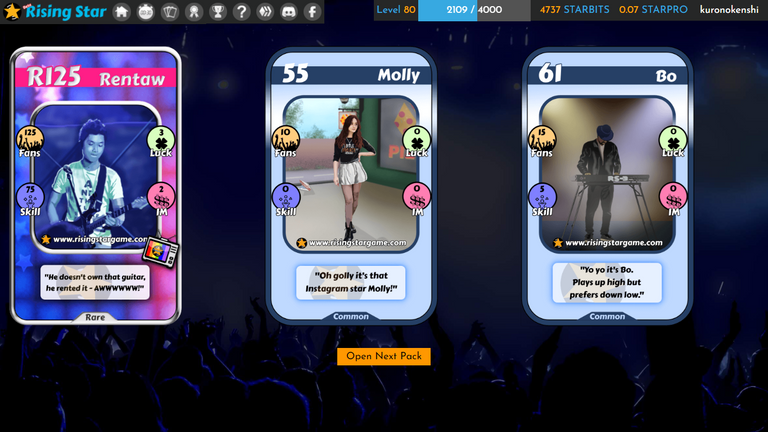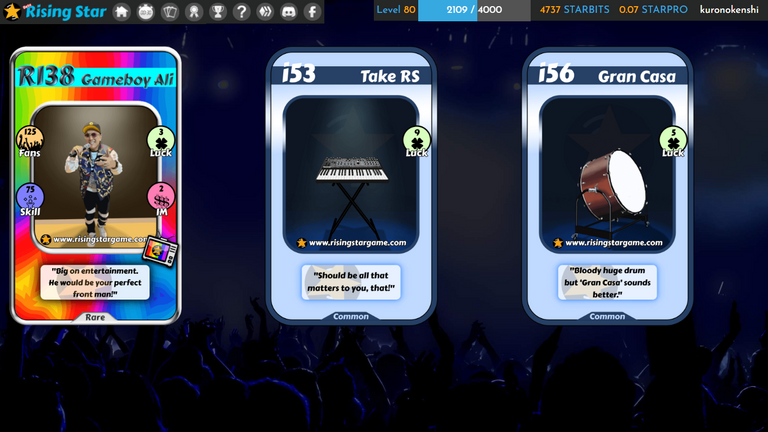 A positive part of the envelopes is that I didn't get rare instruments, instead only musicians and rare vehicles which are much more useful to increase your amount of FANS, as for the musicians I got some were really useful as in the case of R119 Janine who has a total of 150 FANS, 75 SKILL, 4 LUCK and 2 IM; on the other hand, I also managed to get a vehicle as it was R90 Touring Coach which brings 550 FANS. Although the legendary still does not want to arrive if I managed to get another Epic as it is E46 Rush who has as statistics 700 FANS, 200 LUCK, 30 LUCK and 7 IM. This type of epic cards are always very useful because they bring a good number of FANS and thus improve the maximum amount of Starbits that can be obtained per mission.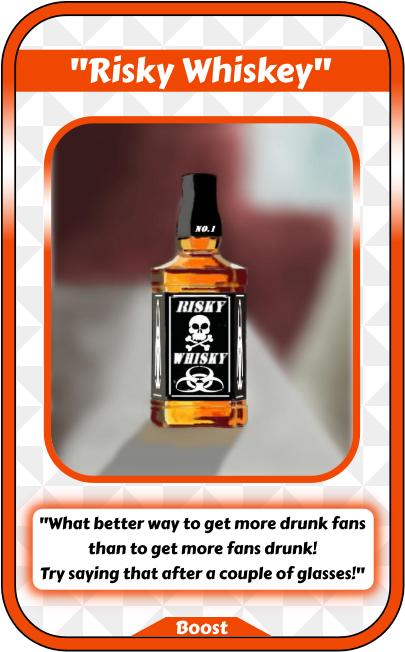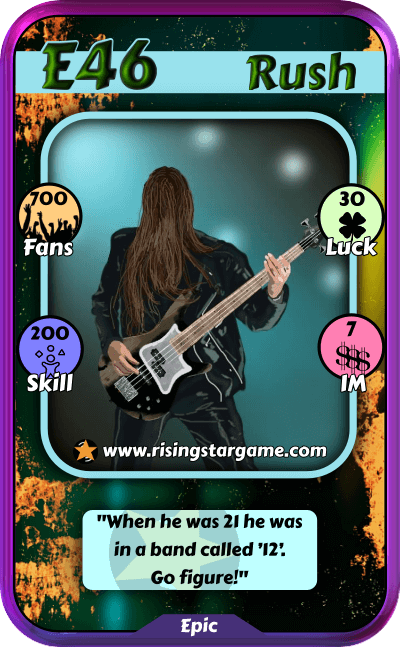 ---
Little by little I have been doing the mission to unlock the band members and at the moment I only have 1 obtained. Along with all the cards obtained I also decided to buy several production instruments to improve my music lessons and I decided to buy my first "Risky Whiskey" card to control the large amount of drunk Fans that I usually get in the band mission until I get a good margin of SKILL. At the end of this week my stats were a total of: 38360 FANS, 9678 LUCK, 52025 SKILL of which 25057 are product of the music lessons and finally a total of 625 IM, all this with a total of 877 NFTs. I also reached a total of 3784 completed missions so I am getting closer and closer to the 4000 completed missions and the free envelope.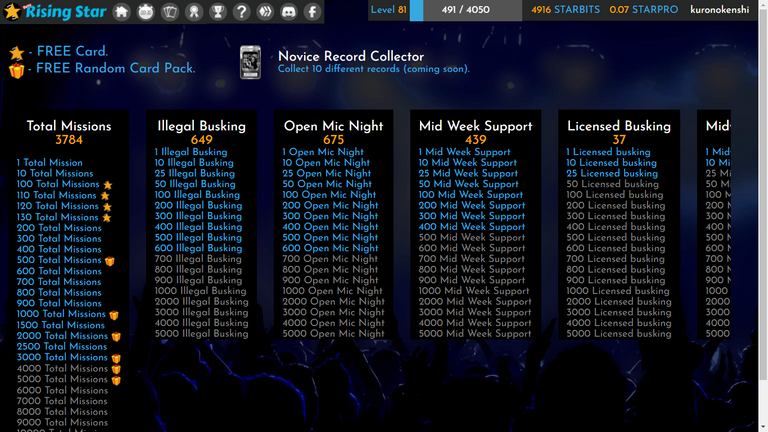 Translated with www.DeepL.com/Translator (free version)
All images were taken from my Rising Star account
Separator Images:
---
---

---
---
Español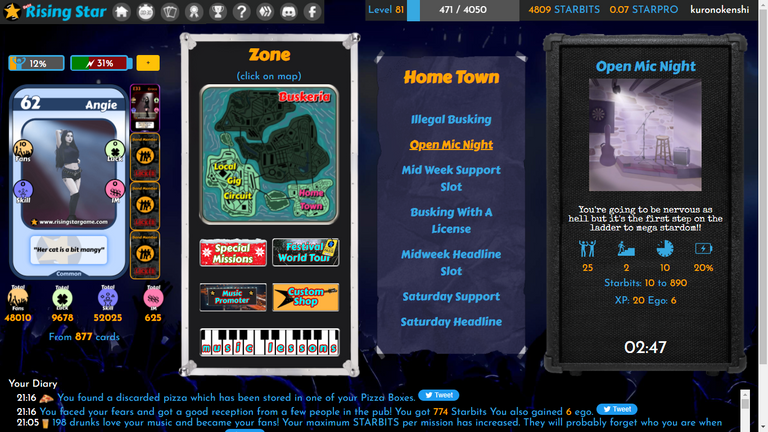 Un gran saludo para todos los jugadores de Rising Star Game y un Feliz años unos cuantos días tarde, espero que hayan pasado unas buenas fiestas y que este año sea muy exitoso para todos al mismo tiempo que este cargado de al menos 1 legendaria para todos aquellos que abrimos sobres cada semana y aún seguimos sin legendarias jaja. Para el día de hoy continuare una vez más con mis post de avances semanales y en esta ocasión ya voy por mi semana número 23 desde que comencé en Rising Star. Esta semana seguí con mi tradición de abrir 12 sobres gracias al combo de 12 sobres por solo 100K Starbits y aunque otra vez la primera carta legendaria no quiere hacer acto de presencia si logre conseguir buenas cartas, recordemos que ya tenemos las nuevas cartas disponibles en sobres así que siempre hay altas posibilidades de conseguir cartas útiles. A continuación, mis 12 aperturas de sobres: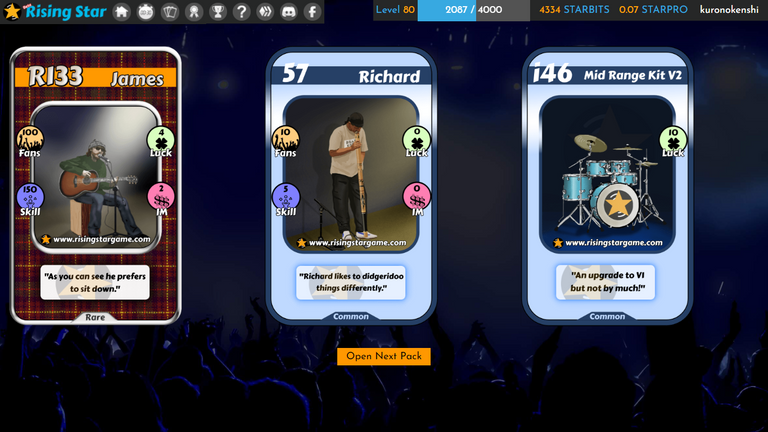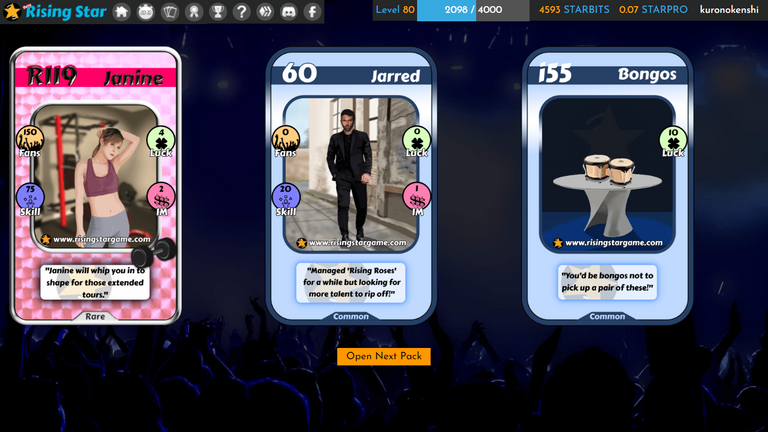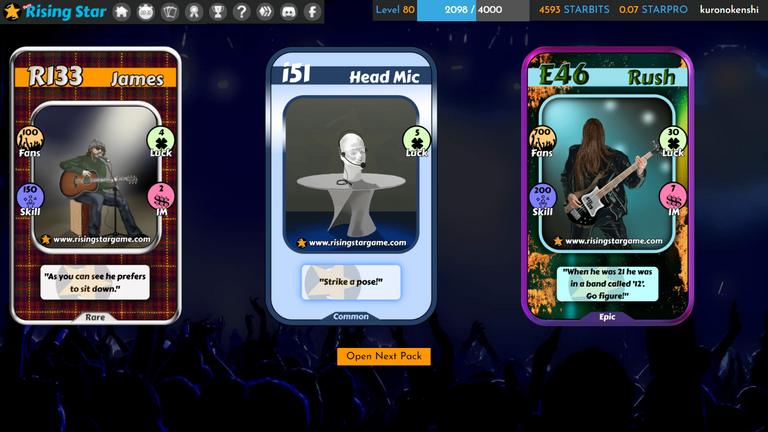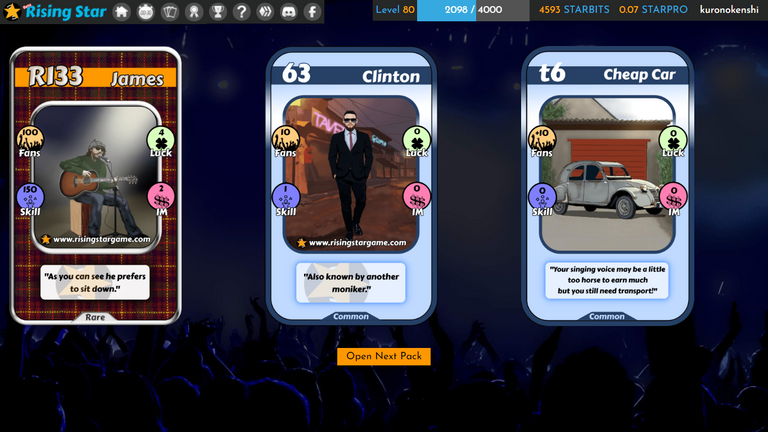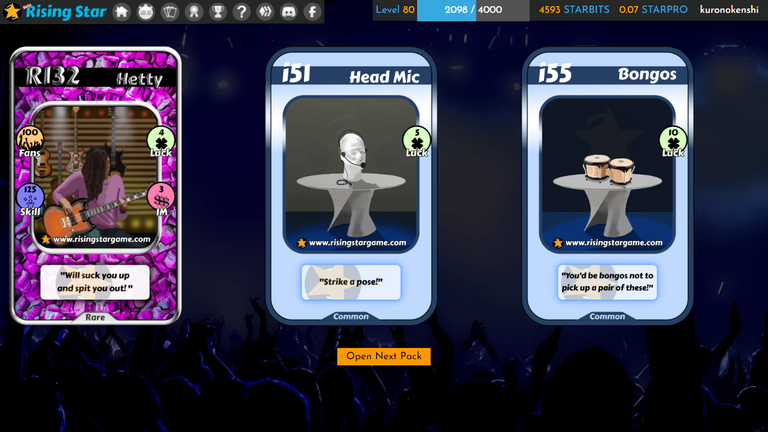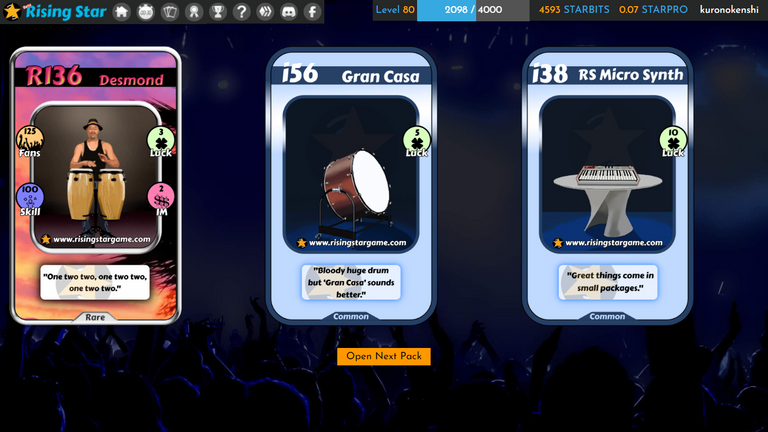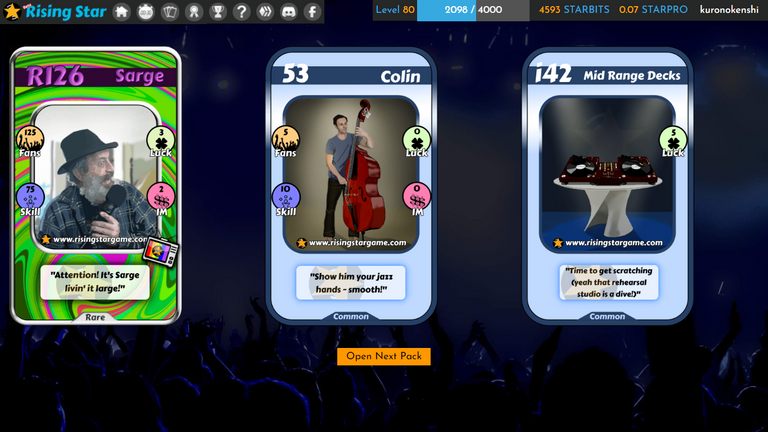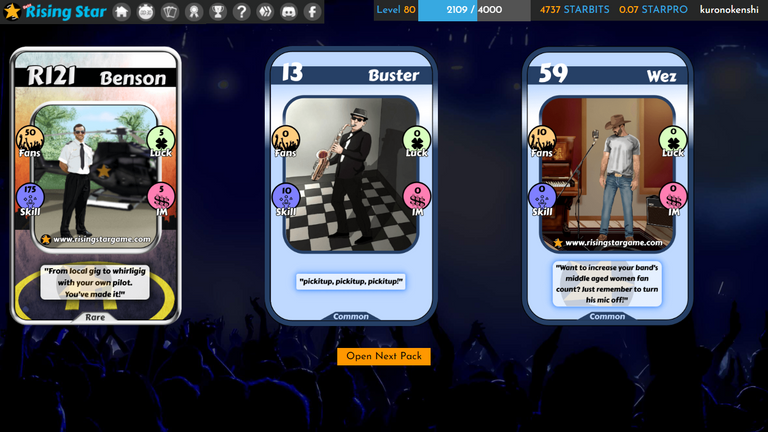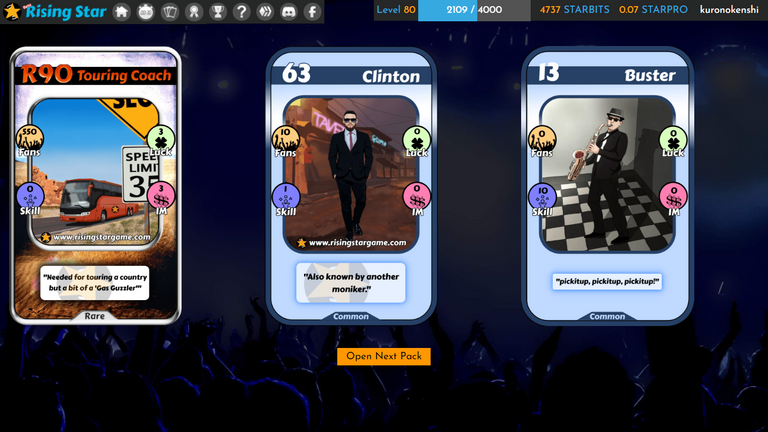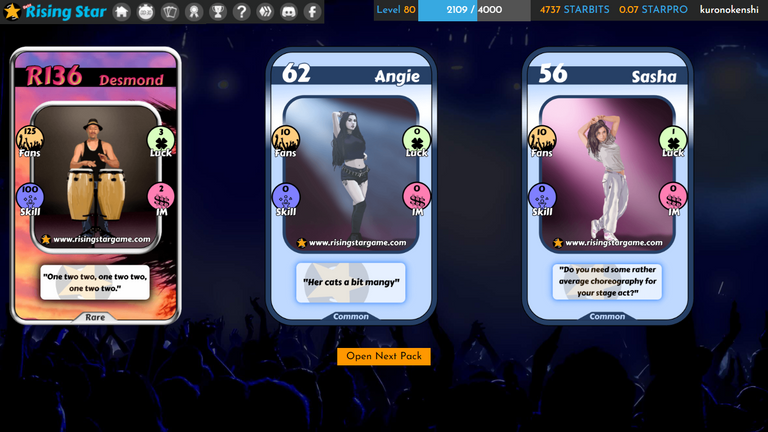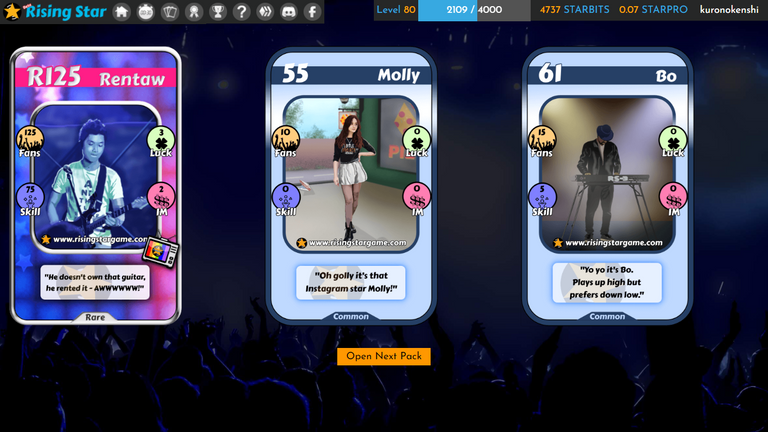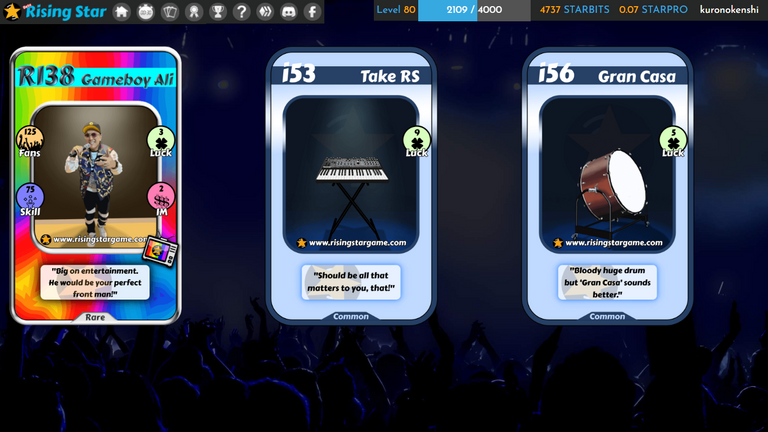 Una parte positiva de los sobres es que no obtuve instrumentos raros, en su lugar solo músicos y vehículos raros que se aprovechan mucho más para aumentar tu cantidad de FANS, en cuanto a los músicos que obtuve algunos fueron realmente útiles como en el caso de R119 Janine quien tiene un total de 150 FANS, 75 SKILL, 4 LUCK y 2 IM; por otra parte, también logré conseguir un vehículo como lo fue R90 Touring Coach el cual aporta 550 FANS. Aunque la legendaria aun no quiere llegar si logre conseguir otra Épica como lo es E46 Rush quien tiene como estadísticas 700 FANS, 200 LUCK, 30 LUCK y 7 IM. Este tipo de cartas épicas siempre son muy útiles puesto que aportan un buen número de FANS y con ello mejoran la cantidad máxima de Starbits que se pueden conseguir por misión.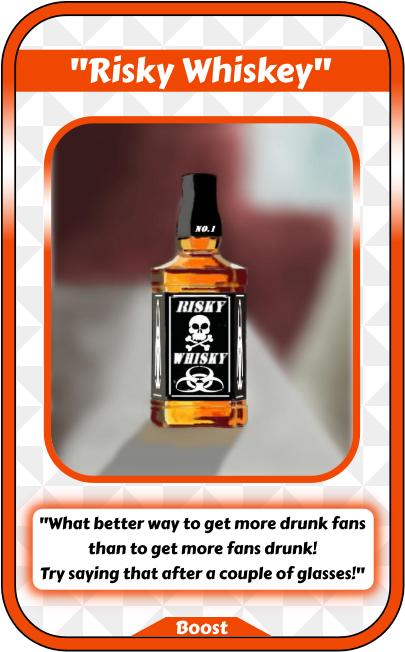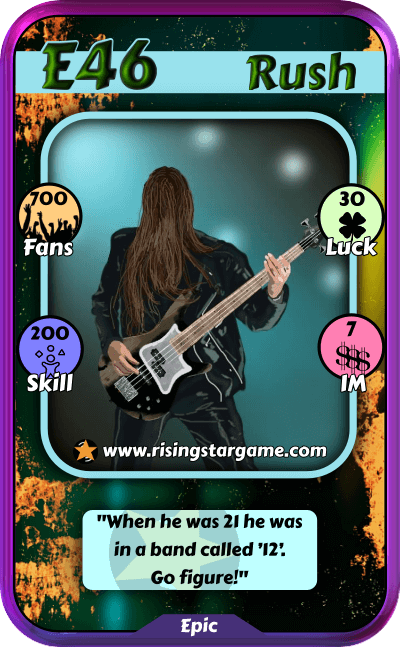 ---
Poco a poco he ido haciendo la misión para desbloquear a los miembros de la banda y por los momentos solo tengo 1 conseguido. Junto con todas las cartas obtenidas también decidí comprar varios instrumentos de producción para mejorar mis lecciones de música y decidí comprar mi primera carta de "Risky Whiskey" para controlar un poco la gran cantidad de Fans ebrios que me suele salir en la misión de banda hasta que logre tener un buen margen de SKILL. Al final de esta semana mis estadísticas quedaron en un total de: 38360 FANS, 9678 LUCK, 52025 SKILL de las cuales 25057 son producto de las lecciones de música y por ultimo un total de 625 IM, todo esto con un total de 877 NFTs. También llegue a un total de 3784 misiones completas por lo cual cada vez estoy más cerca de las 4000 misiones completas y el sobre gratis.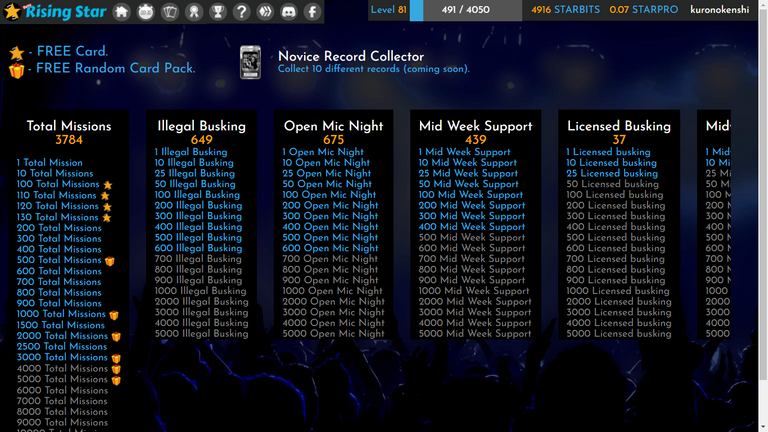 All images were taken from my Rising Star account
---
Separator Images:
---
---