Rising Star Game - Progress In My Twenty-Sixth Week [ENG -ESP]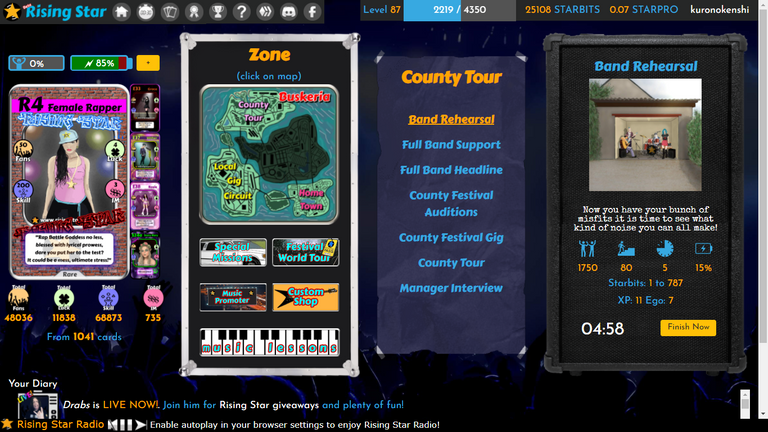 A big greeting to everyone at Rising Star Game, I hope you are having the best time possible. As every Monday I am going to continue with my series of weekly preview posts and this time I am already in week number 26 since I started my way to fame in Rising Star Game. This time again I have decided to spend 100K Starbits in 12 booster packs to continue betting on luck and get my first legendary card. The rest of the money generated during the week was used to buy individual instrument cards to improve the amount of SKILL I can get per mission. I will show you some of the most interesting openings of this week: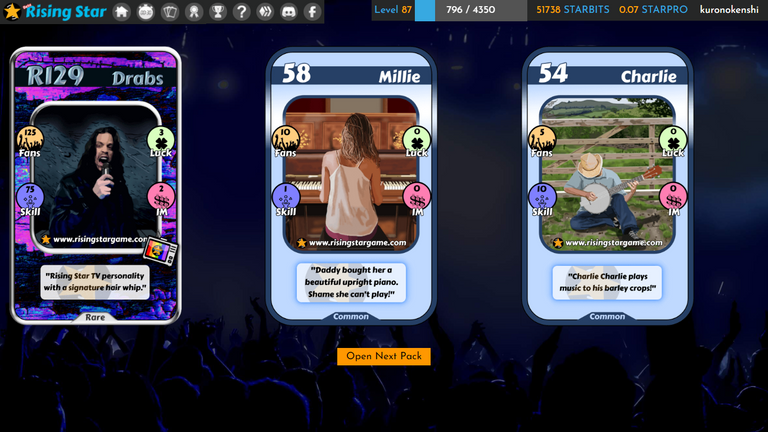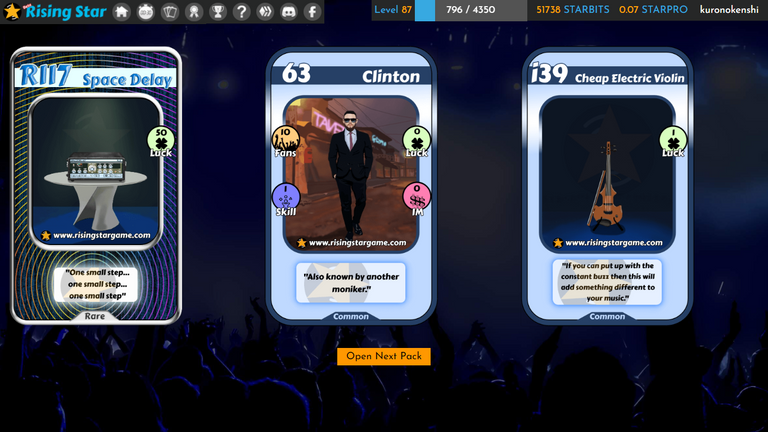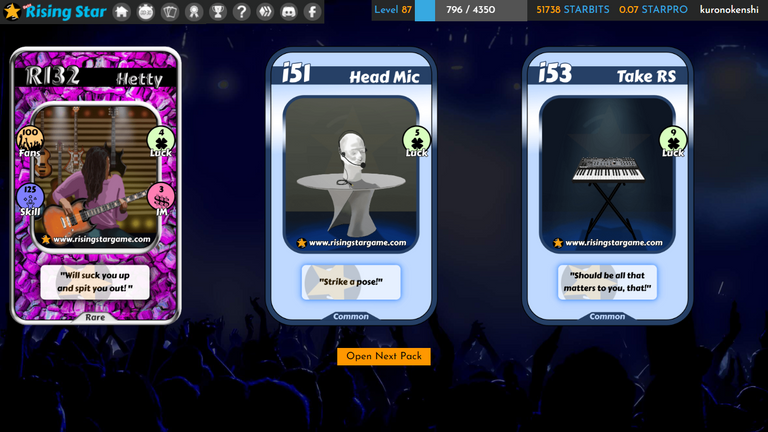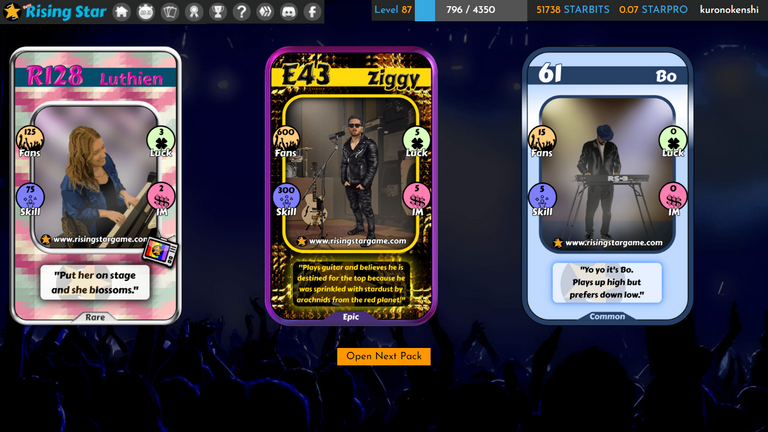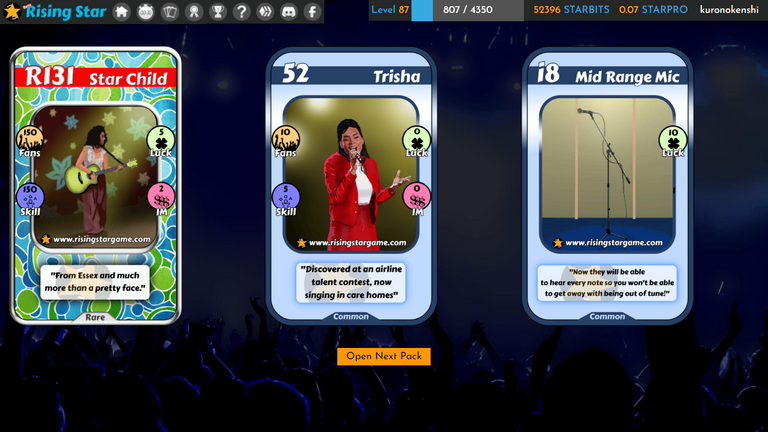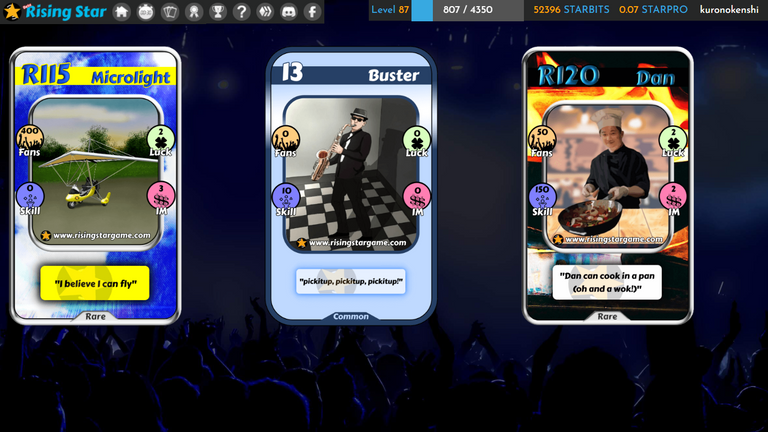 As every week still the legendary luck is not on my side and I still do not get that much desired first legendary, but at least I had some good luck with the cards obtained as it was R115 Microlight which is a vehicle that has 400 FANS, 2 LUCK and 2 IM, all vehicle cards are very well received to be able to increase quite quickly the amount of FANS thanks to them. I also got an E43 Ziggy which is an epic card that has 600 FANS, 300 SKILL, 5 LUCK and 5 IM. All these cards are very useful to increase the maximum amount of Starbits per mission and that way I can buy many more packs and cards every week.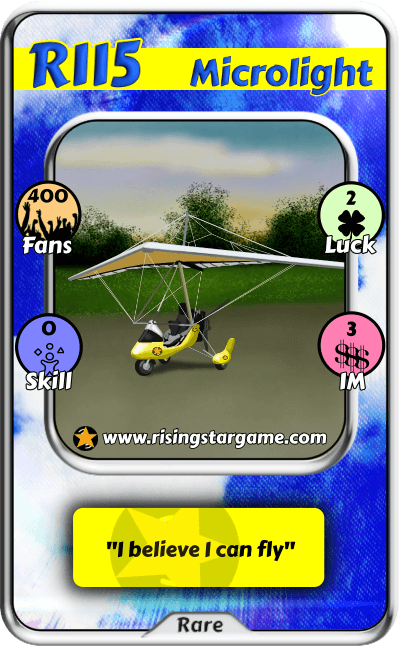 After this new week of progress my stats reached a total of: 45525 FANS, 11838 LUCK, 68873 SKILL of which 36645 are product of the music lessons, and finally a total of 735 IM, all this with a total of 1041 NFTs. I also increased my number of completed missions to a total of 4629 missions so I am already quite close to the 5000 completed missions and with it the last free envelope of the game. As for my level, I'm still at level 87 so I still have a long way to go before I can complete the third mission of the second island. I am getting closer and closer to 50K FANS which is my next goal.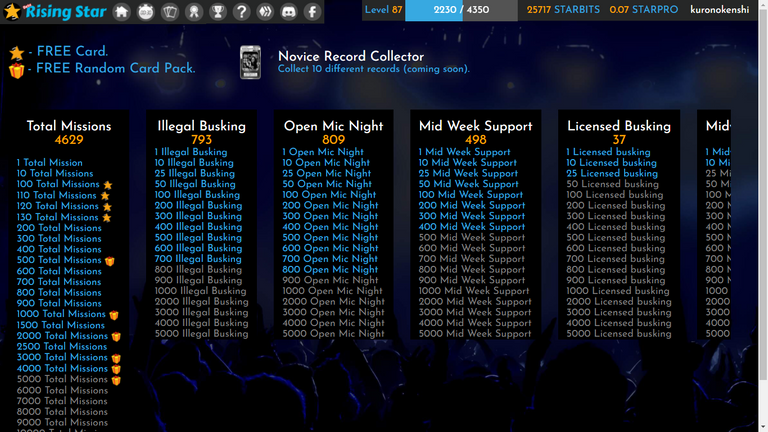 Translated with www.DeepL.com/Translator (free version)
All images were taken from my Rising Star account
Separator Images:
---
---

---
---
Español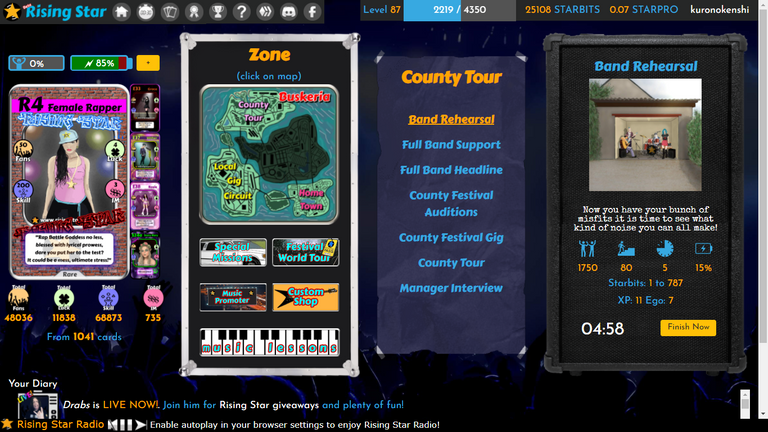 Un gran saludo para todos en Rising Star Game, espero la estén pasando de la mejor manera posible. Como todos los lunes voy a continuar con mi serie de post de avances semanales y en esta ocasión ya voy por la semana número 26 desde que empezó mi camino a la fama en Rising Star Game. En esta ocasión nuevamente he decido gastar 100K Starbits en 12 sobres para seguir apostatando a la suerte y obtener mi primera carta legendaria. El resto de lo generado a lo largo de la semana lo destine a comprar cartas individuales de instrumentos para de esta manera mejorar la cantidad de SKILL que puedo obtener por misión. Les mostrare algunas de las aperturas más interesantes de esta semana: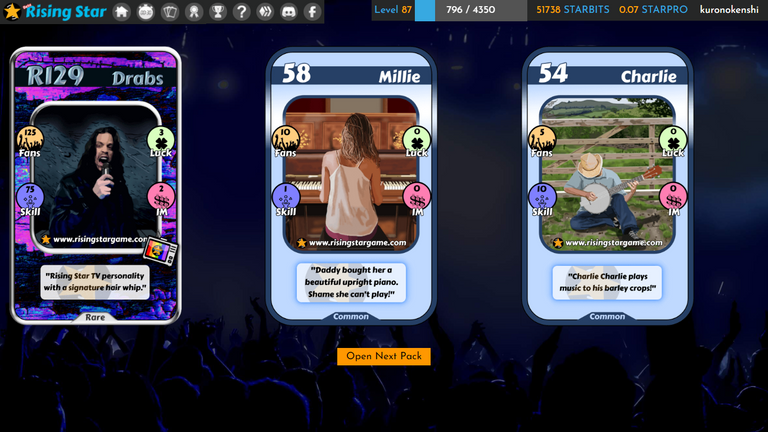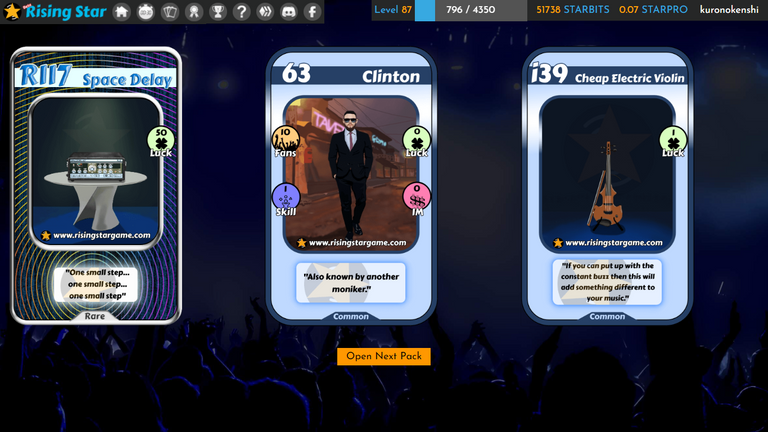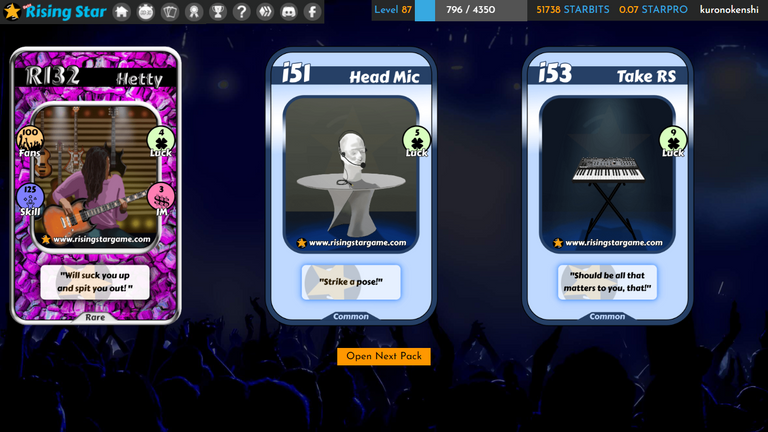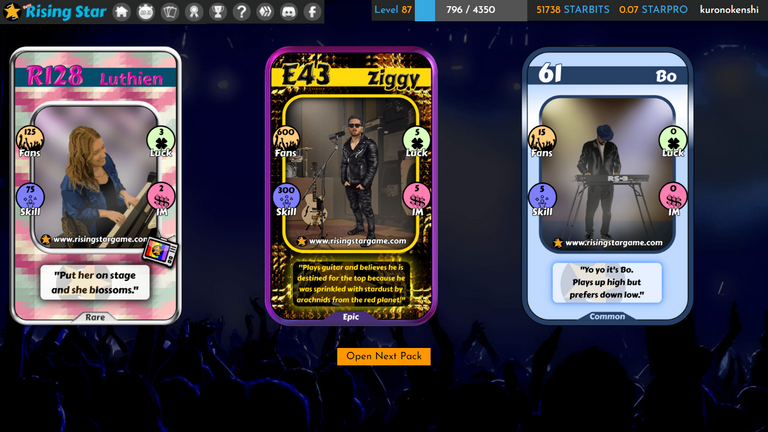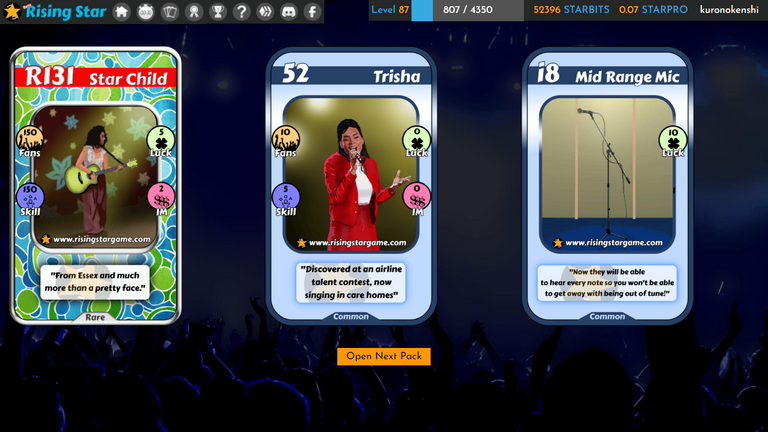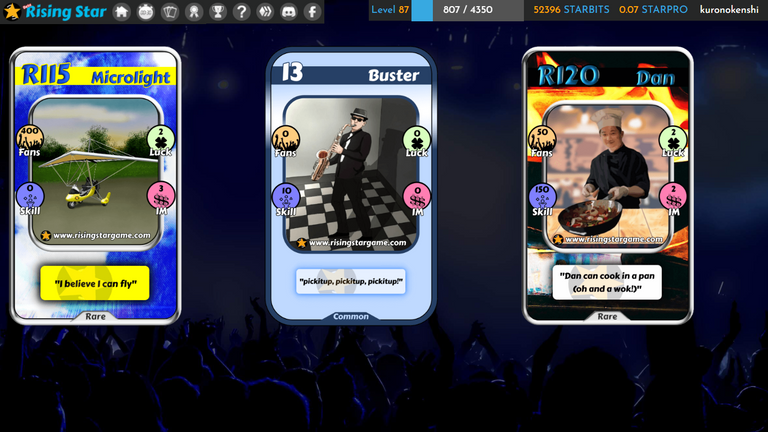 Como todas las semanas aun la suerte legendaria no está de mi lado y sigo sin obtener esa tan deseada primera legendaria, pero al menos tuve algo de buena suerte con las cartas obtenidas como lo fue R115 Microlight la cual se trata de un vehículo que cuenta con 400 FANS, 2 LUCK y 2 IM, todas las cartas de vehículos son muy bien recibidas para poder aumentar bastante rápido la cantidad de FANS gracias a ellas. También obtuve una E43 Ziggy la cual es una carta épica que cuenta con 600 FANS, 300 SKILL, 5 LUCK y 5 IM. Todas estas cartas son muy útiles para lograr aumentar la cantidad máxima de Starbits por misión y de esa forma lograr comprar muchos más sobres y cartas cada semana.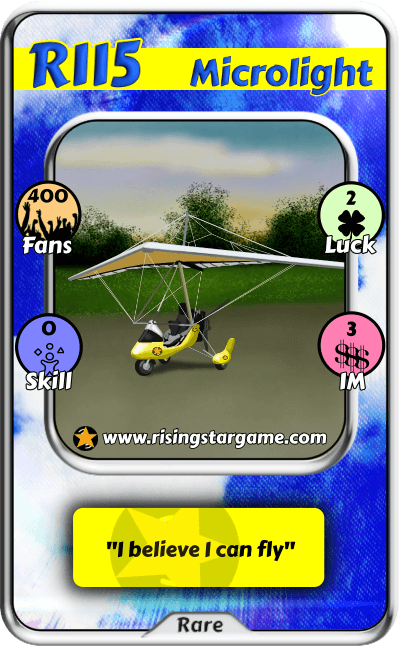 Luego de esta nueva semana de progresos mis estadísticas alcanzaron un total de: 45525 FANS, 11838 LUCK, 68873 SKILL de los cuales 36645 son producto de las lecciones de música, y por ultimo un total de 735 IM, todo esto con un total de 1041 NFTs. También aumento mi número de misiones completadas hasta un total de 4629 misiones por lo cual ya estoy bastante cerca de las 5000 misiones completadas y con ello el ultimo sobre gratuito del juego. En cuanto a mi nivel aún estoy en nivel 87 de manera que todavía me falta bastante tiempo para lograr hacer la tercera misión de la segunda isla. Cada vez estoy más cerca de los 50K FANS lo cual es mi próxima meta.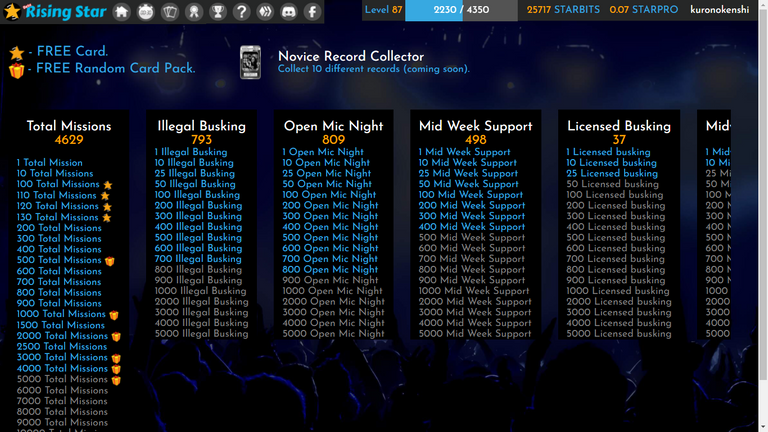 All images were taken from my Rising Star account
---
Separator Images:
---
---