Rising Star Game - Progress In My Twenty-Fifth Week [ENG -ESP]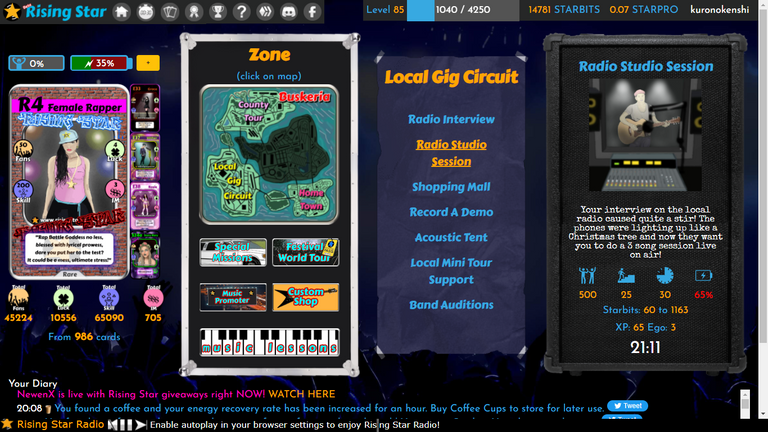 A big greeting to everyone in Rising Star Game, as every Monday I start the week sharing with you my weekly progress posts in Rising Star and for this occasion I'm already on week number 25 since I started playing in Rising Star. As I am improving my amount of FANS so is the weekly amount of Starbits I can produce and thanks to that I can buy more individual cards in addition to the booster packs I always buy. For this occasion I bought again 12 packs for the combo of 12 packs at 100K Starbits. Even though it has been more than 6 months I still haven't got my first legendary card, but anyway I don't lose hope to get it in some opening of booster packs. I will show you some of the most outstanding booster packs from the opening.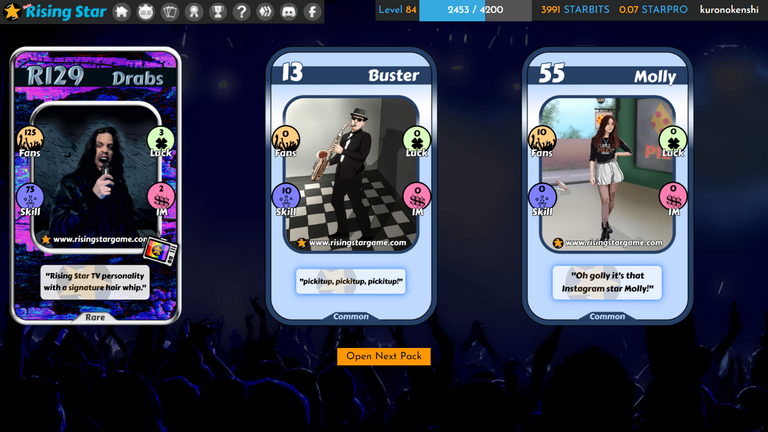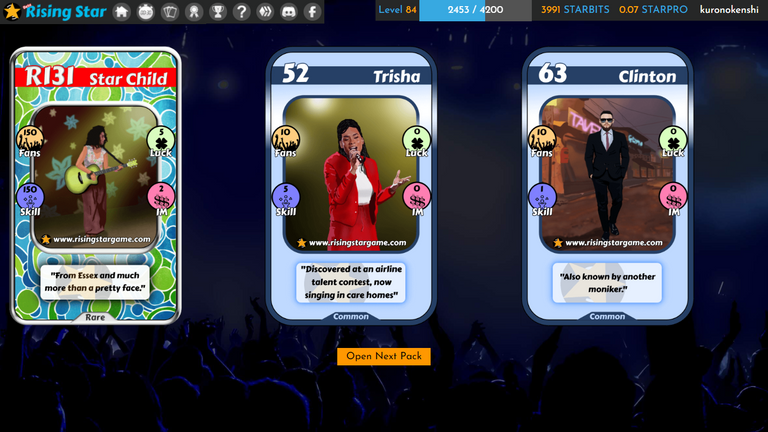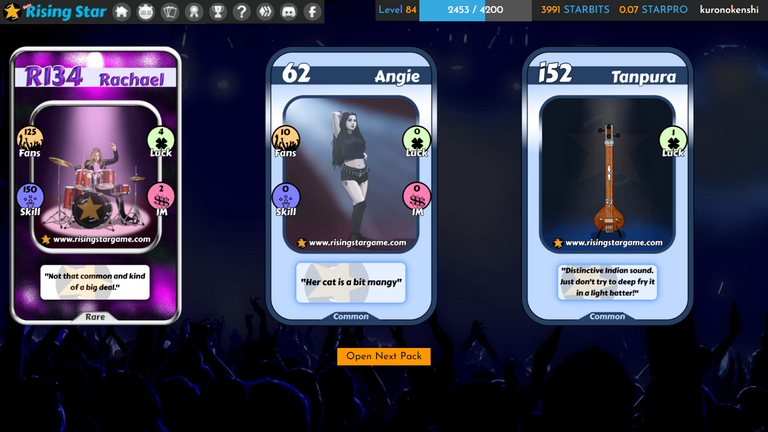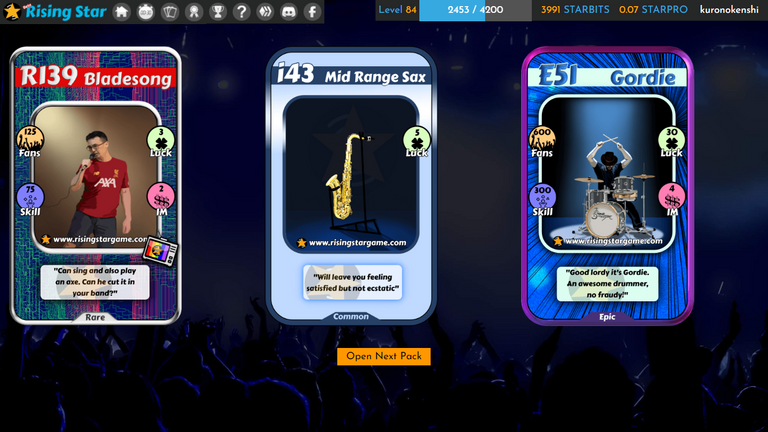 Although my bad luck with legendaries still persists at least I managed to get some useful cards with a good amount of FANS and I even managed to get an Epic card. Among the most interesting Rare cards I got is: R131 Star Child which has 150 FANS, 150 SKILL, 5 LUCK and 2 IM; it is not only a card with a very good amount of FANS, but also with the same amount of SKILL you don't have to worry about the EGO percentage going up. The epic card that I got in this opening of envelopes is E51 Gordie which gives a total of 600 FANS, 300 SKILL, 30 LUCK and 4IM, I already had one of these cards in my collection, but an epic musician is always welcome. In addition to all these cards I also bought 5 individual "Can Of Petrol" cards which are required for the second mission of the third island.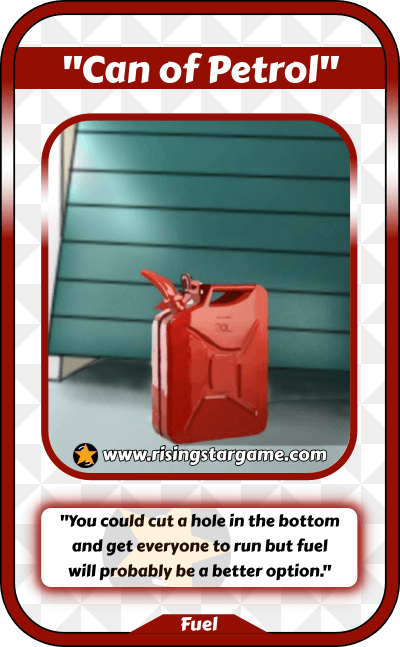 After this week my stats reached a total of: 43410 FANS, 10558 LUCK, 65610 SKILL of which 34809 are product of the music lessons and 705 IM, all this product of 986 NFTs. I also managed to reach a total of 4311 completed missions and the last free envelope I will get when I reach the 5000 completed missions, in the same way I managed to climb to level 85 and thus manage to unlock the second mission of the third island in order to have more different missions to alternate during the day. My next goal will be to reach a total of 50K FANS so I am not so far away from that.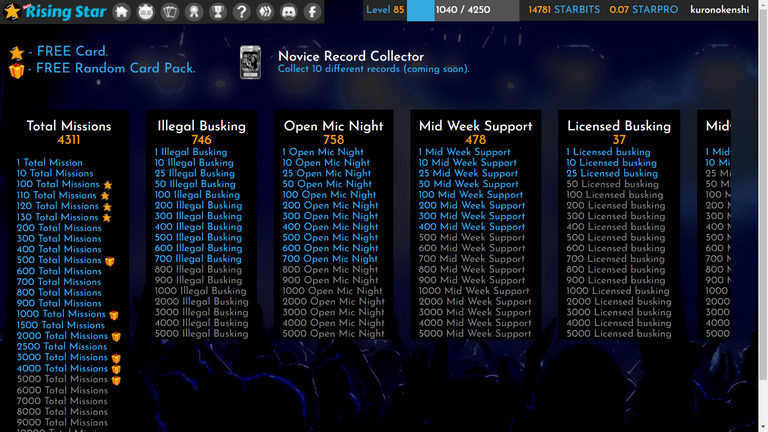 Translated with www.DeepL.com/Translator (free version)
All images were taken from my Rising Star account
Separator Images:
---
---

---
---
Español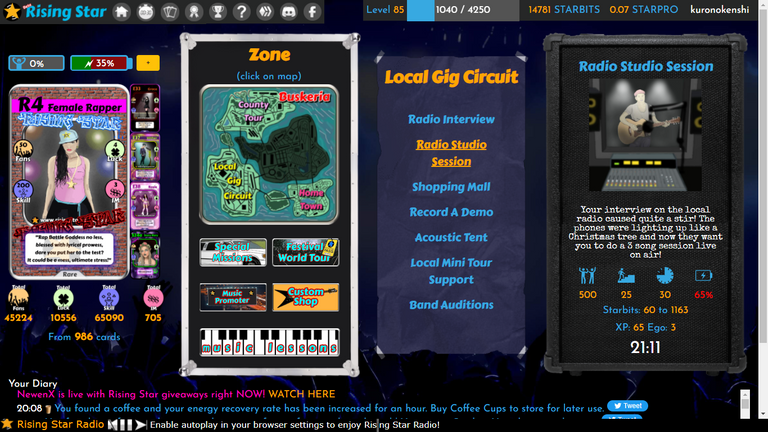 Un fuerte saludo para todos en Rising Star Game, como todos los lunes empiezo la semana compartiéndoles mis post de avances semanales en Rising Star y para esta ocasión ya voy por la semana número 25 desde que comencé a jugar en Rising Star. Como a medida que voy mejorando mi cantidad de FANS también lo hace la cantidad semanal de Starbits que puedo producir y gracias a eso puedo comprar más cartas individuales además de los sobres que siempre compro. Para esta ocasión volví a comprar 12 sobre por el combo de 12 sobres a 100K Starbits. A pesar de ya llevar más de 6 meses todavía sigo sin conseguir mi primera carta legendaria, pero de todas formas no pierdo la esperanza de obtenerla en alguna apertura de sobres. Les mostrare algunos de los sobres mas destacados de la apertura.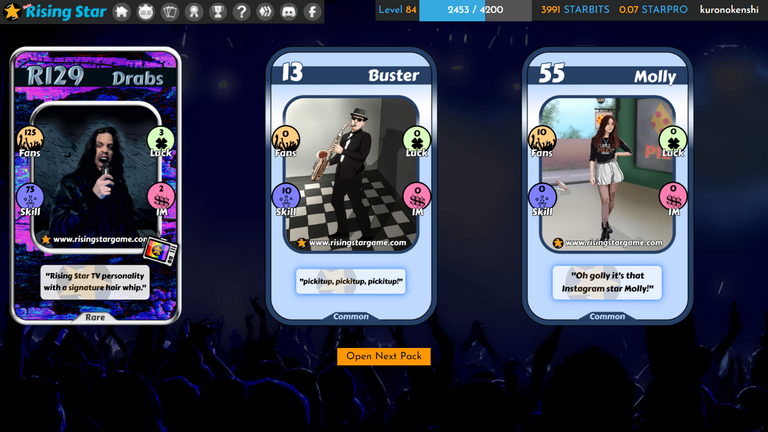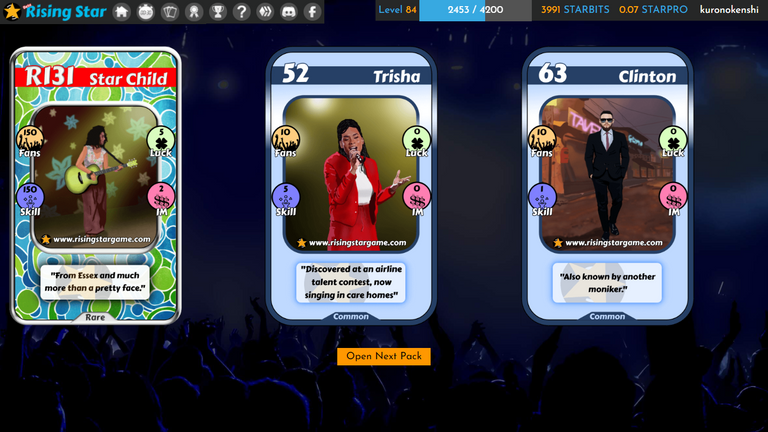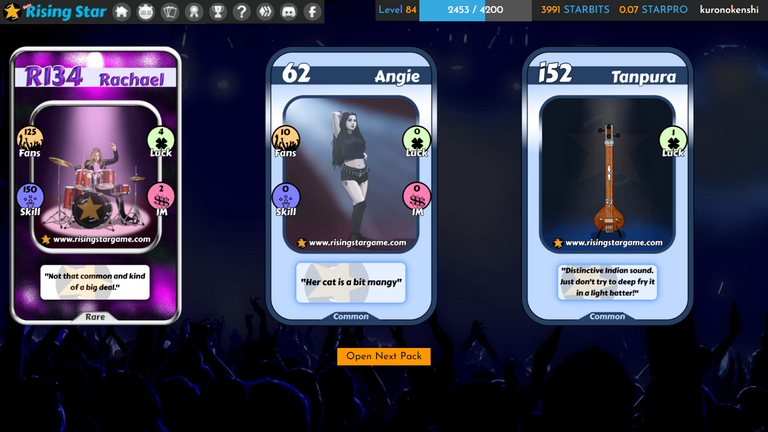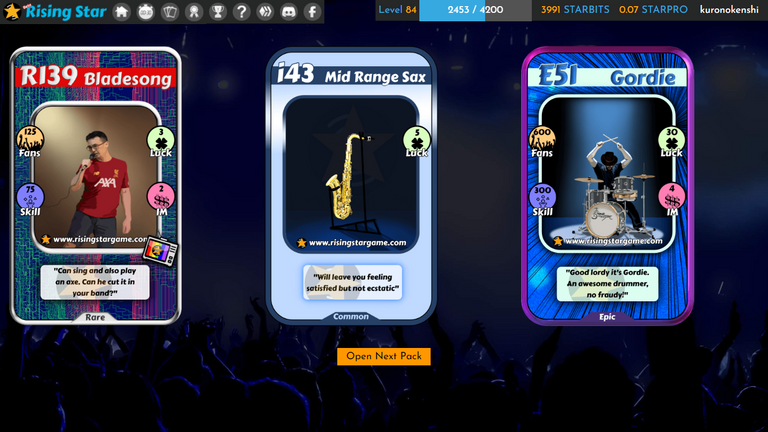 A pesar de que mi mala fortuna con las legendarias todavía persiste al menos logre conseguir algunas cartas útiles con buena cantidad de FANS e incluso logre obtener una carta Épica. Entre las cartas Raras más interesantes que conseguí esta: R131 Star Child la cual cuenta con 150 FANS, 150 SKILL, 5 LUCK y 2 IM; no solo es una carta con muy buena cantidad de FANS, además al contar con la misma cantidad de SKILL no debes preocuparte por que te suba el porcentaje de EGO. La carta épica que conseguí en esta apertura de sobres se trata de E51 Gordie la cual otorga un total de 600 FANS, 300 SKILL, 30 LUCK y 4IM, ya contaba con una de estar cartas en mi colección, pero un músico épico siempre es bien recibido. Además de todas estas cartas también compre 5 cartas individuales de "Can Of Petrol" las cuales son requeridas para la segunda misión de la tercera isla.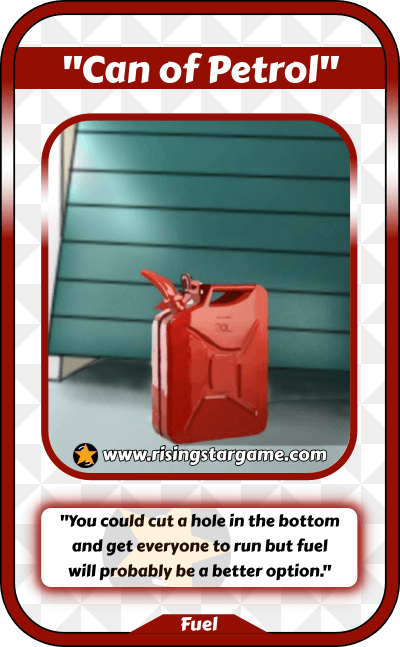 Luego de esta semana mis estadísticas alcanzaron un total de: 43410 FANS, 10558 LUCK, 65610 SKILL de los cuales 34809 son producto de las lecciones de música y 705 IM, todo esto producto de 986 NFTs. También logre llegar a un total de 4311 misiones completas y el ultimo sobre gratis lo conseguiré al llegar a las 5000 misiones completadas, del mismo modo logre subir hasta el nivel 85 y con ello lograr desbloquear la segunda misión de la tercera isla para de esta manera contar con más misiones diferentes para poder alternar durante el día. Mi próximo objeto será alcanzar un total de 50K FANS de manera que no estoy tan lejos de eso.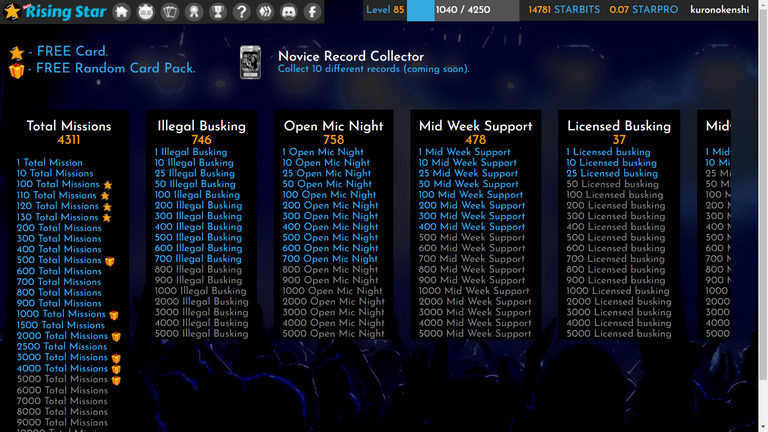 All images were taken from my Rising Star account
---
Separator Images:
---
---