Dexter's Lab (Deesaster Strikes) - The Adventure Of Cartoon's Best Known Scientist [ENG -ESP]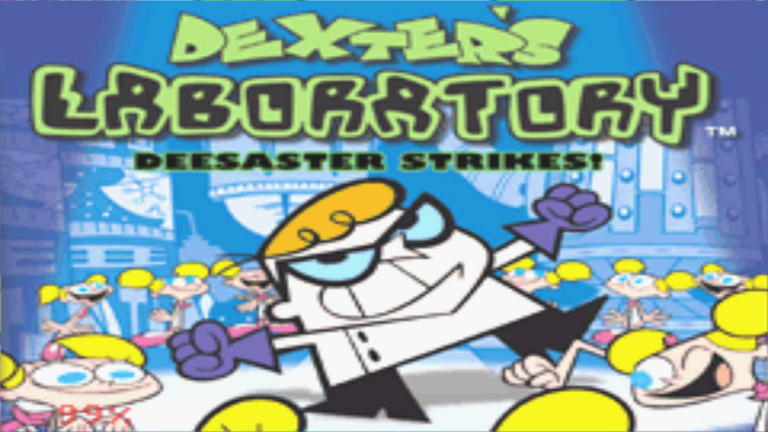 screenshot of my monitor
The late 90's and early 2000's was the golden age for cartoons, especially for the Cartoon Network channel that had great cartoons such as Ed, Edd and Eddy, KND, among others. One of those cartoons so popular and successful was Dexter's Lab which had several episodes and even a movie, being a series so loved by the public it was easy to guess that it would have some video games and one of those was Dexter's Lab - Deesaster Strikes an old title about the series which was published in 2001 and was only available for the Game Boy Advance, the title was based on the two main protagonists of the series Dexter and his older sister Dee Dee.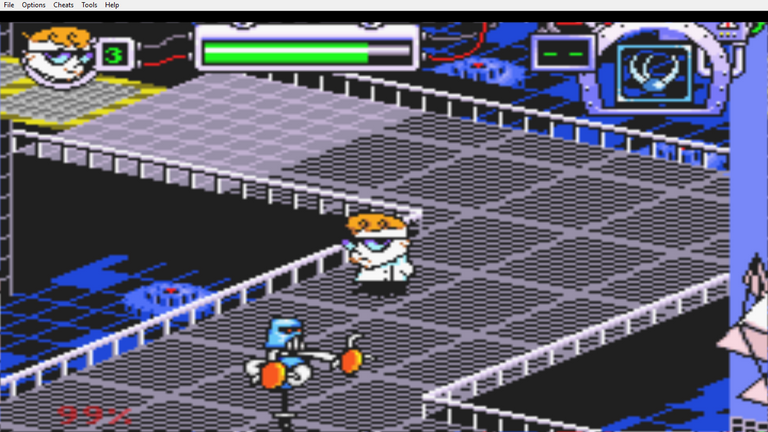 screenshot of my monitor
Dexter's Lab - Deesaster Strikes is based on an action game with isometric view which was always a bit awkward to control the character. The game is based on Dee Dee entering one of Dexter's machines and turning into hundreds of mini Dee Dee's which ran all over Dexter's Lab causing disasters and it is Dexter's mission to solve the havoc caused by Dee Dee by catching them all to return them to the machine and return to the normal Dee Dee Dee again, besides that Dexter must explore his lab repairing all the damaged machines and fighting against a lot of robots and other strange enemies that are in his lab.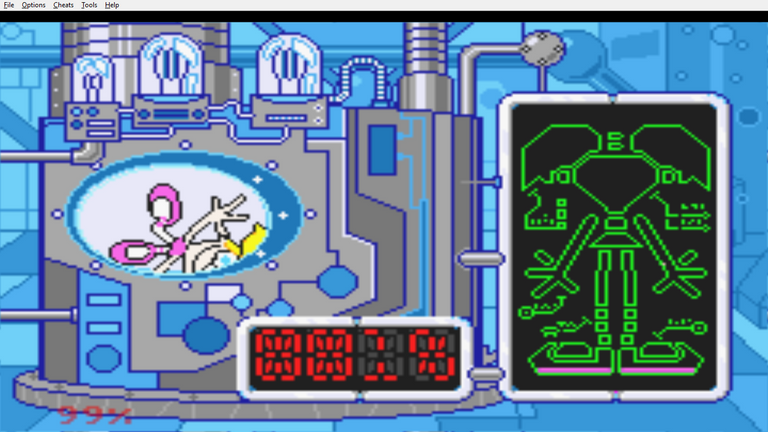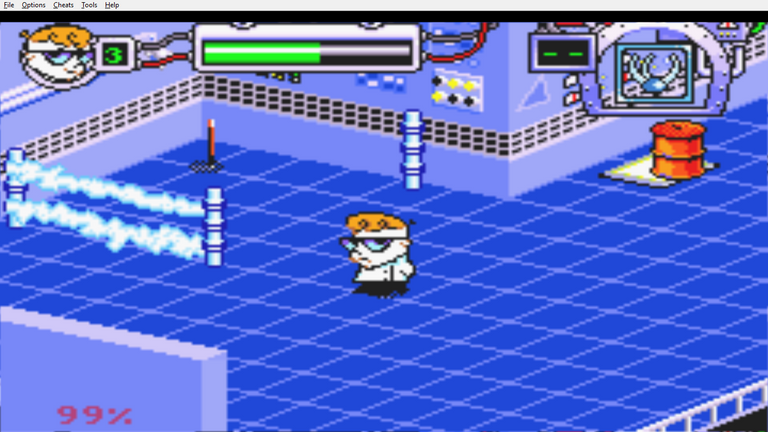 ---
screenshot of my monitor
The control in this video game is quite simple as it is a Game Boy Advance title where we will have the movement buttons, a jump button, an action button to use the different weapons or tools. With the triggers we can switch between the different objects and weapons that we get for the level and we can also perform the melee attack where Dexter will throw a blow with his fist while leaving slightly propelled forward. A drawback of the game will be precisely a product of the combination of its limited controls and isometric view which makes it slightly uncomfortable to move accurately on narrow paths, make precise jumps and even hit the enemies correctly with ranged weapons and especially with the melee strike.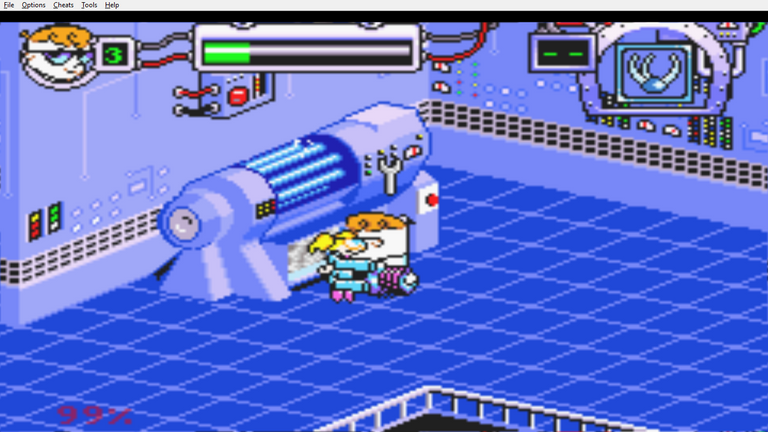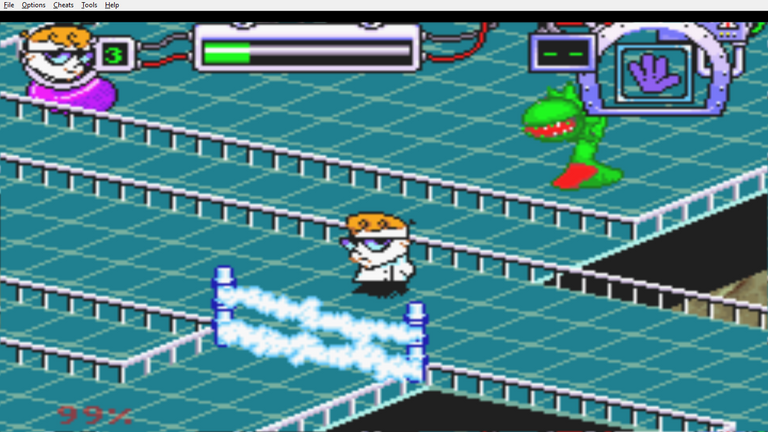 ---
screenshot of my monitor
When we start we will see several blocked doors on the map which require a number of captured Dee Dee, for this reason the game is mainly based on going from one room or level to another in search of the Dee Dee and each room has a lot of different sub-sales making the game much more extensive than you might think at first glance. In each room we can get different types of objects that will be useful in the same but when we move to a next room we will lose all the objects obtained in the previous room for this reason we must be careful to fully explore each room before leaving it to avoid having to return to pick up an object that we had previously especially because when leaving the rooms these are reset so that all enemies eliminated and changes we have caused in the room will disappear.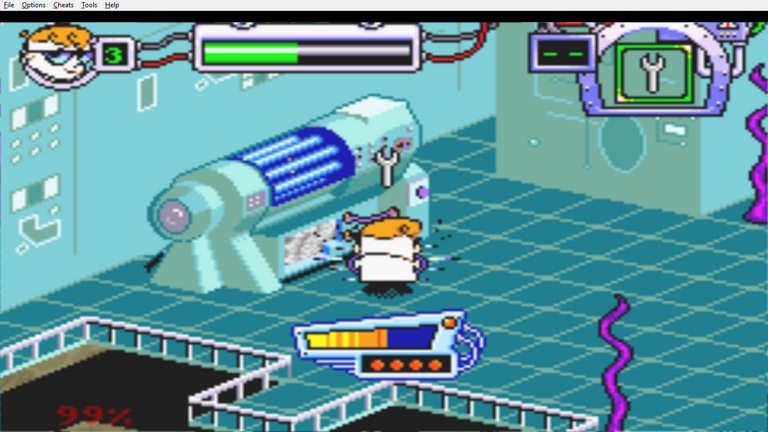 screenshot of my monitor
Another fun aspect of this game is that there are some special objects that in our menu will come out with a green frame and this means that they will be key objects which once we get them we will not lose them when changing from one room or level to another. This causes that as we go forward we will have to return to past rooms that we already played but at the time we did not have these special items to complete all actions and get all the Dee Dee's of the level. Dexter's Lab - Deesaster Strikes is a title that can be somewhat uncomfortable when fighting against enemies but at the same time ends up being much more complex and extensive than you might think, even becomes a bit labyrinthine having to return to past areas and remember where you needed certain objects and remember which rooms you already completed 100%. A classic game but at the same time will give you many hours of gameplay.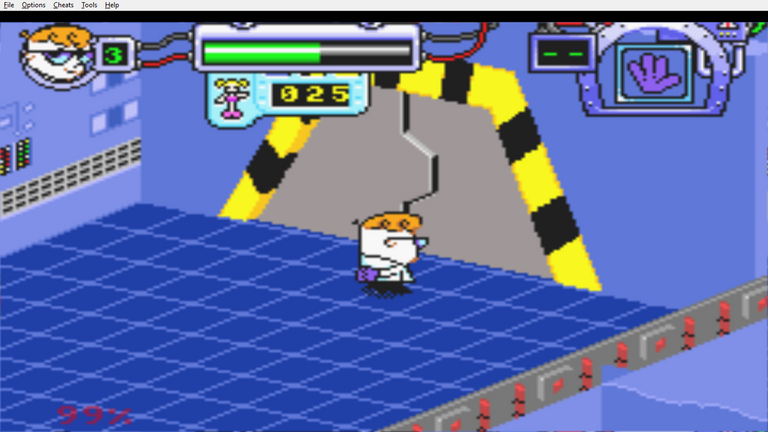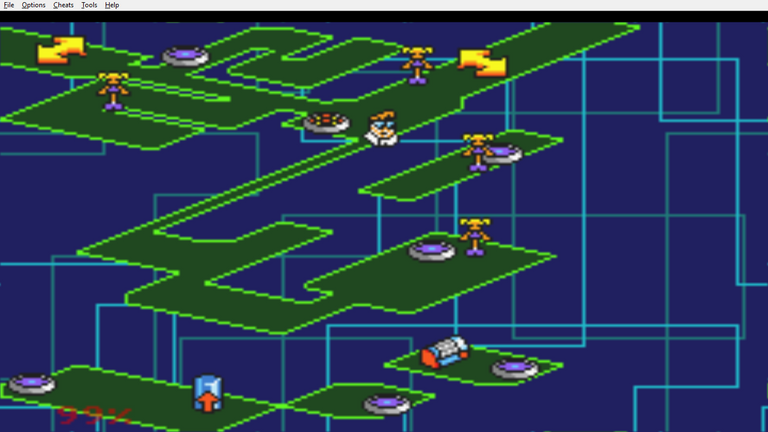 ---
screenshot of my monitor
Source
Translated with www.DeepL.com/Translator (free version)
Separator Images:
---
---

---
---
Español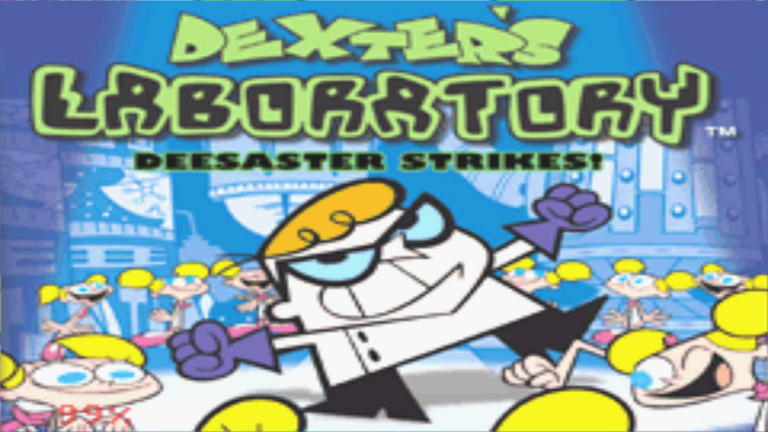 screenshot of my monitor
A finales de los 90' y principios de los 2000' fue la época de oro para las caricaturas en especial para el canal Cartoon Network que contaba con grandes caricaturas como lo eran Ed, Edd y Eddy, KND, entre otras. Una de esas caricaturas tan popular y exitosa fue el laboratorio de Dexter la cual conto con varios episodios y hasta una película, al ser una serie tan querida por el público era fácil adivinar que contaría con algunos videojuegos y uno de esos fue Dexter's Lab - Deesaster Strikes un antiguo título sobre la serie el cual fue publicado en el año 2001 y solamente estuvo disponible para la Game Boy Advance, el titulo se basaba en los dos protagonistas principales de la serie Dexter y su hermana mayor Dee Dee.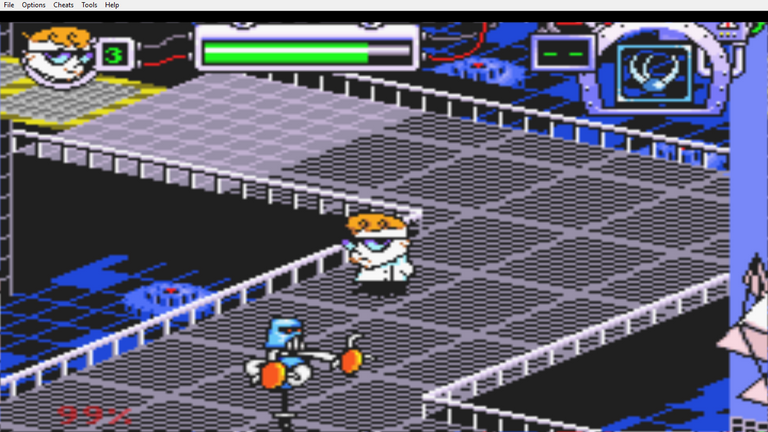 screenshot of my monitor
Dexter's Lab - Deesaster Strikes se basa en un juego de acción con vista isométrica la cual siempre resultaba ser un poco incómoda para el control del personaje. El juego se basa en Dee Dee entrando en una de más máquinas de Dexter y convirtiéndose en cientos de mini Dee Dee las cuales salieron corriendo por todo el Laboratorio de Dexter causando desastres y es misión de Dexter resolver los estragos causados por Dee Dee al atraparlas a todas para regresarlas a la máquina y regresar a la Dee Dee normal otra vez, además de eso Dexter deberá explorar su laboratorio reparando todas las maquinarias dañadas y luchando contra una gran cantidad de robots y demás enemigos extraños que están en su laboratorio.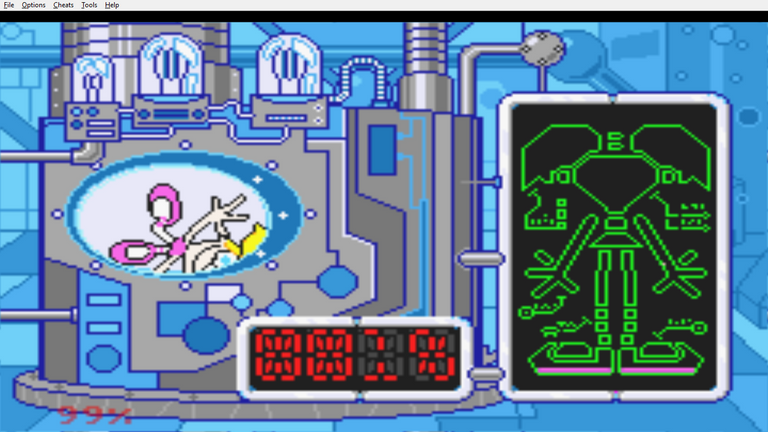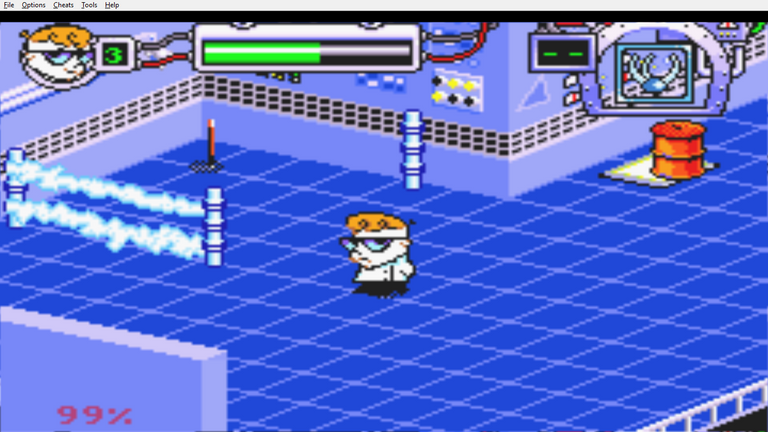 ---
screenshot of my monitor
El control en este videojuego es bastante sencillo al tratarse de un título de la Game Boy Advance en donde tendremos los botones de movimiento, un botón de salto, un botón de acción para usar las diferentes armas o herramientas. Con los gatillos podremos cambiar entre los diferentes objetos y armas que conseguimos por el nivel y también podemos realizar el ataque cuerpo a cuerpo en donde Dexter lanzara un golpe con el puño al mismo tiempo que sale ligeramente impulsado hacia el frente. Un inconveniente del juego será precisamente producto de la combinación de sus limitados controles y la vista isométrica lo cual provoca que resulte ligeramente incomodo el moverse de manera precisa en los caminos angostos, realizar saltos precisos y hasta golpear de manera correcta a los enemigos con las armas a distancia y especialmente con el golpe cuerpo a cuerpo.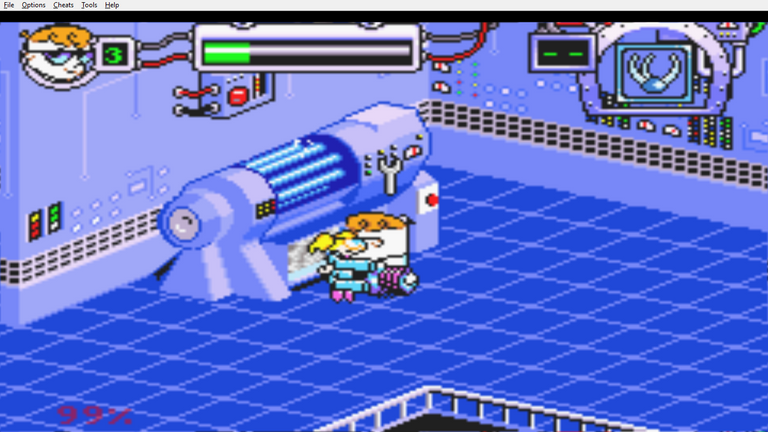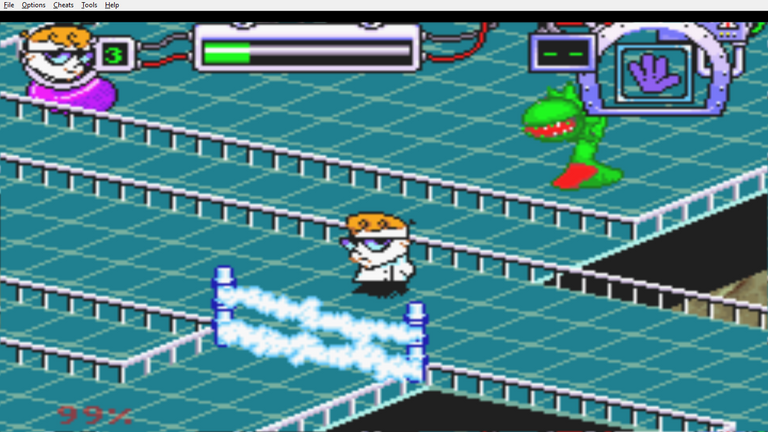 ---
screenshot of my monitor
Al momento de empezar veremos por el mapa varias puertas bloqueadas las cuales exigen un numero de Dee Dee capturadas, por este motivo el juego se basa principalmente en ir de una sala o nivel a otra en busca de las Dee Dee y cada sala tiene una gran cantidad de sub-sales diferentes haciendo que el juego sea mucho más extenso de lo que se podría pensar a simple vista. En cada sala podremos conseguir diferentes tipos de objetos que nos serán útiles en la misma pero al momento de pasar a una siguiente sala perderemos todos los objetos conseguidos en la sala anterior por este motivo deberemos tener la precaución de explorar totalmente cada sala antes de salir de ella para evitar tener que volver a recoger un objeto que teníamos previamente en especial porque al salir de las salas estas se resetean de manera que todos los enemigos eliminados y cambios que hayamos causado en la sala desaparecerán.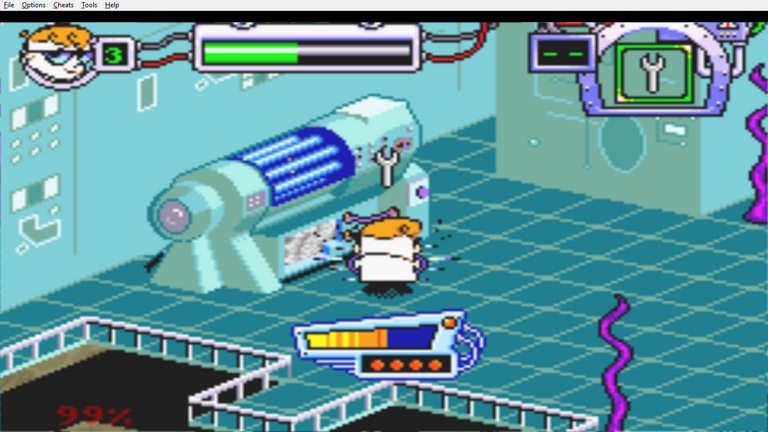 screenshot of my monitor
Otro aspecto bastante divertido de este juego es que existen algunos objetos especiales que en nuestro menú saldrán con un marco verde y esto significa que serán objetos claves los cuales una vez los consigamos no los perderemos al cambiar de una sala o nivel a otro. Esto causa que según vayamos avanzando deberemos regresar a salas pasadas que ya jugamos pero que en su momento no teníamos dichos objetos especiales para completar todas las acciones y conseguir a todas las Dee Dee del nivel. Dexter's Lab - Deesaster Strikes es un titulo que puede resultar algo incómodo al momento de luchar contra los enemigos pero que al mismo tiempo termina siendo mucho más complejo y extenso de lo que se podría pensar, incluso llega a ser un poco laberintico el tener que regresar a zonas pasadas y recordar donde necesitabas ciertos objetos, así como recordar cuales salas ya completaste al 100%. Un juego clásico pero que al mismo tiempo te dará muchas horas de juego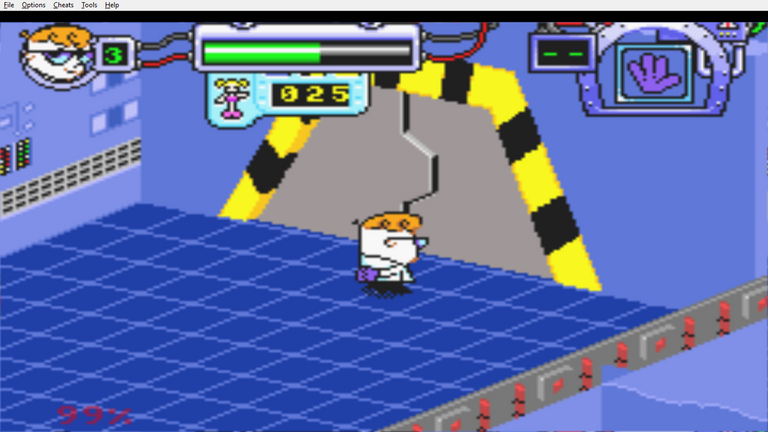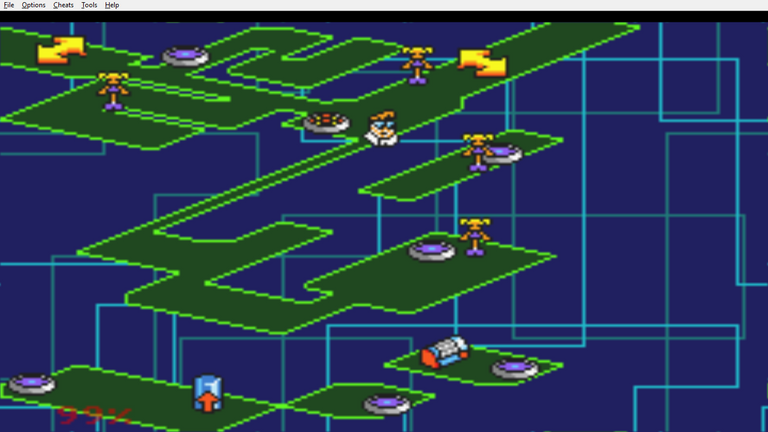 ---
screenshot of my monitor
Source
---
Separator Images:
---
---