[ESP - ENG] Semifinales de Lujo en las Nitto Finals de Turín. // Luxury Semifinals at the Nitto Fina

---
[ESP - ENG] Semifinales de Lujo en las Nitto Finals de Turín. // Luxury Semifinals at the Nitto Finals in Turin no
---
▶️ 3Speak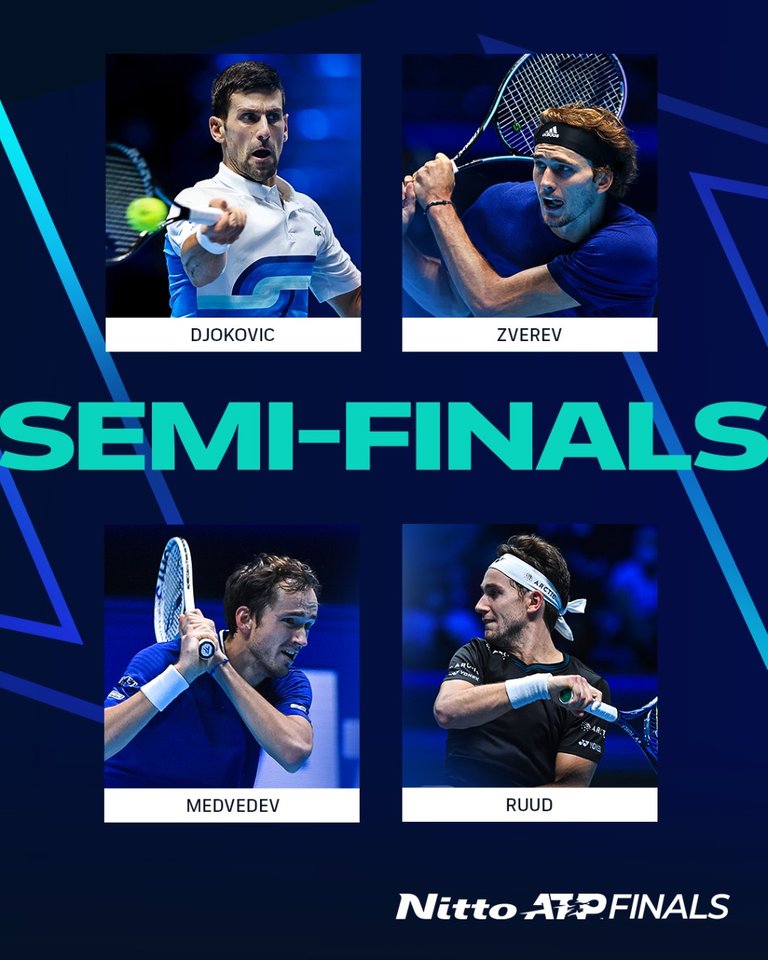 Fuente
Hola amantes del deporte, las Nitto Finals nos han regalado unas semifinales de lujo, entre el ruso Daniil Medvedev versus el noruego Casper Ruud y el alemán Alexander Zverev ante el serbio Novak Djokovic; ambos encuentros de gran emoción por ver a los jugadores que serán finalistas el día de mañana. En primera instancia, Medvedev ha hecho valer su favoritismo y su gran momento, al despachar en sets corridos al joven revelación de la temporada Ruud, que poco pudo hacer por evitar la derrota, sin embargo logró acceder a esta etapa semifinal en su primer participación en este difícil torneo.
Hello sports lovers, the Nitto Finals have given us some luxury semifinals, between the Russian Daniil Medvedev versus the Norwegian Casper Ruud and the German Alexander Zverev against the Serbian Novak Djokovic; both matches of great excitement to see the players who will be finalists tomorrow. In the first instance, Medvedev has asserted his favoritism and his great moment, by dispatching in straight sets the young revelation of the season Ruud, who could do little to avoid defeat, however he managed to access this semifinal stage in his first participation in this difficult tournament.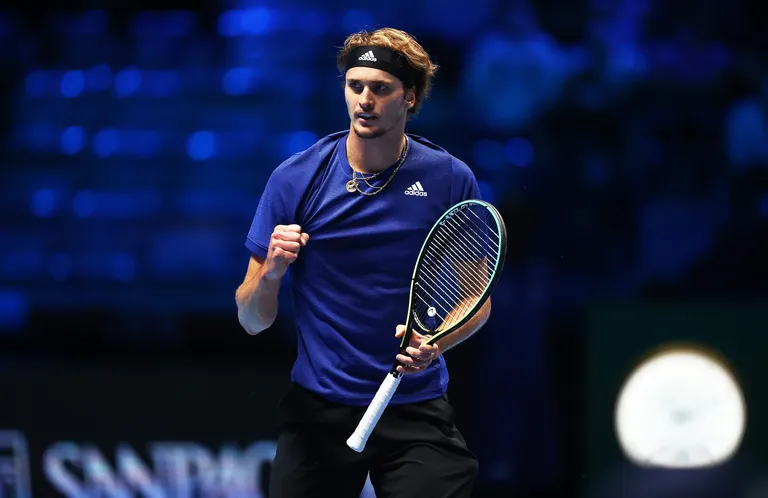 Fuente
Pero el partido de la jornada sería el que disputaban Sascha y Nole, quienes se han visto varias veces durante este año, precisamente en semifinales de los juegos olímpicos de Tokio y en la misma instancia pero en el US Open, con triunfo por lado. No obstante Sascha ha desarrollado un gran partido, soltando sus mejores tiros ante el número 1 del mundo, a quien puso a correr por toda la cancha para alcanzar su revés controlado y sus potentes tiros de drive. El primer set se definía en el tie break en favor del alemán, quien toma importante ventaja.
But the match of the day would be the one between Sascha and Nole, who have met several times this year, precisely in the semifinals of the Olympic Games in Tokyo and in the same instance but in the US Open, with a win for each side. However, Sascha has developed a great match, unleashing his best shots against the world number 1, whom he made to run all over the court to reach his controlled backhand and powerful drive shots. The first set was defined in the tie break in favor of the German, who took an important advantage.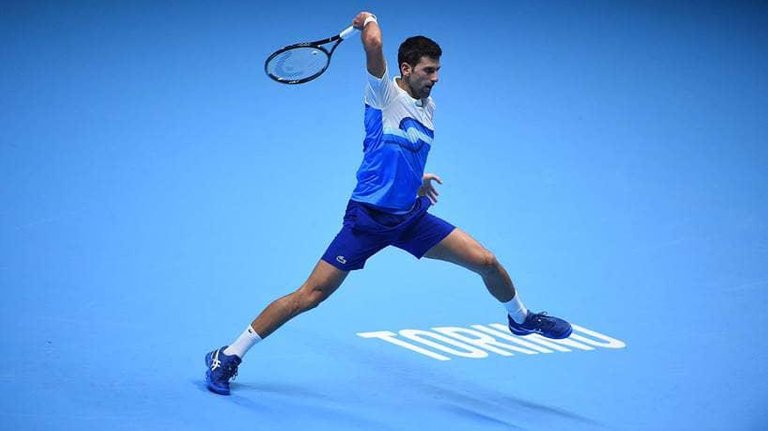 Fuente
La segunda manga la definió Djokovic, con un quiebre en el noveno game, aunque tuvo que esforzarse para contener los constantes ataques de Zverev. Esto fue una muestra de la paridad de ambos tenistas, que forzaban la tercera vuelta, en la que Sascha fue más dominante, consiguiendo bloquear los espacios con eficiencia y atacando en la red, de manera implacable; logrando corregir los errores cometidos en su partido ante Daniil, desplazándose son soltura y dinamismo por toda la cancha. Ante esta versión del nacido en Hamburgo, poco pudo hacer el serbio por contrarrestar esas fuertes y variadas ráfagas.
The second set was defined by Djokovic, with a break in the ninth game, although he had to struggle to contain the constant attacks of Zverev. This was a sign of the parity of both players, who forced the third set, in which Sascha was more dominant, managing to block the spaces with efficiency and attacking the net, relentlessly; managing to correct the mistakes made in his match against Daniil, moving with ease and dynamism all over the court. Against this version of the Hamburg-born player, the Serb could do little to counteract those strong and varied bursts.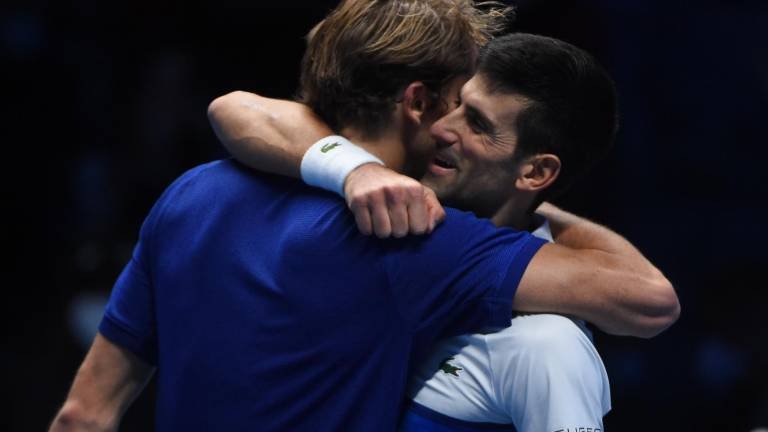 Fuente
El partido duró 2 horas con 28 minutos y deja la mesa servida para la gran final de este domingo, entre la segunda y tercera mejores raquetas del ranking mundial. Un partido que promete grandes emociones, dado que Zverev está demostrando ajustes en su juego, tanto en el ataque como en la defensa. Entonces veremos si finalmente Sascha, logra revertir ese dominio que el ruso ha tenido en los últimos 5 encuentros, en los que le ha ganado de manera contundente. El cierre de la temporada no podía tener un mejor encuentro, que esta nueva rivalidad entre los jóvenes que representan la generación de relevo del tenis.
¡Hasta la Próxima!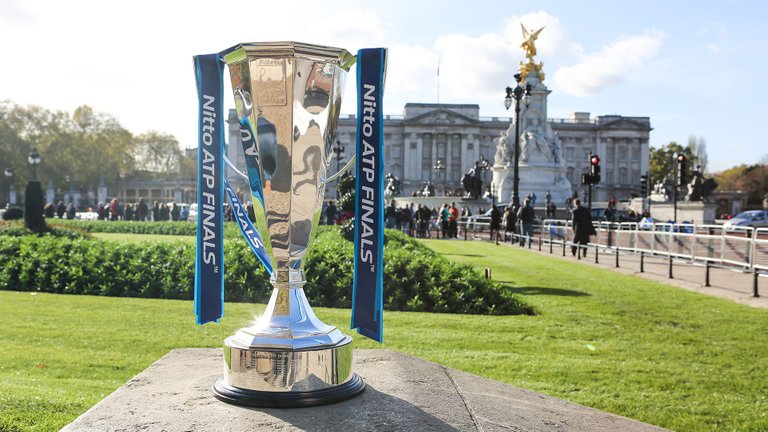 Fuente
The match lasted 2 hours and 28 minutes and leaves the table set for Sunday's final, between the second and third best racquets in the world ranking. A match that promises great emotions, since Zverev is showing adjustments in his game, both in attack and defense. So we will see if Sascha finally manages to reverse the dominance that the Russian has had in the last 5 meetings, in which he has won convincingly. The closing of the season could not have a better match than this new rivalry between the young players who represent the new generation of tennis.
See you next time!
---
El video fue tomado desde mi teléfono móvil Redmi 8, utilizando un elemento de fijación (trípode).

La edición se realizó con el programa Youcut.
---

La opinión en esta publicación es de carácter personal por parte del autor.
El Texto ha sido Traducido con Deepl en su versión gratuita.
The opinion in this publication is of a personal nature on the part of the author.
The text has been translated with Deepl in its free version.


---
---