[ENG - ESP] BNP PARIBAS OPEN: Alcaraz - Muray "Attack versus Defense" -- "Momentum versus Experience". // Alcaraz - Muray "Ataque versus Defensa" --"Ímpetu versus Experiencia".
Hello friends of the sports community, after a start of good matches, the emotions continue at the ATP Masters 1000 Indian Wells, a Californian tournament of great tradition and prestige in the annual calendar of the best tennis in the world. The Indian Wells Tennis Garden is the perfect setting for high-level clashes between the best players in the world. One of the positive aspects is that after the tight schedule of tournaments, the players arrive in the Coachella Valley with a good practice, which translates into more competitive matches.
---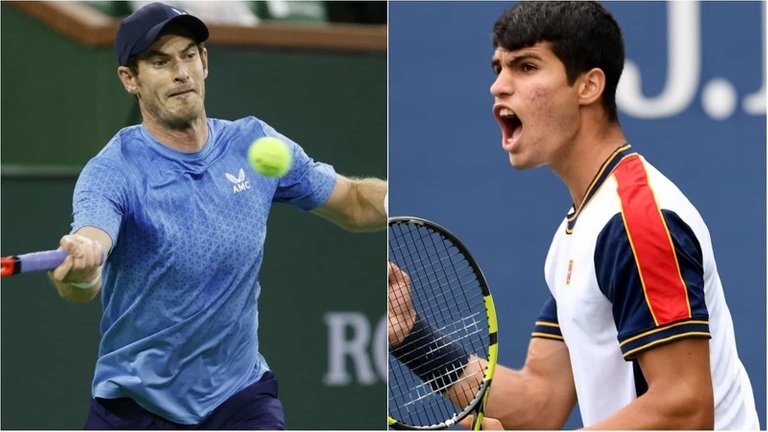 Source
---
Hola amigos de la comunidad deportiva, luego de un inicio de buenos encuentros, siguen las emociones del ATP Masters 1000 de Indian Wells, torneo californiano de gran tradición y prestigio en el calendario anual del mejor tenis mundial. El Indian Wells Tennis Garden es el escenario es propicio para choques de alto nivel, por parte de las mejores raquetas del orbe. Uno de los aspectos positivos, es que luego del apretado itinerario de torneos, los jugadores llegan al Valle de Coachella con un buen fogueo a cuestas, lo que se traduce en partidos más competitivos.
After the debut of Mr. showman (Andy Murray) against the French Adrian Mannarino and seeing the parade of victories by the rackets of Andrey, Aslan and Daniil; I am happy to see this new context of the game, in which "in my opinion", athletes are more loose, with fresh plays product of a breadth in their vision of the game. Certainly tennis has been evolving and it was about time hahaha, although it is probably related to the absence of the Big Three, which lowers the pressure to anyone hahaha.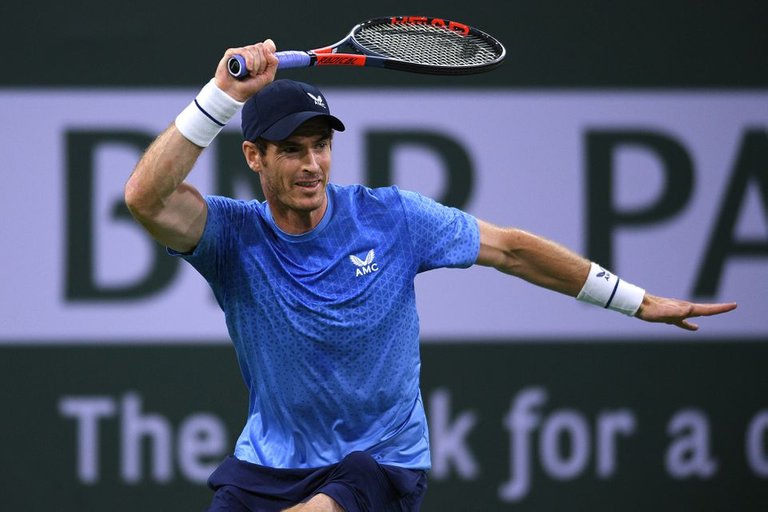 Source
Después del debut del señor espectáculo (Andy Murray) ante el francés Adrian Mannarino y de ver el desfile de victorias por parte de las raquetas de Andrey, Aslan y Daniil; me contenta ver este nuevo contexto de juego, en el que "a mi parecer", los atletas andan más sueltos, con jugadas frescas producto de una amplitud en su visión de juego. Ciertamente el tenis ha venido evolucionando y ya era hora jajaja, aunque probablemente esté relacionado con la ausencia del Big Three, lo cual baja la presión a cualquiera jajaja.
Sir Andy has done it again, the golden Scotsman continues to demonstrate his good level, with that showy tennis; I think that as long as he continues to do so, he will continue to receive invitations to all the tournaments on the circuit, total, with such a show represents a guarantee of level. His presence alone is attractive for the fans, given that he is still running like a 20 year old kid. In fact, he doesn't seem to have retired; he reaches every corner of the court, blocks, attacks and places his shots with precision, what more can we ask of him?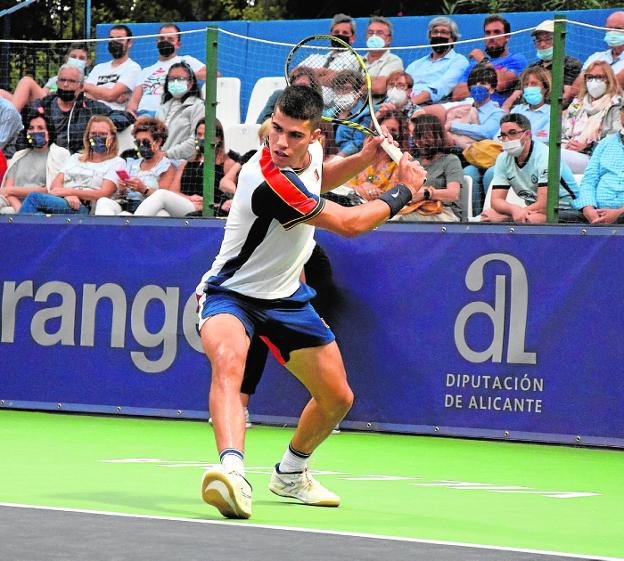 Source
Sir Andy lo ha vuelto a hacer, el escocés de oro sigue su demostrando su buen nivel, con ese tenis tan vistoso; creo que mientras lo siga haciendo así, seguirá recibiendo invitaciones a todos los torneos del circuito, total, con semejante show representa una garantía de nivel. Su sola presencia es atractiva para los fanáticos, dado que sigue corriendo como un chaval de 20 años. De hecho, no pareciera haber estado retirado; llega a todos los rincones del court, bloquea, ataca y coloca sus tiros con precisión, ¿Qué más le podemos pedir?
On the other side of the net, he will have the representation of the future of tennis, personified in the youth and strength of the Spaniard Carlos Alcaraz; who comes to join after a month of recovery due to injury (since the Us Open against Felix Auger-Aliassime). The player from Murcia has been cleared by his medical team and is ready to compete, however, he will have an acid test on the hard court of the Californian desert, where he will have to run and brake to evaluate the state of his quadriceps.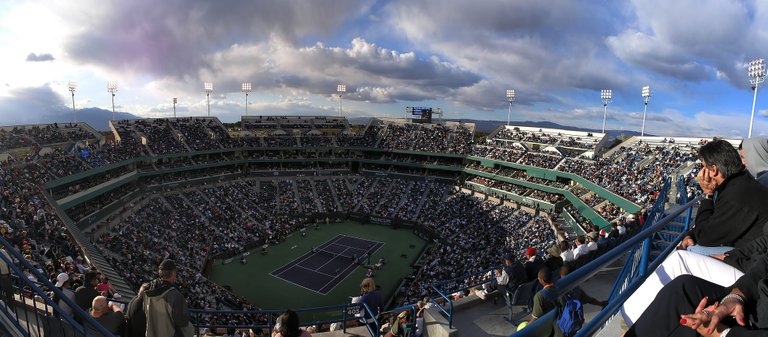 Source
Del otro lado de la red, tendrá a la representación del futuro del tenis, personificada en la juventud y fortaleza del español Carlos Alcaraz; quien viene a incorporarse luego de un mes de recuperación por lesión (Desde el Us Open frente a Félix Auger-Aliassime). El de Murcia ha recibido el visto bueno por parte de su equipo médico y está listo para competir, no obstante, tendrá una prueba de fuego en la pista dura del desierto californiano, donde deberá correr y frenar para evaluar el estado de su cuádriceps.
This afternoon's match is a match of reserved prognosis, given that the power of the Spaniard will be subject to his physical condition and in which he has the perfect opponent to prove what he is made of. I would not be surprised by a surprise from the British, whose tennis status is improving and has had another great performance in Metz, but with the difference of the dry climate of California, where it is played outdoors. Although the stats favor Carlos, the experience and the weight of experience are in favor of the always tough Andy Murray.
See you next time!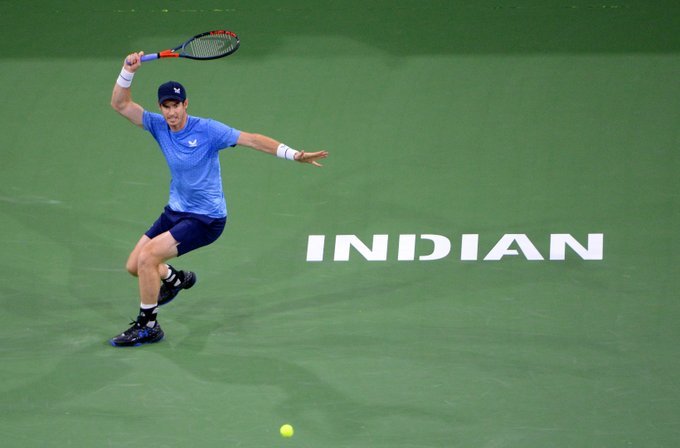 Source
Partido de pronóstico reservado el de esta tarde, dado que la potencia del español estará sujeta a su condición física y en la que tiene al rival perfecto para probar de qué está hecho. No me sorprendería una sorpresa por parte del británico, cuyo estatus tenístico viene en mejoría y ha tenido otra gran actuación en Metz, pero con la diferencia del clima seco de california, donde se juega al aire libre. A pesar de que las estadísticas favorecen a Carlos, los pergaminos y el peso de la experiencia, avalan al siempre aguerrido Andy Murray.
¡Hasta la Próxima!

The opinion in this publication is of a personal nature on the part of the author.
The text has been translated with Deepl in its free version.
La opinión en esta publicación es de carácter personal por parte del autor.
El Texto ha sido Traducido con Deepl en su versión gratuita.



---
---