A Movie and a Song "Dangerous Minds" 1995 [Eng - Esp]

Gansta's Paradise in Mentes Peligrosas.




It's strange but sometimes it happens that when you hear a song, it automatically makes you think of something related to it, much more than with its content or its interpreter; that happens to me when I heard one of the most popular songs of the 90's, that song by Coolio called Gangsta's Paradise; and that was aptly used for the soundtrack of the film Dangerous Minds, title that remained intact for Spanish America, the remembered film "Dangerous Minds", an icon of the Canadian director John Smith, which was released in 1995.

Gansta´s Paradise en Mentes Peligrosas.

Es extraño pero a veces sucede que cuando oyes una canción, te haga pensar de manera automática en algo relacionado a ella, mucho más que con su contenido o su intérprete; eso me pasa cuando escuché uno de los temas de mayor revuelo de los años 90, aquella canción de Coolio llanada Gangsta´s Paradise; y que fue utilizada acertadamente para la banda sonora del filme Dangerus Minds, título que se mantuvo intacto para Hispanoamérica, la recordada película "Mentes Peligrosas", todo un ícono del director canadiense John Smith, que se estrenó en 1995.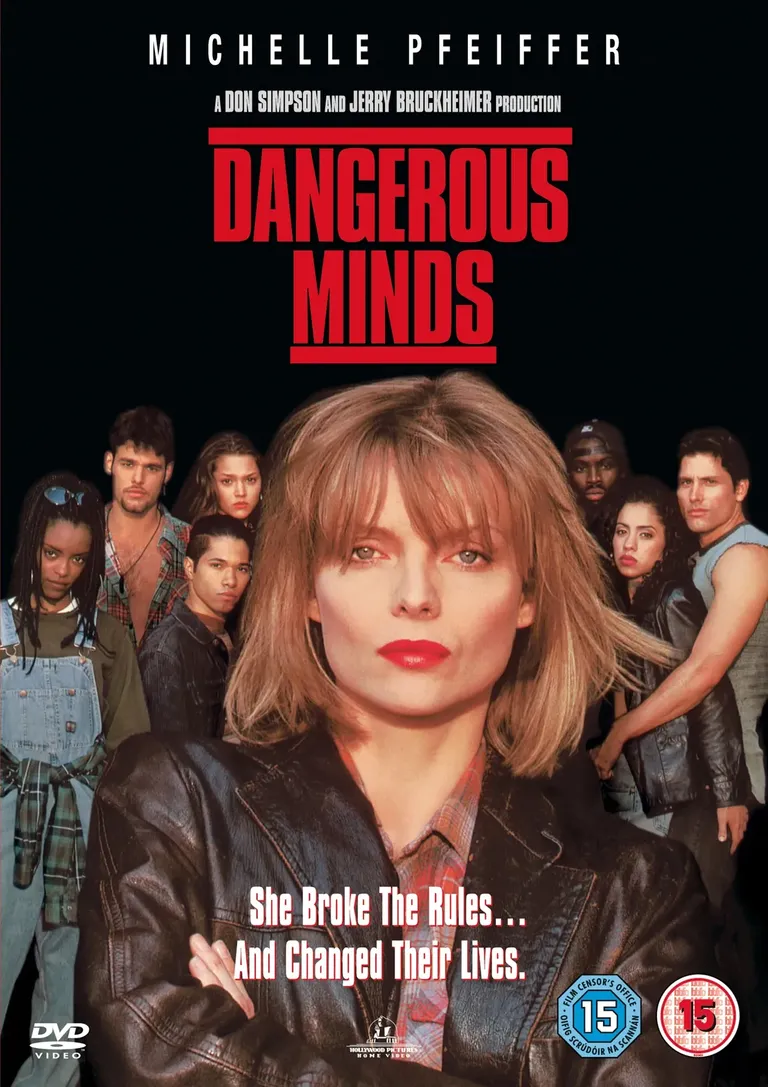 Source
The other factor or component that I mention is the performance of the cast of children, almost all unknown in the world of cinema at that time, but who assume each role very naturally, giving the impression that they are actually the students of that school in California, where the absence of common law and disrespect for the authorities prevails. It is then when the newly assimilated teacher assumes the responsibility of taking charge of the section entrusted to her, but behind it there is a kind of novitiate payment.
El otro factor o componente al que hago mención, es a la actuación del elenco de chicos, casi todos desconocidos en el mundo del cine de ese entonces, pero que asumen cada rol con mucha naturalidad; dando la impresión de que en realidad son los alumnos de aquella escuela de California, donde predomina la ausencia de ley común y el irrespeto hacia las autoridades. En entonces cuando la recién asimilada profesora, asume la responsabilidad de hacerse cargo de la sección encomendada, pero que detrás de ello hay una especie de pago de noviciado.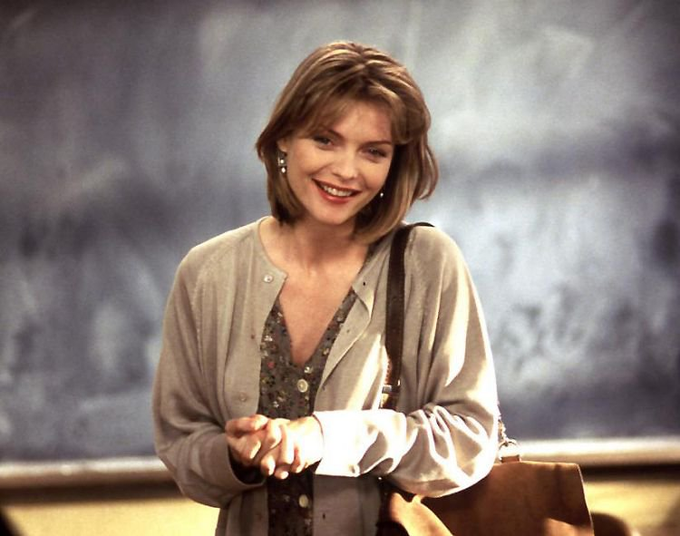 Source
That novitiate payment (as it is known here in Venezuela), refers to the fact that people who are starting in a job, always get screwed with the assignment of some difficult task and to which others are reluctant; so it is the new one who pays the hazing. Well, that more or less happened with Professor LouAnne, however, when she realized (a posteriori) the situation, far from giving up, she took courage to face the huge challenge she had in front of her.
Ese pago de noviciado (como se le conoce acá en Venezuela), se refiere a que a las personas que están comenzando en un puesto de trabajo, siempre lo joden con la asignación de alguna tarea difícil y a la que los demás le son reacios; así que es el nuevo quien paga la novatada. Bueno, eso más o menos pasó con la profesora LouAnne, no obstante al ella caer en cuenta (a posteriori) de la situación, lejos de abandonar se llena de valor para afrontar el mayúsculo reto que tenía frente a ella.

Source

That's what I call pure vocation, that courage and tenacity to address such a delicate issue and the worst part of the case, is that she did it practically alone, without the support of school authorities, who seemed to be against her unorthodox methods; but she had to manage to get close to her boys, because each one had a different problem. So the panorama did not look good at all, but there is a phrase that says "will is power", the brave teacher wanted and was able to go further than anyone else, although there were unavoidable situations.
A eso le llamo vocación pura, esa valentía y tenacidad para abordar un tema tan delicado y lo peor del caso, es que lo hizo prácticamente sola, sin apoyo de las autoridades escolares, que parecían estar en contra de sus métodos poco ortodoxos; pero es que tuvo que ingeniárselas para lograr acercarse a sus muchachos, porque cada uno tenía un problema diferente. Entonces el panorama no pintaba nada bien, pero hay una frase que dice "querer es poder", la valiente profesora quiso y pudo llegar más allá que ninguno, aunque hubo situaciones inevitables.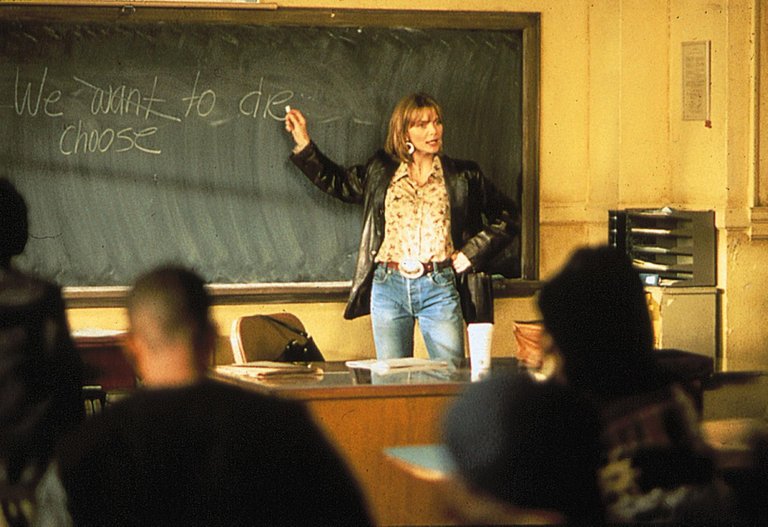 Source
This film has many elements that identify me, especially because it is a real situation, which occurs and has occurred everywhere; and the teacher, who at first was the object of ridicule by everyone, earned the place she deserved, which was to impose respect, with a totally humanistic style, which was and is what the kids need at that school stage, but without ever losing the sense of authority. Michelle goes from being that simple and subtle woman, to having to demonstrate her control of the situations, which nobody wanted to approach.
Este filme tiene muchos elementos que me identifican, sobre todo porque es una situación real, que se presenta y se ha presentado en todos lados; y la profesora que en un principio fue objeto de burlas por parte de todos, se ganó a pulso el lugar que se merecía, que era el de imponer respeto, con un estilo totalmente humanista, que era y es, lo que les hace falta a los chavales en esa etapa escolar, pero sin perder nunca el sentido de autoridad. Michelle pasa de ser esa mujer sencilla y sutil, a tener que demostrar su control de las situaciones, a las que nadie quería abordar.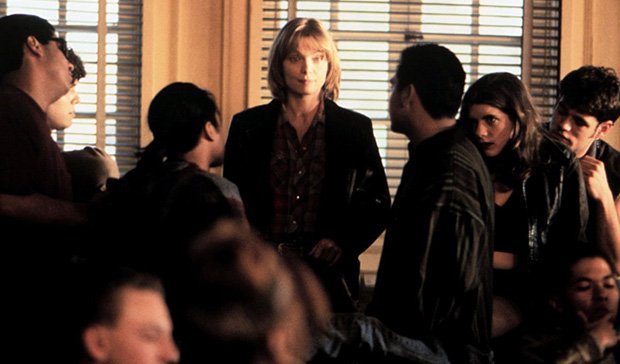 Source
The truth is that teenagers do need a guide to guide them, to teach them how to face their problems, but above all to listen to what they have to say; many times with these simple premises, complicated situations can be solved before they become real problems. Of course, there are exaggerated elements, such as using song lyrics to address the poetry she taught, but they are typical of the film and the precarious situation of the system.
La verdad es que los adolescentes sí necesitan una guía, que los encamine, les enseñe a afrontar sus problemas, pero sobre todo que les escuche lo que tienen que decir; muchas veces con estas sencillas premisas se pueden resolver las situaciones complicadas, antes que se conviertan en verdaderos problemas. Por supuesto que hay elementos exagerados, como la de utilizar letras de canciones para abordar la poesía que ella enseñaba, pero son propios del filme y de la situación de precariedad del sistema.
---
Source
---
"Dangerous Minds" is a film that I highly recommend, because of its subject and its reality; because perhaps many of the kids who have carried guns and murdered other students in American schools (and other countries) could have needed a teacher like LouAnne Johnsos and it resonates in my mind, that part of those crimes could have been avoided. Those kids perhaps needed the same personalized attention that in the film, Michelle gave her students.
"Mentes peligrosas" es una cinta que recomiendo ampliamente, por su tema y su realidad; porque quizás muchos de los chicos que han llevado armas y han asesinado a otros estudiantes en las escuelas estadounidenses (y de otros países) pudieron haber necesitado de una maestra como LouAnne Johnsos y me resuena en la mente, que se pudo haber evitado parte de aquellos crímenes. Esos muchachos quizás necesitaban la misma atención personalizada que en la película, Michelle les dio a sus alumnos.
I have brought this tape to honor her, I think I have taken it from where this kind of stories happen, in the silence of the shadows and that its peculiar soundtrack music, made me remember it and bring it to you.
See you next time!
He traído esta cinta para honrarla, creo que la he sacado de donde suceden este tipo de historias, en el silencio de las sombras y que su peculiar música de banda sonora, me hizo recordarla y traerla para ustedes.
¡Hasta la Próxima!

La opinión en esta publicación es de carácter personal por parte del autor.
Para Traducir el Texto he utilizado Deepl en su versión libre.
The opinion in this publication is of a personal nature on the part of the author.
To translate the text I have used Deepl in its free version.

---
---