When #Re-Thread?



I got to know about Leo-thread few days before the big day of launch, which was three days ago, on Thursday (04/08).
Belemo's tweets gave me hints about this new package, and Taskmaster's video/post on Times are Changing for Hive: We are Going to See an Entirely New Direction gave a detailed explanation about what we are to expect.
As a fan of Twitter, it was easier for me to decode this new package. In fact, I saw it as a promising feature that has great potency to compete with Twitter in the nearest future. I also saw it as an avenue to extend the frontiers of Hive and present Hive and its decentralized apps as a quintessential of a working model of Web 3.0

---
CLASH OF IDEOLOGIES
---
But I know that there are some people who think that the Thread is just another means employed to create traffic for Leo-finance and nothing else. In other words, it has no benefit for Hive whatsoever.
Well, if I were you, I would rather I understood the system and blockchain better.
Come on!
Is Leo-finance built on the air?
Really?
Does the thread have a different base aside that which is built on Hive?
---
Come to think of it, using Splinterlands game as an example, there are those who joined Hive Blockchain via Splinterlands game.
They began by playing Splinterlands game and, at some point, they were invited to take part in the Splinterlands weekly challenge on Hive. They were introduced to splintertalk.io frontend, and they used this to blog about their most cherished battles or to make an artistic entry of a Monster or Summoner of their Choice. In no distant time, they were already incorporated into the daily hassles of content creation on Hive. They embraced Hive, learnt it rules, adjusted accordingly and fitted themselves into other Niche of their choice.
Whereas Splinterlands is a game that runs outside of Hive but still connected to Hive, YOU THREAD IN and ON HIVE!
If we get those who come to thread because they want to enjoy freedom, true ownership of account, decentralization and ability to earn, do you mean they won't also be enticed when they behold the fount of knowledge and wisdom that exists in the Hive Blockchain?
I bet you have no response to that, right?
Since you don't, Join me, Let's Thread!

---
KSAM THE THREADER
---
In less than 15 minutes after Khal sent the info on the Discord Channel that Thread was officially live, I rushed to test out the new feature.
I encountered some issues that prevented me from threading with my Mobile Phone (the team is currently working on this and it will be settled very soon). However, since I was determined to be among the first to make use of this feature, I switched on my Laptop and connected it to the internet asap. My first thread was: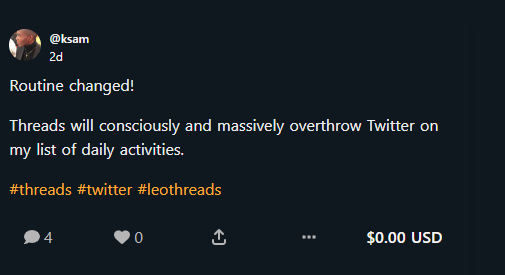 You can click here to check the original Thread and its replies
---
This isn't impossible you know!
Hive has consciously and massively overthrown Facebook, Instagram and Tiktok on my list of daily activities. Infact, I can stay for a week without checking Instagram or Tiktok. However, a day will not pass by without me checking Hive.
In the same way, I believe that with time Threads will improve on its scalability, UI and other important features, and then it will overthrow Twitter, for me. I believe the future updates will also include the presence of a personal dashboard that will make it easier for us to see all our previous Threads and replies to our threads.
And have you thought about this? The Re-thread feature? You already know what I mean, right?
I think it will be worth the shot!
What do you think?
WHEN RE-THREAD?
---

---
Congrats to the development team and the whole community. This is a huge feat. We started well and we'll keep improving and growing.

All designs were made by me using Canva Mobile Application.
---
Have you read these posts by me?
☆ Unravelling my Favourite Hive Author: The Story between the Storyline
☆ DIARY OF A CONTENT CREATOR ON HIVE
☆ Did you know that there are more than 10 ways to Earn on Hive?
☆ INFLATION: FROM THE LOCAL MAN POINT OF VIEW
☆ Buying, is not the Solution!
---

---
I AM KSAM
---
I may not be your favourite author, but you can journey with me to help me develop my "penmanship" skills. I am always open to criticism, correction and learning 🥰.
Posted Using LeoFinance Beta
---
---