Printing More Money to Stop State Debt Crisis? - Defying the Law of Scarcity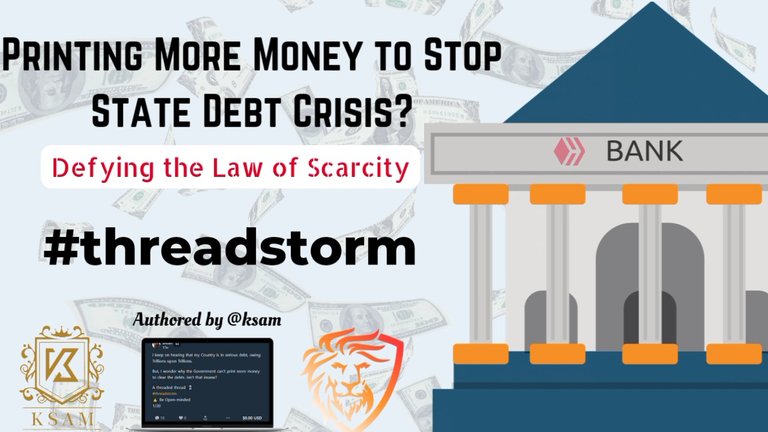 Sometimes it is quite interesting and educative to listen to people of different walks of life and age demography speak about certain issues that bother on economics and finance. Other times it is fun; and there are some times that you get completely irritated due to what some people say ignorantly.
In this case, in as much as it may be due to sheer ignorance, there are people who believe that one of the ways to combat state debt crisis is by printing more money.
Oh well, why do we have machines that print money if they aren't printing?
Well, if they aren't using them, maybe we can tell NETFLIX to give us a real life version of La Casa De Papel (Money Heist)

---
PRINT MORE MONEY SCARCITY
---
One of the economic concepts that really addresses this need to or not to print more money is scarcity.
Put differently, when a currency is scarce it affects the valuation of the currency. In other words, if you print more money and make the currency easily accessible to everyone and everywhere it will affect the valuation of the currency. In the same way, if you make the currency a bit scarce so that it becomes the most sought after for transaction purposes, then it will also affect the valuation of the currency
Yes, both affects the valuation: But which of them makes the currency appreciates? and which makes it depreciates?
Which is which?

---
MY THREADED THREAD - THREADSTORM
---
To get my response and thoughts on this issue, I will invite you all to check out my threadstorm.
This threadstorm is an entry for the Leofinance Contest: Contest! - Make a #Thread on Leo Finance by @leogrowth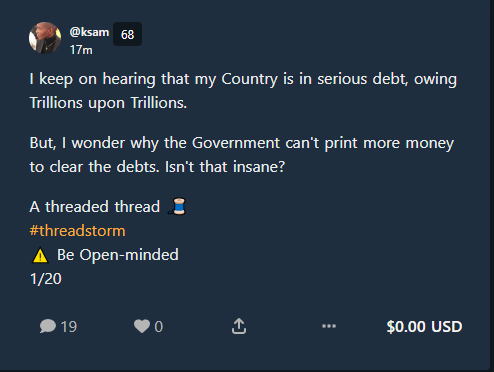 Click here to view my threadstorm on Reckless Printing of Currency - Scarcity
In this threadstorm I explained why printing money recklessly isn't good for the economy of the state. This in turn will affect the relationship with the state in terms of international exchanges and trades. I also spoke of how it affects the market woman who sells tomatoes and onions. In other words, everyone suffers from this reckless decision.
After this I explained scarcity and I also spoke about the need for scarcity in currency, crypto coin and NFT item.
I assure you, it will be worth you time and I believe you can gain or contribute to the knowledge shared.
---

---
All designs were made by me using Canva Mobile Application.
---
Have you read these posts by me?
☆ Unravelling my Favourite Hive Author: The Story between the Storyline
☆ DIARY OF A CONTENT CREATOR ON HIVE
☆ Did you know that there are more than 10 ways to Earn on Hive?
☆ INFLATION: FROM THE LOCAL MAN POINT OF VIEW
☆ Buying, is not the Solution!
---

---
I AM KSAM
---
I may not be your favourite author, but you can journey with me to help me develop my "penmanship" skills. I am always open to criticism, correction and learning 🥰.
Posted Using LeoFinance Beta
---
---