Reducing Portfolio Risk on Hive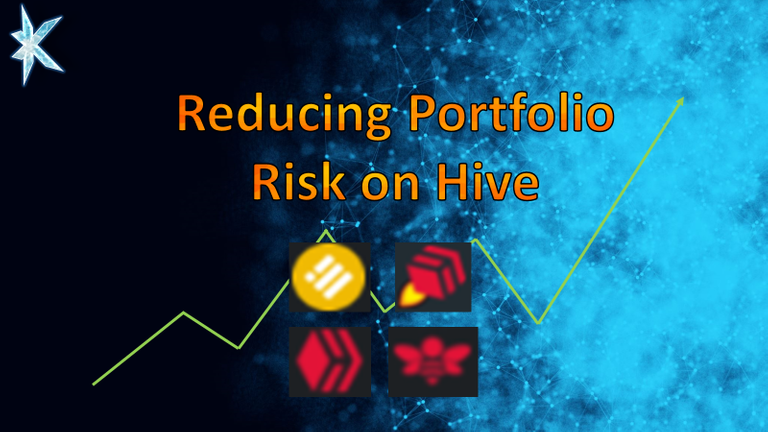 Hello fellow Hivians!
Unfortunately, I've noticed that there is a surprisingly large gap in financial and investment knowledge in the general population of gamers. Although blockchain gamers seem to be a bit more in touch with their finances new ways to better manage our money is always advantageous. As such, today I want to talk about risk mitigation in crypto investments. That said, I am not a financial advisor though I do love the topic and if I were to choose another career choice it absolutely would have been that (or maybe an animal actor trainer).

Traditional Portfolio Management
Generally most financial advisors recommend that while you are young and able you should be taking on more risk when it comes to your investments. Historically this means weighting your funds more heavily in stocks than bonds or cash. That said, even the most aggressive advisors generally still put some investment into 'safe' funds.
I've found that the average mix seems to be around 95% stock 5% bond/cash.
Your more savvy advisors these days are also including crypto in the mix which is, as all of you are aware, a solid move. The go to weighting it seems here is that no more than 5% of your portfolio should be in crypto. I'm generally a conservative investor (albeit I'm in crypto so maybe not that conservative) so this is where I think we have an opportunity to rethink traditional investment advice while still keeping 'safe'.

'Safe' Crypto Investments
So lets start with the fact that there is no truly
safe
crypto, or investment for that matter. That said, not all tokens are created equal. As such, there are a few tokens which are widely accepted to be less risky as they are 'pegged' to the USD either via direct backing (1 token represents $1 in the companies treasury) or an algorithm. These tokens are generally called 'Stable Coins'. On Hive, we actually support a few of these including HBD, USDT, and BUSD.
Before going further I want to say that USDT is widely looked at with skepticism and has multiple scandals and conspiracy theories surrounding it. As such, I personally don't touch it and can't recommend it in good conscious to any of you.
The other two include Hive's very own "stable" coin HBD which is algorithmically created to keep at $1 and BUSD which is Binance's USD backed token. Assuming you are in the crypto space these stable tokens are more or less equivalent to USD. This means that from an investment mindset, any of these tokens can be considered part of that 'safe' portfolio and not the 5% in crypto we talked about.

'Safety' With Yield
One of the main problems with safe investing is that generally it doesn't yield enough to grow over time. This is because these investments either yielding almost nothing at all (traditional savings accounts) or are breaking even with inflation (traditional bonds and certificates of deposit). With record levels of USD inflation and therefor world inflation, this means even stocks, historically around 6% APY, will struggle against the economic force.
So what can we do to keep a portion of our portfolio safe AND keep up with inflation? Well... stable coins seem to be one of the best options though generally you need to stake them or hold them on a DeFi platform to utilize them to their fullest extent.
The crypto market at large typically utilizes decentralized financial entities such as Blockfi to earn yield on stable coins. Generally, all that is required is holding the tokens on their platform. This is generally okay and can offer great APRs of up to 10% but if you follow the adage of 'not your keys, not your tokens' it doesn't really fly. 10% is honestly an amazing return considering traditional investments so this is nothing to scoff at.
That said, luckily Hive in particular, offers some of the best ways to take advantage of those stable coins all while allowing you to maintain your own tokens. You generally have 2 primary options to accomplish 'safe' yielding on Hive.
Buy and Stake HBD directly on Hive
This option is similar to holding your coins on Blockfi and it currently has an APR of 12%. That said, during my time on Hive, the APR has usually been 10% instead. Additionally, it is key to note that staking HBD has a 3 day unstaking period. This is nothing compared to most unstake periods but still pertinent to know.
Provide liquidity: swap.HBD and swap.BUSD
This option has the highest reward but is also the most risky of the bunch as participating in a liquidity pool (LP) exposes you to the concept of impermanent loss. I won't go into too much detail here but this is the general concept: Although BUSD will always equal $1 HBD may not and thus if it falls users will likely swap their BUSD for HBD which would result in you as a provider ending up with more HBD than BUSD which would technically be a 'loss' compared to holding whatever you initially had. Now what makes this option soo appealing is that as of today this specific LP has liquidity rewards which are paid out in BXT daily to the tune of 30%+.

Suggested Mix
Your portfolio mix is widely a personal choice as everyone has their own risk tolerances. That said, I prescribe to my own medicine. I follow the newer investment model of 90% stock 5% crypto and 5% safe but that 5% in safe is absolutely being 'worked' in the form of stable coins.

Disclaimers
I am not a financial advisor and this information is solely my opinion as a hobbyist. All images and content owned by me unless otherwise noted.
Helpful Details
Hive Curators
For those of you that blog but don't like to curate content, consider delegating your tokens for daily payouts. The following Curation accounts will payout 95% of all curation rewards received back to you automatically allowing you to indirectly support great content while earning great APY off of your crypto.
May not include all curation accounts
Hive Basic Income (HBI)
HBI is effectively an automated curation tool which will upvote your HIVE posts forever. It is an amazing way to ensure you get some income from all of the time you spend teaching others via posting your strategies, analysis, and thoughts. You can read more about HBI in their FAQ.
Support
If you are new to the Crypto space and wish to support Atlas, Nobu, and myself, please utilize the following referral links. You can also support us via upvotes, tips directly through Hive, including my name in a HBI purchase, or via a card/DEC donation.
Exchanges & DeFi
Coinbase - $10 signup bonus
Bittrex
Uphold - $20 bonus on first $250
Blockfi
NFT Games
Splinterlands - Contact me after using and I'll send some DEC your way.
Gods Unchained
Exode - 2 free alpha booster packs
Rising Star
---
---