Disciples of Helio: Account Operator Results (3/1 - 3/31)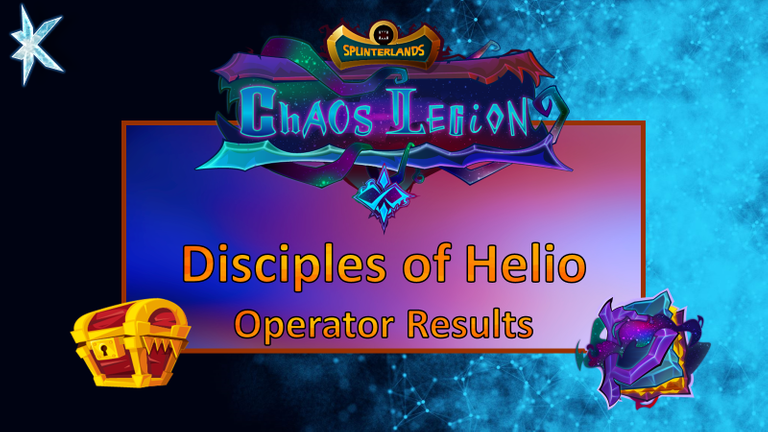 Hello fellow Hivians!
To start this post off I want to apologize for being absent. I have missed an operator post update from last season so this one will include 2 seasons worth. Those of you in the guild know already but I've been dealing with the loss of one of my family members and it has been a very hard and time consuming process that has withdrawn me from most of the joy in my life including spending time with all of you. I'm just now starting to get back into the swing of things and for Hive that is going to start with upholding my responsibilities as an operator for the Disciples and Acolytes guild.
To start off, the trooper accounts have been operating in Silver 3 and Bronze 1/2 and with the changes to DEC payouts are earning substantially less than we were previously. That said, with the newish ability for the guild to utilize Gladius cards, the guild has been earning more merits week over week and I've been able to pull multiple packs.

Results
During March the AOH1 and AOH2 accounts have earned 740 DEC and a total of 30 cards with a burn value of 900 DEC. That is a pretty large increase in card pulls given we have averaged only 300 DEC in burn value the past couple months.
Although I was a bit more absent during March in terms of my play time I did manage to keep over a 60% win rate which allowed us to stay profitable anyways.
These cards have also allowed the accounts to amass a decent amount of SPS which can be used to stake and eventually start funding/supporting an official Helio tournament operator.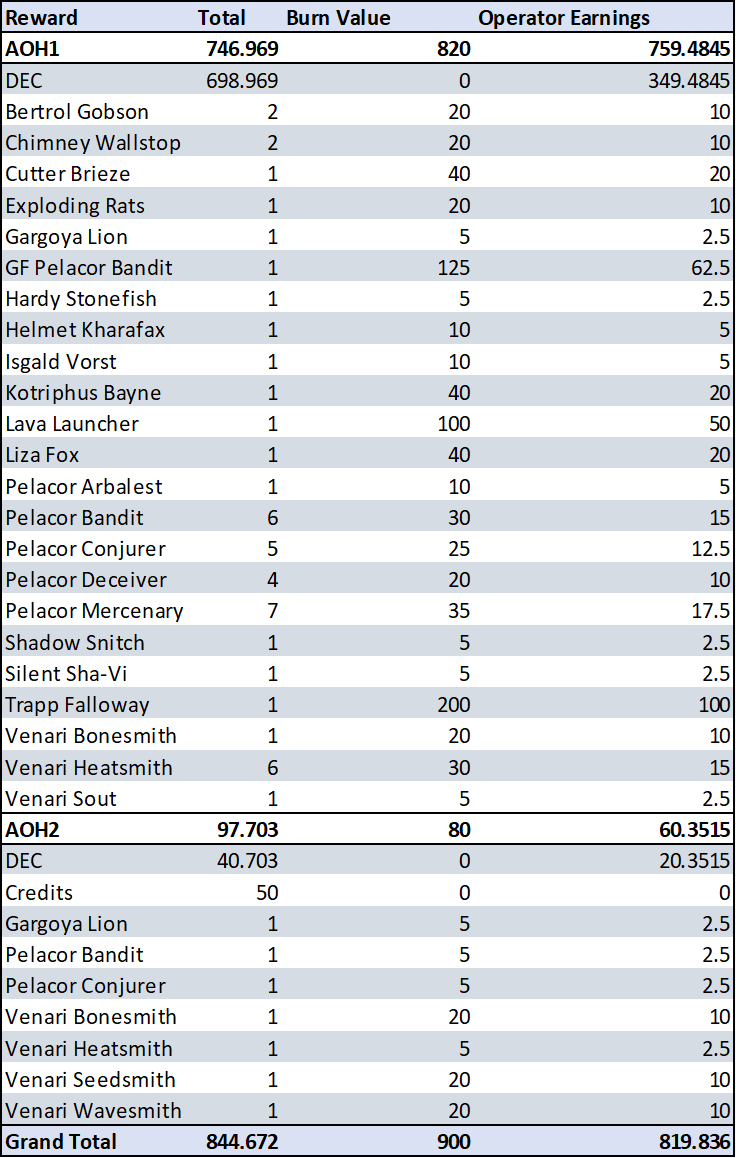 Other Updates
Last month we implemented a new Brawl related benefit to aware 100% brawl wins with some of the cards we have been pulling. That is generally a touch bar to hit and so far I don't think anyone other than AOH1 has managed to hit that. That said, I'm not going to be including my play as a part of this reward system given AOH1 is participating in Gold Brawls which generally have lower total player counts. 2 out of 2 is a lot less impressive than 7 out of 7 after all.
Finally, given the earnings difference between this and last season if anyone has some spare CP to lend on a relatively permanent basis the account is looking to obtain an additional 5k CP to get into Silver II.

How to join our guild:
To join Disciples of Helio please complete the below steps:
Join our Guild Discord channel.
Once in discord introduce yourself with a bit of your Splinterlands background and why you are interested.
Pay our monthly 100 DEC membership fee to @acolytesofhelio
Guild Requirements:
We strive to have an active membership that is interested in both Splinterlands and the idea of working together. As such we have a few requirements:
Keep current with guild membership fees: 100 Dec per month
Interact with the guild regularly on Discord. Discord is our primary communication medium
Post on Hive. At the end of the day, we value members that value the Hive environment. Our members have all grown their Hive accounts by actively supporting each other and we expect the same from newer members.
Purchase at least 1 Cartel token. We work closely with OneUp and the 1UP-Cartel and require members to hold at least 1 token. Check this post for details on the Cartel.
Guild Benefits:
Why join a guild and pay a fee; well because you get benefits to do so of course.
Bonus DEC per win: 2-3% currently
Access to Brawls and Gladiator cards
Automatic curation from the Guild account for all Hive Posts
Voting rights on the fate of the guild and its assets.
Free cards with winning all matches during a brawl
Access to knowledgeable members to help you build your decks
Current Membership:

Disclaimers
Splinterlands images owned by Splinterlands. All other images and content owned by me unless otherwise noted.
Helpful Details
Hive Curators
For those of you that blog but don't like to curate content, consider delegating your tokens for daily payouts. The following Curation accounts will payout 95% of all curation rewards received back to you automatically allowing you to indirectly support great content while earning great APY off of your crypto.
May not include all curation accounts
Hive Basic Income (HBI)
HBI is effectively an automated curation tool which will upvote your HIVE posts forever. It is an amazing way to ensure you get some income from all of the time you spend teaching others via posting your strategies, analysis, and thoughts. You can read more about HBI in their FAQ.
Support
If you are new to the Crypto space and wish to support me, please utilize the below referral links. You can also support via upvotes, tips directly through Hive, including my name in a HBI purchase, or via a card/DEC donation. Finally, delegating tokens (HP, SPT, or ONEUP) to
@acolytesofhelio
will help our guild curation account grow and support our community.
Exchanges & DeFi
Coinbase - $10 signup bonus
Bittrex
Uphold - $20 bonus on first $250
Blockfi
NFT Games
Splinterlands - Contact me after using and I'll send some DEC your way.
Gods Unchained
Exode - 2 free alpha booster packs
Rising Star
---
---