Taking care of stray puppies
Dog abandonment is a HUGE issue in Greece, especially in rular areas like the one I live! The Greek government hasn't taken drastical steps to solve this problem so it's up to us citizens to do what we can about it!
For the past 6 months me and @illusivelf live at the suburbs of Preveza,GR and right next to Preveza dog shelter. The shelter is in a terrible shape, building is ready to collapse, dogs live in really small spaces and most of them are in terrible health! At least someone feeds them on a daily basis but yet...
Everyone in Preveza knows how bad the situation at the dog shelter is yet they keep abandoning dogs at the road that leads to it, the road my house is located!
New puppy abandonment
2 weeks ago as I was drinking my morning coffee I heard some strange noises from the yard. The noise was coming from 3 puppies, 3 puppies that someone has abandoned outside our house. The puppies were so small they managed to slip through the front house gate and were hiding bellow the car!
At that time we didn't want to keep the puppies in our yard cause we were taking care of 2 other abandoned puppies a couple months ago and they both died. This made us really sad and didn't want to go through this again so we moved the puppies outside the yard at a safe place, offered them food and water and some petting hehe!
This was their "nest" 2 weeks ago!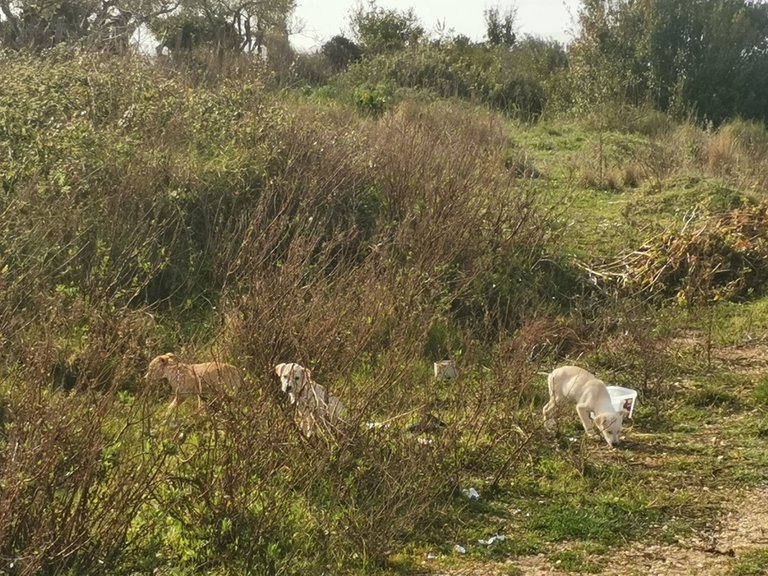 Of course we took a bunch of photos, shared them on social media and in Preveza dog-related groups and luckily lots of people decided to help either by feeding them or by coming to their nest, taking photos of them and posting them in their social media accounts in case someone wants to adopt them!
So far we managed to give only 1 out of 3 puppies for adoption, the brown one who also happened to be the only male puppy in this "gang". As for the other 2...they started slipping in our yard again and the rest is history hehe! They live here now hahaha!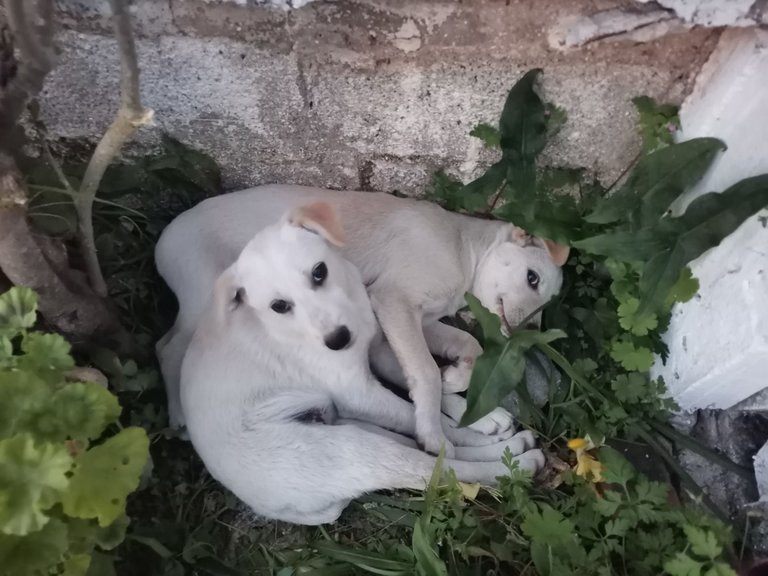 Puppies look super-healthy, they are playing all day safe from cars and other stray dogs and their bellies are always full! Here's how they look like today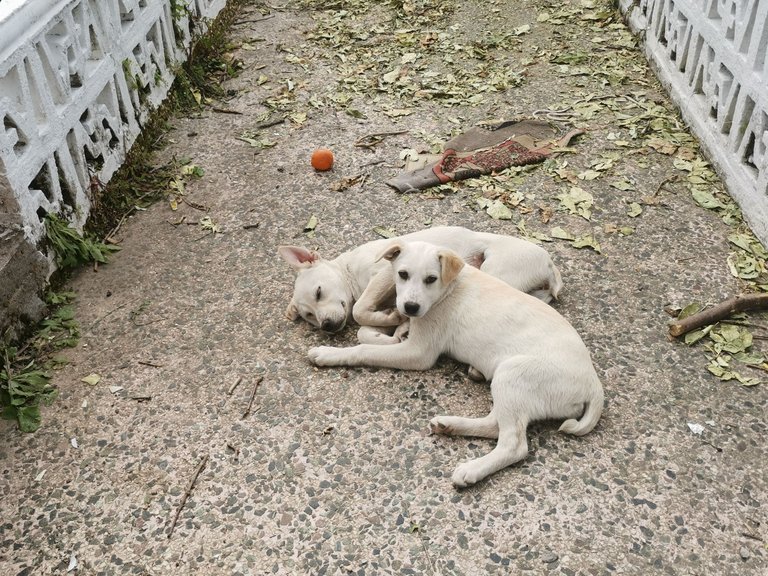 They really transformed in just 2 weeks. They aren't the same scared and skinny dogs they used to be, they're super friendly, fat and all they want is petting and play time! Here's a video of them playing in our yard!
(Unsupported https://odysee.com/$/embed/@knowhow92:d/puppies_playing:9?r=BGHpM9zU7JMH7SPGPki2ZULHi4BDspCZ)
Don't let their cuteness fool you though, they're evil! Here's the evidence, a puppy attack on me! They're evil!!!
(Unsupported https://odysee.com/$/embed/@knowhow92:d/puppy_attack:7?r=BGHpM9zU7JMH7SPGPki2ZULHi4BDspCZ)
At this point I wanna give a big shout out to my dog Biggie who accepted them in "his" yard! Some dogs wouldn't allow even puppies to trespass the area they are guarding but Biggie is cool! He is cool enough to let them live here but not so cool to let them play with him though haha!
He keeps barking at them when they get close to him and those cutties are now scared of him haha! Biggie is 10 years old so he isn't as playfull as he used to be, all Biggie cares now is to dig, bark, eat and take a shit hehe!
That's Biggie and he's a good boi!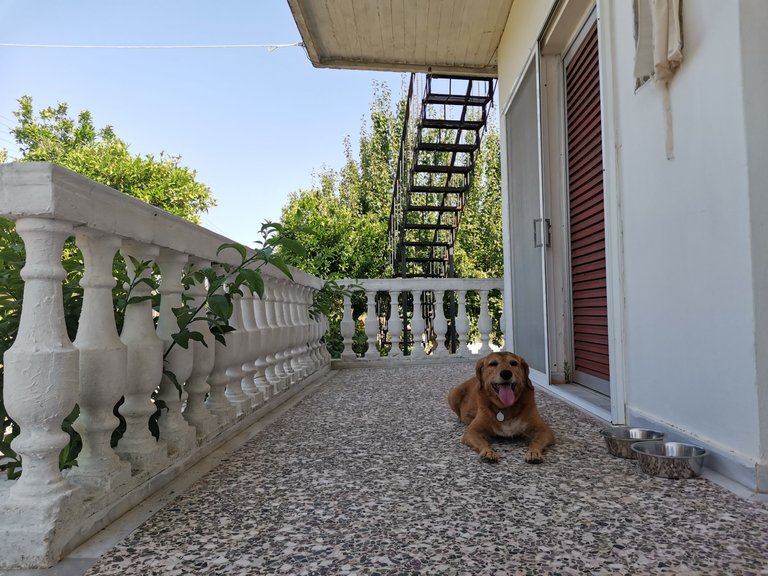 We will keep looking for people who want to adopt those 2 cutties but until then they're our "responsibilty". Wish I could adopt them both but living a "digital nomad" lifestyle and moving every couple years does not help!
I'm an optimistic guys so I'd like to think that we're gonna find them a nice house and live a happy life, a life every dog deserves to live!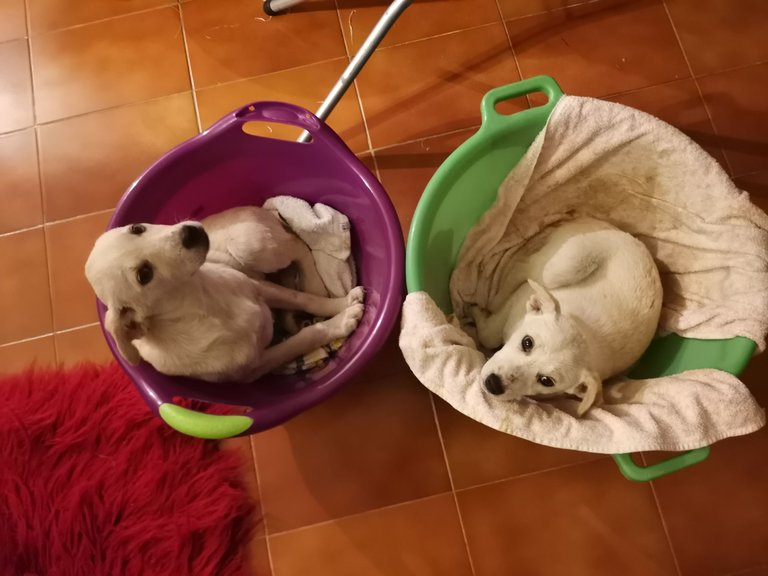 DO NOT ABANDON ANIMALS YOU STUPID PEOPLE
---
Thank you all for your support
As a full-time Web 3 content creator, supporting my content allows me to keep doing what I love.
Much love to everyone and always have fun.
@Knowhow92
Find me Here
🏡 Hive: https://www.skatehive.app/@knowhow92
📱 Twitter : https://twitter.com/theocharis_ch
📷 Instagram : https://www.instagram.com/haris_housos/
☀️ Odysee : https://odysee.com/@knowhow92:d
📹 Youtube : Knowhow92 on Youtube
---
---