Present- Original Watercolor painting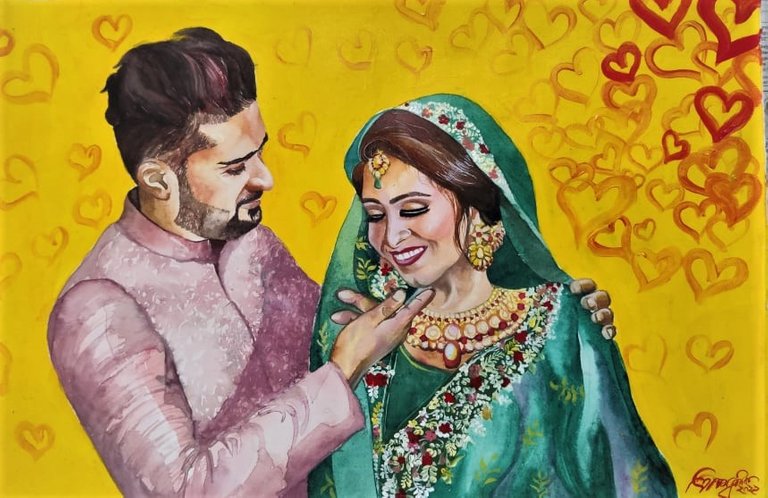 Inspiration:
When it comes to giving and receiving presents, I never backed off. I like the whole engagement of it and also the after-effects. This capture takes me to a long story but lets me put it shortly. One of my beloved seniors, whom the more I respect it is never enough, he was preparing to give a present to his beloved Sir urf bhai. Their engagement reminds me of the brotherhood I oversee in movies. So, my senior bhai intended to present a wedding portrait to his Sir and asked me if I could do it, he would pay me for it. When he proposed it to me, I automatically engaged in it. I liked the concept of presenting a present for their wedding where they are the focus. Normally we present stuff to people that have somewhat related to us and them. But, here the scenario was quite different. And yes, money does play a role, eventually. This senior brother of mine always hands me overwork like such and I never feel uncomfortable to come to his service. It feels like a blessing in disguise.
Processing Photos :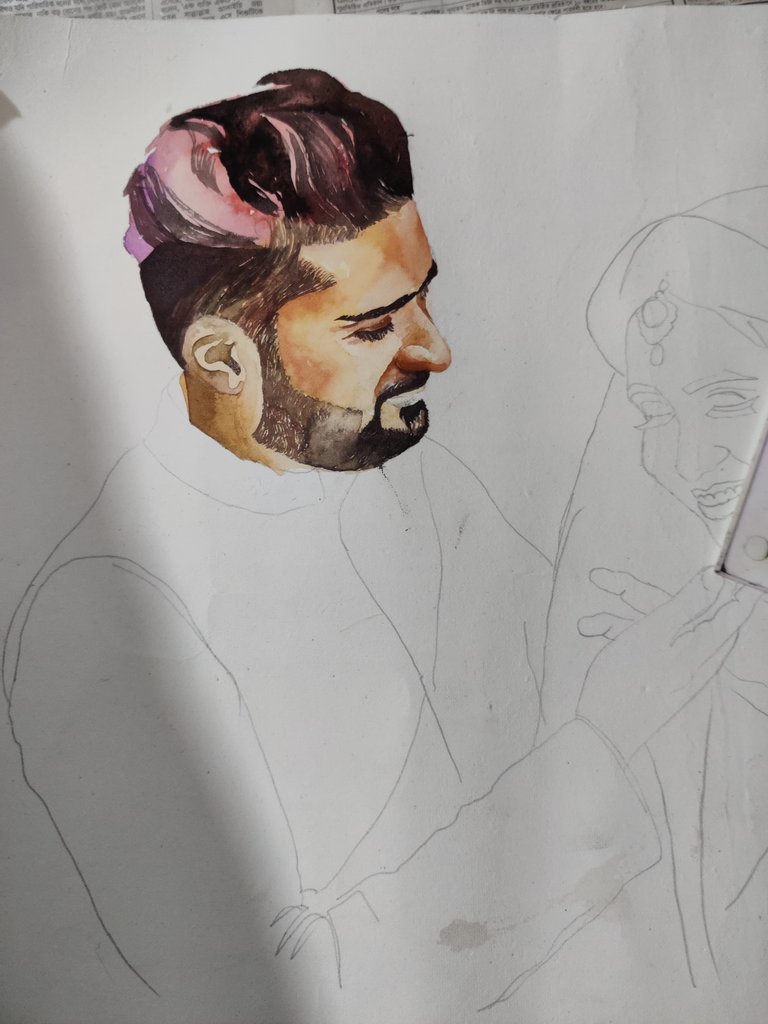 Nothing new, first outlining the subject is important. Coming along, giving face to and structure to any one of the subjects.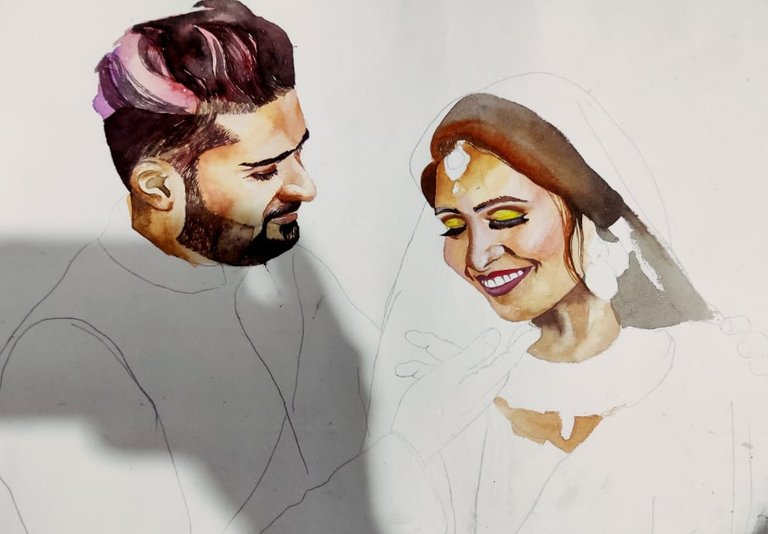 Now, the same with the other subject. Completing the subjects with the same or similar hues to complete it before moving out to another hue.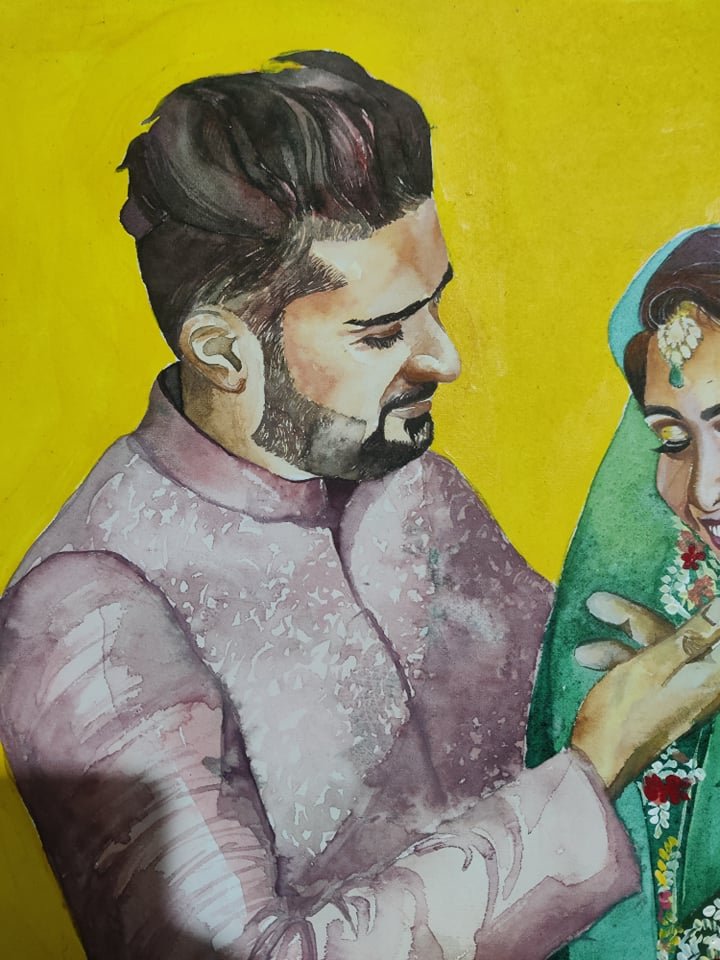 Adding the background before going into much detail touch. After the background towards the detailed touch.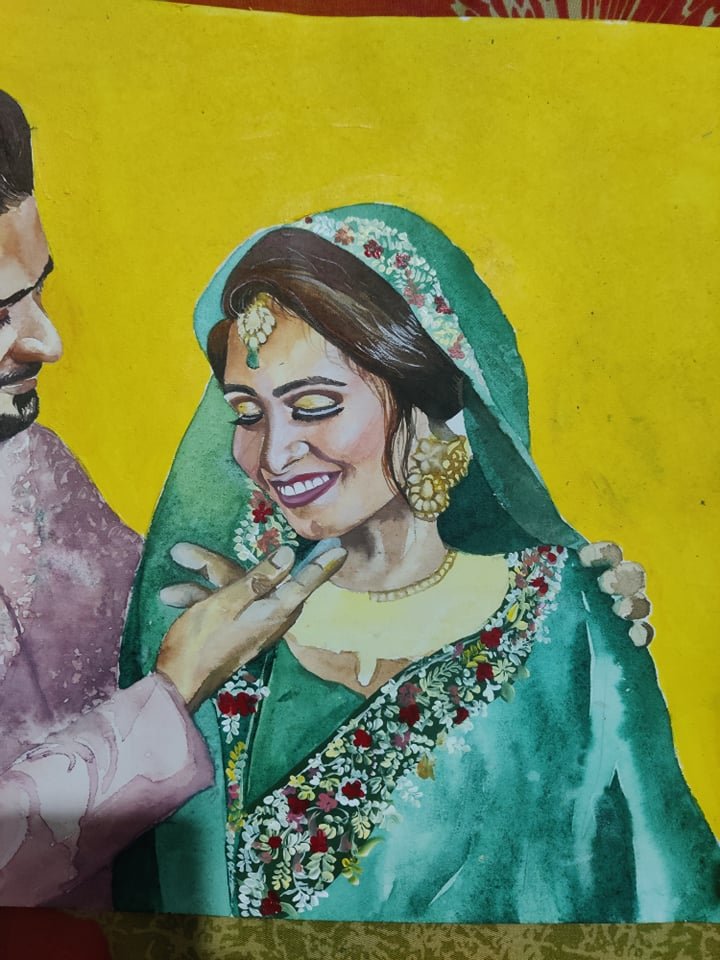 Shadow, tinting, adding value to the hues, all comes it at now. Even the very details are completed.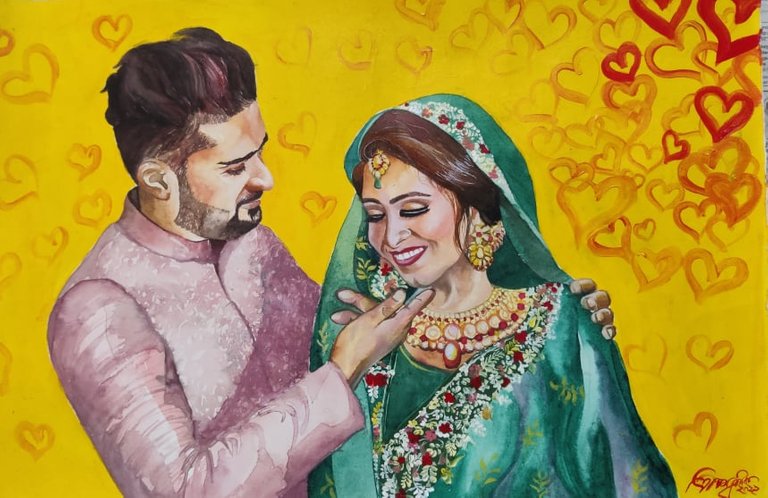 Finally, a good touch and completing the background along with the intrinsic details.
Art Medium -
Watercolor
Materials Used -
Brush type: round
Brush size: 0,1,2,5
Watercolors
Palette
Container of water
Empty jars & tissue papers (gloves)
Tips -
Decide your painting base and visualize. Set the scene that you want to draw.
Practice different types of strokes for finding which suits your visualization for each perspective. Here, strokes don't play any major role.
Having a perspective of light is not very important for such paintings where the shadow of each subject is not important. To a certain degree, shadows play a role.
Practice of color combination is quite a necessity in portraying a mood for background.
When details are of concern acrylic is much better but as my expertise is watercolor, I attempted it with it
This piece was quite time consuming but it was quite a new experience with such details
Thank you -
I hope you all enjoyed reading and observing the aesthetic features of my art. Support me by commenting, reblogging, and liking. You may visit my blog for a variety of artworks, my expertise is watercolor and sketching. However, I like to venture into other mediums too. Do share your review, it will guide me to make better content. Thank you all.
---
---