How LeoFinance Plans to Attract Outside Capital to the pHBD Liquidity Pool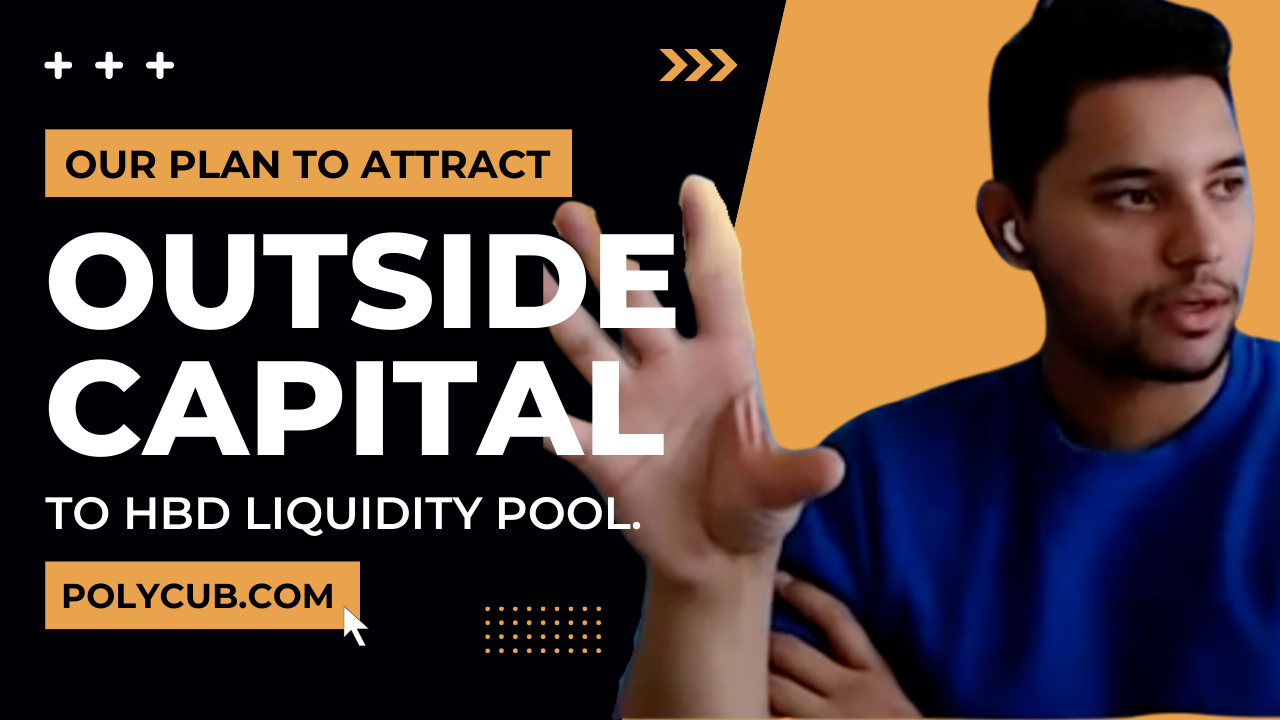 ---
In this clip from the Weekly AMA, we talk about the plan for attracting capital into the pHBD-USDC pool on PolyCub. We've talked many times about how pHBD is the vital onramp and offramp for Hive-Backed Dollars to see mass adoption by a mainstream DeFi crowd.
If the HIVE Ecosystem collectively has the goal for the HIVE price to moon and HBD to get a lot of attention in the mainstream, a massive pHBD liquidity pool is needed somewhere.
PolyCub already has a great model for long-term yield which makes it the perfect place to Pool HBD for big yields - right now, you can pool HBD as pHBD-USDC on https://polycub.com/farms for 40% APR!!
This pool is likely to become the most used placed to stake and earn yield for HBD holders. Hive whales will be attracted to this because they can earn higher yields than the on-chain savings rate + have the added benefit of bolstering the onramp/offramp liquidity for other people to buy/sell HBD to get involved in the Hive ecosystem from the Polygon network.
Make no mistake, pHBD is already the premeire place for "DeFi Normies" to get involved in HBD. We're seeing daily trading volumes reach as high as $72k on pHBD-USDC.
It will take lots of marketing inside and outside of HIVE to make this happen but we believe this pHBD-USDC pool will reach $5,000,000 in liquidity this year.
Our target is to reach $500k in May and $750k in June. We'll continue our high-paced growth from month-to-month and also see the launch of the sister HBD pool as bHBD on CubDeFi.com.
Listen to the clip for the full details!

About LeoFinance
LeoFinance is a blockchain-based Web3 community that builds innovative applications on the Hive, BSC, ETH and Polygon blockchains. Our flagship application: LeoFinance.io allows users and creators to engage and share content on the blockchain while earning cryptocurrency rewards.
Our mission is to put Web3 in the palm of your hands.
Twitter: https://twitter.com/FinanceLeo
Discord: https://discord.gg/E4jePHe
Whitepaper: https://whitepaper.leofinance.io
Our Hive Applications
Join Web3: https://leofinance.io/
LeoMobile (IOS): https://testflight.apple.com/join/cskYPK1a
LeoMobile (Android): https://play.google.com/store/apps/details?id=io.leofi.mobile
Delegate HIVE POWER: Earn 16% APR, Paid Daily. Currently @ 2.8M HP
Hivestats: https://hivestats.io
LeoDex: https://leodex.io
LeoFi: https://leofi.io
Polygon HBD (pHBD): https://wleo.io/hbd
Web3 & DeFi
Web3 is about more than social media. It encompasses a personal revolution in financial awareness and data ownership. We've merged the two with our Social Apps and our DeFi Apps:
CubFinance (BSC): https://cubdefi.com
PolyCUB (Polygon): https://polycub.com
LEO Wrapping Bridge: https://wleo.io
---
▶️ 3Speak
---
---