Should I buy Cub Finance (CUB) in 2021?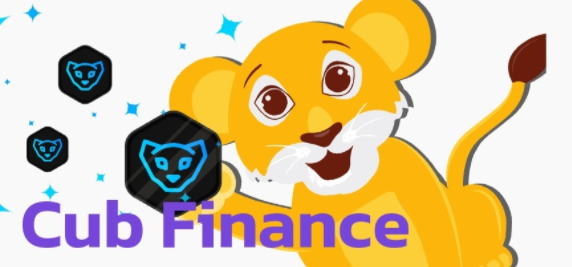 Photo Source
INTRODUCTION
While Cub Finance is a relative newcomer to the DeFi scene, as shown below, it sure does have a lot going in its favor. In this subsection of the Cub Finance (CUB) Coin Guide let's investigate whether or not you should buy Cub Finance (CUB) tokens in 2021.
FACTORS IN FAVOR OF INVESTING IN CUB FINANCE (CUB)
Cub Finance is a product of LEO FINANCE, which is an active, supportive and vibrant community existing on the HIVE Blockchain. With the continued support and backing by this community, CUB is poised to be a successful venture.

The Development Team is extremely able and qualified and continuously supplies positive results for the project. More on this below.

Based on the community structure and qualifications of the technical support providers, your investment in CUB is safe. There is little chance of a 'rug pull', 'hack', or the like.

The Cub Finance platform has been audited by Certik providing an extra layer of investor security.

As Cub Finance relies on the Binance Smart Chain, all transactions are fast, low cost and easy to operate. This is a continued draw for new users to the platform.

Cub Finance is the provider of the LEO BRIDGE which adds great value to the platform. For those unfamiliar, the LEO BRIDGE is a mechanism which permits the seamless conversion of ERC-20 (Ethereum) assets into BEP-20 (BSC) assets.

Photo Source

Recently Cub Finance and it's Development Team took steps to insure sustainability going forward into the future. Cub Finance has evolved away from a PancakeSwap model of operating to a more sustainable AutoFarm model by introducing 'Kingdoms'. 'Kingdoms' are auto-compounding vault contracts where you stake tokens for cross-platform farming plus earn CUB rewards and BNB drips.

Photo Source
At present Cub Finance offers the following products in the form of Kingdoms, a number that is sure to expand going forward (APY's listed are as of the time of the writing of this subsection):
CUB - APY = 65.53%
CAKE - APY = 87.86%
BNB-BUSD - APY = 32.73%
ETH-BNB - APY = 19.80%
DOT-BNB - APY = 36.83%
BTC-BNB - APY = 16.71%
beltBTC - APY = 10.92%
beltETH - APY = 9.01%
4belt - APY = 18.14%
Cub Finance and it's Development Team recently introduced IDOs (Initial Decentralized Exchange Offerings) into it's product mix and in fact successfully completed it's first IDO (the second such IDO is imminent). The effect of offerings of this type for the Cub community is the massive burn of CUB tokens associated with each individual offering. These burns should drive CUB's price higher as each burn will significantly reduce the supply of CUB tokens in the market.
Cub Finance provides an expanding interoperable experience through utilization of its bLEO token for BSC, wLEO token for ETH, and coming soon, pLEO for Polygon. Given the drive of the Development Team, more blockchains are likely to be added to this list in the future.
The Development Team is continuously innovating with the stated goal in mind to make Cub Finance your 'One Stop Shop For Everything DeFi'.
Given the foregoing and by examining the following price chart, the CUB token is grossly undervalued. If you are seriously considering purchasing CUB tokens, now is the time to do so given the low price/token (If you already hold CUB tokens in a long position, now is a perfect time to accumulate).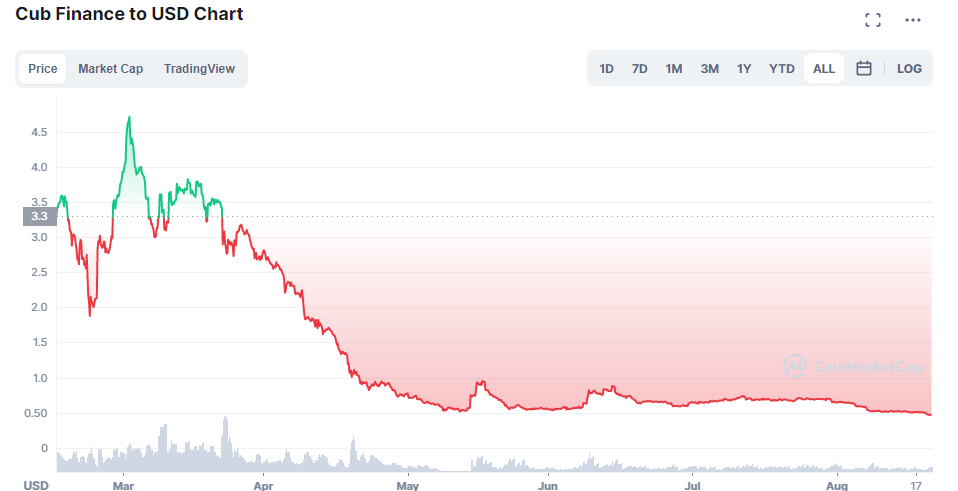 Photo Source
***FACTORS AGAINST INVESTING IN CUB FINANCE (CUB)
Cub Finance is a relative newcomer in the DeFi space (Launched in March of 2021) and as such is lacking in price, performance and other historical data.
While this platform is relatively one of the safest available in the cryptosphere, it is not 100% risk free. The platform utilizes Smart Contracts, and as such, these smart contracts are subject to hacks beyond the developers purview.
CONCLUSION
Normally when this author writes Guide articles of this type, he makes no specific recommendations on whether or not to invest in a coin/token. However, this is not the case with respect to a purchasing decision on Cub Finance.
Given all of the factors in favor of investing in Cub Finance, and especially due to the fact the token is grossly undervalued, it is this author's humble opinion that Cub Finance is a recommended BUY/ACCUMULATE.
Nonetheless, as with any investment decision, you must first assess your present financial condition, your overall investment strategy, as well as your tolerance for risk. Armed with this information you should then follow a path of doing your own diligent research into the asset being considered. With all of this information assembled you are finally ready to make your own personal final investment decision.
And finally, please remember, never invest more than you can afford to lose.
RECAP: Recommendation - BUY/ACCUMULATE
DISCLAIMER:
Your author holds a long position in Cub Finance.
The content herein is presented for educational purposes only and should not be construed as investment advice. Any loss incurred as a result of investing in Cub Finance is yours and yours alone and may not be imputed to this author.
Posted Using LeoFinance Beta
---
---