Lingerie from leftovers.
Sometimes it feels good to just clean up and give things away that you don't use or don't need anymore. But sometimes I like to stretch it a little and use up all and every bit of the left-over fabric laying around my workspace.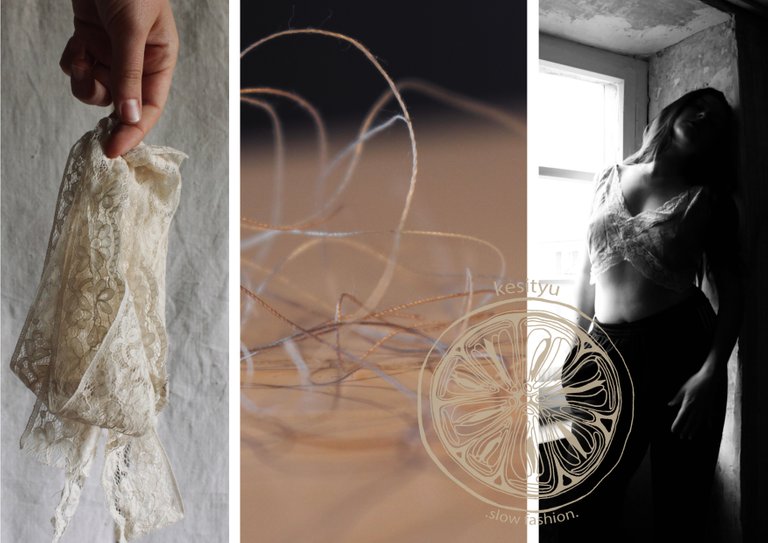 Bringing the "upcycling" concept to another level I could say.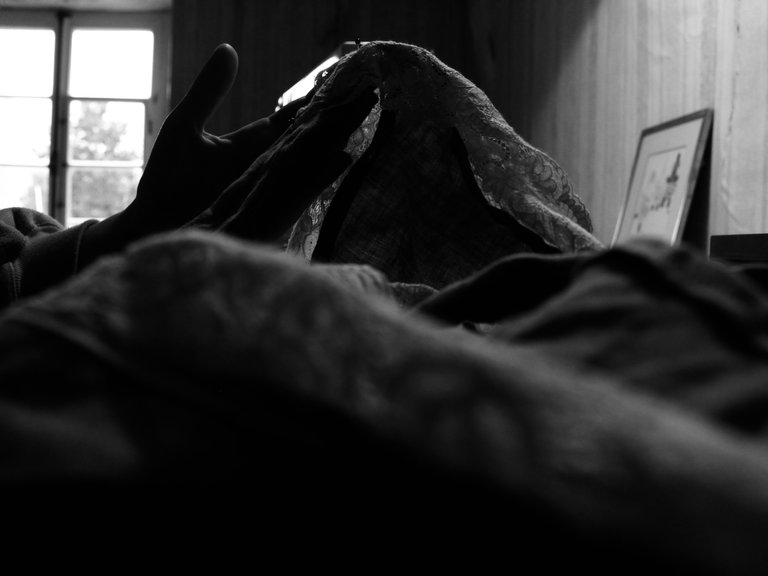 After tiding up and moving my whole workspace (as you can follow in my last post….) a few days ago. There was a little remain to be found on the table.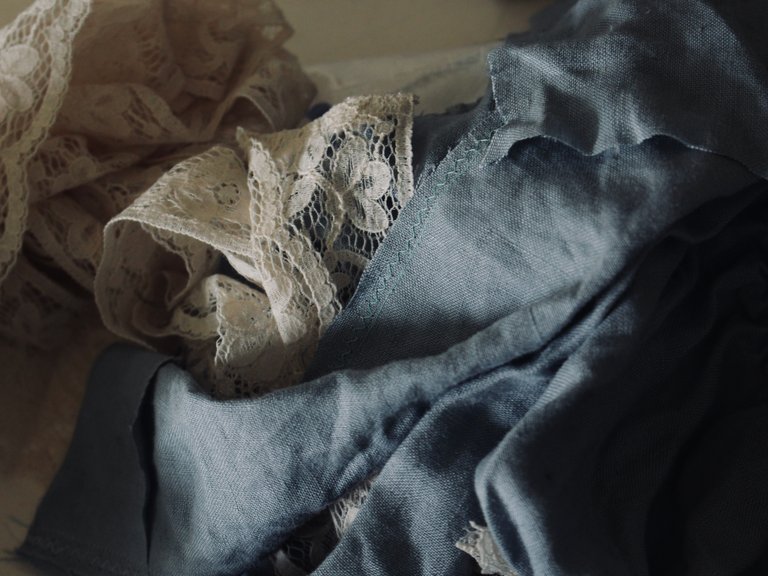 A few pieces of fabric.
Leftovers from a silk dress I upcycled, and a mattress cover I shortened.
From the silk dress I already used up all the silk fabric, but had some lace left, that used to be placed around all the edges of the dress. And the linen sheet, was too big for my mattress, and with the part I cut of I already made two cushion covers.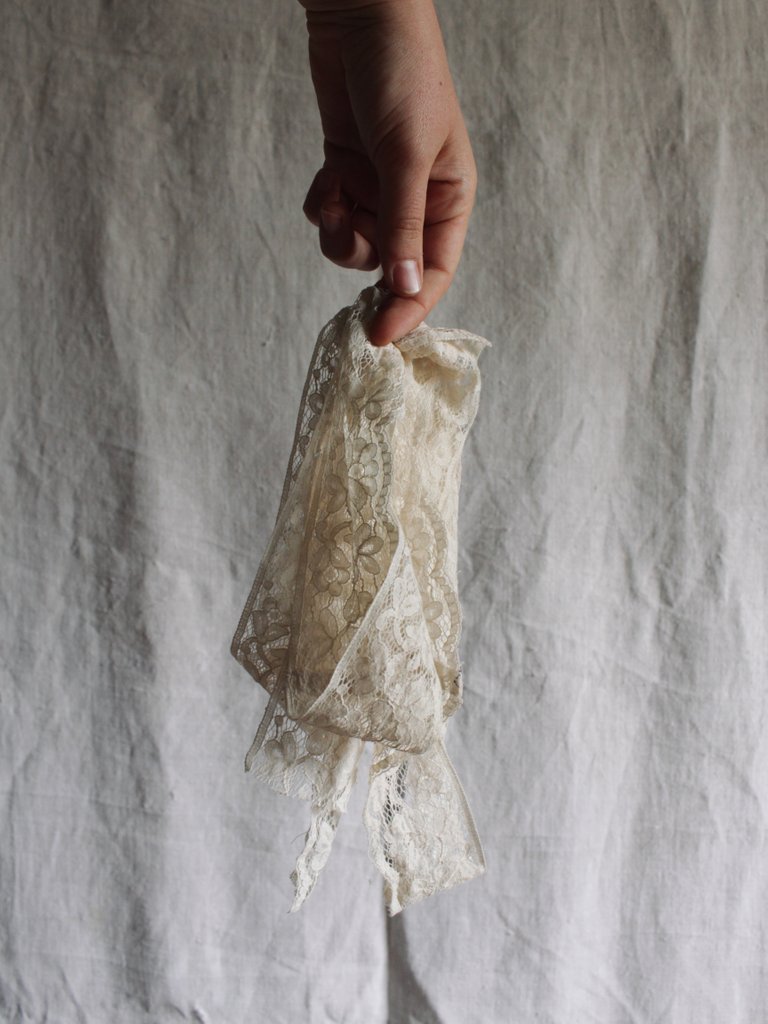 So you see we are really talking about the last left overs, tiny shreds of fabric.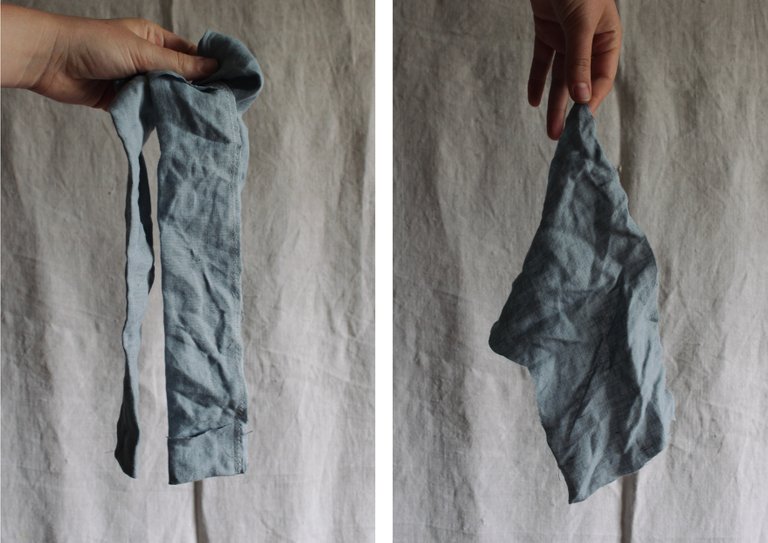 Lace and pastel blue linen.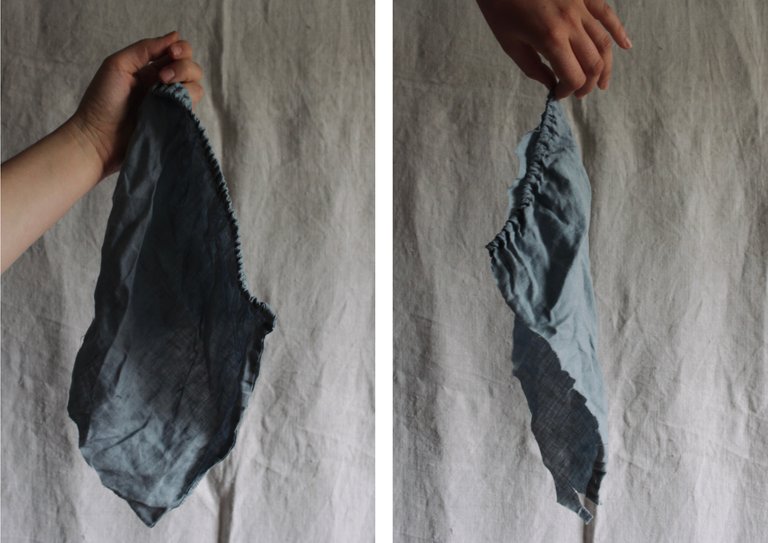 I was tempted throwing them away, since it was very small pieces, not much to do with, and just get done with the moving and cleaning.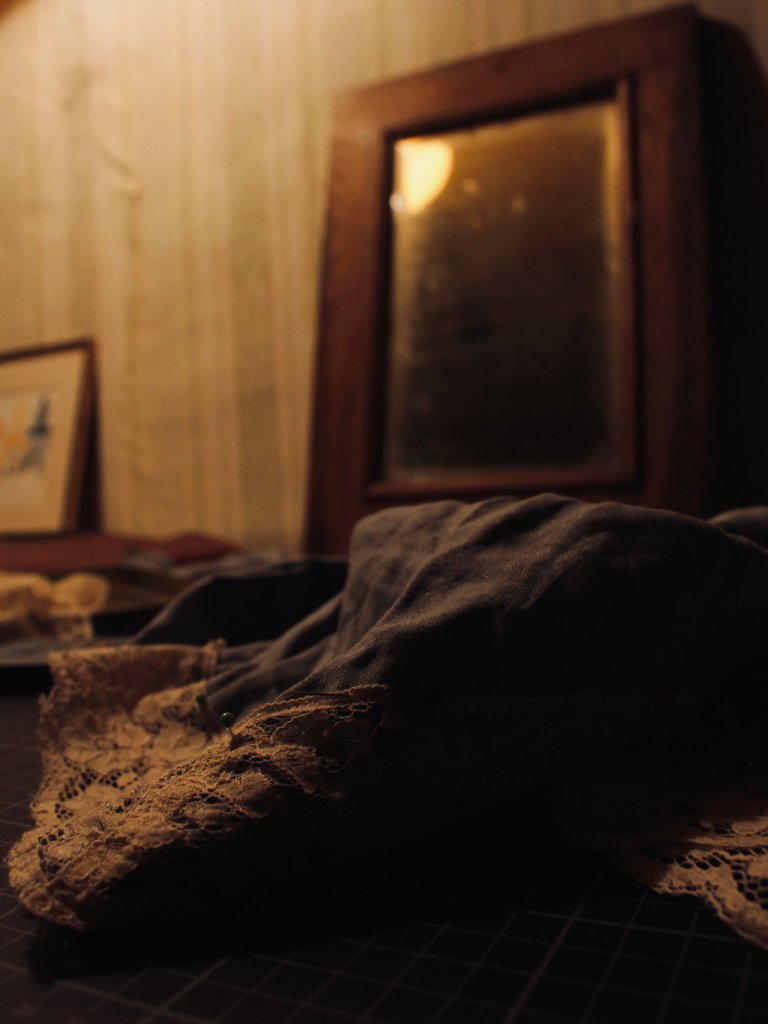 But I couldn't help it when I saw those two fabrics together. Their fabric and color combination completely charmed me. It is such a romantic combination; I fell in love…
I also think it is a shame, that we always have a space neat and clean just before leaving. Left with no time to appreciate the effort you just put in cleaning and tiding up the place.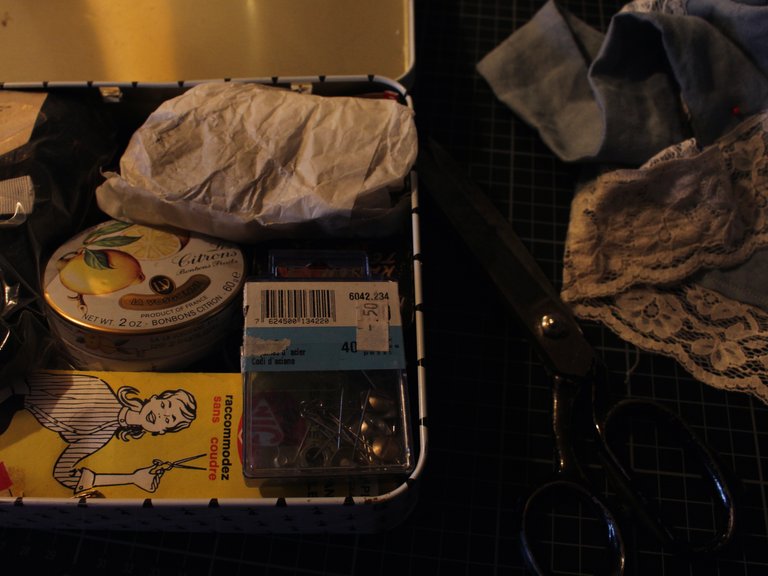 With this thought in mind, I went ahead, and to my delight, was able to work on a beautifully empty table, with all my tools and supplies in place and sorted by use and color.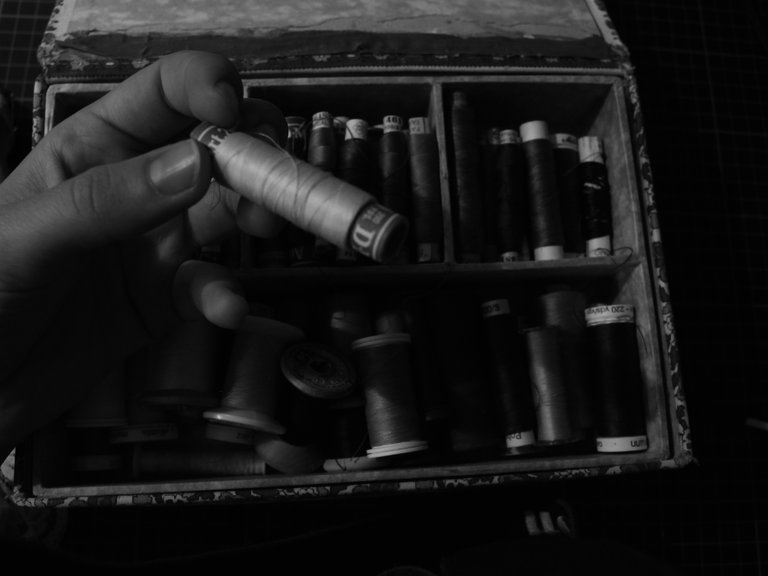 (you wonder, why is this photo black and white when I am talking about color? me too)
The last upcycle in my summer atelier.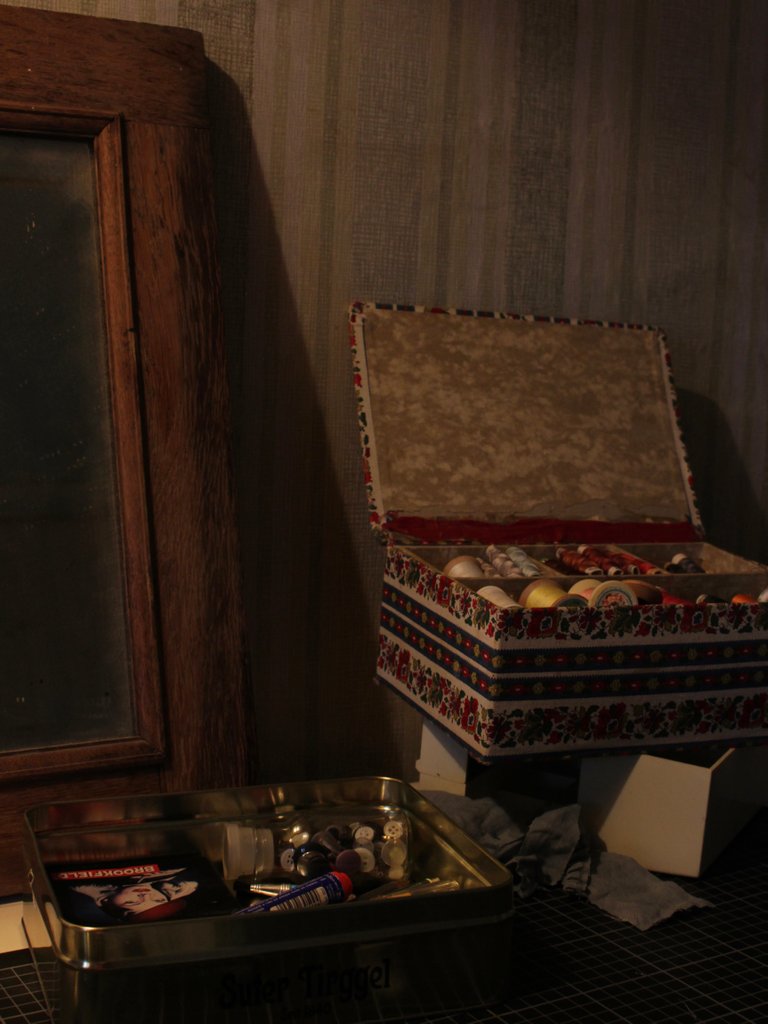 What to do with so little fabric?
According to the soft and romantic fabric combination, I decided, some sort of lingerie it should be.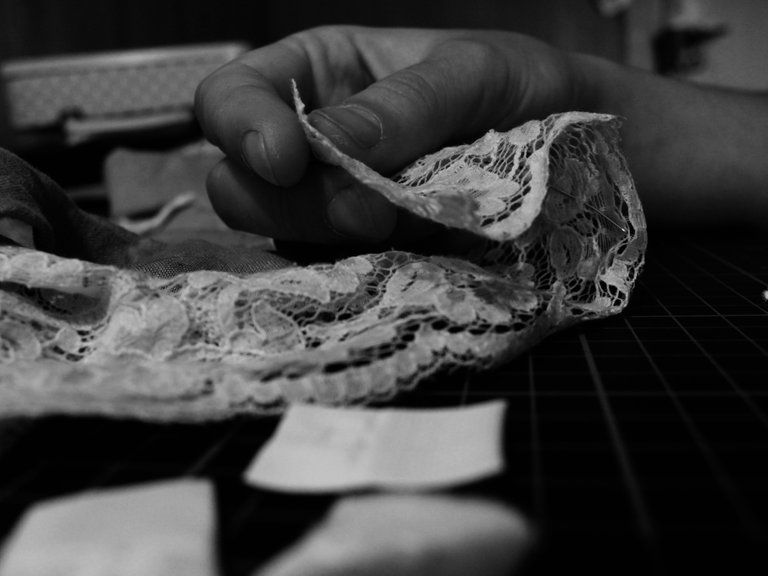 I wanted to go for a bralette, but I learned, that bralettes without pattern (even with) usually end up very unfitting and thus as a very unsatisfying project. Leading to another object in a bag or even in the rubbish.
I sat on the table, in front of the mirror trying to figure out how to do this…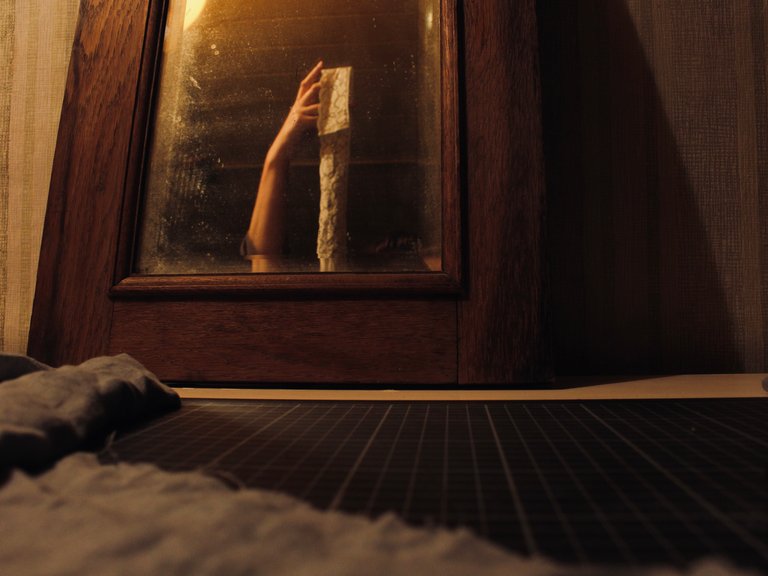 …in the end I decided to do, what I do best, just do whatever feels right and hope it works out…
I placed the pieces in different orders, to see in which way they could work as a bralette. Eventually I had the revelation, to make a thing between bralette and top. Kind of loungewear top. For inside or to wear in a cute summer outfit, to wonder around in some blossoming gardens, or walk through the woods, with a long skirt and a wheat-basket in your hands. Collecting blueberries or shells on the beach.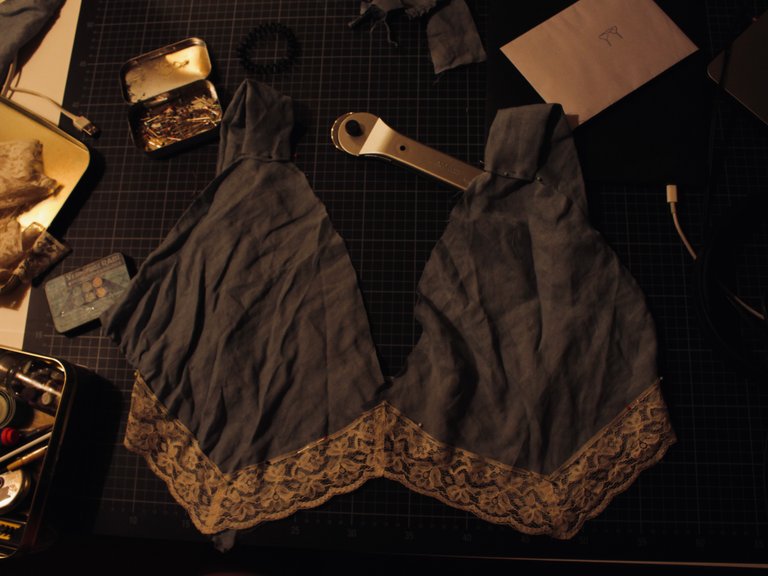 I think the light blue and the ivory white, made me get lost in romantic ideas and imaginations…
After all I found a way to place the fabric. F**k it, lets try.
And I did.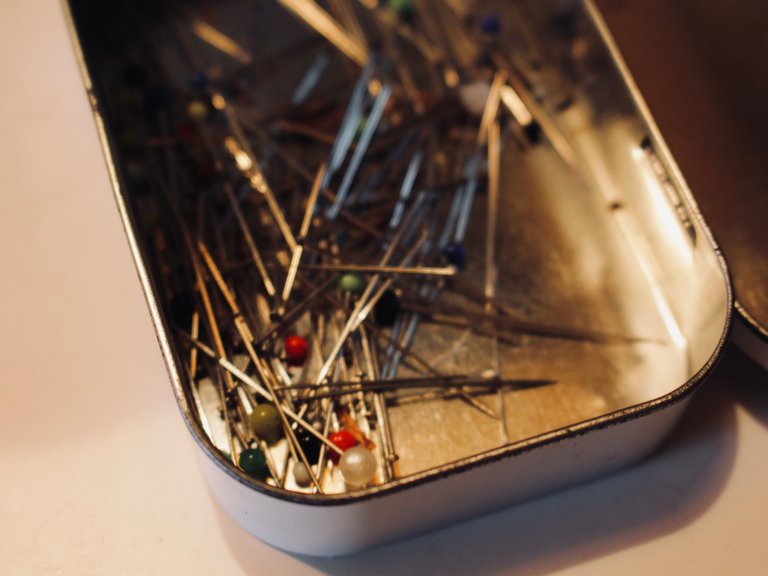 This time though I pinned everything together, then tried it on. And only when I could see that I have chances it could work out as imagined, I started sewing it together.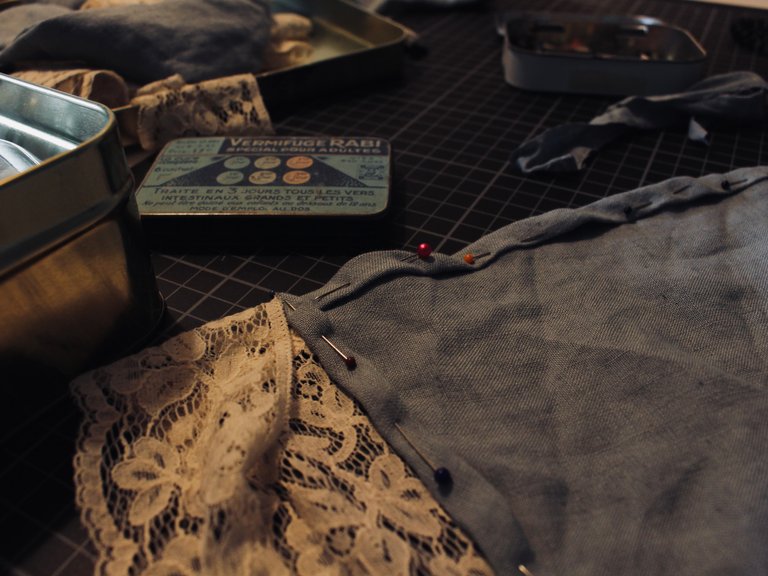 There is nothing more frustrating, then to spend hours sewing, just to only figure out in the end that it doesn't work.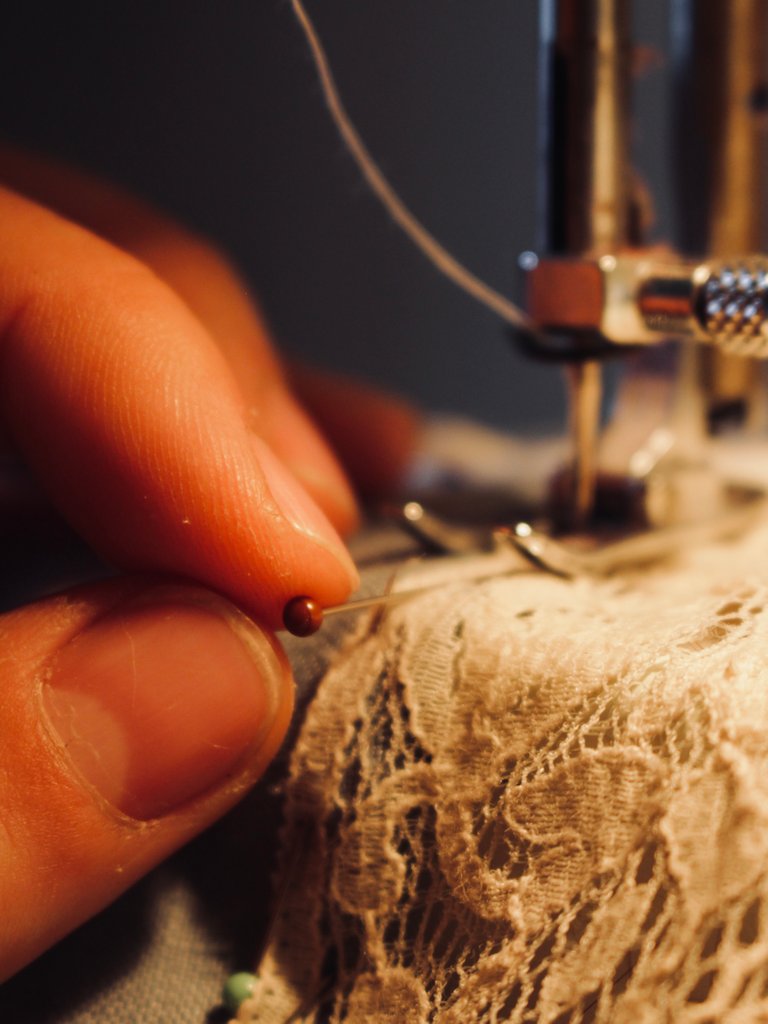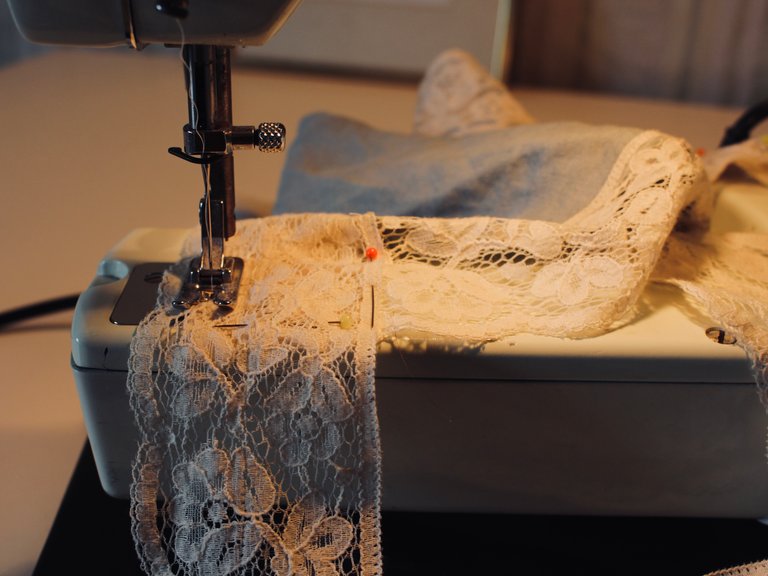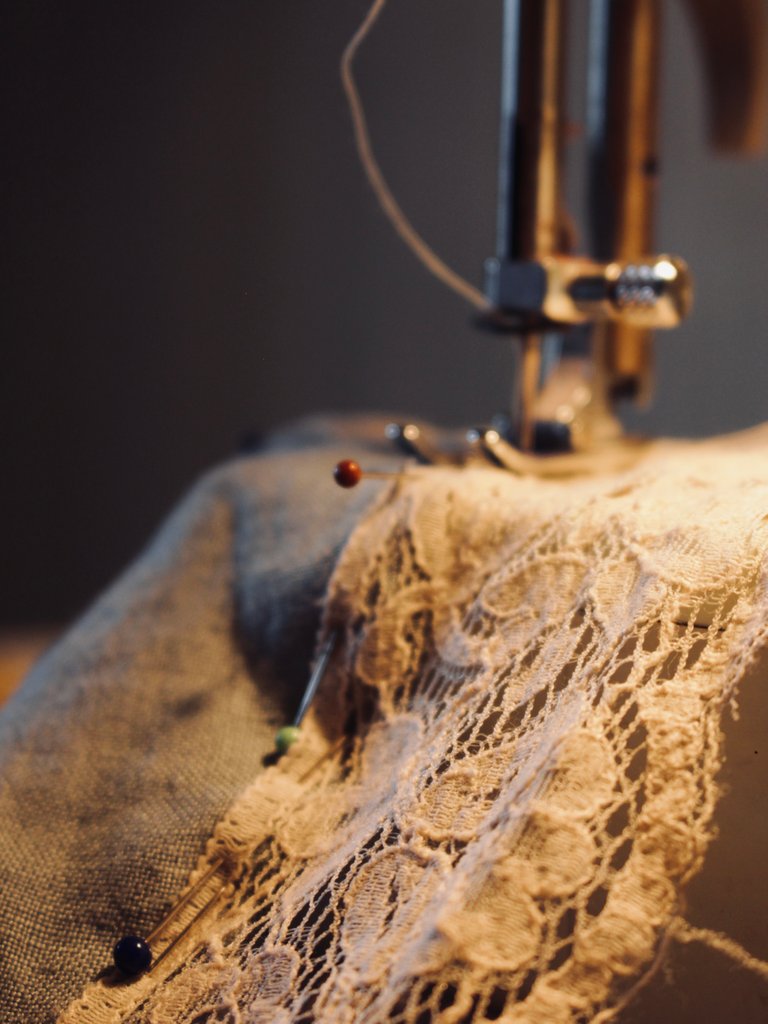 Well luckily, I do learn from my mistakes sometimes. And now we are all able to appreciate a finished, very romantic bralette top.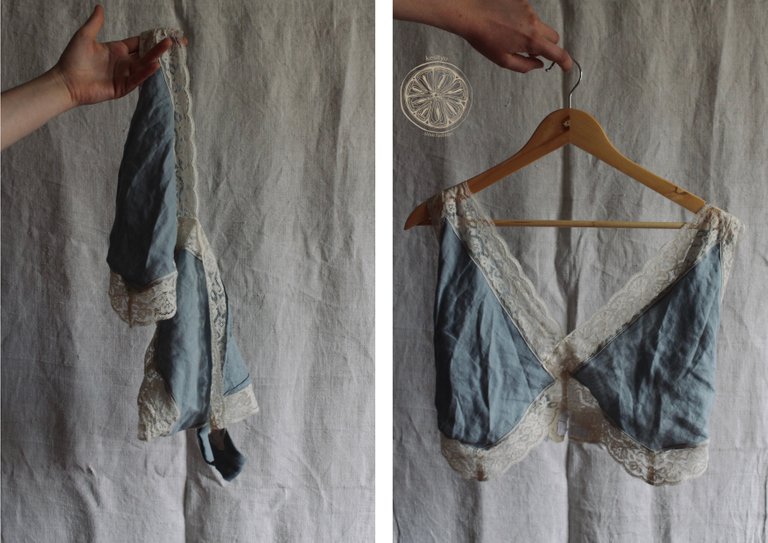 One point I did consider, but is out of my influence anyways, which is, that it is no longer summer. And again, I will have to wait for next year, to fulfill the image of long skirt with this top picking berries and shells… unless I decide to skip winter and go to any country without snow.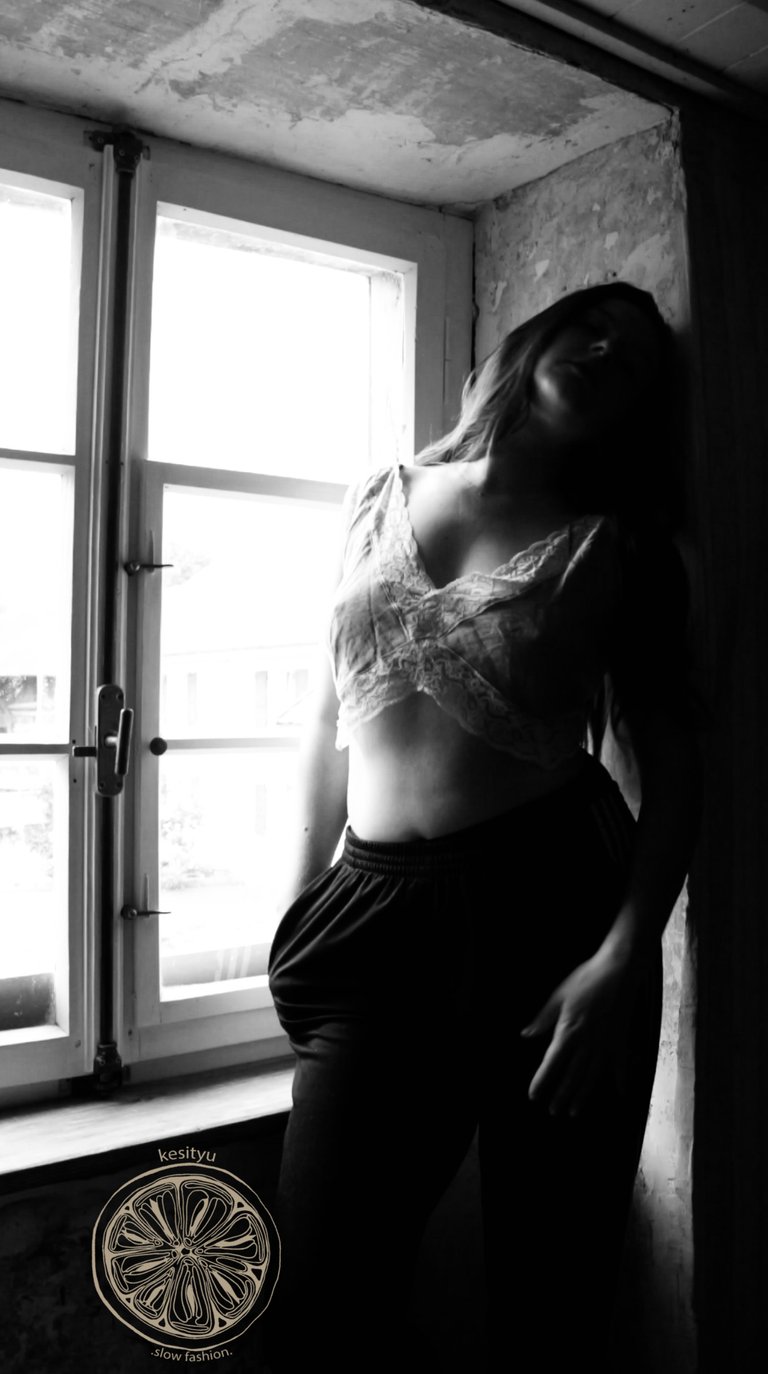 But autumn and winter are also beautiful, and maybe I just have to adapt my visions to the time of the year, and not the garments.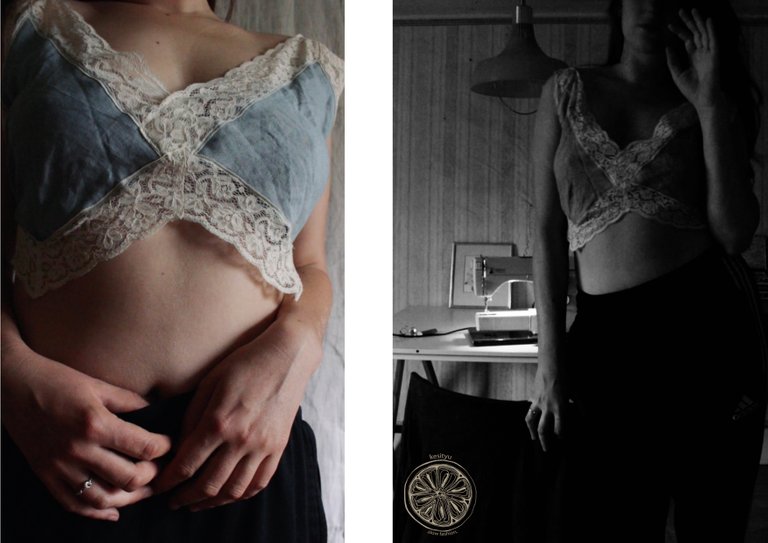 In that case bralette/top with some cashmere shawl around the shoulders, in front of a fireplace. Drinking red wine. Also works:)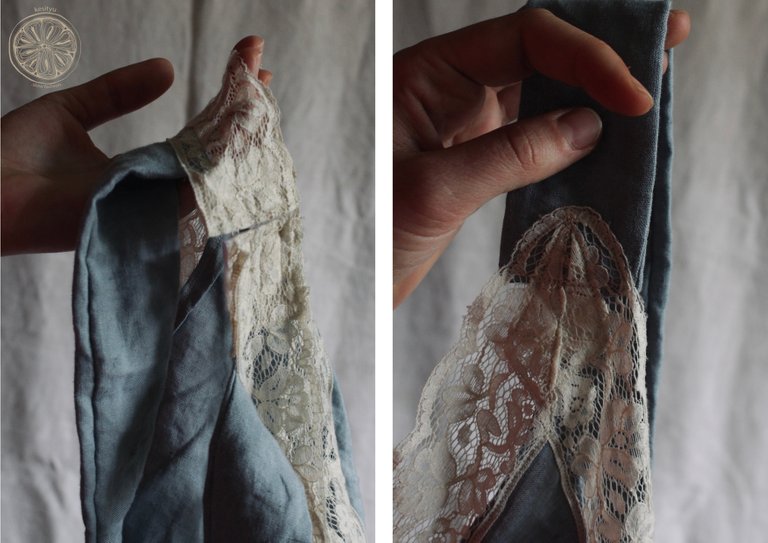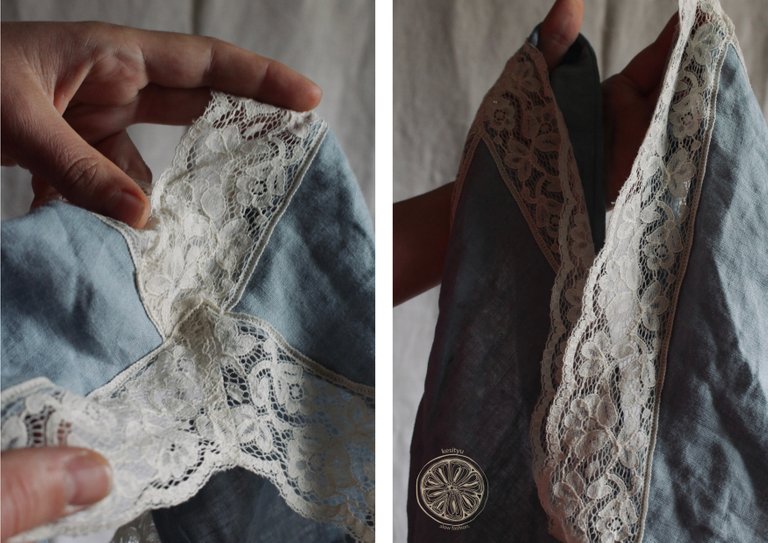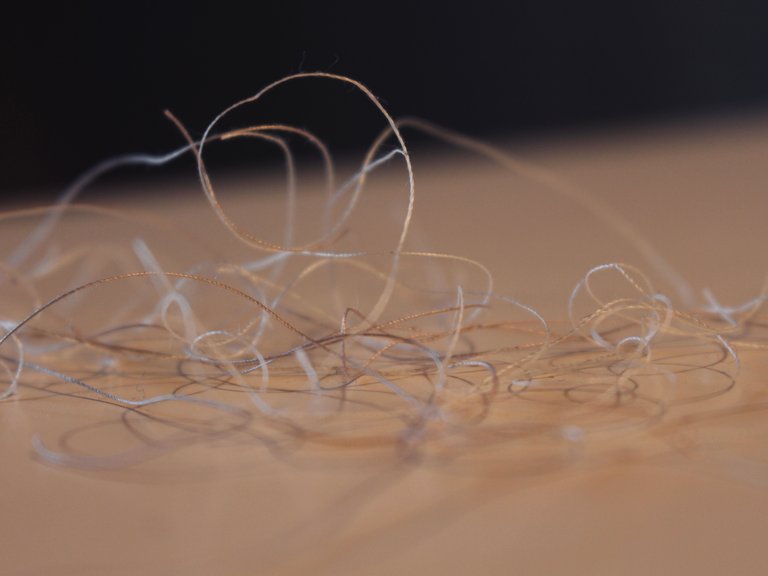 (another artefact of this project, leftovers:) arent they beautiful?)
Thank you for stopping by and following my projects!! I really appreciate every interaction we have, have a lovely week, until soon!!
(all photos are mine, taken by me)
---
---