Gears of war 4 - Acto 2 capitulo 3 Plan B (Gamepaly)[ES/EN]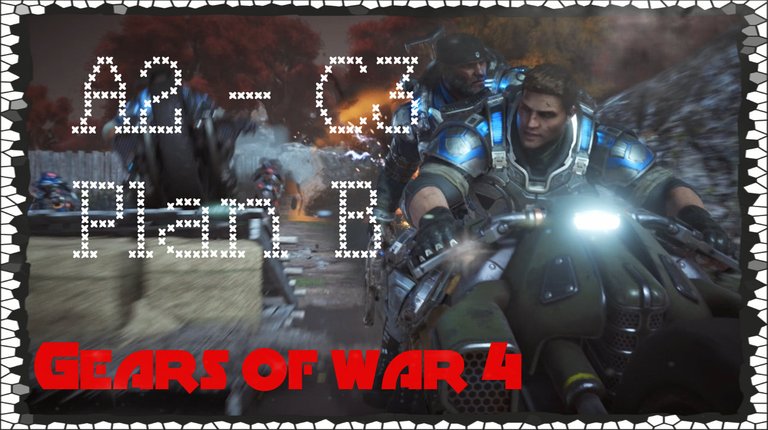 Hola amigos Hivers amantes de los gameplays, continuamos jugando la campaña en cooperativo en dificultad elevada con mi amigo Quinux en xbox live . Comenzamos el capítulo 2-3 titulados PLAN B.
Hello friends Hivers gameplays lovers, we continue playing the campaign in cooperative in high difficulty with my friend Quinux in xbox live . We started chapter 2-3 titled PLAN B.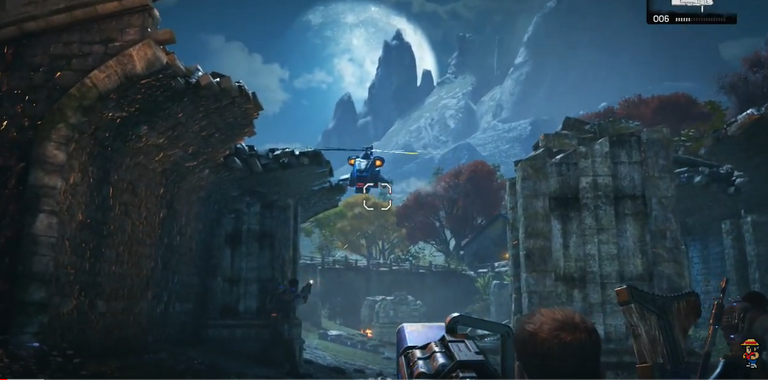 Comenzamos con le acecho de un halcón el cual nos impido el paso destruyéndonos el puente y ahora tenemos una feroz batalla, por suerte tengo unos lanzacohetes con el cual le daré su merecido, luego de una batalla épica y con ayuda de las nuevas lancers derrotamos al enemigo volador y continuamos con nuestra ruta al granero.
We started with the stalking of a hawk which prevented us from passing destroying the bridge and now we have a fierce battle, luckily I have some rocket launchers with which I will give him what he deserves, after an epic battle and with the help of the new lancers we defeated the flying enemy and continue with our route to the barn.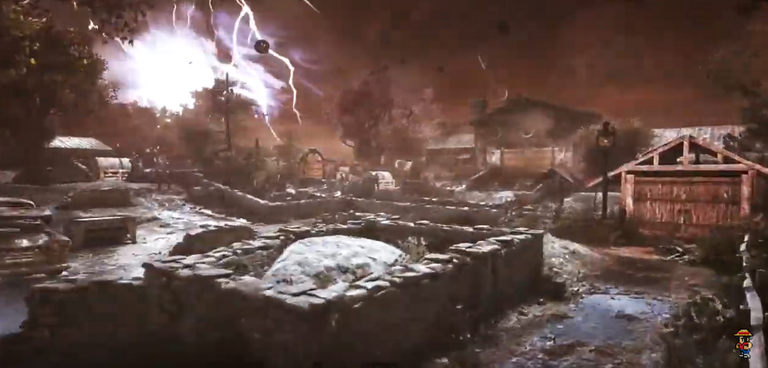 Llegamos a la entrada del granero pero nos esperan las fuerzas enemigas y una terrible tormenta eléctrica que llama LA LLAMARADA este tipo de tormenta se forman desde lo sucedido en Gears of war 3 después que se eliminaron los Locust, bueno ahora nos toca elegir porque ruta continuaremos y elegimos la ruta de la derecha, ahora nos toca enfrentarnos a los nuevos DeeBees, empezamos con un Guardian volador que nos muestra que posee un escudo que lo protege y también nos atacan rastreadores y varios DR-1. Se nos complica algo avanzar, pero lo conseguimos, continuamos hacia una puerta en el patio del granero, pero al abrirla nos esperan más enemigos robóticos.
We arrived at the entrance of the barn but we expect the enemy forces and a terrible thunderstorm called THE FLAME this type of storm is formed since what happened in Gears of war 3 after the Locust were eliminated, well now we have to choose which route we will continue and we choose the route on the right, now we have to face the new DeeBees, we start with a flying Guardian that shows us that it has a shield that protects it and we are also attacked by trackers and several DR-1. It is somewhat complicated to advance, but we succeed, we continue to a door in the courtyard of the barn, but when we open it more robotic enemies await us.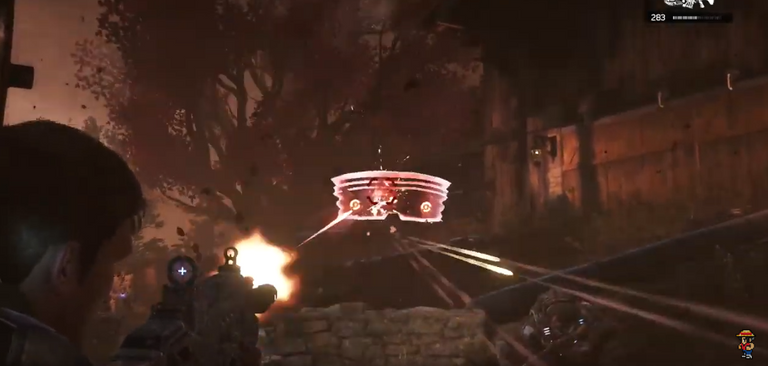 Los fuertes vientos de la tormenta nos ralentiza un poco pero avanzamos y hay algunos DR-1,pastores y rastreadores que nos complicaran continuar con la ruta , casi muero pero mi compañero de batalla me revive , pensamos que ya teníamos todo controlado pero salieron más DR-1 pero esta vez con ametralladores para darnos con todo, por poco muero en el intento pero ya casi al borde de la muerte mi compañero Quinux me revive y continuamos a la siguiente parte de la entrada hacia la puerta del granero.
The strong winds of the storm slows us down a little but we advance and there are some DR-1, shepherds and trackers that will complicate us to continue with the route, I almost die but my battle partner revives me, we thought we had everything under control but more DR-1 came out but this time with machine guns to hit us with everything, I almost die in the attempt but almost on the verge of death my partner Quinux revives me and we continue to the next part of the entrance to the door of the barn.
Ya casi estamos por pasar LA LLAMARADA, pero nos topamos con un guardián con metralla por suerte lo eliminamos rápido, procedemos a abrir la puerta que nos conducirá a la última parte del capítulo, nos topamos con una gran sorpresa y nos toca enfrentar un terreno lleno de ráfagas eléctricas que caen hacia el suelo, es una parte complicada porque hay que esquivar los rayos y llegar hasta la meta.
We are almost through LA LLAMARADA, but we ran into a guardian with shrapnel, luckily we eliminated him quickly, we proceed to open the door that will lead us to the last part of the chapter, we ran into a big surprise and we have to face a terrain full of electric blasts that fall to the ground, it is a complicated part because we have to dodge the lightning and reach the goal.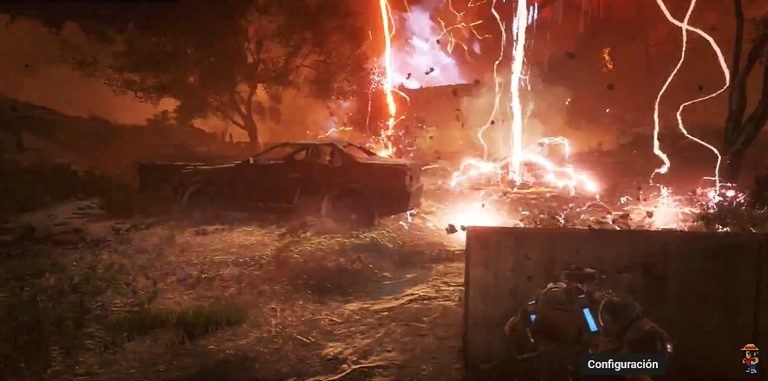 Por fin llegamos a la puerta de granero después de pasar los rayos entramos todos y vemos la cinemática donde nos rodea la coalición y sus robots, pero lo que no saben es que adentro teníamos motos y salimos en fuga y es así como termina este maravilloso capítulo de Gears of war 4.
Finally we get to the barn door after passing the rays we all enter and see the cinematic where we are surrounded by the coalition and their robots, but what they do not know is that inside we had motorcycles and went on the run and that's how this wonderful chapter of Gears of war 4 ends.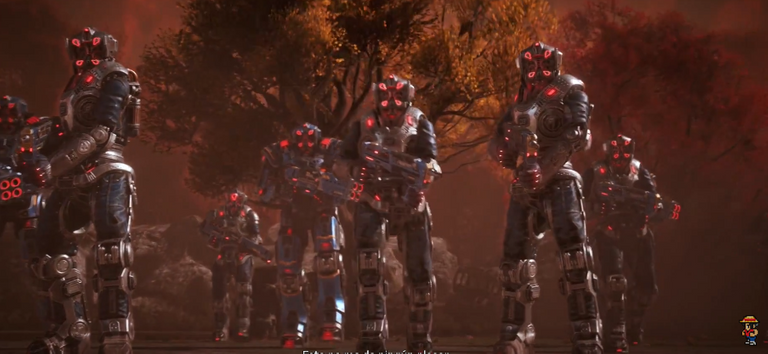 Posts Anteriores / Previous Post

All pictures are taken from my Gameplay on my Xbox One X and PC /Todas las fotos son tomadas de mi Gameplay en mi Xbox one X y mi PC.
Translated thanks to DeepL.com
Use PIXELMASH to make pixel art
Use FILMORA 11 to edit Video
Use PIXLR online to edit images online
Use Photoshop to edit images offline




In my blog you will find very interesting articles of news, news about games and much more. Upvote, Follow and Reblogger @kernelillo
En mi blog encontraras artículos muy interesantes de noticias,novedades referentes a juegos y mucho mas
Upvote, Follow and Reblogger @kernelillo
---
---