[ESP | ENG] ~ Mi primera vez en el Aire - TOUR en Metrocable 🚡 | My First Time on the Air - TOUR en Metrocable 🚠
¡Hola Hiveeers! Espero que tengan un excelente día, productivo y cargado de buenas energías. Continuo contándoles sobre mi viaje a Medellín. Este es un nuevo episodio más sobre mis aventuras por Colombia. En este viaje realice actividades que nunca había hecho y es por eso que me emociona contarles mi experiencia. Esta actividad es una de esas, por primera vez me monte en un Metrocable o Teleférico.
Hello Hiveeers! I hope you are having a great day, productive and full of good energy. I continue telling you about my trip to Medellin. This is a new episode about my adventures in Colombia. In this trip I did activities that I had never done before and that is why I am excited to tell you about my experience. This activity is one of those, for the first time I rode on a Metrocable or Cable Car.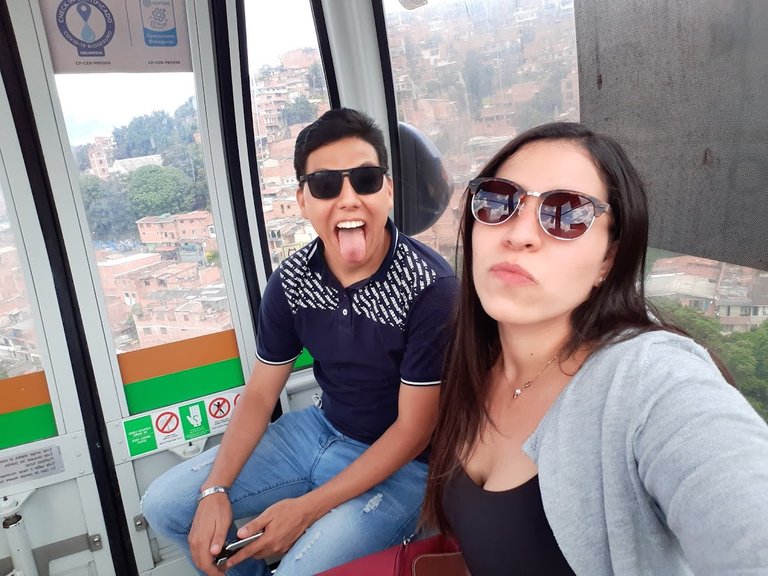 Así que quédate leyendo, para que te enteres más sobre esta actividad, realizada en Medellín, Antioquia - Colombia. ⬇️
So stay reading, to find out more about this activity, performed in Medellin, Antioquia - Colombia. ⬇️
Empecemos... | Let's Go...

Aquí me ven caminando a enfrentar mis miedos, en la estación de metro San Antonio. Justo antes de subirme al metrocable. La verdad es que tenía miedo. El que me conoce sabe que le tengo miedo a la alturas, incluso pueden llegar a causarme vértigo. Sin embargo, lo bueno de la vida comienzas a disfrutarlo cuando das ese salto, cuando te arriesgas y también cuando sales de ese espacio seguro, al cual llamamos zona de confort.
Here you see me walking to face my fears, at the San Antonio metro station. Just before getting on the metrocable. The truth is that I was afraid. Those who know me know that I am afraid of heights, they can even cause me vertigo. However, you begin to enjoy the good things in life when you take that leap, when you take a risk and also when you leave that safe space, which we call comfort zone.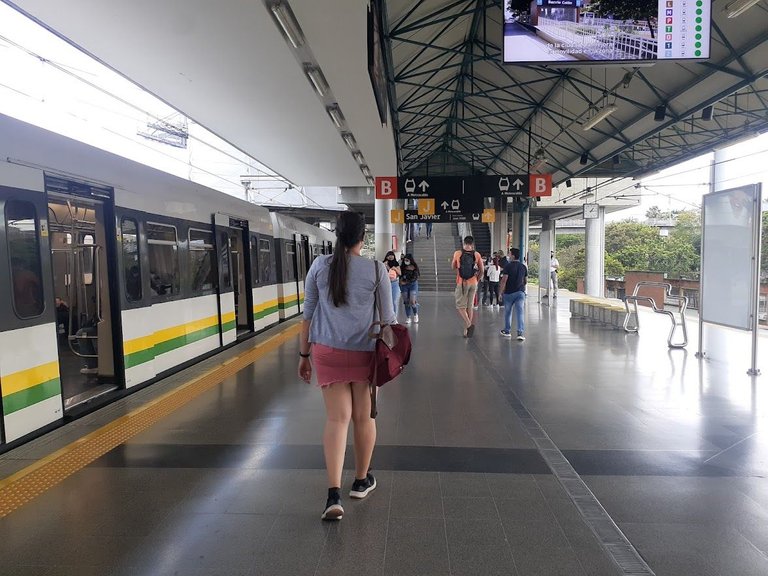 Así que el que arriesga no gana y el que pierde la oportunidad luego se arrepiente. En mi país existen 2 teleféricos, uno en Caracas la capital y el otro en el Estado Mérida y a pesar de que yo he visitado estas dos ciudades, nunca había tenido la oportunidad de subirme a uno de estos. En esta oportunidad, estando en Medellín la recepcionista de nuestro hostal nos recomendó visitar la Comuna 13 y luego de esto visitar el metrocable. Así que luego de terminado nuestro recorrido en este barrio popular, decidimos nosotros mismos y sin ningún guía de por medio, subirnos en este medio de transporte.
So the one who risks does not win and the one who loses the opportunity later regrets it. In my country there are 2 cable cars, one in Caracas the capital and the other in the State of Merida and although I have visited these two cities, I had never had the opportunity to get on one of these. In this opportunity, being in Medellin the receptionist of our hostel recommended us to visit the Comuna 13 and after that to visit the metrocable. So after finishing our tour in this popular neighborhood, we decided by ourselves and without any guide, to get on this means of transport.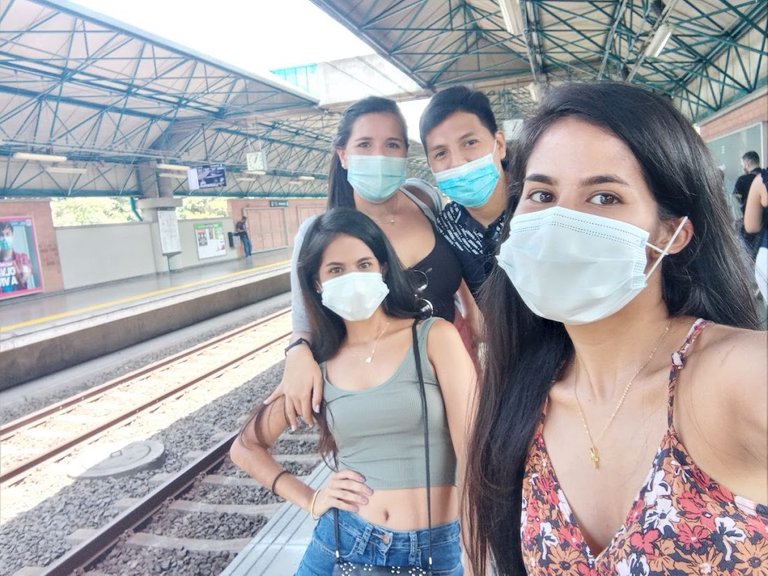 Así que al llegar a la estación del metro, preguntamos a las personas de la taquilla si había que pagar algo adicional y nos dijeron que no. Así que sin más que pensarlo, decidimos guiarnos por los letreros dentro de la estación y caminar directo a la sala de abordaje del metrocable. Y es la que ven a continuación en la foto.
So when we arrived at the metro station, we asked the people at the ticket office if we had to pay anything extra and they told us no. We were told that we did not. So without further thought, we decided to be guided by the signs inside the station and walk straight to the metrocable boarding room. And it is the one you see below in the photo.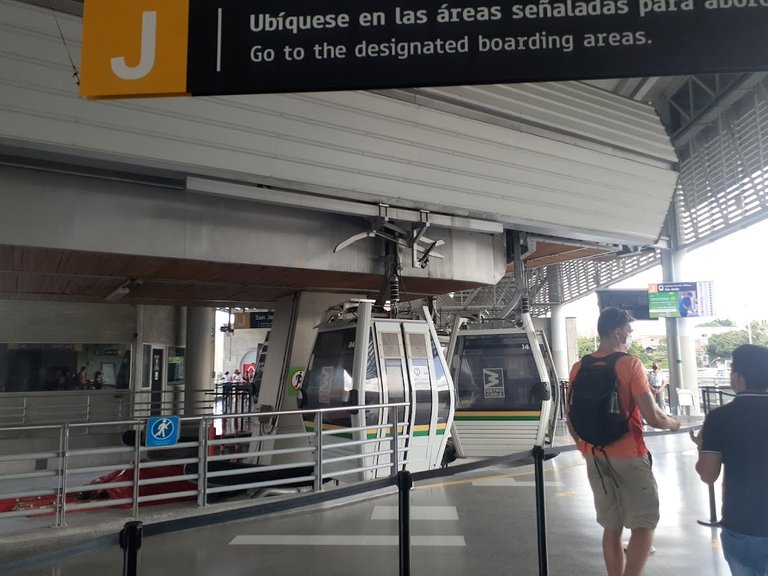 Esta área estaba dentro de la estación del metro. Así que fue fácil encontrarla. Nuestro amigo el canadiense Antonio, nos acompaño en esta aventura. Abordamos la cabina y ya estábamos listos para partir en nuestro paseo. Estaba nerviosa cuando empezó a desplazarse, no puedo negar que sentí miedo cuando la cabina dejo la seguridad de la estación y empezó a ascender colgando en el aire libre. Mis amigos me ayudaron a sentirme mejor, con cada minuto que avanzaba me iba sintiendo más tranquila.
This area was inside the subway station. So it was easy to find it. Our Canadian friend, Antonio, accompanied us on this adventure. We boarded the cabin and were ready to go on our ride. I was nervous when it started to move, I can't deny that I felt scared when the cabin left the safety of the station and started to ascend hanging in the open air. My friends helped me feel better, and with every minute that passed I felt calmer and calmer.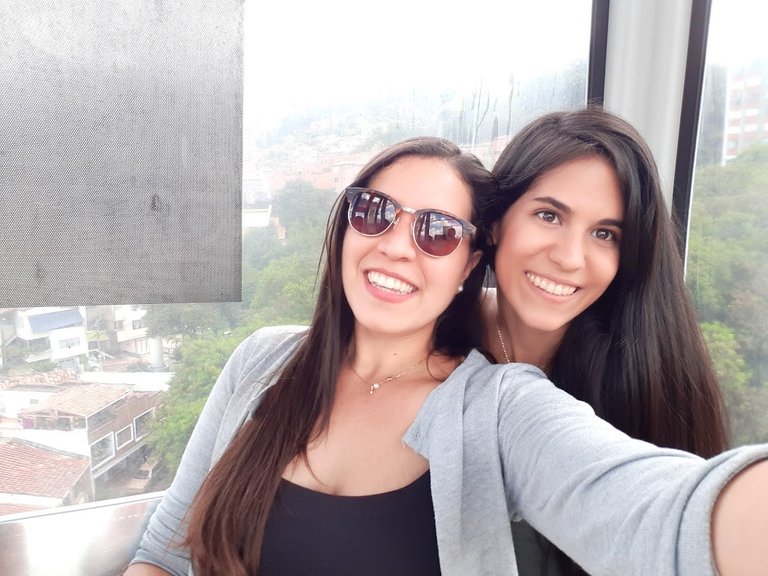 Creo que yo era la persona más asustada del grupo y de la cabina, sim embargo llego un punto en el que ya estaba bien y estaba disfrutando del paseo. Hasta me hice fotos para inmortalizar este momento. Uno no avanza, no disfruta, no conoce si no se arriesga un poco. Me termino gustando estar allí arriba observando toda la ciudad y toda la diversidad. Es increíble como para mí esta actividad era nueva pero para muchos habitantes de esta zona este es su medio de transporte para llegar a casa. Uno de ellos me comento que usa el metrocable para llegar a su trabajo y que la estación y este servicio trabaja hasta las 10 de la noche.
I think I was the most scared person in the group and in the cabin, but at one point I was fine and enjoying the ride. I even took pictures to immortalize this moment. You don't advance, you don't enjoy, you don't know if you don't take a little risk. I ended up enjoying being up there observing the whole city and all the diversity. It is incredible how for me this activity was new but for many inhabitants of this area this is their means of transportation to get home. One of them told me that he uses the metrocable to get to work and that the station and this service works until 10 at night.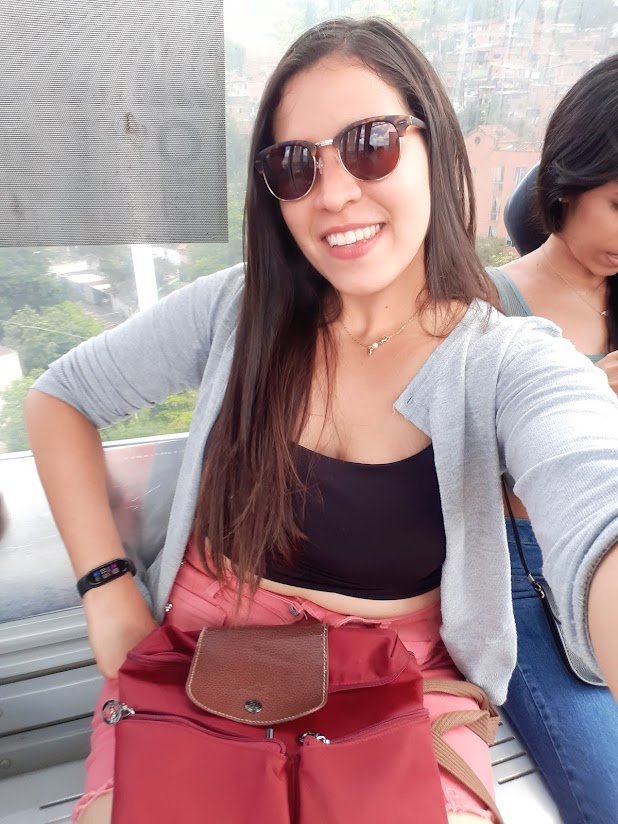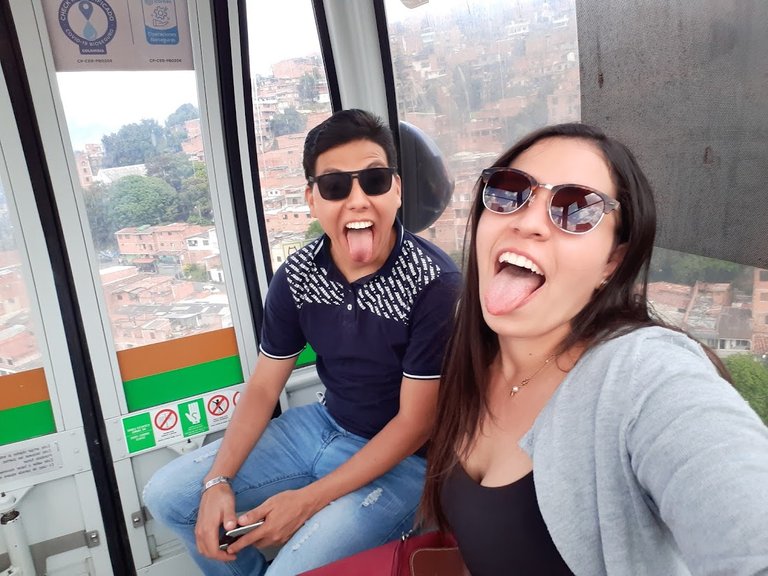 Recorrimos un tramo bastante largo, hasta llegar hasta la ultima estación, allí decidimos bajarnos de la cabina y abordar otra de regreso. Toda este recorrido por un solo precio 2700 pesos colombianos, ya que nunca salimos de la estación como tal, solo hicimos un transbordo dentro de la misma.
We traveled quite a long way, until we reached the last station, where we decided to get off the cabin and board another one to return. All this trip for only 2700 Colombian pesos, since we never left the station as such, we only made a transfer inside the station.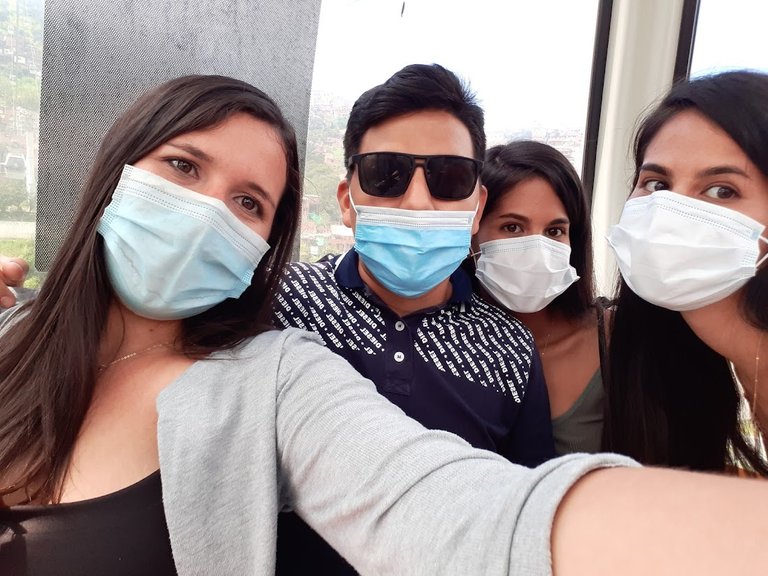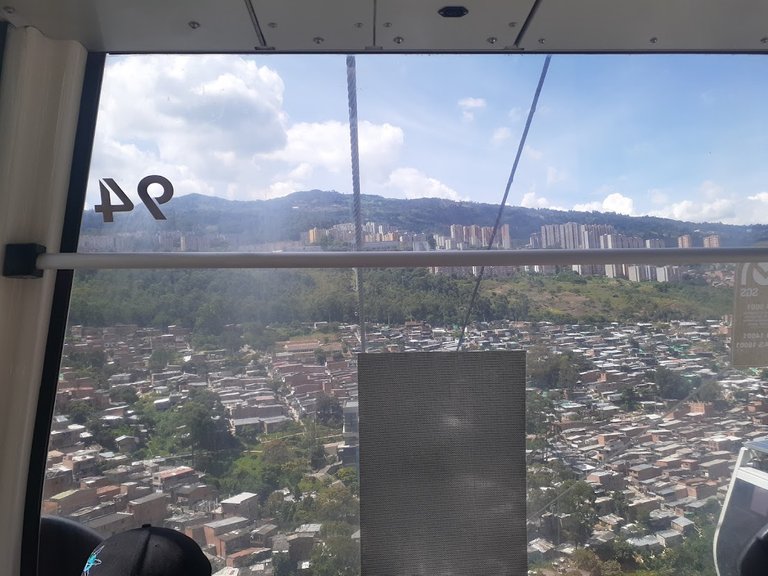 De regreso, casi llegando de vuelta a la estación donde inicio nuestro recorrido, el metro se paro y toda la línea se paro. Entre un poco en pánico les confieso, ya que la cabina se empezó a mover de atrás hacia adelante por la reacción al movimiento que por la que llevaba (inercia) cuando estaba en marcha. Ya estaba pensando yo que justo me monto por primera vez y se daña. Sin embargo, un señor que nos acompañaba de regreso en nuestra cabina nos explico que esto sucedía cuando alguien intentaba abrir una puerta de la cabina. Nosotros no fuimos claramente, es lo menos que quisiéramos estando en el aire. Por sobre todo la seguridad.
On the way back, almost arriving back to the station where we started our trip, the subway stopped and the whole line stopped. I confess I panicked a little, since the cabin began to move back and forth due to the reaction to the movement it was carrying (inertia) when it was in motion. I was already thinking that I just ride for the first time and it gets damaged. However, a gentleman who accompanied us back in our cabin explained that this happened when someone tried to open a cabin door. We were clearly not, it is the least we would want to be in the air. Above all, safety.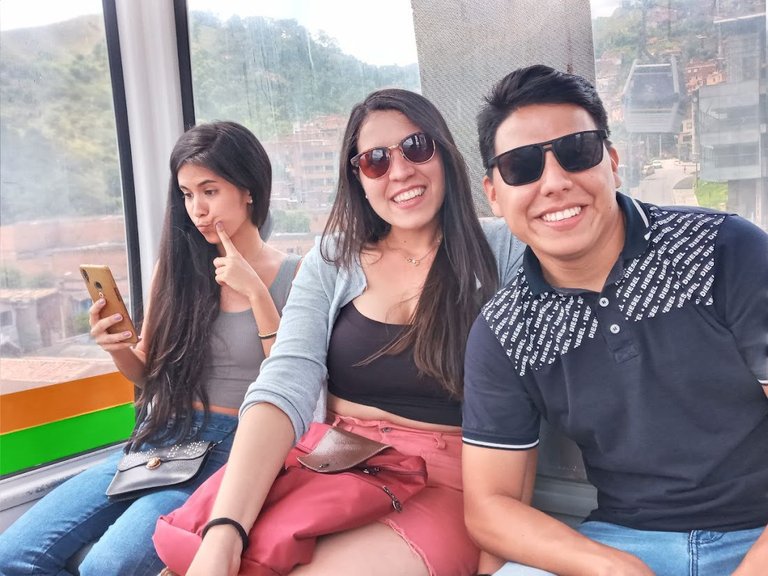 Luego de unos minutos, se reactivo de nuevo la estación y otra vez empezamos a desplazarnos, en ese momento se me paso el susto. Ya me sentía seguro de que íbamos a regresar a la seguridad de la tierra (la estación). Disfrutamos de nuestros últimos minutos en el metrocable y la pasamos de maravilla. Es una experiencia que volvería a repetir en una próxima oportunidad. Esto fue todo por hoy, espero que les haya gustado mi aventura y por último los invito a salir de su lugar seguro, de su zona de confort. ¡Nos leemos!
After a few minutes, the station was reactivated again and we started to move again, at that moment the scare was over. I felt sure that we were going to return to the safety of the earth (the station). We enjoyed our last minutes on the Metrocable and had a wonderful time. It is an experience I would repeat again next time. That's all for today, I hope you enjoyed my adventure and finally I invite you to get out of your safe place, out of your comfort zone. See you soon!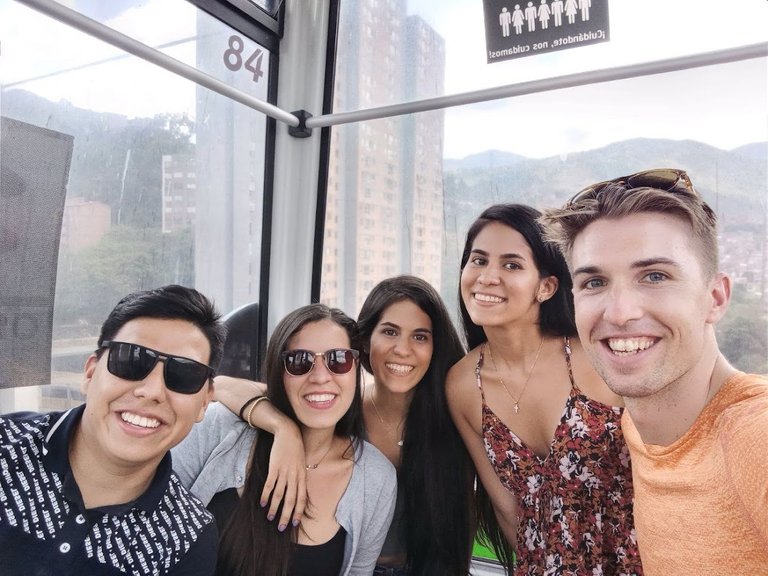 ¡Gracias por llegar hasta aquí! | Thanks for making it this far!
¡Buenas Vibras para todos! | Good Vives for All!

📌 Separador de texto | Text separator: separadores-de-texto-para-blog | cryptocharon
📌 Texto traducido en | Text translated in: DeepL
📌 Las fotografías fueron tomadas por mí @keritroberts ; Dispositivo: Samsung A20 | The pictures were taken by me @keritroberts ; Device: Samsung A20


---
---