[ESP | ENG] ~ El libro más pequeño del Mundo en el Castillo de una Gran Ciudad | The World's Smallest Book in a Big City Castle 🏰
El Castillo de Medellín | Medellin Castle
¡Hola Hivers! Bienvenidos un día más a este espacio que también es de ustedes. Les deseo un lindo y productivo viernes. Hoy seguimos con la serie de publicaciones acerca de mi viaje a Medellín, Antioquia - Colombia. Esta vez quiero llevarlos a un lugar especial, encantador y lleno de historia: El Museo el Castillo. Ubicado en el sector el Poblado, lugar de nuestra residencia temporal.
Hello Hivers! Welcome one more day to this space that is also yours. I wish you a nice and productive Friday. Today we continue with the series of posts about my trip to Medellin, Antioquia - Colombia. This time I want to take you to a special place, charming and full of history: El Castillo Museum Located in the Poblado sector, place of our temporary residence.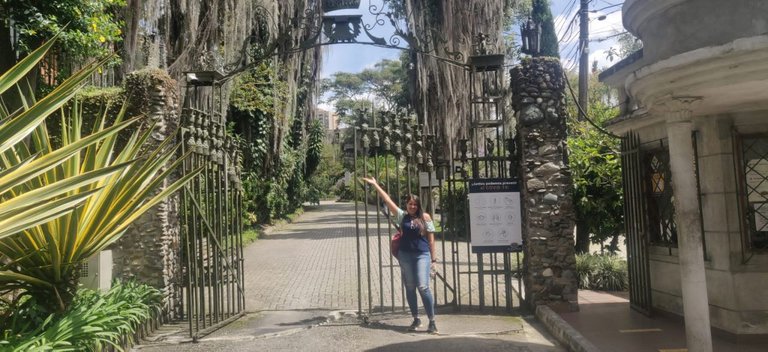 Así que quedate hasta el final para que conozcas un poco sobre su historia y mi experiencia en este hermoso lugar. ⬇️
So stay until the end to learn a little about its history and my experience in this beautiful place. ⬇️
Empecemos... | Let's Go...

Así comienza mi último día en Medellín. Yo pienso que cerré este día con broche de oro, porque una de las actividades que me gusta hacer, es visitar museos, ya que me encanta la pintura, el arte y la historia detrás de cada una de las obras. Mis amigas @esthefanychacin y @evelynchacin habían regresado a Venezuela el día anterior, así que yo me había quedado sola desde la madrugada de ese día, el 13 de septiembre. Yo estaba un poco ansiosa porque me iba a quedar sola y todavía no tenía planes para mí ultimo día en esa gran ciudad.
So begins my last day in Medellín. I think I closed this day with a flourish, because one of the activities I like to do, is to visit museums, because I love painting, art and the history behind each of the works. My friends @esthefanychacin and @evelynchacin had returned to Venezuela the day before, so I had been alone since the early morning of that day, September 13. I was a bit anxious because I was going to be alone and I still had no plans for my last day in that big city.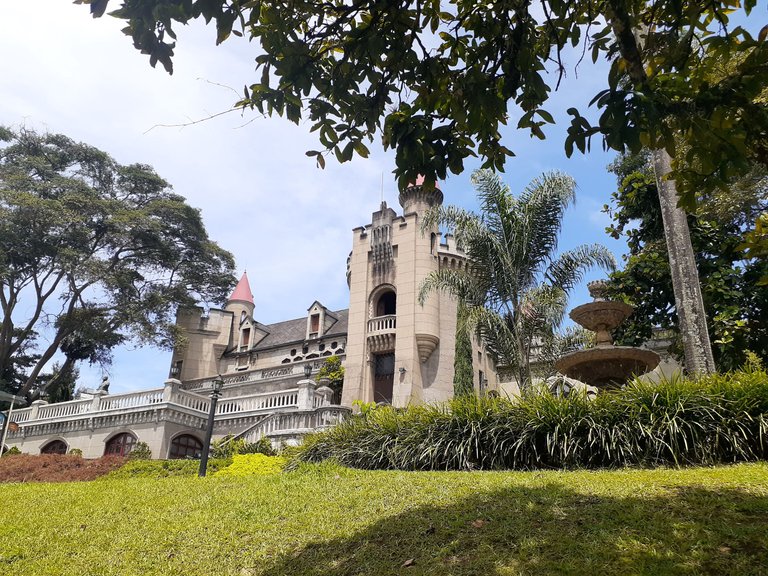 Pero que casualidad que la noche anterior, es decir, el 12 de septiembre, mi amigo Hans me había escrito para ver si yo quería compartir el día con él. Yo sin duda le dije que si, entonces el me pregunto que quería hacer y yo en primer lugar, quería ir al parque Arvii, y le pregunte si ya lo había visitado y la mala noticia es que si había ido, entonces la idea era visitar un sitio que no conociéramos los dos. Así que le dije que si quería visitar El Museo el Castillo, ya que el día antes quería ir allí con mis amigos y no nos dio tiempo porque las gemelas tenían que arreglar maleta para viajar al día siguiente.
But what a coincidence that the night before, that is, on September 12, my friend Hans had written me to see if I wanted to share the day with him. I certainly said yes, then he asked me what I wanted to do and I wanted to go to the Arvii Park, and I asked him if he had already visited it and the bad news is that he had, so the idea was to visit a place that we both did not know. So I told him that I wanted to visit the Castle Museum, because the day before I wanted to go there with my friends and we did not have time because the twins had to pack their bags to travel the next day.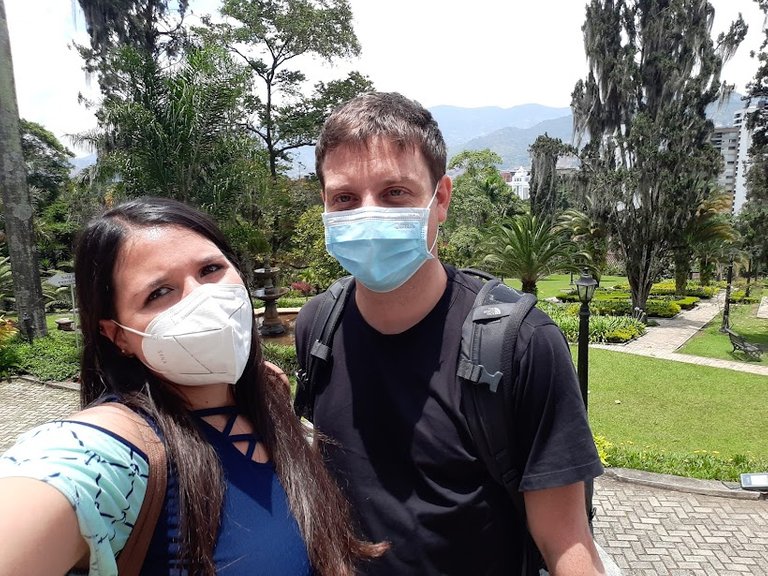 Ya tenía planes, por lo menos no me quedaría sola mi último día en Medellín, eso me tenía feliz. Así que ese día Hans me busco en mi Hostal, y fuimos a un supermercado cerca para comprar algunos Snacks para comer en el Castillo. Compramos Doritos, Brownies y bebidas frías como acompañantes. Luego de eso Hans con ayuda de Google Maps buscó la ubicación del Castillo y como nos parecía cerca decidimos ir a pie. Sin embargo, estando cerca del Castillo (cosa que no sabíamos, nos perdimos y con ayuda del GPS JAJAJ) mi amigo se sintió casado y me dijo que tomáramos un Uber y que este nos llevara hasta allá. Así que pidió el taxi y nos recogieron. Estábamos como 3 minutos del Castillo.
I already had plans, at least I would not stay alone my last day in Medellin, that made me happy. So that day Hans picked me up at my hostel, and we went to a supermarket nearby to buy some snacks to eat at the castle. We bought Doritos, Brownies and cold drinks as side dishes. After that Hans with the help of Google Maps looked up the location of the Castle and since it seemed close we decided to walk there. However, being close to the castle (which we didn't know, we got lost and with the help of GPS JAJAJ) my friend felt married and told me to take an Uber and that it would take us there. So he ordered the cab and they picked us up. We were about 3 minutes away from the castle.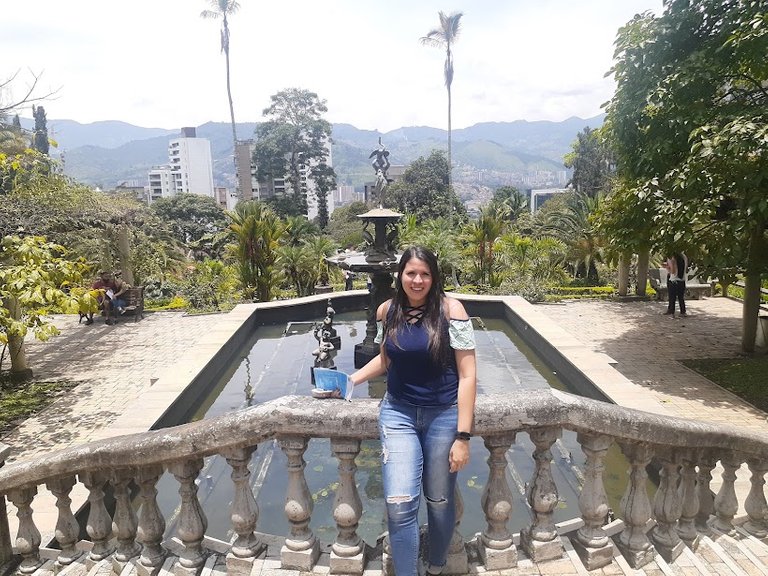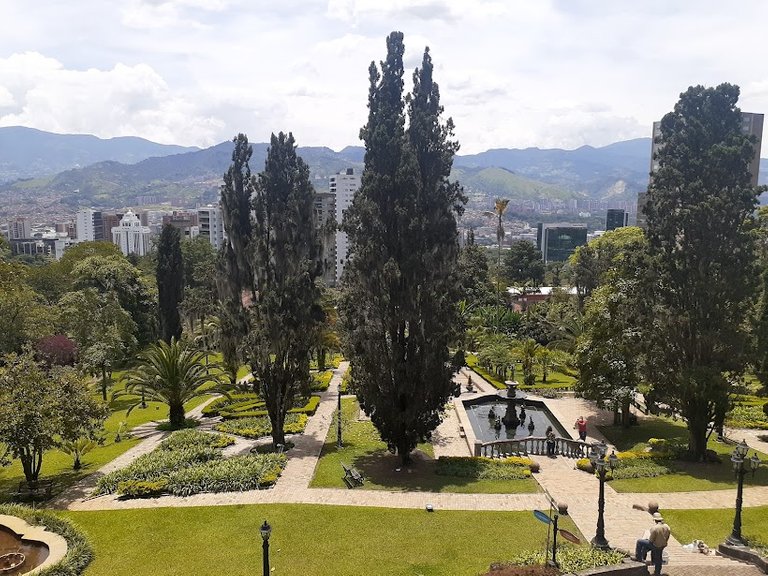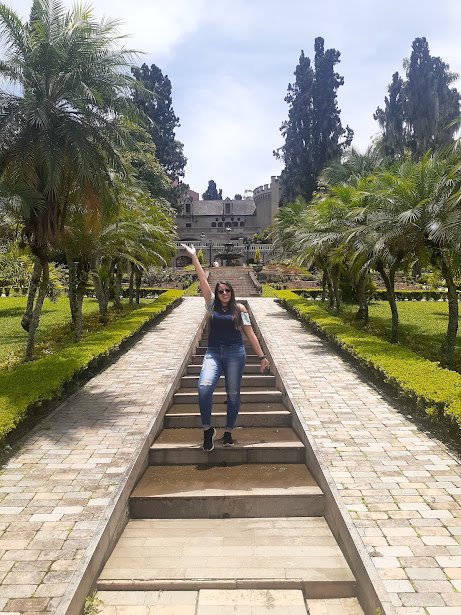 Llegamos al fin y en la entrada estaba la taquilla para pagar la entradas, estas tenían un precio de 14.000 pesos colombianos e incluían la visita guiada. Nosotros llegamos a las 11y30 A.M y la próxima visita guiada era a las 12 del medio día, así que nos indicaron que mientras se hiciera la hora podíamos recorrer los jardines así que eso fue lo primero que hicimos al llegar. Empezar a conocer los alrededores del castillo.
We finally arrived and at the entrance was the ticket office to pay for the tickets, these were priced at 14,000 Colombian pesos and included the guided tour. We arrived at 11:30 am and the next guided tour was at 12 noon, so we were told that while the time was done we could walk around the gardens so that was the first thing we did when we arrived. We started to get to know the surroundings of the castle.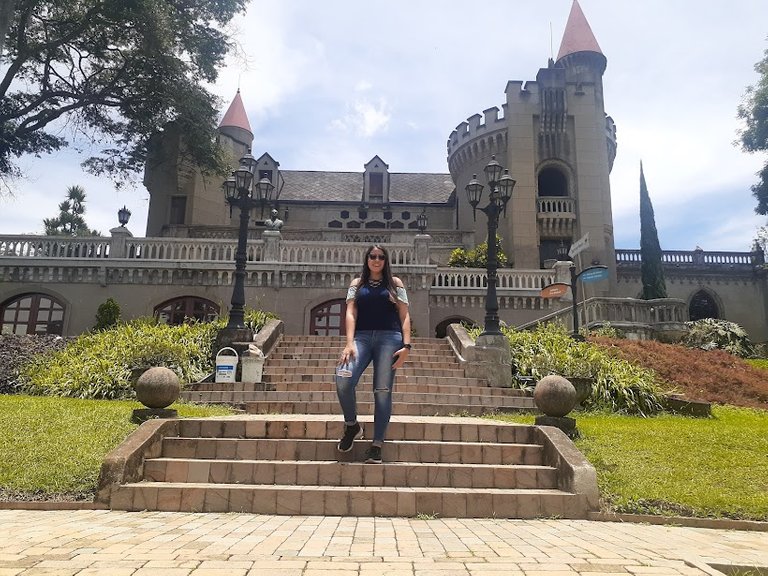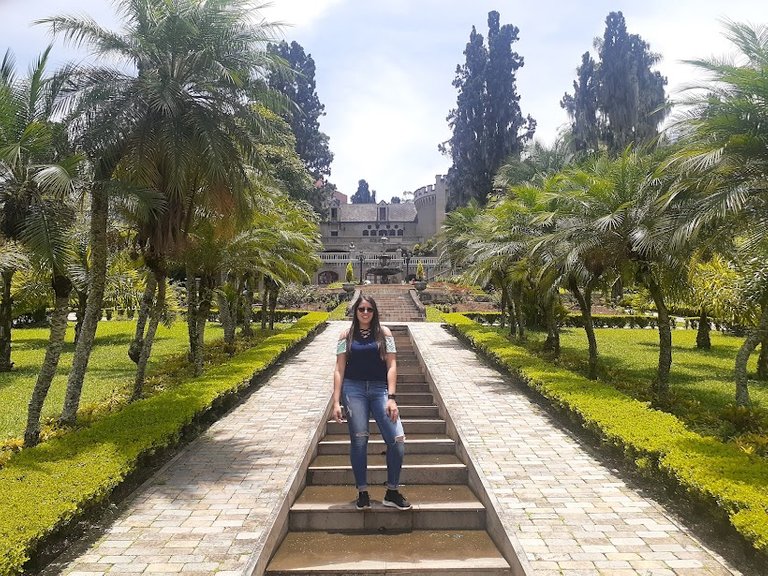 Los jardines eran preciosos, así que nos tomamos el tiempo de recorrerlos, tomar fotos de las fuentes y de la vegetación que allí habita, tome una foto a una rosa y a otra flor que desconozco su nombre. Todo estaba bien limpio y cuidado. Cabe destacar que el castillo no recibe ayudas del gobierno, sino que este es autónomo. Dentro de este realizan actividades artísticas abiertas al publico para recaudar fondos, como conciertos, cursos, exposiciones especiales, entre otras.
The gardens were beautiful, so we took the time to walk through them, take pictures of the fountains and the vegetation that lives there, I took a picture of a rose and another flower that I don't know its name. Everything was very clean and well cared for. It should be noted that the castle does not receive government aid, it is autonomous. Inside the castle they organize artistic activities open to the public to raise funds, such as concerts, courses, special exhibitions, among others.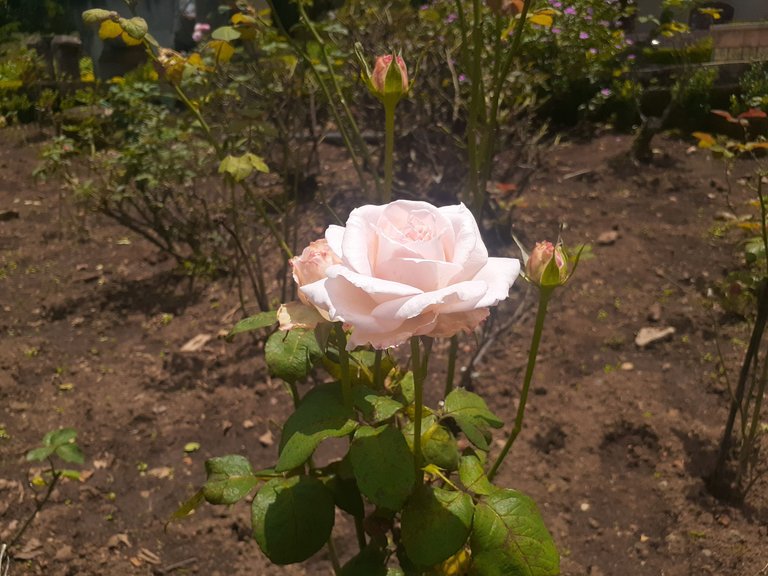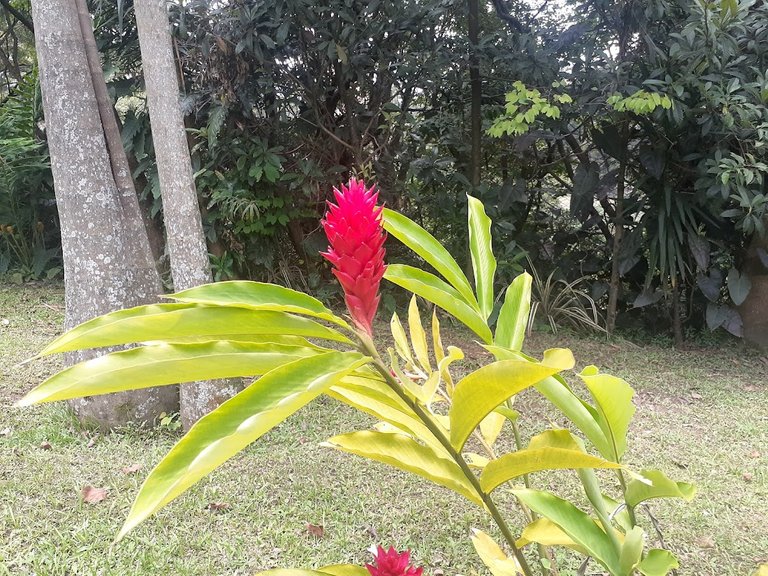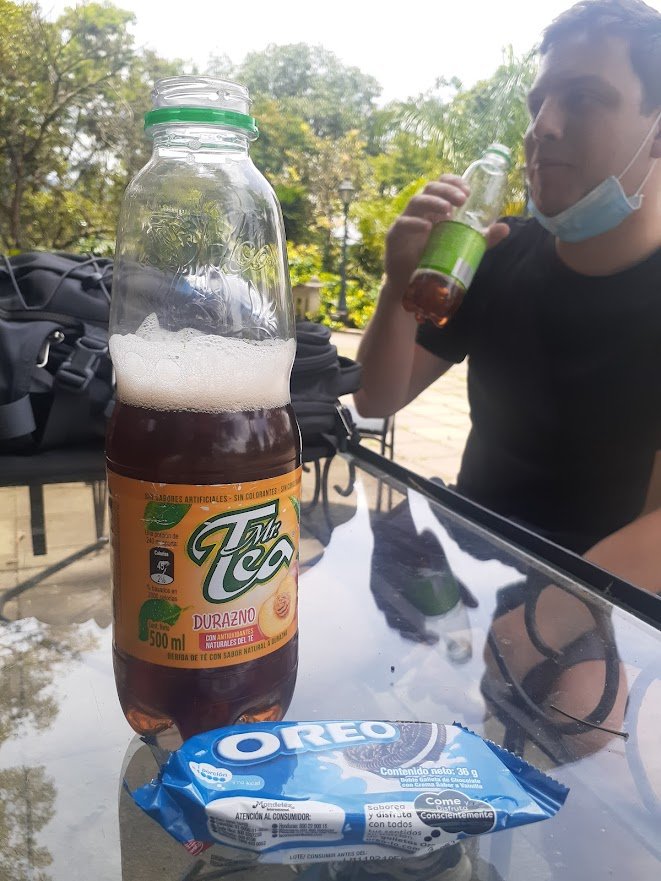 Luego de pasear por los jardines, Hans y yo nos dispusimos a merendar ya que ya teníamos hambre así que nos sentamos a un costado del castillo en una mesa y una silla. Tomamos nuestras bebidas y comimos galletas oreo que trajo Hans mientras se hacían las 12 del mediodía. Finalmente, llego la hora de la visita guiada y el punto de inicio era en la terraza del Castillo, así que subimos hasta allá, para esperar a nuestra guía. Demoro aproximadamente como 10 minutos para iniciar, mientras llegaba toda la gente.
After strolling around the gardens, Hans and I set out to have a snack as we were already hungry so we sat at the side of the castle at a table and chair. We had our drinks and ate oreo cookies that Hans brought while it was getting on for 12 noon. Finally, it was time for the guided tour and the starting point was on the terrace of the castle, so we went up there to wait for our guide. It took about 10 minutes to start, while all the people were arriving.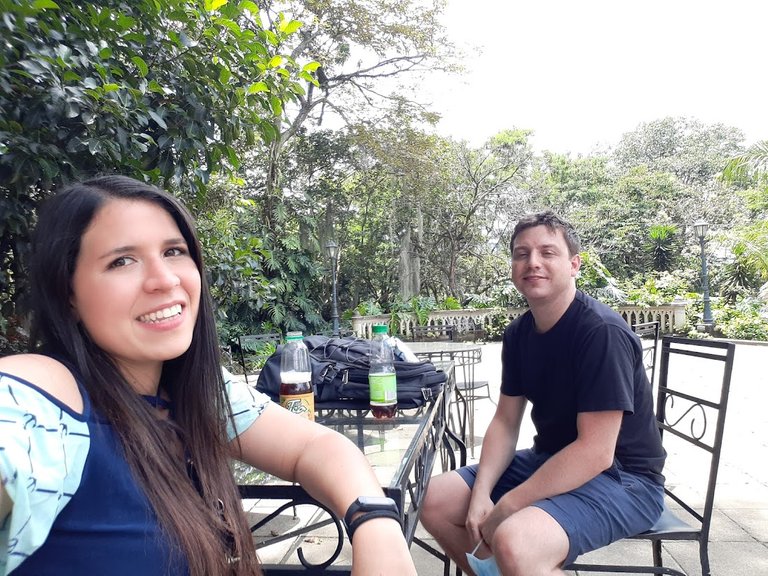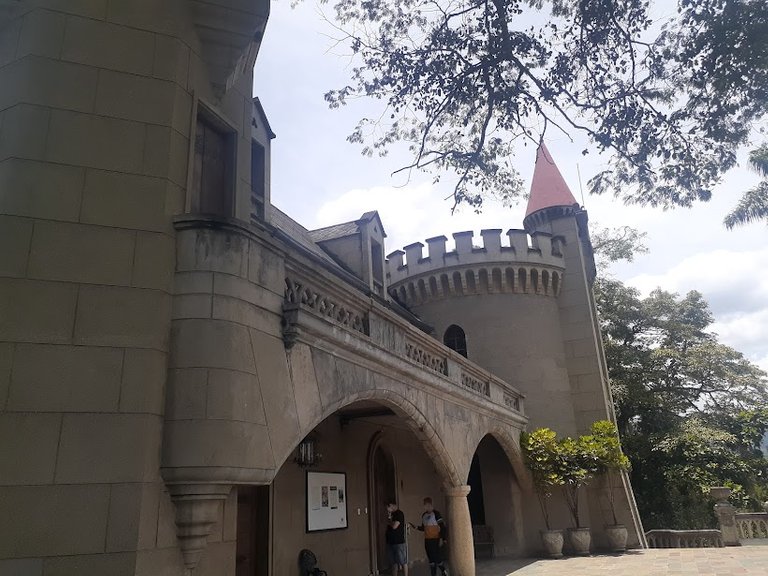 Luego, entramos y la primera vista que teníamos era hacia el jardín del Castillo y teníamos de frente este Jarrón. La mala noticia es que no podía tomar fotos adentro por derechos de autor, así que solo puedo mostrarles la fachada y los jardines del museo. Yo tome esta primera foto adentro sin saber, sin embargo no pude capturar todo adentro, un poco triste para mí, ya que a mi me gusta mostrarles todo y contarles también.
Then, we went inside and the first view we had was towards the garden of the Castle and we had this Vase in front of us. The bad news is that I could not take pictures inside because of copyright, so I can only show you the facade and the gardens of the museum. I took this first picture inside without knowing, however I could not capture everything inside, a bit sad for me, as I like to show you everything and tell you too.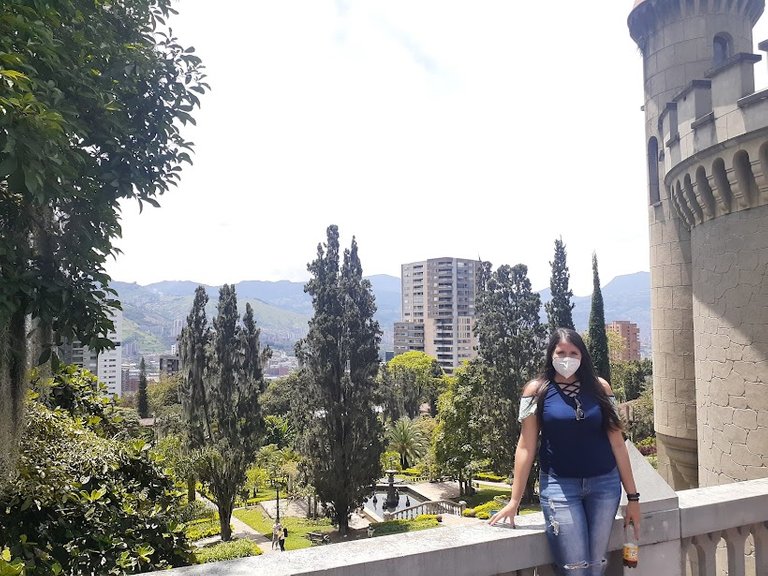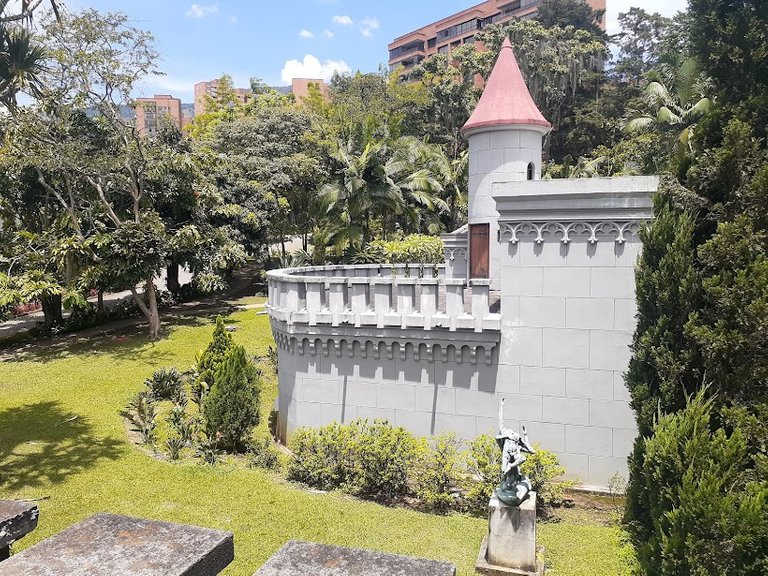 La Guía nos explico que los segundos dueños compraron el Castillo en el año 1943 por la gran suma para este entonces de 70.000 pesos colombianos. Actualmente, esto no representa ni 100$, sin embargo, esta familia habitó el castillo y empezó a decorarlo a su gusto. En este hay alfombras de pelo de camello, lamparas de cristales suizos, muebles al estilo francés e italiano. Recipientes de vidrio de colección utilizados en las antiguas Botiquerias y farmacias, una colección de más de 600 cucharas dulceras e incluso existe una replica del libro más pequeño del mundo.
The guide explained that the second owners bought the castle in 1943 for the then great sum of 70,000 Colombian pesos. Today, this does not even represent 100$, however, this family lived in the castle and began to decorate it to their liking. There are camel hair carpets, Swiss crystal chandeliers, French and Italian style furniture. There are glass containers used in the old apothecaries and pharmacies, a collection of more than 600 spoons and even a replica of the smallest book in the world.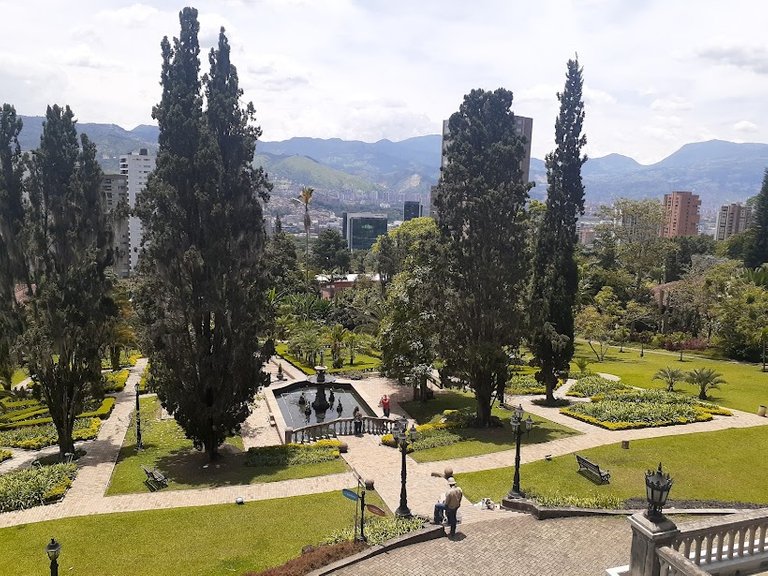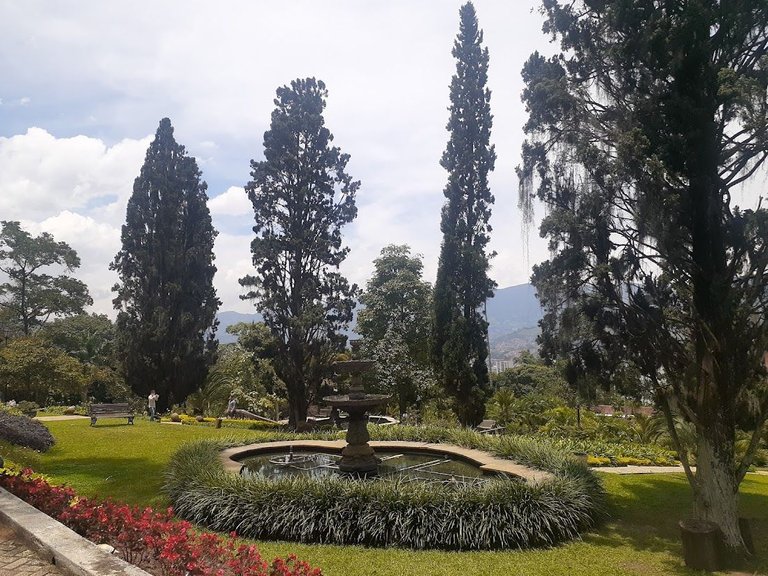 También hay obras de arte increíbles provenientes de Holanda, vajillas y otros objetos interesantes. También es importante resaltar que dentro del museo, hay una galería de Arte que cuenta con pinturas de pintores Colombianos reconocidos. Así que si vienes a Medellín no puedes perderte de visitar el Museo el Castillo. Esto fue todo por hoy, en un próximo post les cuento que hice luego de venir aquí. ¡Nos Leemos!
There are also incredible works of art from Holland, tableware and other interesting objects. It is also important to highlight that inside the museum, there is an art gallery with paintings by renowned Colombian painters. So if you come to Medellin you can not miss visiting the Castle Museum. That's all for today, in a next post I will tell you what I did after coming here, see you soon!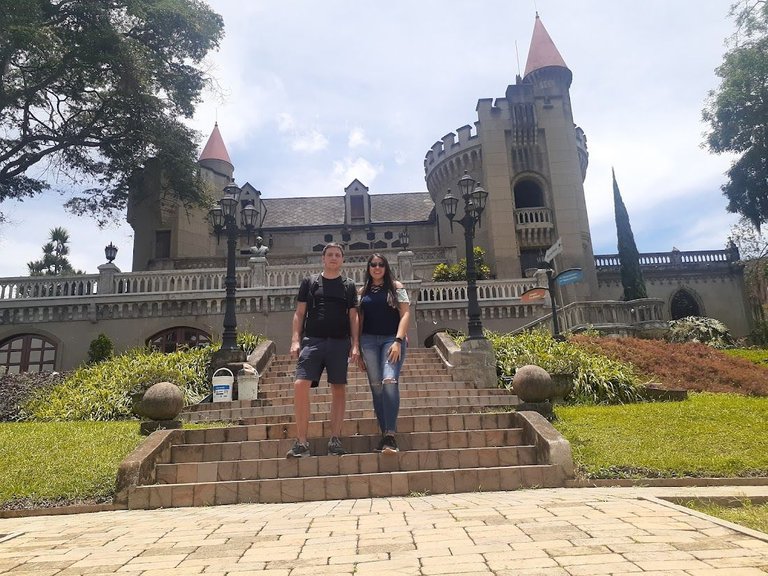 ---
¡Gracias por llegar hasta aquí! | Thanks for making it this far!
¡Buenas Vibras para todos! | Good Vives for All!
---

📌 Separador de texto | Text separator: separadores-de-texto-para-blog | cryptocharon
📌 Texto traducido en | Text translated in: DeepL
📌 Las fotografías fueron tomadas por mí @keritroberts ; Dispositivo: Samsung A20 | The pictures were taken by me @keritroberts ; Device: Samsung A20


---
---