Trying Out Control Nature
Something I can't do well is keeping ETH in my IMX wallet. I keep buying random cards that are potentially cool but often aren't in top meta decks, like Dionysus. So when @copperpitch posted his Control Nature decklists, I was pleasantly surprised - I could finally dust out the Dionysus (and Guerilla Gardener that I won in a giveaway here) and use them to their full potential! For how much the deck cost, I enjoyed the experience of surprising the opponent with these off-meta cards. On the performance side of things, it didn't do too badly with a 19/26 win rate on the weekdays. Let's get into the details!
Decklist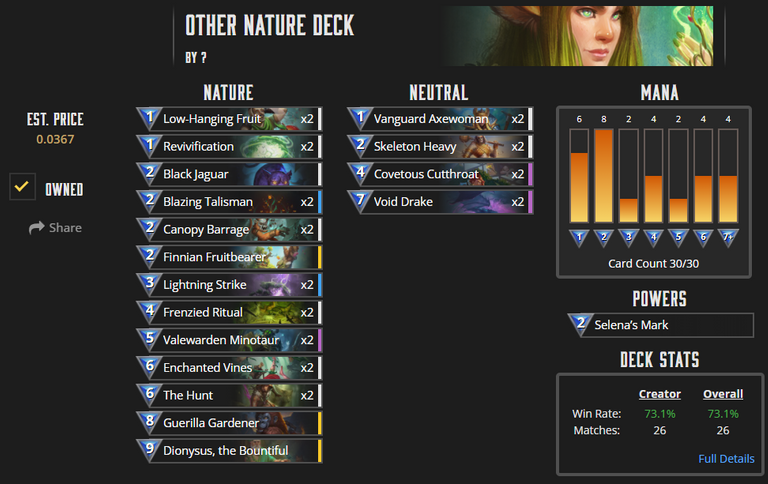 Deck Link: GUDecks
The deck is a mix of the original post's budget and full-flavored variations with a little surprise thrown in. There's a lot of removal because that's the point of the deck - to control the board until the late game before Guerilla Gardener and Dionysus, the Bountiful causes the opponent to rage quit after playing a grueling 20-minute game. Games can end up taking 15+ turns, but I enjoyed playing it a lot as you can see by how I finished 26 games in just over a day.

The Blazing Talisman causes aggro decks to run in fear. At a low, low cost of 2-mana, it can continually damage and remove your opponent's board with ease. I almost always try to mulligan for this in most aggro/mid-game match-ups. The extra Regen that it gives is also pretty nice.

If you can play Guerilla Gardener, it often spells the beginning of the end for your opponent. The overkill damage often wipes a good chunk of your opponent's board, plus if your opponent's creatures attacked into your Blazing Talisman the turn before, when Guerilla Gardener kills them, it will gain a healthy chunk of Regen back and make it even harder to remove.

Alright, if you get to 9-mana and get to play a 9-mana card, you probably already won the game. It's often just a choice of how many style points you want to get while finishing your opponent off. Dionysus finishes games with value. 7 random cards that cost 1, and you can even get another Dionysus if you're lucky.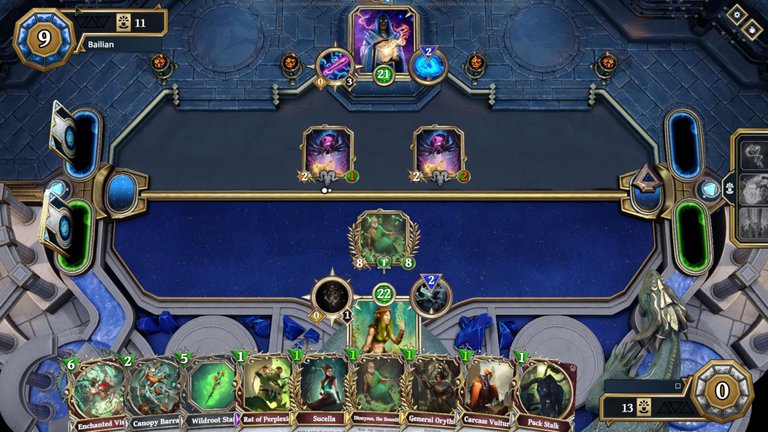 What's in the box? It could be anything, it could even be another box!

Since this was a control deck through and through, I thought sneaking in 2x Covetous Cutthroat might be a great tech play. Since you're playing long games, you're more likely to face some form of relics - infinite-durability relics like Pallas' Wand, or simply the Lambasting Wand from the Sanctuary. Of course, you might not always get Covetous Cutthroat when you need her, but this is made up for when you get to play her against a fresh Faeflame Blade.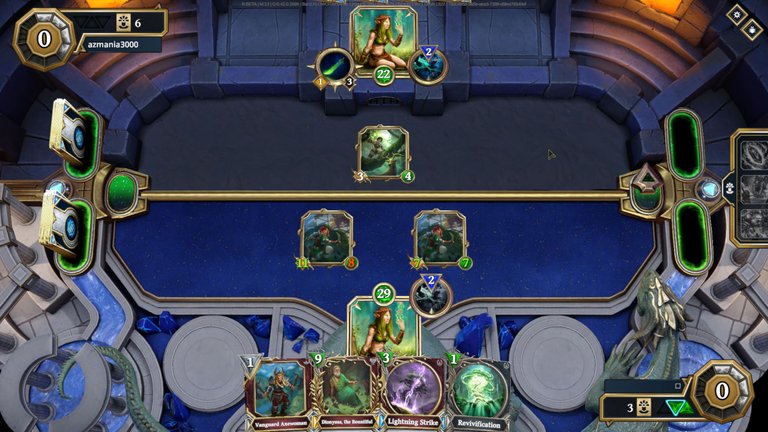 Not the most reliable card in the deck and I haven't got it to proc against an infinite-durability relic, but that day will come... surely... someday... (copium)
Side note on Finnian - I think it's really weak in this deck and probably should be removed in place of a Black Jaguar. Without Faeflame Blades it can get pretty hard to proc Finnian's effect.
Performance
Starting Rank: Mythic (1431)
Ending Rank: Mythic (1565)
| Opponent Deck | Wins/Total Games |
| --- | --- |
| War | 3 / 4 |
| Nature | 6 / 6 |
| Death | 4 / 5 |
| Deception | 3 / 5 |
| Light | 0 / 2 |
| Magic | 3 / 4 |
| Total | 19 / 26 (73%) |
Do take note that these matches were played during the week, which often involves decks that aren't as strong. I played two weird Anubian Death decks that definitely wouldn't appear in the Weekend Ranked event.
For me, one of the harder match-ups for this deck is the Order Deception deck archetype if I can't draw early removal fast. Without the conventional strong early-game creatures that Nature usually plays, the deck can lose fast against an unchecked Armored Lurker or two.
Similarly for Light decks, the Summon Acolyte God Power can prove to be annoying to deal with on turns on end. And Light decks can snowball really quickly if you draw badly at the start.
Against the conventional mid-range Nature, I feel that this deck has a strong edge. Mid-range Nature isn't particularly fast, and this deck has lots of single-target and board removal that can deal with the threats as they come. The opponent's Giant Pangolin will sit in his hand against your empty board for many turns as he realizes that it can't hold a candle to the Gardener. Of course, it can all go wrong if your opponent manages to obtain massive tempo early, but hopefully the Blazing Talisman will slow that down.
Gameplay Video (vs Zombie Death)
This deck plays superbly against Zombie Death. Blazing Talisman and Gardener basically shits on Zombies. Just keep your health high to not die to any Corpse Explosion shenanigans and all should be fine.
Conclusion
The deck is fun to play just due to how much value potential it has, but this particular version lacks some strength due to a few missing strong cards like Chiron, Underbrush Boar, and Demogorgons. I hope to try this deck more on the weekends to see how it fares against other meta decks.

Post Header image source: Unsplash
If you chanced upon this article and are interested in starting Gods Unchained, you can use my referral code to sign up to play here. It's free to play and free to earn!
Some of the card images in this post are generated by GUListCreator, a tool I created for fast card list lookup and creation to write posts like this on Hive. Do check it out if you like to create content for Gods Unchained!
---
---