Satisfactory: 42 Enjoyable Hours that I'll Never Get Back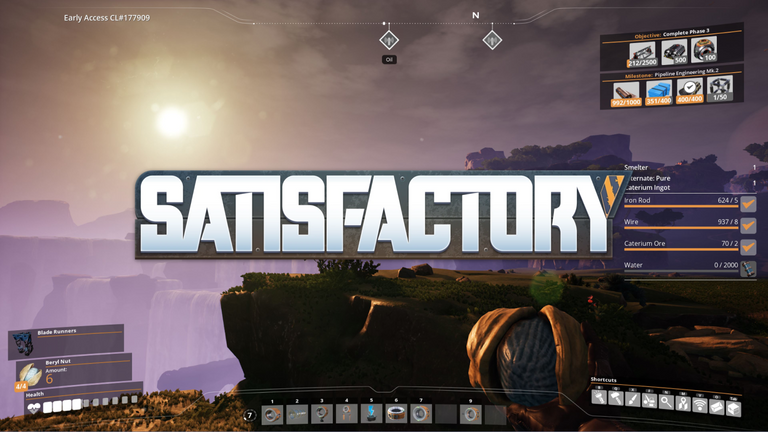 Satisfactory is an open-world factory-building game that has beautiful landscapes, lots of crafting and automation, and is a blast to play. From what I've seen, it has drained thousands of hours of players who simply enjoy building optimized factory set-ups that look aesthetic as well. I remember seeing a factory tour like this and just wondering how much time it took to plan and build all that.
It's crazy!
Steam tells me that I've spent 42 hours in Satisfactory, and while I had lots of fun with it, I probably won't be going back anytime soon for reasons that I'll explain later.

The core gameplay loop of Satisfactory is simple - you forage and mine stuff, craft some new stuff, build buildings that automate crafting that new stuff, and the cycle continues. It sounds deceptively simple - how tough could it be to automate manufacturing? Well, it turns out that the answer is very tough. It requires ample planning and some spreadsheeting in order to come up with a functional factory that doesn't have "conveyer belt spaghetti" all over.

For example, one of the mid-game craftable items is a Heavy Modular Frame. It is used in building a bunch of other essential buildings and for unlocking upgrades. How much effort do you think it takes to manufacture this automatically from scratch?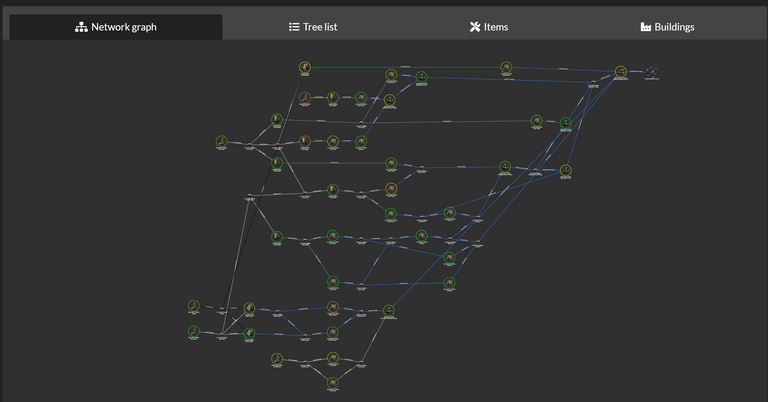 Satisfactory Calculator
Each node represents some sort of processing. You'll require over 20 buildings/structures just to have a working plant that manufactures Heavy Modular Frames. Now, multiply this process with 20 other types of parts, throw in a section where you have to generate and manage power, and you've got Satisfactory.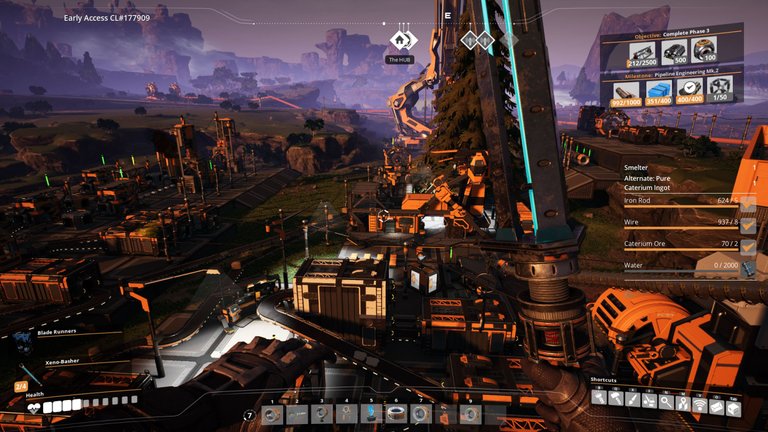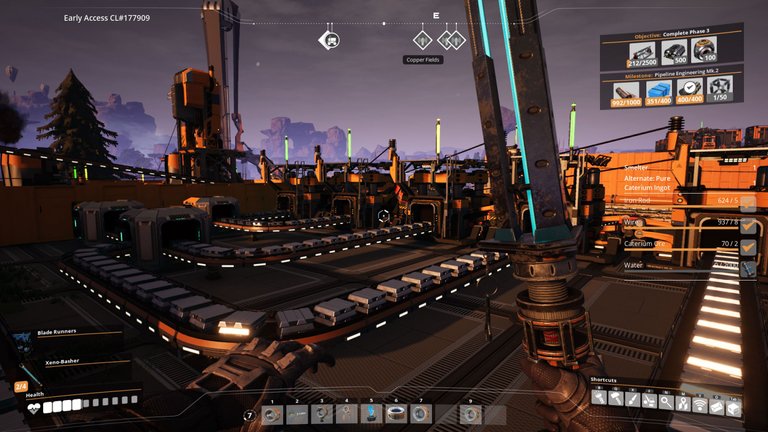 Some evening shots of my home base with tons of conveyor belt spaghetti
You start off being able to mine the most common ore, Iron ore, with your bare hands. You then smelt the ores to get iron ingots, which are then used in a variety of structures. As you progress through the game, more structures and features get unlocked, giving you a real sense of progress. You start off by doing many things manually, but your ultimate aim is to automate everything from start to finish so you can enjoy your coffee at the top of your factory while watching your factory churn out metal. And boy does it feel good when everything's running smoothly.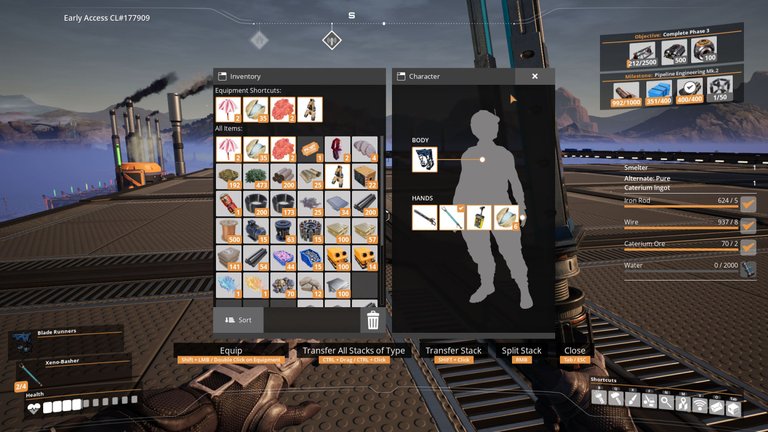 As the game progresses, you'll find yourself needing to produce more of a certain part rather than the ones that you've been producing all these while, requiring you to venture out into the wild to find new ore sources and build new bases. It's always a hassle trying to build a new base since you have limited inventory space, but it feels good when you complete yet another base that contributes new parts to your ecosystem.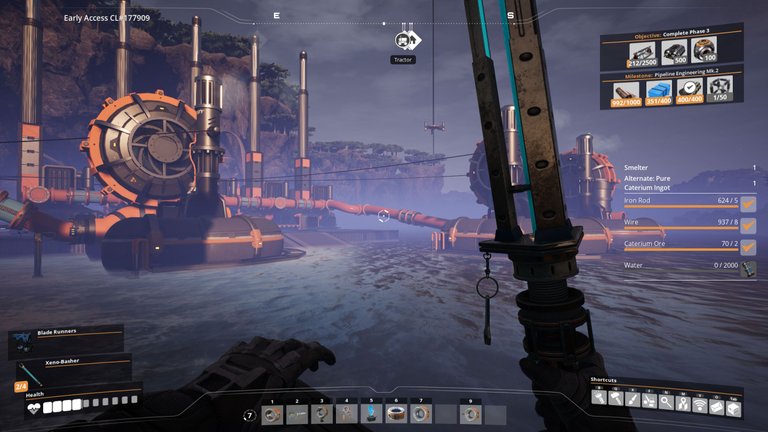 Initially, you'll be manually managing your own power as well, having to burn grass, logs, and biomass fuel manually to keep your tiny factory running. Past a certain point, you'll be able to create your own power plant which will then be able to power your entire factory - although I must say that wiring the factory up to the power plant can be a hassle. Through my playthrough, I also met with tons of power failures where I failed to keep my factory's power requirements below the power output of my power plant, so it's yet another thing that you have to manage.
While Satisfactory scratches the itch of automating a bunch of crafting, it is also undoubtedly one of the more attention-demanding games that I've played - you have to remember where your factories are, what settings your structures have (underclocking and overclocking production is possible), and how to plan and rebuild your factory whenever it is required. If I stop playing Satisfactory for a while, it's easy to forget what I was aiming towards and just end up wasting a bunch of time.
I played Satisfactory until it felt like I was making minimal progress each time I played. Like codebases, Satisfactory factories required regular refactoring (cleaning up conveyor belts and optimize structure placement) and optimization (identifying bottlenecks, how to increase throughput) in order to stay sane while progressing. It definitely did feel like a chore sometimes. 😅
Would I recommend Satisfactory to everyone? If you love crafting, automation, and management, this game is probably one of the best games on the market that has limitless potential right now. If you hate the tedium of actually managing factories... then no. Managing a factory requires lots of work and there's a lot of tedium!
I hope you enjoyed reading this little write-up of mine, see you next time!

Satisfactory Steam link: https://store.steampowered.com/app/526870/Satisfactory/
---
---