Die in the Dungeon - A Web-Based Roguelite that Slaps!
Every once in a while I like to visit r/WebGames to see what cool web-based games have been created in the last few months. I have found really cool but niche games like Frog Fractions and The Evolution of Trust while browsing in the past, and this time I chanced upon a game named Die in the Dungeon. At a first glance, it had everything that I liked in a game - it's a roguelite, it's turn-based, it involves strategy, and it involves dice. Yeah, it hits all the right spots.
The Game
You play as a cute frog with a sword, and each turn you get to place some dice on a 3-by-3 board. There are three basic types of dice - Attack, Block, and Heal dice. Each dice in your deck contains 6 faces, and whenever you draw a dice, you'll only see one face which will determine the strength of the action.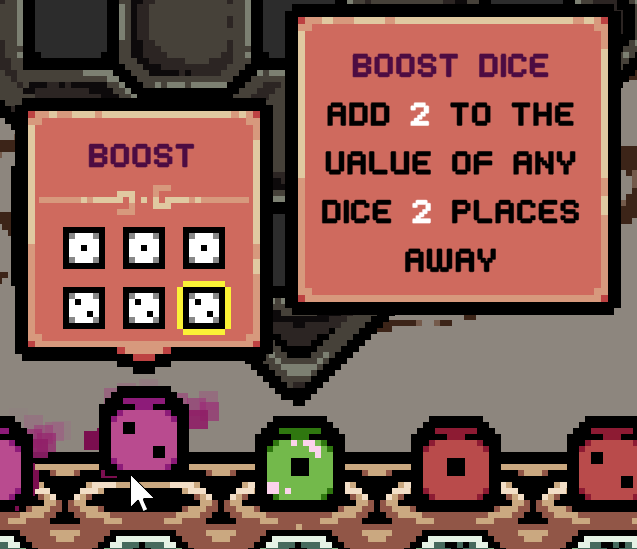 For example, on this particular Boost dice, I rolled a 2 on a dice where 3 of them are 1s and 3 of them are 2s. Each dice can be upgraded to have higher face values. As you play the game, you'll also be able to obtain dies that have certain modifier keywords. These keywords alter the behaviour of the dice.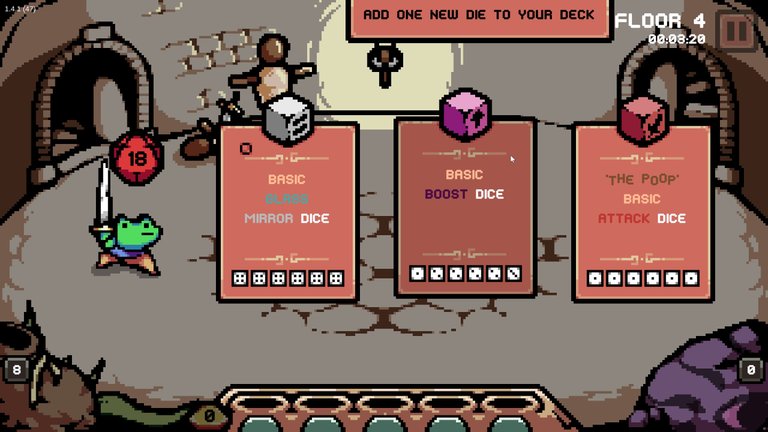 For example, the Glass modifier means that the dice can only be played once in each battle.
Along the way, you might encounter events that give you some help in your dungeon crawl.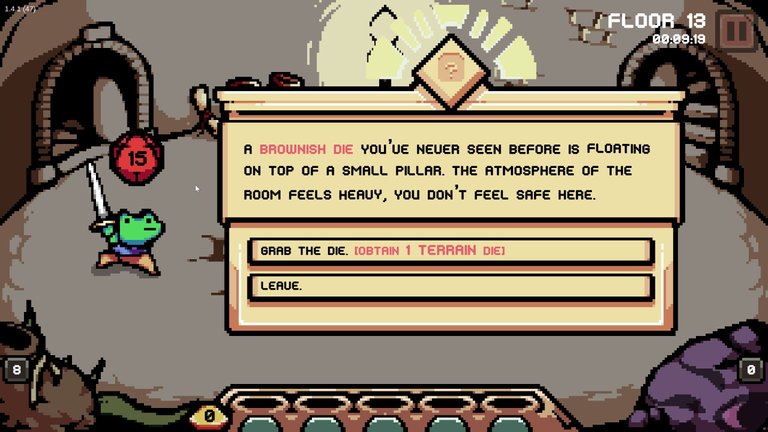 And when you're done with a run, you'll be able to see a summary of it.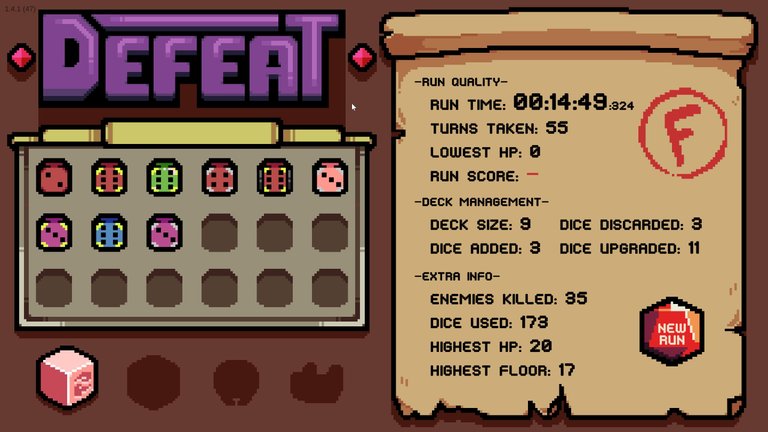 First Impressions
The game doesn't come with any tutorial, but you'll quickly figure it out as you play, especially if you've played something like Slay the Spire in the past. It's rather deceptive in its difficulty - the first few floors feel extremely easy, but it gets way harder as you dive deeper into the dungeon. As a free web game, I was pleasantly surprised by how fun it was despite being created by an indie gamedev group.
I enjoyed my playthroughs but I also sometimes felt like there was just a little too much luck involved. After each battle, you might get an option to upgrade a dice, discard one, or increase your Max HP, but the options aren't fixed from run to run. And this game further involves two-fold RNG - once when you draw from your deck, and once when each dice is rolled. You can now get screwed by both bad dice draws and bad dice rolls! Which is a feature rather than a bug of this game, of course.
That being said, it's a very neat game and I'll probably play it until I can at least beat it once. It's free, it's quick to pick up, and there's no huge time commitment needed in each run. While simple, the gameplay loop really draws you in once you figure out the mechanics and figure out what the game has to offer. The graphics are also a nice touch that makes the visuals of the game pop.
A Short Note on Web Games
I used to play Flash games on Kongregate and Newgrounds a lot when I was younger, and I was quite bummed when web browsers decided to discontinue support for Flash. Flash made making animations and games fun and accessible - in my opinion, you just don't get that same fun experience trying to wrangle with other frameworks and tools.
Back then, you had tons of people creating animations and games on Newground even if they didn't have too much knowledge of programming. Most of them weren't good, but they were outlets for creativity. Now, you'd be hard-pressed to find someone who managed to publish a game successfully to the web without having to learn a bajillion tools. The result is a much more sterile web game environment, which always saddens me a little whenever I try to look for cool new web games.
Conclusion
Hope you enjoyed this short little first impressions review on Die in the Dungeon! You can access it on itch.io here: https://alarts.itch.io/die-in-the-dungeon for free! Let me know if you've played this game before. 😄
---
---